By Kevin Siembieda
One game system – every genre – countless worlds – endless adventure
The Rifts® Bestiary™ Vol. One Megaverse® Insider Offer is off to a great start. The Ultimate Benefactor offer sold within hours of going live (thank you!), and we have sold most (only 5 left) of the Benefactor offers in which your name becomes an unstatted character in the book itself. This particular bundle is limited to only a dozen, unless Charles "Chuck" Walton manages to find a few other concept drawings to expand this category (which wouldn't be more than another 3-5, I think). Of course, the two limited edition hardcovers and the PDF are the other hot items, but we are seeing interest in most of the categories, including Inside Help (thanks!). Our heartfelt appreciation to everyone supporting this fun and unique offer. And because we are well into the final production of Rifts® Bestiary™ Vol. One, it should ship not too long after the Megaverse Insider Offer ends. Not months and months or a year later; we're hoping end of April. If you haven't taken a look at this offer yet, please do. Time is running out, with a little more than a week left to order yours. More details below.
As usual, a lot is going on. I finished approvals for the text and all the artwork for the next three Rifts® for Savage Worlds books coming from Pinnacle. They are pretty darn awesome. Some of the best writing I've seen and a consistent high quality of artwork. It is nice when you work with a licensee that cares about the I.P. (Intellectual Property) and is good to work with. All three of the new titles are set in North America, and Pinnacle will be launching their Kickstarter for them mid-April. I will keep you posted.
Due to popular demand, Palladium is bringing back Rifts® baseball caps. There will be three types of new Rifts® baseball caps – 1) screen printed red Rifts® logo printed on a black cap ($11.99), 2) premium embroidered baseball cap – black cap with red Rifts® logo ($21.99), and 3) a navy blue cap with white embroidered Rifts® logo ($21.99). We're trying a new supplier, so we are as anxious to see the quality as you are. We are also going to be offering a different style of coffee mug (16 ounce, probably $10.99 each) that we think looks pretty sweet. We'll be offering a Rifts® mug with the full logo (the classic Kevin Long art and Rifts® logo), a Property of the Coalition States™ mug, and a Fantasy mug (classic FRPG dragon); each has the image on both sides of the mug. We'll announce them all when they are back from the printer and in stock, probably the end of April.
Otherwise I have been working away on books, primarily Rifts® Bestiary™ Vol. One, but also bits and pieces for In the Face of Death™ for Dead Reign®, and a few other projects. Plus plotting convention season, promotion, etc. We are still working on the Digital Palladium Fantasy RPG® Character Sheets. Will let you know when they go live.
By the way, that video interview I did for the Artichoke Dip YouTube channel is rapidly approaching 1,000 views. The host recently added a very good and comprehensive review of the Dead Reign® RPG setting. Apparently, he was pleasantly surprised to see that Dead Reign® goes beyond the usual convention involving zombies, and that we put a very Palladium twist on surviving the Zombie Apocalypse. You can check both of them out here: https://www.youtube.com/channel/UCY4Ne0FHlPq7qUMti4H--zA
As I mentioned last Update, you can find MORE excellent video interviews with Palladium writers and artists like Charles Walton II, Carl Gleba, Brandon Aten, Carmen Bellaire, Apollo Okamura, Amy L. Ashbaugh and others – go to Questwise.
And you can catch a great interview with me, Sean Patrick Fannon (Rifts® Savage Worlds), Cameron Cleveland (G.M. Supreme), and the host after Episode 19 on at https://voiceofhopepodcast.podbean.com and on iTunes.
Megaverse® Insider: Rifts® Bestiary™ Vol. One – Limited Time Pre-Sale Offer – Only a week and a few days left to get yours
What is a Megaverse® Insider Offer?
Besides fun and unique opportunities rarely available to the average gamer, the Rifts® Bestiary Megaverse® Insider< gives you the chance to get one or more of the following, depending on which item or bundle(s) you purchase. But do it fast because you only have a little more than ONE week before this deal ends.
Summary of Megaverse® Insider Items for Rifts® Bestiary™ Vol. One
Note: Please read the full store description or the March 22 Weekly Update for complete details and to avoid any possible misunderstanding. We know many of you are probably new to the Megaverse Insider Offer and we do not want you to miss out. Offer ends April 8, 2019, and some bundles are limited to just one or a dozen.
Inside Help: $5 – Cat. No. 12031 – (Name listed in the book)
In Memoriam: $5 – Cat. No. 12032 – (Name listed in the book)
A "Real" Character Tribute: $10 – Cat. No. 12033 – (Character's name listed in the book)
Cyber-Insider (PDF of book only): $16 – Cat. No. 12034 – (Name listed in the book + the bookmarked PDF at least 6 months before it is made available to the general public)
Palladium Insider: $50 – Cat. No. 12035 – (Name listed in the book + you get one Limited Edition Hardcover Edition – Color Cover)
Crimson Beast Insider: $75 – Cat. No. 12036 – (Name listed in the book + you get one signed and numbered, Limited Edition "Crimson Beast" Collector's Hardcover)
Enhanced Crimson Beast Insider: $90 – Cat. No. 12037 – (Name listed in the book + you get the PDF + signed and numbered, Limited Edition "Crimson Beast" Collector's Hardcover)
Top Insider: $145 – Cat. No. 12038 – (Name listed in the book + you get both limited edition hardcover books, signed, PDF, dragon head sketch, print)
Ultimate Insider: $200 – Cat. No. 12039 – (Name listed in the book + you get both hardcover books signed, PDF, Siembieda dragon head sketch, Walton monster sketch in book, 5 prints, 2 Raw Editions)
GOING FAST!! Benefactor: $500 – LIMITED to 12 Benefactors, ONLY 5 Left – Cat. No. 12040 – (Name listed in the book + you get both hardcover books signed, PDF, Siembieda dragon head sketch, Walton monster sketch in book, something Top Secret, 10 prints, your name as an unstatted character in the book, AND an original concept art sketch)
SOLD OUT! Ultimate Benefactor: $1,400 – LIMITED to ONE – Cat. No. RB-UB1 – Name listed in the book + you get both hardcover books signed, PDF, Siembieda dragon head sketch, Walton monster sketch in book, something Top Secret, 10 prints, your name as an unstatted character in the book, 2 original concept art sketches – the original pencil art of the cover – AND you get to create a creature to appear in Rifts® Bestiary Two!)
It's just a little more than ONE WEEK before this deal ends, and some items are very limited. You do not want to miss this offer.
Many items, like the two hardcover editions, should become instant collectibles worth more than what you paid for them. Why? Because if our Megaverse Insiders only purchase 220 copies, or 50 copies, then that (plus a few dozen for staff, friends and special promotions) is ALL we are printing. There are no more to be printed. Not ever. This is it. ONLY those of you Insiders who buy one or two (plus the few dozen extra for Palladium's own use) have a copy of that super-rare, super-limited, exclusive hardcover!
That makes you a true "insider" and the item special and rare. Since this is the only print run and there are so few printed, the resale market value should be instantly more than what you paid for it. The Palladium RPG® Crimson Hardcover and the original Rifts® Gold Hardcover sell for $300-$600 on the collectors' market, and they had press runs of 500 and 600 copies, respectively. (FYI: The Rifts® Ultimate Gold Edition had a press run of 1,500 copies and it still regularly commands three and four times the original selling price.) Note: We may also do a limited Gold Edition available to the public, separate from the two super-limited hardcovers in this Insider offer, or not. Haven't decided yet.
LIMITED TIME OFFER: ALL of these items are only available during the short ONE WEEK or so remaining. Most will NEVER BE OFFERED AGAIN. THIS IS YOUR ONLY CHANCE TO GET MANY OF THEM. Offer ends April 8, 2018. And a few bundles are limited. See palladiumbooks.com for complete details.
ORDERING the Megaverse® Insider – The Megaverse® Insider is hosted on palladiumbooks.com from now thru April 8. You make advance purchases of the select Megaverse® Insider offers exactly the same way you would place any online order for a game or sourcebook from the Palladium Books store. Each item has its own catalog number, price and page at the Palladium Books online store. Note: Some higher tier items are limited in number, we hope you understand. For telephone orders, call 734-721-2903 (order line only).
You can order as many different items as you'd like, and you can place multiple orders for the same item, with only two exceptions.
One last thing, please spread the word to your gaming friends and collectors, and post about it online wherever you can think of. We are only advertising this to YOU – our Palladium fans and insiders – and the offer is for a very short time: Now thru April 8, 2019. Become a Megaverse® Insider.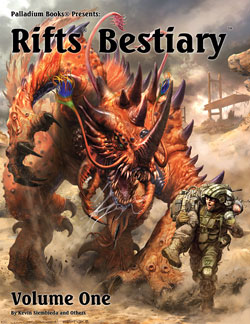 COMING SOON: Rifts® Bestiary™ Volume One
This is the first big "Monster Book" reference ever done for Rifts®. Rifts® Bestiary™ Volume One collects nearly 100 animals, and offers more than a dozen new beasts found across North America. Presented in alphabetical order with the first third or half appearing in the 224-256 page Volume One, and the rest appearing in Volume Two. Actually, we may need a Volume Three because there are so many monsters and exotic animals in Rifts North America alone! Each is highly detailed and expanded, offering adventure ideas, and accompanied with a map that shows were they can be encountered, at a glance.
Rifts® Bestiary™ Volume One is nearing completion. There are only the last couple dozen creatures requiring updating and final writing, the finishing of the maps for each, then layout and printing. As soon as it arrives back from the printer, we ship it to you!
All upcoming Rifts® Bestiary™ books will be great resources for players and G.M.s alike, with creatures that can be used as familiars, pets, riding animals, guard animals, and in some cases, even unlikely allies. Others are slobbering monsters or ravenous predators who include humans and D-Bees among their prey. All will give you plenty of spice to add to your characters and adventures. And each has a map that shows at a glance exactly where to find these beasts.
Monsters and animals of Rifts North America organized into two (maybe three) big, easy to use sourcebooks.
Updated descriptions and information for existing monsters.
Updated and uniform stat blocks.
New predators, exotic riding animals, beasts of burden, alien horrors, giant insects and more.
A map for every creature showing where it is found.
Easily adapted to any Palladium setting; basic S.D.C. stats included for each creature description.
Fully illustrated, with art by Charles Walton II, Ramon Perez, Siembieda and many others. Written by Kevin Siembieda.
224-256 pages each volume – $26.99 retail – Cat. No. 896 (Volume One) – in final production. April release (tentative).
UPDATE: Psychic Scream™
I'm lining up artists for this title.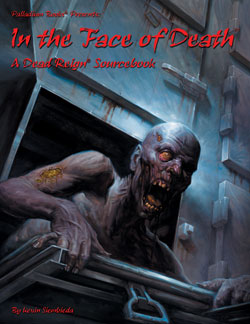 UPDATE: In the Face of Death™, a sourcebook for Dead Reign®
I approved a few new sketches and extended the art deadline a couple of weeks. Most of the art for this book is done, and the rest is coming in a few weeks. Just in time for me to dive back into the writing. Still shooting to make In the Face of Death™ a spring release.
UPDATE: Titan Robotics™
I've got Mark Dudley working on some interior art and lining up other artists to get busy on Titan Robotics™ for a summer release. Waiting to see John Zeleznik's concept sketches for the cover. The Raw Preview Edition gives you a great idea of what you can expect when the finished book is released later this summer.
UPDATE: Garden of the Gods™
Some art is done and I'm lining up others. Garden of the Gods™ is going to be unique and fun. The Raw Preview Edition gives you a great idea of what you can expect when the finished book is released later this summer. We cannot wait to get all these books into your hands.
UPDATE: Rifts® Antarctica™
I know Carmen is pretty pumped up about his contributions to the book, though I suspect he'll need a bit more time finishing writing it. Rifts® Antarctica™ is going to surprise and delight a lot of people.
UPDATE: The Rifter® #83
Far from forgotten. Material is being selected for The Rifter® #83 now.
UPDATE: Rifts® The Disavowed AND Other Titles
We are anxious to put as many of the books you've been waiting for into your hands over the next 18 months, as we can. That includes The Rifter® #83 and #84, Rifts® The Disavowed, Rifts® CS Arsenal, Living Nowhere, the Beyond the Supernatural™ sourcebooks, more Fantasy sourcebooks and more. So if a book you are waiting for is not mentioned in an Update, it means there is nothing new to report, but it should still be in the pipeline and news for it will be coming in the weeks or months ahead. Right now, we are focused on releases for the next six months, which by our count is 6-7 titles.
UPDATE: DriveThruRPG.com
We continue to prep a number of new PDF releases for DriveThruRPG, including the three Rifts® Novels, The Rifter® #80, more Paper Minis, a few free things, and maybe a few surprises, so keep your eyes peeled.
Recent PDF additions include The Rifter® #79: gaming through history, the Kingdom of Rifts® New Oslo®, a Rifts® short story, the Heroes Unlimited™ Stage Magician, tips on running a campaign, and more. The Rifter® #78 with the Modern Necromancer for use with Nightbane® and other settings, the City of Khemennu Part 2 for Palladium Fantasy®, the Nexus Zone for Rifts®, the aftermath of I Am Legion for Splicers® and more. Rifts® Heroes of Humanity™, the Coalition's response to the escalating Minion War™ crisis, uniting D-Bees, mages and heroes of every stripe to stand against this Demon Plague. CS psychics and Psi-Battalion, CS Demon Hunter, new CS power armor, cyborgs, gear, special training and more. Dead Reign® Paper Miniatures Volume Three: Zombies, Dead Reign® Paper Miniatures Volume Two: Civilians and Dead Reign® Paper Miniatures Volume One: Survivors. There are also paper miniatures for Heroes Unlimited™, Palladium Fantasy® and Rifts®. A new, up-to-date, PDF Palladium Books Catalog. Nightbane® Dark Designs™ sourcebook with 60 new Common Talents, 38 new Elite Talents, 18 new Morphus Tables, all other Morphus Tables collected and more. Systems Failure™ RPG, a 160 page RPG that deals with alien invasion and a post-apocalypse setting that is fun and dynamic. Civilization is on the verge of collapse when the so-called "bugs" invade and turn humans into zombie-like slaves. Monsters, heroes and fun. A complete RPG and setting. Rifts® World Book 34: Northern Gun™ Two: 256 pages of technology and fun. 30+ power armors, 30+ body armors, 15 combat vehicles, 45 vehicles (hovercycles, etc.), 10 robot haulers, the Robodome and more. Bizantium and the Northern Islands™: the northernmost part of the Known World, the Cold Born, Necromancy ships made from dead sea serpents, 15 creatures, Random Sea Monster Generator, and more. Rifts® Northern Gun™ One. This fan favorite might be thought of as the big book of giant robots – an in-depth look at Northern Gun, 70+ weapons, 27 robots, NG O.C.C.s, key people and places, and much more. Mysteries of Magic™ Book One: The Heart of Magic™ with Wizards, their Apprentices, nearly 60 new magic spells and remember, magic and monsters in the Fantasy RPG are easily adapted to Rifts®, Chaos Earth®, HU2 and other settings. Wolfen Empire™ Fantasy sourcebook, the Great Northern Wilderness and Killer Winters, 12 Wolfen Tribes, Wolfen military and society, 15+ creatures, 5 full adventures, 101 adventure ideas, random encounter tables, notable people, places, plus FREE Sneak Previews of The Rifter® #80, The Rifter® #81, The Rifter® #82, and more on DriveThruRPG.com.