By Kevin Siembieda
One game system – every genre – countless worlds – endless adventure
Before I forget, this is the last weekend to get yourself a 2018 Christmas Surprise Package. No other sale compares to it! And I continue to load them up and make them awesome. So if you have been meaning to get one, your time is almost up! You have this weekend to order and then it is done and gone till next Christmas. This offer will NOT be extended.
Things have been booming at Palladium Books as we push our production into high gear. When not working on Rifts® Bestiary™, Volume One and Beyond the Supernatural™ books, among others, I have been meeting and talking with freelancers about a large number of book projects. Chuck, Alex and I spent an entire day with freelance writer and game designer Carmen Bellaire discussing the four projects he'll be contributing to in addition to the one he turned in that morning! I have also spoken on the phone with freelance writers Matthew Clements and Greg Diaczyk and have exchanged emails with other writers and artists. This includes new releases for many game lines with an emphasis on Rifts®, Palladium Fantasy RPG®, Rifts® Chaos Earth®, Heroes Unlimited™ and Beyond the Supernatural™. Also looking hard at releasing two new Raw Preview editions within the next month. Folks enjoy them so we'll keep them coming. Speaking of which, the Rifts® Antarctica Raw Preview is sold out and there are only 4 copies of the Surviving Chaos™ Raw Preview which presents both Rifts® Chaos Earth® Psychic Scream™ and Rifts® Chaos Earth® First Responders™, combined.
Wayne Smith and I have discussed plans for The Rifter® #83 and #84 as well as offering Rifter® Mini-Subscriptions (the standard 4 issue starting with #81, plus a three issue sub, #82, 83, 84, and a two issue subscription for #83 and #84) so that our loyal subscribers can still get the books at the price and convenience they are used to. It is also a way for newcomers to try these excellent sourcebooks for these final and recent Rifter® issues. These offers and a Rifter® $9.99 sale should be available as soon as today. We have gotten a heartfelt outpouring from Rifter® fans about the two year hiatus after #84. Subscribers and fans overwhelmingly understand and support our decision, especially if it means Palladium being able to release more products. Moreover, we encourage gamers and fans to continue to submit Rifter® Submissions for the future. Maybe we'll use some of those submissions as contributions to actual sourcebooks or put together a special issue of The Rifter®.
This is in addition to working on licensing agreements for fun products like litRPG novels for Rifts®, Rifts® iOS digital stickers for Apple cell phones (and maybe other Palladium game lines if these do well), and a maybe even official LARP games and events for Heroes Unlimited™ and Nightbane®, among other things that I cannot yet talk about.
What else is going on ... Rifts® Heroes of Humanity is the new PDF title available on DriveThruRPG and you can expect at least one or two Bundles of Holding offered later in the year as well as other offerings. We'll also be working more closely with a number of podcasts and YouTube shows. And Alex has added some new original artwork and 20-30 more one-of-a-kind negatives and collectibles to my Ebay store (see details elsewhere in this update).
As you can see, 2019 is shaping up to be an exciting year. And that's just the tip of the iceberg for what we have planned. Keep checking these Weekly Updates for news, information, sales and release dates.
Only FOUR days to get the Palladium Christmas Surprise Package – get RPG books for the price of PDFs – offer ENDS Monday, January 14, 2019
Time is running out to snag a 2018 Surprise Package as a treat for yourself or a gift for a birthday, anniversary, Valentine's Day (it will be here before you know it), graduation, etc. A Surprise Package is a way to get printed books at PDF prices to try new games, new settings, fill holes in your collection, get caught up on The Rifter®, or replace battered old books. Whatever the reason, order soon, because this offer is almost over. Ends January 14, 2019. Use the current Catalog of Palladium Books PDF available online here on the Palladium Website and on DriveThruRPG.com to help make your selections.
What is a Palladium Surprise Package? A way to get $95-$100 or more worth of physical gaming product (not PDFs) for the price of PDFs! For ONLY $46 (plus shipping and handling), get gifts for others or for yourself. And each book is signed if you should want autographs. It is our way of saying thank you to our many fans for their support. You are appreciated more than you may realize.
Start the New Year with a box full of game books! You could pay $50 or more for just a single core rule book, but for $46 plus shipping, you can get 4-6 books in a Palladium Surprise Package, depending on their retail value. Or you can get that core rule book and 2-4 sourcebooks. And we will sign the books if you request it. How do you beat that? It simply is the best deal in gaming! Our way of giving back to the fans and making the holidays special for you. A 20 year tradition of which gamers cannot get enough.
Palladium Surprise Packages make the perfect gifts for any occasion or a way to add to your collection on the cheap. An ideal gift for a birthday, anniversary, Valentine's Day, or any special occasion that falls between now and March. You get a ton of stuff, plus autographs, and you look like you spent a fortune.
Fill holes in your own collection.
Try new game settings – Rifts®, Palladium Fantasy®, Heroes Unlimited™, Splicers®, Nightbane®, Dead Reign®, Beyond the Supernatural™, Rifts® Chaos Earth®, After the Bomb® (mutant animals), Ninjas & Superspies™, RECON® and all the rest.
Get cool stuff (miniatures, bookmarks, maps, prints, greeting cards, T-shirts, etc.).
Request autographs and Kevin and available Palladium staff and freelancers will sign every book.
Get something for your fellow gamers or favorite Game Master, husband, wife, brother, sister, child, etc.
Be surprised when the package arrives.
Please spread the word to gamers everywhere. People only learn about the Palladium Surprise Package offer by word of mouth, The Rifter® and our website, so please post and spread the word everywhere that this offer ends January 14, 2019.
Why extend this amazing offer? This post-Christmas extension has become part of the Grab Bag tradition as much as the Surprise Packages themselves. It is the nice thing to do, because we realize many of you are so full of the Christmas Spirit that you spend your money on gifts for your loved ones rather than yourself. This generous act of charity often leaves no money for you to buy a Palladium Surprise Package for yourself until after the holidays. We think that sacrifice is pretty wonderful and what the holiday season is all about, so we extend the offer so that you selfless souls can pick up a Surprise Package after the holidays.
The extension is also for you Johnny Come-Latelies who are so caught up in the holiday frenzy, work and life that somehow you miss placing your order for the Christmas Surprise Package before the offer ends. It is also for those of you who wish you had ordered one (or another one) but forgot. Lastly, it is our way to carry that holiday good cheer into the New Year. So get your post-holiday Surprise Package and enjoy. This offer will not be extended further and ENDS January 14, 2019. This is your last chance, please spread the word. Happy New Year.
Click here to get all the details or to place a Surprise Package order.
SOLD OUT: Rifts® Antarctica Raw Preview Edition
The Rifts® Antarctica Raw Preview Edition, limited to 150 copies, is sold out. Thanks to your input about the Raw Preview we have made a number of tweaks, changes and additions that will only make the final sourcebook that much better. We anticipate Rifts® Antarctica to be a summer release, but a firm release date is not yet established.
ALMOST SOLD OUT: Rifts® Chaos Earth®: Surviving Chaos™ Raw Preview Edition – only four copies left
Yep, if you want to get a sneak peak at the unedited, unfinished manuscripts for Rifts® Chaos Earth®: Psychic Scream and First Responders, you'd better do so soon, because there are only four copies of Surviving Chaos™ Raw Preview Edition available! Limited to 150 copies.
ALMOST SOLD OUT – Systems Failure™ RPG, Nightbane®: Shadows of Light™ sourcebook and Boxed Nightmares™ sourcebook (for BTS™ 1st Edition) – less than a dozen copies of each remain – get 'em while you can
We took a page from the Walt Disney playbook by re-releasing three RPG titles just for the Holidays. All three were made available as print books for the first time in decades. BUT ONLY FOR THE HOLIDAYS! That means when this current run sells out, they are gone, back out of print and available only as PDF downloads on DriveThruRPG.com.
Will we do this again next year with these titles? Maybe. What about other out of print books? Again, maybe. This was sort of a fun experiment. An experiment that was quite successful as there are fewer than 12 copies of each of these books currently available and going fast. Get them while you can.
Systems Failure™ RPG – Yep, the complete, whacked out role-playing game. 144 pages – $22.99 retail – Cat. No. 650. Available now only while supplies last.
Shadows of Light™ – A Nightbane® sourcebook – 160 pages – $22.99 retail – Cat. No. 734. Available now only while supplies last.
Boxed Nightmares™ – A sourcebook for Beyond the Supernatural™ 1st Edition rules, but easily adapted to BTS, 2nd Edition. Mostly adventures and adventure ideas. 112 pages – $17.99 retail – Cat. No. 701. Available now only while supplies last.
All are available in Palladium's online store and will be considered as requests in Christmas Surprise Packages during these last days of that offer. HOWEVER, with so few left, granting such Grab Bag requests will be very limited. Available only while supplies last – so order 'em while you can.
NEW! The Rifter® – Mini-Subscriptions – available now
With The Rifter® going on hiatus for at least two years after The Rifter® #83 and #84, and because of a number of inquiries from loyal subscribers, we have decided to offer a trio of subscription opportunities. Each sub provides the same savings off the cover price of each book and FREE shipping to subscribers in the USA only.
Note: If your subscription goes beyond The Rifter® #84, please contact Palladium Books to get a store credit for the value of your remaining subscription. Thank you.
The idea of a mini-subscription was first suggested by subscriber Doug Lamberson. Later that same day, Palladium order processor Kathy Simmons independently made the same suggestion. Several subscribers have subsequently inquired about the possibility of a "short" subscription, so we figured, why the heck not? We appreciate your loyalty and years of support, so we are happy to offer you these subscription savings and convenience to you. It is also a way for newcomers to try these excellent sourcebooks and gaming tools. These Rifter® subscription options are all available now. We are also offering a corresponding Rifter® Back Issues Sale, see details below.
NEW! Rifter® Back Issues Sale – $9.99
In conjunction with the Rifter Subscription offers, above, most available issues of The Rifter® are on sale for only $9.99 each. This is a limited time offer now through January, while supplies last. Please note that a few issues of The Rifter® are very low and could sell out. Available only while supplies last and sold on a first come, first served basis.
Highly recommended: The Rifter® #82, which is epic. Don't miss it.
Rifts® Chaos Earth® – Pyromancy, Nebraska Part Three – The Pyromancer O.C.C., 50+ Pyromancy spells (new!), Zone Twister, NPCs and more. "Official" source material.
Rifts® Bestiary Sneak Preview – Complete stats for a few choice monsters new and old to give you a taste of what you can expect in Rifts® Bestiary Volume One. "Official" source material.
Heroes Unlimited™ – Physical Training heroes revisited with new skills, gadgets and fun.
Nightbane® – Age Modifiers and Education rules – "Official" source material.'Nuff said.
Gaming Advice from Erick Wujcik – Thinking Big and The Name Giver, sage advice reprinted from The Rifter® #1 & 2.
Erick Wujcik Remembered – 10 years after his death, friends and fans remember this unique individual and his work. Insight to the man and Palladium Books, the company he loved. Written by Kevin Siembieda and many others.
News, coming attractions, product descriptions and more.
112 pages – Cat. No. 182. Available now. The Rifter® #81, #80, #77 and #75 are other personal favorites, among others.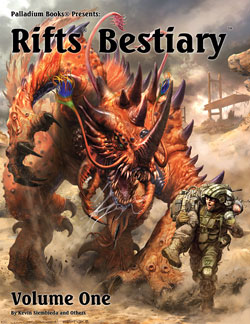 UPDATE: Rifts® Bestiary, Volume One
The two upcoming Rifts® Bestiary books will be great resources for players and G.M.s alike, with creatures that can be used as familiars, pets, riding animals, guard animals, and in some cases, even unlikely allies. Others are slobbering monsters or malicious predators who include humans and D-Bees among their prey. All giving you plenty of spice to add to your characters and adventures. And each has a map that shows at a glance exactly where to find these beasts.
Monsters and animals of Rifts North America organized into two big, easy to use sourcebooks.
Updated descriptions and information for existing monsters.
Updated and uniform stat blocks.
New predators, exotic riding animals, beasts of burden, alien horrors, giant insects and more.
A map for every creature showing where it is found.
Fully illustrated, much of the art by Charles Walton II, along with Siembieda and many others.
192-224 pages each volume – $28.99 retail – Cat. No. 896 (Volume One), Cat. No. 897 (Volume Two). In production. Winter.
New on DriveThruRPG.com – Rifts® Heroes of Humanity™ sourcebook
New – Rifts® Heroes of Humanity™ presents the Coalition's response to the escalating Minion War™ crisis, uniting D-Bees, mages and heroes of every stripe to stand against this latest Demon Plague. This an extinction level event, unless it can be stopped. Taking the lead is the Coalition States, but are they really heroes of humanity, or simply the lesser of two evils one must work with to save the world? Get some answers in this Sourcebook: CS psychics and Psi-Battalion, CS Demon Hunter, new CS power armor, cyborgs, gear, training and more. Just one of 200+ Palladium PDF titles available on DriveThruRPG.
Recent PDF additions include Dead Reign® Paper Miniatures Volume Three: Zombies, Dead Reign® Paper Miniatures Volume Two: Civilians and Dead Reign® Paper Miniatures Volume One: Survivors. There are also paper miniatures for Heroes Unlimited™, Palladium Fantasy® and Rifts®. A new, up-to-date, PDF Palladium Books Catalog. Nightbane® Dark Designs™ sourcebook with 60 new Common Talents, 38 new Elite Talents, 18 new Morphus Tables, all other Morphus Tables collected and more. Systems Failure™ RPG, a 160 page RPG that deals with alien invasion and a post-apocalypse setting that is fun and dynamic. Civilization is on the verge of collapse when the so-called "bugs" invade and turn humans into zombie-like slaves. Monsters, heroes and fun. A complete RPG and setting. Rifts® World Book 34: Northern Gun™ Two: 256 pages of technology and fun. 30+ power armors, 30+ body armors, 15 combat vehicles, 45 vehicles (hovercycles, etc.), 10 robot haulers, the Robodome and more. Bizantium and the Northern Islands™: the northernmost part of the Known World, the Cold Born, Necromancy ships made from dead sea serpents, 15 creatures, Random Sea Monster Generator, and more. Rifts® Northern Gun™ One. This fan favorite might be thought of as the big book of giant robots – an in-depth look at Northern Gun, 70+ weapons, 27 robots, NG O.C.C.s, key people and places, and much more. Mysteries of Magic™ Book One: The Heart of Magic™ with Wizards, their Apprentices, nearly 60 new magic spells and remember, magic and monsters in the Fantasy RPG are easily adapted to Rifts®, Chaos Earth®, HU2 and other settings. Wolfen Empire™ Fantasy sourcebook, the Great Northern Wilderness and Killer Winters, 12 Wolfen Tribes, Wolfen military and society, 15+ creatures, 5 full adventures, 101 adventure ideas, random encounter tables, notable people, places, plus FREE Sneak Previews of The Rifter® #80, The Rifter® #81, The Rifter® #82, and more on DriveThruRPG.com.