One game system – every genre – countless worlds – endless adventure
By Kevin Siembieda and Sean Owen Roberson
Hello, everyone, I hope you are doing great. We have been buried in the TMNT RPG Kickstarter and super-busy as we move things along so we can show you much more of ... well, everything! We can still hardly believe we're getting new artwork from Kevin Eastman and Peter Laird. They are both great guys, they love the TMNT RPG and fans of the game. They want to see new gamers discover these fun role-playing titles and to give long-time gamers something truly special and beautiful. The new, all color, deluxe redux editions, reedited, relaid out, cleaned up, tweaked, and filled with bonus art and material will delight even the long-time fans who still have their original books. See more details and TMNT News elsewhere in this Update under Teenage Mutant Ninja Turtles Kickstarter NEWS and Closing Thoughts.
There is more than TMNT excitement in Palladiumville. Get humongous savings on the PDF Palladium Apocalypse Bundle of Holding that includes ALL Dead Reign® zombie apocalypse titles (people love this game!), the Splicers® RPG, I Am Legion sourcebook, and the Systems Failure RPG for pennies on the dollar. Do not miss it. Only 3 days left. See more details below.
Palladium's 25th annual Christmas Surprise Package offer is happening now! This is a great way to build your collection, try new world settings, and to get gamers gifts for Christmas, Hanukkah, Kwanzaa, Winter Solstice, birthdays, and anniversaries in the coming months. Keep those orders coming and tell your friends. And order now to beat the holiday rush and so you can buy one or two more before the offer ends December 24th.
Gamers love this holiday offer, the big savings, autographs, and surprise element, and keep coming back for more. We love doing it so spread the word. See the all the fun details elsewhere in this update or click on the link below.
SALE Last Days – 3 days left – Palladium Apocalypse Bundle of Holding at super low prices – Dead Reign® (Zombie Apocalypse) – Splicers® – Systems Failure™
Sale ENDS Monday, November 13th! Don't let the TMNT RPG Kickstarter excitement cause you to miss these unbelievable savings on 3 great RPG worlds. Get 3 different post-apocalyptic RPG settings – science fiction, alien invasion, and zombie horror the likes of which you have never seen – plus 8 sourcebooks to expand those adventures. ALL for less than $3 per PDF book! That's nearly 1,000 pages of RPG fun for pennies on the dollar. If nothing else, scoop 'em up for your digital library.
Enjoy tabletop science fiction and horror in the ruins of the apocalypse. Whether it is beating the odds against the hungry dead (Dead Reign), fighting the robotic army of an insane Artificial Intelligence (Splicers), or standing against inhuman alien invaders (Systems Failure), this Bundle has a little something for everyone. All use Palladium's Megaversal game rules.
For those of you new to the Bundles of Holding, you pay less when you buy during the first week or so of the offer. Ah, but a Bundle of Holding is always a bargain no matter when you get in. Even on the last day! We recommend getting the Starter AND Bonus collections; $147 worth of PDF books for $29.27 at the current threshold price. Or get the 3 core rule books for just $9.95.
Bundles of Holding are a great way to build your PDF library on the cheap AND support a worthy charity at the same time – in this case, it is Direct Relief. Direct Relief sends protective gear and critical care medications to health workers, with emergency deliveries to medical facilities across the US and Canada and to regional response agencies around the world.
What's that? You don't use the Palladium game system? No problem. Dead Reign and Systems Failure are excellent introductory games; easy to learn and fun to play. Moreover, the characters, villains, weapons, skills, and settings are easy to adapt to 5E and most any game system. So get the PDF Bundle for the fun read and hundreds of ideas for adventures and heroism. Give power to the human spirit against all odds.
Please tell everyone about the Bundle before the offer ends. This really is a great way to build your super-hero PDF library at discount prices and help a charity at the same time. See details below.
The Bundle lineup is as follows:
STARTER COLLECTION starts as $9.95 US Dollars – retail value $47):
Splicers® RPG ($12.50)
Systems Failure™ RPG ($12)
Dead Reign® RPG ($11.50; zombie apocalypse; Palladium style)
BONUS COLLECTION: The threshold started at $27.95 US Dollars – retail value $78. Seven Dead Reign sourcebooks + I Am Legion (Splicers)
Civilization Gone ($6.50)
Dark Places ($6.50)
Endless Dead ($8.50)
Fear the Reaper ($6.50)
Graveyard Earth ($6.50)
Hell Followed ($10.50)
In the Face of Death ($14)
Splicers I Am Legion ($19)
https://bundleofholding.com/presents/PalladiumApoc
How the Bundle of Holding Works: The customer can pay any price (minimum $9.95) to get all the titles in the Starter Collection. If you pay more than the threshold (average) price, which was set at $27.95 to start (but goes up as more people make purchases), you also get all the titles in the Bonus Collection.
Bargain price and charity support. The charity receiving 10% of every purchase for the Apocalypse Bundle is Direct Relief. They send protective gear and critical care medications to health workers, with emergency deliveries to medical facilities across the US and Canada and to regional response agencies around the world.
The Palladium Apocalypse Horror Bundle ends November 13; get yours now.
https://bundleofholding.com/presents/PalladiumApoc
All PDF bundles are hosted in association with OneBookShelf, DriveThruRPG's parent company, and you get your PDF bundle added directly into your DriveThruRPG library. What? You don't have a DriveThruRPG account yet? No worries, they are FREE and very easy to set up.
Post-Apocalyptic World Settings Offered in the Bundle:
- Dead Reign® RPG and sourcebooks – The Zombie Apocalypse RPG Palladium-style and a great introductory game for new players. Fast, fun, and easy to learn. The zombies are unique, not just the usual fare. Each sourcebook offers new world information, player options, and other dangers (including 23 disasters, earthquakes, fires, floods, etc., in Hell Followed, and survival in big cities and the suburbs, In the Face of Death).
- Splicers® RPG and sourcebook – Think the Terminator meets Guyver in a dark future where an insane A.I. uses its monstrous robot legions and bionic abominations to corral and pacify humans, and crush all who dare to oppose it. Unable to even touch metal, humans have turned to bio-tech and genetic engineering to fight back with living suits of armor, symbiotes, and living weapons.
- Systems Failure™ – It is the aftermath of an alien invasion, and while human civilization has fallen, humanity continues to survive and fight back against the invading aliens. Fun. Inspired by turn of the century end of the world conspiracy theories.
Note: Physical books of these titles are also available via the PalladiumBooks.com online store and may be requested in the Christmas Surprise Package offer (see details below). Please spread the word about this PDF Bundle Offer ending Monday, November 13.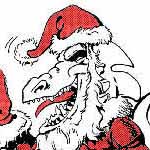 NOW SHIPPING! Christmas Surprise Package offer
Huge savings, surprises, and autographs (if you request them) that thrill the purchaser. No other game company offers anything like it. This is the 25th year we are offering this fan favorite Christmas bargain because we love doing it as much as you love getting them.
What is a Christmas Surprise Package?
A smile and a hug that comes in a box filled with signed game books from available Palladium staff and freelancers. It's a way for you to get physical books (and autographs if you want them) at PDF prices! $100+ worth of Palladium products for only $60 (plus shipping)! That can nab you four or more items when these days one core rule book can cost you that alone.
These Christmas Surprise Packages are our way of saying thank you for your support and showing you our love and appreciation. It's a surprise because you never know exactly what you're going to get or who will sign your books, because we pick from your Wish List and may surprise you with stuff you are not expecting. Extra items may include other RPGs, sourcebooks, issues of the Rifter®, novels, miniatures, prints, art books, greeting cards, T-shirts, negatives, and other items. Some books may be slightly damaged (scuffs, scratches, dings, a bent or crunched corner, etc.) so we can send you more.
No other RPG company on the planet has an offer like this. Truly the best deal in gaming to get unique and special holiday gifts for the gamers in your life, or for yourself.
Christmas Surprise Packages are not just for Christmas. Whether you celebrate Christmas, Hanukkah, Kwanzaa, or the Winter Solstice, or you are looking for that special gift for a birthday, anniversary, graduation, or any special occasion that falls between now and the end of the year, a Surprise Package may be the ideal way to go. You get a ton of stuff on the cheap, you can get a bunch of autographs (if you want 'em), and you look like you spent a fortune.
This is also a great way to try that game setting you've wondered about – Splicers®, Dead Reign®, Chaos Earth®, Palladium Fantasy®, Nightbane®, Beyond the Supernatural, Rifts®, RECON, After the Bomb®, etc. – or to get something for your favorite Game Master. Or perhaps, to get your player group to consider a new game or setting.
Your "Wish List" is vital – the Palladium Surprise Packages are designed to simulate the joy and surprise of the Christmas Season of Giving. To do this, you submit a list of 10-15 Palladium products (or more) FOR EACH Surprise Package you order. This list of 10-15 items for EACH Grab Bag is critical, because you will not know which items we will select to send you. That makes it just like a Christmas gift because it's a surprise. Plus, Santa Kevin, who personally hand-picks every item for every Grab Bag, may toss in something extra like a limited edition print, or a negative or similar collector's item, or an issue of The Rifter®, or something else he thinks you'll enjoy.
Autographed books. For those of you who want them (which are most people), available members of the Palladium staff, and any freelancers we can lasso at the time, are happy to autograph each and every book in your Surprise Package. This is the only way many fans across the country and overseas can ever get signed books.
Send us your brief comments. There is a special form and format to fill out for Christmas Surprise Packages, including a place where you can offer your brief comments, suggestions, greetings and salutations.
First-timers are always nervous until they see the great value in their first Surprise Package. A typical Grab Bag has $100+ worth of product. Yes, often more for only $60 plus shipping. Many people order 2-3. Some order 4-6, and some maniacs order even more! It makes sense, because it is a great way to fill holes in your own collection, treat yourself, get autographs, try new games and settings, rebuild your collection, replace worn out books, and get your gaming pals gifts. Only from PalladiumBooks.com – happy holidays. PLEASE spread the word about this great offer.
To those of you outside the USA, the X-Mas Surprise Package is a way to get books and circumvent the damn high cost of shipping from the United States, since you are getting $110 (often more) worth of product and only paying $60 plus shipping. Shipping via Priority Mail International (required for packages weighing more than four pounds) to most locations in Europe, Canada and many other countries is around $70-80 US dollars. HOWEVER, because the cost of the product is so low, that's the equivalent of paying retail for the products and only $20-$40 for shipping. A very good deal. Plus you get autographs if you want them! X-Mas Surprise Packages are the way to go for those of you outside the USA. Please take advantage of it to get all those products you've wished you could get except the shipping was too prohibitive. We feel your pain. Game on!
Please spread the word. The Christmas Surprise Package is only publicized by word of mouth, on Palladium's website, and social media, so please tell everyone you know. Buy one for every gamer you know. They make astonishing gifts for every occasion. Only from PalladiumBooks.com – happy holidays.
Teenage Mutant Ninja Turtles Kickstarter NEWS
In addition to moving things forward, coordinating with creators and our licensor, and a whole bunch of work, we hope to start revealing additional stretch goals, color art, miniatures and more in the days and weeks ahead. Since our last update a lot has happened. Here are some of the highlights.
* TMNT RPG is big news. Forbes did an article about the Teenage Mutant Ninja Turtles & Other Strangeness Kickstarter talking about how Palladium and Paramount shocked the industry with this project! Forbes magazine online! Wow.
* Projects We Love. The Teenage Mutant Ninja Turtles & Other Strangeness RPG has been selected by Kickstarter to join Projects We Love. Nice.
* Tribute page artists are being continually added. Did you hear that Ciro Nieli (the creative force behind the 2012 TMNT CGI animated series on Nickelodeon) is doing at least one, maybe two, color illustrations and a written tribute? Sophie Campbell and Freddie E. Williams II have also done two tribute pages, one for each book. Fantasy art legend, Larry Elmore, as well as Palladium fan faves David Petersen, Ramon K. Perez, Steven Cummings, Scott Johnson, John Zeleznik, and nearly three dozen other artists are all creating special new art as tribute pages. Amazing.
* Artwork. A number of black and white tribute art pages have been approved and sent out for coloring.
* Eastman and Laird Mutagen Green foil covers. We've seen Kevin Eastman's concept sketches for the two Mutagen Green foil covers – now they await Peter Laird's inks. Yes, that is new cover art by Eastman and Laird! We will be showing works in progress in updates.
* TMNT Miniatures! We have submitted a number of 3D digital sculpts by the art team at Transperfect to our licensor for their review and feedback. We think they look amazing and hope we will be able to post images to the Kickstarter soon! Did you see the Casey Jones teaser in the recent Update?
* Ninja Turtles Power Hour chat with me and Sean is coming on Friday. Other podcasts and YouTube chats are also coming. Sean and I are scheduling additional interviews with Legion of Myth and a number of others. Watch for them. Here are a few for your enjoyment:
https://www.youtube.com/playlist?list=PL3o5KrUc34nQ7KPYA1aJOcXh4RBcp4-h2
https://www.msn.com/en-us/news/technology/teenage-mutant-ninja-turtles-and-other-strangeness-tmnts-original-1985-rpg-remastered-in-new-kickstarter-campaign/ar-AA1j6Fx7
https://www.msn.com/en-us/entertainment/gaming/tmnt-tabletop-rpg-kickstarter-blows-past-funding-goal/ar-AA1jeqit
https://comicbook.com/gaming/news/teenage-mutant-ninja-turtles-tabletop-rpg-launches-kickstarter-gets-funded-within-hours/
https://www.wargamer.com/teenage-mutant-ninja-turtles-and-other-strangeness/teenage-mutant-ninja-turtles-rpg
https://breakfastpuppies.com/podcasts/glitterbois/episode0144/
https://icv2.com/articles/news/view/55361/kevin-eastman-onboard-new-edition-tmnt-other-strangeness-rpg
https://icv2.com/articles/news/view/55493/fanroll-palladium-books-reveal-tmnt-dice-sets
Reminder: Pledge even $50 for the core RPG book and you can upgrade and add-on Kickstarter Exclusives to your pledge later in Backerkit.
See more details below. And please, please, please, spread the word. You might think everyone is talking about the TMNT RPG Redux, but I guarantee you there are millions of Ninja Turtles fans who have not have heard about it yet. Thank you for your support!
Teenage Mutant Ninja Turtles & Other Strangeness RPG Kickstarter – funded in 4 hours – selected as a "Project We Love" by Kickstarter – please spread the word
We have the support of Kevin Eastman and Peter Laird, both of whom are doing new original art for the these two special redux hardcovers to the original RPG and TMNT sourcebooks. These beloved books will be collected as two super-deluxe, full color redux editions. Yes, full color. Glorious color plus variant covers, new artwork by Eastman and Laird, a ton of gorgeous tribute pages of art by name comic book and RPG artists, plus making of, concept art, written tributes, and surprises. Think of these two books as director-cut special editions filled with bonus material from the creators! And we are giving it all the deluxe treatment.
Kickstarter Exclusives include: Variant covers, 2 sets of miniatures, 5 sets of dice, dice bags, print sets, and more – plus stretch goals that you will love. See details below and make your pledge before you forget, and please don't forget.
Tell every gamer and TMNT fan about these books, miniatures, dice, and array of other items that gamers, fans, and collectors of the Teenage Mutant Ninja Turtles will love to own. Thank you! – Kevin and Sean
* The 256 page, hardcover, core rule book collects the Teenage Mutant Ninja Turtles & Other Strangeness RPG, Turtles Go Hollywood and Truckin' Turtles sourcebooks, and has oodles of bonus material that includes: tribute artwork, written tributes, the story behind the making of the RPG, and never before seen concept art. Artwork by Kevin Eastman and Peter Laird (including their 8 page comic strip originally created exclusively for the RPG), as well as art by Kevin Long, Freddie E. Williams, Sophie Campbell, Steven Cummings, David Petersen, and many others, all in glorious color.
* The 256 page, hardcover, sourcebook collection presents Transdimensional TMNT, Teenage Mutant Ninja Turtles Adventures, TMNT Guide to the Universe, including time travel rules, spaceship creation rules, dimensional magic, adventures galore, and more bonus material like tribute artwork, written memories by TMNT creators and a surprise or two. Artwork by Kevin Eastman and Peter Laird (including two 20 pages of comic strips originally created special for these sourcebooks), Kevin Long and others, as well as new artwork by Jim Lawson, Ben Bishop, Freddie E. Williams, Sophie Campbell, and many others, all in glorious color.
* New Homage Covers by:
Freddie E. Williams II and Michael Majestic
* New Variant Covers by:
Kevin Eastman
Sophie Campbell
Kevin Eastman and Peter Laird
* New Black, White, and Red Special Edition; Covers by:
Freddie E. Williams II and Jeremy Colwell
Yes, we are doing a special black and white edition with red masks for all the Turtles, plus red spot color for blood, headlines, etc.
* New Tribute art by:
Nick Bradshaw
Ben Bishop
Sophie Campbell
Jeremy Colwell
Steven Cummings
Luis Antonio Delgado
Kevin Eastman
Larry Elmore (just added)
Vincenzo Federici
Michael Gustovich
Scott Johnson
Peter Laird
Jim Lawson
Michael Majestic
Michael Mumah
Ciro Nieli (just added)
Apollo Okamura
David Petersen
Ramon K. Perez
Fero Po
Kevin Siembieda
Michael Rooth
Freddie E. Williams II
Michael Wilson
John Zeleznik
And others to be added.
* New TMNT Game Master Screen
KICKSTARTER EXCLUSIVES
* Heroes Miniature Set (8 figures + stretch goals; the TMNT, Casey Jones, and more.)
* Villains Miniature Set (8 figures + stretch goals; Shredder, The Foot, the Terror Bears and more.)
* Custom Dice Sets created by FanRoll
Donatello Dice Set
Leonardo Dice Set
Michelangelo Dice Set
Raphael Dice Set
Shredder (aluminum) Dice Set
* Custom Dice Bag created by FanRoll
* TMNT Dice Tower
* TMNT Dice Tray
* TMNT Poker Deck (a stretch goal)
* Print Sets
* Stretch Goals and maybe a surprise or two.
"This is incredibly exciting! I am 1000% onboard to help bring this historic and original TMNT Role Playing Game series back in a truly first class deluxe collected edition which will not only thrill the original fans, but open the door wide to a lot of new ones," said Kevin Eastman. "I've made available all my archives for expanded behind the scenes and will be providing a new painted cover, as well as a few top secret surprises you need to be part of... stay tuned."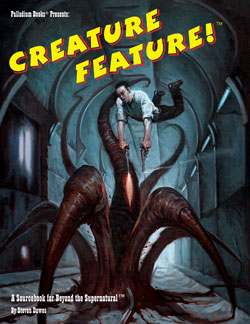 NEW on DriveThruRPG.com – Creature Feature™ sourcebook for Beyond the Supernatural™
NEW! Creature Feature™ PDF book on DriveThruRPG.com – due to popular request, this epic Beyond the Supernatural(BTS) sourcebook is now available on DriveThru for you digital enjoyment.
Creature Feature is for players and Game Masters alike and a fun read for anyone.
15 detailed and expansive supernatural horrors unlike any you see in most other horror games.
Creature encounter tables.
Tips on making (and playing) better creatures.
Rules clarifications (lots of them).
Player and G.M. tips.
BTS world information.
One full adventure and numerous adventure hooks.
Dynamic art by Steven Cummings, Phil Stone, and Siembieda.
Also available on DriveThru: The 1st and 2nd Edition Beyond the Supernatural RPG, and Boxed Nightmares sourcebook; not to mention Dead Reign® (zombies) and Nightbane® (Urban Fantasy/superhero horror). All these books, including BTS 2nd Edition (softcover and hardcover), BTS RPG 1st Edition hardcover, and the Boxed Nightmares™ (1st edition rules) are available as physical books from PalladiumBooks.com offering a Megaverse® of adventure.
NEW! FREE Nightbane® RPG digital Sneak Preview on DriveThruRPG.com – Have you been wondering what the buzz is all about for Nightbane® and Urban Fantasy? Well, now you can see for yourself with this fun Preview of the core rule book. There are also free Sneak Previews of Creature Feature™, Dead Reign®, BTS, and numerous Rifts® books and other titles, including Rifts® Manhunters™, Titan Robotics™, Northern Gun™ One and Two, Lemuria, and more.
300+ RPG titles from Palladium Books
No other game company offers game worlds for so many different genres. Best of all, learn to play one Palladium RPG and you can play them all, because each uses the same basic core rules and combat. There are differences, but the fundamentals are the same. This also means you can bring characters, villains, monsters, powers, magic, weapons, gear, and adventure ideas from one setting into another or mash them together!
Rifts® titles. Rifts® is the ultimate setting in which you can combine any number of genres and play any style of gaming you may desire: science fiction, fantasy, supernatural horror, heroic adventure, dimensional travel, modern knights, cyborgs, giant robots, dinosaur taming, sleuthing, magic, monsters, heroes and legends. Or combine them all. There has never been a game quite like Rifts®.
Rifts® Chaos Earth® titles. Live through the Great Cataclysm and the Coming of the Rifts. Rifts® Chaos Earth® RPG, Creatures of Chaos™, Rise of Magic™, and Chaos Earth® Resurrection™ are all available.
The Rifter® #1-85. Each issue is a wealth of source material for Rifts® and 3-5 other Palladium game settings. More than 8,600 pages of source material and counting. Most issues are only available in digital form.
Palladium Fantasy RPG® titles. A rich, original setting in which you can play humans or any number of nonhuman species of people in a world of magic, heroes and wonder. All of it epic.
Dead Reign® RPG and sourcebooks. The Zombie Apocalypse unleashed. A great introductory RPG that is surprisingly uplifting, fun, fast, and easy to learn.
Heroes Unlimited™ RPG Second Edition titles. Create any type of superhuman you can imagine to build your own super-hero universe.
After the Bomb® RPG and sourcebooks. Play anthropomorphic, intelligent, mutant animals as crime-fighting mutants and super-heroes or survivors of a crumbling post-apocalyptic Earth.
Ninjas & Superspies™ RPG and the Mystic China™ sourcebook. 41 types of martial arts, ninjas, super-spies, gizmos, mystic powers, and magic in the main book, plus even more in Mystic China.
Nightbane® RPG and sourcebooks – Urban Fantasy. Only you know the truth. Only you can see the Nightlords and their demonic minions, and you have the power to stop them. But you must transform into a monster yourself in order to use your powers. Trust no one.
Beyond the Supernatural™ RPG and sourcebooks. Modern horror; 14 character classes, 42 occupations for "ordinary people," 100+ psychic abilities, 16 monsters, and more.
300+ Palladium titles in all, plus G.M. kits, paper miniatures and more. Palladium Books has settings for every genre: Fantasy RPG, science fiction (Rifts®, Splicers®, and The Mechanoids®), super-heroes (Heroes Unlimited and After the Bomb), superhero horror (Nightbane®), modern horror (Beyond the Supernatural), zombies (Dead Reign®), The Rifter® sourcebook series, novels, paper minis, and more.
Closing Thoughts – Ninja Turtle Mania
As I write this, this is the 8th day of the TMNT & Other Strangeness Kickstarter and we are rapidly approaching $750,000. Wow. Thank you for your support. It is super-appreciated.
We are continuing to spread the word about the Kickstarter every way we can imagine and hope you are too. There is nothing better than word of mouth! Do not assume your friends and fellow gamers know about it, so please let everyone know. [Shout it from the rooftops and text your old gaming buddies. – Sean]
Updates, images of art and miniatures, stretch goals, and more are all coming your way. As an officially licensed product, these things take time. – Sean
Palladium Books is pulling out all the stops in materials, color work, guest contributors, and manufacturing partners to bring you high quality, beautiful products. More details are forthcoming on them as well. For example, you probably have never heard of Transperfect, the talented artists creating the digital sculpts for the Kickstarter Exclusive miniatures, but people in the miniature game and toy business sure have. These guys have done work for major, mass market toy and game lines and know their stuff! The same goes for the miniature manufacturer, book printer, and dice makers (FanRoll is one of them!), and every person and company involved is an experienced, high-end professional.
The art, new and old, is astonishing. These books can be considered coffee table book quality that game, comic book, and TMNT collectors will want to own. The new tribute art is by the best of the best, check out that list. They are all top professionals in the comic, gaming, and film industries that are doing tribute art pages and written remembrances. Kevin Eastman and Peter Laird, God bless them, are contributing new art for covers, written remembrances, advice, and friendship that will help make ALL these deluxe edition RPG titles special limited editions.
Old art has been rescanned, cleaned up and digitally colored by masters in the industry! Moreover, Kevin Eastman and I are digging into our archives to find concept drawings, pencil art, line art, and other cool things to include in the behind the scenes/making of section; much of it NEVER before seen.
These RPG books, dice sets, miniatures, and other items are products of love! Love for Kevin Eastman, Peter Laird, Erick Wujcik, Kevin Long, the Ninja Turtles comics, the TMNT & Other Strangeness role-playing game, and most of all, love for you. Kevin, Peter, Sean, and I all sincerely care about our fans and everyone who loves RPGs and the TMNT in all their manifestations. That's why these books and other products are going to be magnificent. Something to remember and value as keepsakes as well as practical game materials.
We worked long and hard to be able to bring you miniatures, dice, dice towers, dice trays, print sets, and ALL the Kickstarter Exclusives. So please, take advantage of these items' availability while you can via this Kickstarter. I mean it. They are incredible and limited, and worth getting. As fans and gamers ourselves, Sean and I want one of everything and two of a few! That's how good they are all going to be. Oh, and they are destined to become instant collector items.
Whew, we are so excited. Not just for us, but for being able to give you the opportunity to get so many new TMNT & Other Strangeness products we know you will love and cherish. We'll reveal more info and art as soon as we have been authorized to do so. Remember, a pledge to get even just one $50 book, say the core RPG book, will enable you to upgrade and add-on to your pledge later in Backerkit.
And that's not all. The Palladium Horror/Apocalypse Bundle of Holding happening right now is a mind-blowing deal. Three of our very popular science fiction/horror post-apocalypse worlds and sourcebooks for less than $4 each when purchased as these Bundles. But it all ends Monday, November 13, so you need to act now. What's $30 to get nearly $200 dollars worth of RPG products and 928 pages of RPG fun?
And nothing beats our epic, 25th Annual Christmas Surprise Package offer, happening now till Christmas. Ask anyone who has ever bought one, they'll tell you this is the best deal in the RPG industry and makes a wonderful holiday gift with huge savings, surprises, and autographs that thrill the purchaser.
I'm sure there is more to talk about, but our heads are swirling. Grab that phenomenal Bundle of Holding while you still can, don't forget to snag a Surprise Package or two for Christmas, and please spread the word about all of these wonderful opportunities. Game on!
Kevin Siembieda – Game Designer, Writer, Friend
© 2023 Palladium Books, Inc., Palladium Books, Dead Reign, Splicers, and all related titles and names are trademarks of Palladium Books.
TMNT © 2023 Viacom International Inc. All Rights Reserved. Nickelodeon, Teenage Mutant Ninja Turtles and all related titles, logos, and characters are trademarks of Viacom International Inc.