Palladium Books® – Weekly Update & Sale – September 28, 2023
One game system – every genre – countless worlds – endless adventure
By Kevin Siembieda and Sean Owen Roberson
Hi, everyone. Palladium Books is buzzing with activity. Our long days are filled with raw excitement as our maniacal plans and hard work behind the scenes come together on many fronts. So hang tight and prepare yourself for big news and fun on the horizon.
NEW! Rifts® Sale – epic savings the likes of which you seldom see. It's been cool, rainy and gray here in Michigan, so I thought I would offer a surprise sale with big discounts to brighten up everyone's weekend as we enter into October. I hope you enjoy it. See details below.
NEW! FREE Nightbane® RPG digital Sneak Preview on DriveThruRPG.com – Have you been wondering what the buzz is all about for Nightbane® and Urban Fantasy? Well, now you can see for yourself with this fun Preview of the core rule book. There are also free Sneak Previews of Dead Reign®, BTS, and numerous Rifts® books and other titles, including Rifts® Manhunters™, Titan Robotics™, Northern Gun™ One and Two, Lemuria, Creature Feature, and more. (Pssssttt, the popular Creature Feature BTS sourcebook is coming to DriveThru soon.)
What's hot from Palladium at the moment? The usual suspects – all things Rifts® with Cyberworks™ Collection and Rifts® Titan Robotics™ at the top of the list, but we've also seen an increase in orders for the Rifts® western setting (Lone Star, New West, and Spirit West), and the Rifts® 30th Anniversary Hardcover. All hardcovers remain popular with the Rifts® hardcovers and two Palladium Fantasy® hardcovers (and Yin-Sloth Jungles™ Expanded softcover) selling like hot cakes on a cold day. Thank you for your support and keep those orders coming.
What's on the drawing board? Fun, fun, fun – Rifts® Bestiary 2, Rifts® Antarctica, Yin-Sloth Expeditions (Fantasy), and ... let's just say a number of Fantasy, Rifts®, and other titles, as well as a few secret projects we want to surprise you with when they are announced.
COMING SOON! Palladium's next Kickstarter should start sometime in October, and it will blow your mind. So please watch for it. You will be thrilled and won't want to miss out on it.
UPDATE: Titan Robotics™ Kickstarter: 1. As noted in the last couple of Updates, all but the Savage Cyberworks™ digital rewards shipped a while ago.
2. Sean is putting the final touches on the digital Savage Cyberworks™ conversion document. This is a bonus reward. We didn't quite hit the dollar goal, but wanted to award it to everyone as a Christmas present FOR FREE! (please see Kickstarter update #4). To add bonus to bonus, rules for playing Aberrant Mechanoids® are included.
3. Titan Robotics™ NOW Shipping to Overseas Backers! Rewards have arrived at the Spiral Galaxy operations center in the UK (including Canada and Pacific regions) – they have the hookups with international fulfillment. Those rewards are being processed and we see that many of you are starting to receive your packages. Spiral Galaxy will be emailing Backers a more detailed delivery schedule, so check your email and spam folders.
SALE! Rifts® RPG & Key Sourcebooks – 20-50% off – physical books at PDF prices
If this sale doesn't get your heart beating faster, nothing will. Sean and I thought as the weather cools and the changing leaves tell of winter's approach, we want gamers to have something to cheer about. Enjoy. One week only! Please tell your fellow gamers about it.
NEW! Rifts® The Cyberworks™ Collection Hardcover – Available now
This beautifully re-mastered collection includes the Expanded Rifts® Sourcebook One (with the Republican/NEMA gear and info), Rifts® Sourcebook 2: The Mechanoids® (and Seven Dangers Prophecy), Rifts® Shemarrian Nation Sourcebook, plus key Archie, Hagan, Titan, and Shemarrian information from Rifts® Aftermath.
The Cyberworks Collection features must-have ARCHIE-Three™ source material gathered into one, big, easy-to-use hardcover edition.
"Re-mastered" means new, cleaned-up artwork, layout, editing, and tidbits of surprise material.
Much of the artwork feels like new. Looks great.
Chock full of robots, weapons, gear, and monsters.
Rifts® Sourcebook One, Revised & Expanded.
Rifts® Sourcebook Two: The Mechanoids®.
Rifts® Shemarrian Nation™ Sourcebook.
Rifts® Aftermath Archie-Three™ source material.
5 page index in the back of the book.
Color end sheets. Fan favorite Kevin Long cover.
384 pages – $49.99 retail – color cover hardcover – Cat. No. 900 – available now.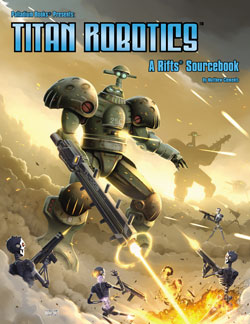 Rifts® Titan Robotics™ Sourcebook – AVAILABLE NOW!
Shrouded in secrecy and rumor, the true story of Titan Robotics™ is finally revealed. Part a high-tech toy box, part Secrets of Archie Three, part adventure book with whole new ways to play, and filled with new types of Titan Robotics power armors, giant robots, vehicles, weapons, and gear. Join a Titan Robotics Courier Team and delve into the company's many secrets, including ARCHIE-3's plans and program to monitor and manipulate the outside world.
Visit the gleaming steel and metal of a Titan Robotics™ showroom, and test-drive their newest models.
18 giant robots.
12 power armors.
Weapons, gear and notable vehicles.
Gunny's Depots – arms dealer and part of Titan's hidden network.
Play a Syntharoid sentient human replica android.
Play a Titan Dispatcher and join a Titan Robotics Courier Team.
Discover ARCHIE and Hagan's hidden agendas and secret operations.
Explore Titan's shadowy web of informants and how it prospers and grows.
Explore alternative time lines, campaign prompts, adventure outlines, intrigue, espionage, and more.
Art by Steven Cummings, Charles Walton, and others.
Written by Sean Owen Roberson and Matthew Clements.
192 pages – $26.99 retail – Cat. No. 899 – Softcover.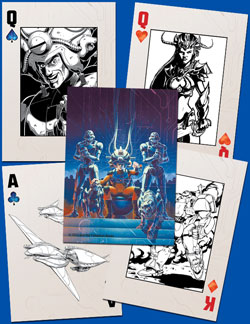 Cyberworks™ Poker Deck – AVAILABLE NOW!
The cover art from the original Rifts® Sourcebook One is featured on the back of each card. Color throughout. Attractive and durable.
52 cards, plus red and black Jokers.
Face cards feature iconic Rifts® Cyberworks/Archie 3 artwork (Spades: Cyberworks, Hearts: Shemarrians, Clubs: Mechanoids, Diamonds: Titan Robotics).
Number cards feature a color energy swirl in the suit and a circuit board pattern.
Textured linen cards for a nice touch and durability.
Professional quality playing cards.
52 cards plus two Jokers – $14.99 per deck – Cat. No. 2609 – available now!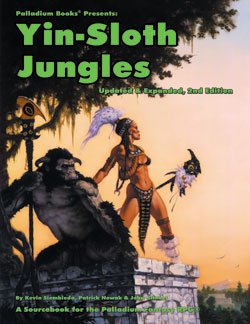 Yin-Sloth Jungles™ Expanded and Revised – AVAILABLE NOW
It is at the printer and we are told should arrive July 28, just in time for Gen Con – ships July 28. Yin-Sloth Jungles™ presents a setting unlike any other Fantasy RPG and it's all fun. It opens with an overview and history of the region, followed by nuts and bolts, like skills, poison, and weapons. Players will drool over the 15 truly unique O.C.C.s ideal for jungle adventures and beyond. Players and Game Masters will love the lavishly detailed jungle people and monsters. Then you get a little taste of what's to follow in Yin-Sloth Expeditions, making it a bit of a player's guide and bestiary. Ah, but there is magic and strangeness, and your first hints of wild adventures across the sprawling jungle.
15 O.C.C.s, all updated and expanded, making them seem brand new: Beastmaster, Holy Crusader, Jungle Fighter, Man-Catcher, the unique Tezcat and Pygmy Shamans, Spy, Undead Hunter, and Witch Hunter, among others.
18 Jungle People and monsters updated and expanded, plus a few additions, also expanded so they feel like new.
New and expanded Shaman Chant magic.
New and unique Pygmy Shaman Chant magic.
New and expanded history of the Yin-Sloth Jungles.
Expanded and clarified weapons, jungle armor, poisons, & more.
The Orcish Empire and a few notable cities.
All new maps by Phil Stone.
Comprehensive double-page map (grayscale) by Will Erwin.
Deluxe color map of the region by Will Erwin to be made available separately.
Filled with great artwork by Peterson (ROG) and Mike Mumah.
Written by Kevin Siembieda, John Klinkel, and Patrick Nowak.
160 pages – $24.99 retail – Cat. No. 459.
COMING SOON for Fantasy! Yin-Sloth Expeditions
In depth world information, villains, monsters, strange gods, a lost city, ancient civilizations, dark magic, several fully fleshed out adventures and ideas for a zillion more. Ideal for players and Game Masters alike. There is no place that offers the same range of adventures as the Yin-Sloth Jungles. August or September release.
The Yin-Sloth Jungles are a hostile wilderness filled with the ruins of lost civilizations, forgotten magic, and strange creatures found nowhere else in the world. And it's all waiting for you to explore!
Expeditions provides more details about the Yin-Sloth Jungles and notable cities, their people, NPCs, hidden dangers, and opportunities for bold adventurers. Discover strange places and exotic beings, unravel mysteries, expose conspiracies, battle unspeakable evil, recover magic artifacts, or champion one of many human and non-human fledgling kingdoms across the jungles.
The original Yin-Sloth Jungles material has all been updated, expanded, and re-mastered from start to finish with additional text, adventures, details, art, and loads of maps (all new). I had forgotten how many exotic locations and great adventures were in the original book, plus ideas for a zillion more. All re-mastered, updated, and expanded for the delight of new and long-time Palladium Fantasy® fans alike.
Villains, NPCs, magic items, adventures, and fun galore.
Find adventure or become a hired mercenary in the Orcish Empire.
Delve into cities like Mishala and others.
Retrieve relics from an ancient catacomb of Dragonwright.
Stop rebellion and save the city of Terellia.
Explore the Lost City of Kor.
Brave the madness at Shaldon's Keep and save a village.
Confirm rumors of a kingdom of monsters forming at the Great Fire Bog.
Discover what evil lurks in the tomb of Gavin.
Investigate a sect of Sea Giants restoring the city of Freedara.
Unearth ancient secrets, face eldritch evil, battle the undead, fight giants and monsters, stand against a wicked dragon, and face all manner of beasts and challenges.
10 adventures and countless ideas for more.
30+ new maps by Phil Stone and dynamic artwork throughout.
Written by Kevin Siembieda, John Klinkel, and Patrick Nowak.
160-192 pages – final size and price yet to be determined – Cat. No. 460 – in final editing. Goes into layout soon.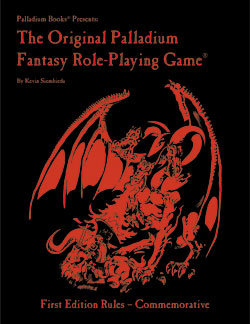 BACK in STOCK! "Original" Palladium Fantasy RPG® "Bonus" Edition Commemorative Hardcover, 1st Edition – Available now
The ever popular Original Palladium Fantasy RPG® Commemorative Bonus Hardcover (first edition rules) is back in print. It is a deluxe, foil stamped edition that presents the original, First Edition Fantasy rules, expanded with the inclusion of the long out-of-print Arms of Nargash-Tor adventure sourcebook and Tombs of Gersidi.
The complete, original RPG – the game that started Palladium Books.
First Edition rules are easily adaptable to current Fantasy titles.
Includes The Tombs of Gersidi adventure and setting.
The Arms of Nargash-Tor adventure sourcebook is included as "bonus" material back in print for the first time in 35 years.
Easily adapted to all 2nd Edition rules and sourcebooks.
Deluxe hardcover edition. Probably limited to fewer than 1,000 copies.
320 pages total with "bonus" material – $55 retail – Cat. No. 449HC – available now!
List of Palladium Books® RPG Hardcovers Available Now
NEW Sale on DriveThruRPG.com – Rifts® RPG and key sourcebooks
Build your PDF reference library with these core Rifts® titles and key sourcebooks. Endless adventure awaits. Please spread the word about this sale and the sale of physical books happening simultaneously. One week only! Sale ends after midnight October 4.
NEW! FREE Nightbane® RPG digital Sneak Preview on DriveThruRPG.com – Have you been wondering what the buzz is all about for Nightbane® and Urban Fantasy? Well, now you can see for yourself with this fun Preview of the core rule book. There are also free Sneak Previews of Dead Reign®, BTS, and numerous Rifts® books and other titles, including Rifts® Manhunters™, Titan Robotics™, Northern Gun™ One and Two, Lemuria, Creature Feature, and more. (Pssssttt, the popular Creature Feature coming to DriveThru soon.)
300+ RPG titles from Palladium Books
No other game company offers game worlds for so many different genres. Best of all, learn to play one Palladium RPG and you can play them all, because each uses the same basic core rules and combat. There are differences, but the fundamentals are the same. This also means you can bring characters, villains, monsters, powers, magic, weapons, gear, and adventure ideas from one setting into another or mash them together!
Rifts® titles. Rifts® is the ultimate setting in which you can combine any number of genres and play any style of gaming you may desire: science fiction, fantasy, supernatural horror, heroic adventure, dimensional travel, modern knights, cyborgs, giant robots, dinosaur taming, sleuthing, magic, monsters, heroes and legends. Or combine them all. There has never been a game quite like Rifts®.
Rifts® Chaos Earth® titles. Live through the Great Cataclysm and the Coming of the Rifts. Rifts® Chaos Earth® RPG, Creatures of Chaos™, Rise of Magic™, and Chaos Earth® Resurrection™ are all available.
The Rifter® #1-85. Each issue is a wealth of source material for Rifts® and 3-5 other Palladium game settings. More than 8,600 pages of source material and counting. Most issues are only available in digital form.
Palladium Fantasy RPG® titles. A rich, original setting in which you can play humans or any number of nonhuman species of people in a world of magic, heroes and wonder. All of it epic.
Dead Reign® RPG and sourcebooks. The Zombie Apocalypse unleashed. A great introductory RPG that is surprisingly uplifting, fun, fast, and easy to learn.
Heroes Unlimited™ RPG Second Edition titles. Create any type of superhuman you can imagine to build your own super-hero universe.
After the Bomb® RPG and sourcebooks. Play anthropomorphic, intelligent, mutant animals as crime-fighting mutants and super-heroes or survivors of a crumbling post-apocalyptic Earth.
Ninjas & Superspies™ RPG and the Mystic China™ sourcebook. 41 types of martial arts, ninjas, super-spies, gizmos, mystic powers, and magic in the main book, plus even more in Mystic China.
Nightbane® RPG and sourcebooks – Urban Fantasy. Only you know the truth. Only you can see the Nightlords and their demonic minions, and you have the power to stop them. But you must transform into a monster yourself in order to use your powers. Trust no one.
Beyond the Supernatural™ RPG and sourcebooks. Modern horror; 14 character classes, 42 occupations for "ordinary people," 100+ psychic abilities, 16 monsters, and more.
300+ Palladium titles in all, plus G.M. kits, paper miniatures and more. Palladium Books has settings for every genre: Fantasy RPG, science fiction (Rifts®, Splicers®, and The Mechanoids®), super-heroes (Heroes Unlimited and After the Bomb), superhero horror (Nightbane®), modern horror (Beyond the Supernatural), zombies (Dead Reign®), The Rifter® sourcebook series, novels, paper minis, and more.
FUN Podcast Adventures
These fun podcasts are created by Palladium fans like you.
Heroes Unlimited™ Christmas Special and the Cozy Caverns Beyond the Supernatural RPG adventure podcasts from the creative minds at www.realplaygamespod.com.
Coming this summer from Real Play Games Podcast: A dozen plus episodes of After the Bomb®: Purrsuit of the Heart, with other good stuff in development like a new story arc for the Beyond the Supernatural inspired Cozy Cavern Mysteries, and more.
Rifts® Live Play Podcast is available for your viewing enjoyment – Rifts®: Ghost in the Machine. It is produced and Game Mastered by none other than long-time Palladium freelance artist, Mark Dudley. You can find the first several episodes on Imaginos TV. Click on the link below.
https://www.youtube.com/playlist?list=PL9OKt2SBYwybo_sV8zmdOBSQ1eaJP3rj9
Palladium Collectibles – at Kevin's Online Toy & Collectibles eBay Store
Original art – My Ebay store is one of the few places where you can find original artwork by me (Kevin Siembieda), Kevin Long, Charles Walton, and others, as well as one-of-a-kind negatives from classic Palladium books (they look awesome framed), and other Palladium memorabilia.
Collectibles include Palladium limited edition hardcovers, out of print items, signed books, one-of-a-kind proofreader copies, art prints, posters, comic books, Star Wars toys, superhero action figures, and many other toys and items from my personal collection. Yeah, I used to be a crazy toy and art collector. Hundreds of items. Take a look every weekend or two for new additions.
One-of-a-kind Palladium Books negatives (special and rare collectibles). Negatives are always very popular items at the Palladium Open House, Gen Con, and conventions, and are catching on as rare collectibles, unique in and of themselves. Before digital printing, pages of a book were laid out by hand on a board, and each page was photographed. The plastic film negatives were then "ganged" on a massive sheet of Mylar, 16 pages per big sheet, and the printing plates were made from the negatives – everything white, printing black. We have been cutting them loose and making them available to you. I am only keeping a few dozen pages of negatives and a few complete books for myself, the rest are all being slowly offered to you, in no particular order.
Each negative is truly unique and resembles woodcut art.
It is a piece of Palladium Books and RPG history you will treasure.
Each was used to print the very book you may have in your collection (1981-2004).
Each signed in silver ink by Kevin Siembieda, the founder and owner of Palladium Books.
Each signed negative comes with a Certificate of Authenticity.
A one-of-a-kind work of art and a dynamic conversation piece.
Each signed negative is on a white board inside a clear plastic bag.
Negatives looks fabulous matted or framed! Fits in an 8x10 inch matt opening. Each neg is roughly 8½ x 11 inches.
Prices vary depending on the title, the art, and quality of the negative. Note: Many have scratches, or blemishes, and/or an opaque medium on the negative, but still look awesome matted or framed.
http://stores.ebay.com/kevinstoys-artandcollectibles
Closing Thoughts – Endless Adventure
It may not seem like it from the outside, but all kinds of big things are brewing behind the scenes at Palladium. You will learn of one of them in October with more to follow.
For now keep playing your old favorites, and try world settings unknown to you – Systems Failure (an alien invasion different than most), Heroes Unlimited (make any hero), Palladium Fantasy® (epic), Phase World® and any Dimension Book, Nightbane® (urban fantasy/super-hero horror), Beyond the Supernatural (modern horror), Splicers®, and more! Heck, Rifts® is so expansive there are settings within the main setting like the Western Frontier, Dinosaur Swamp, Canada, Atlantis, South America, England, Germany, Japan, China, and locations across the globe. Then there are the Dimension Books for space opera and adventure across the cosmos.
Lately, I seem to be meeting people who have rediscovered Rifts®, Fantasy, Heroes Unlimited, etc., who forgot how awesome and fun these settings are. To them I say, welcome back and game on! So pick up any Palladium game or sourcebook that's been sitting on the shelf for a while and give it a read. It is likely to set your imagination kindling with new campaign ideas and characters.
We played Palladium Fantasy with Sean's daughter and gave her a few key books, so now she's getting deep into the lore and setting. She found it is deeper and richer than she had imagined. I suspect we'll be playing more Fantasy the next time she's in town. I love seeing my games through the eyes of new players, especially youngsters.
That's all for now. Do not miss the Rifts® Sale (one week only) to enjoy some steep savings and try new settings (or revisit old faves). Happy weekend and game on, my friends, game on.
– Kevin Siembieda, Publisher, writer, and friend
© 2023 Palladium Books Inc. All rights reserved.
Rifts®, The Rifter®, RECON®, Splicers®, Powers Unlimited®, Palladium Books®, The Palladium Fantasy Role-Playing Game®, Phase World®, Nightbane®, Megaverse®, The Mechanoids®, The Mechanoid Invasion®, Coalition Wars®, Chaos Earth®, Dead Reign®, and After the Bomb® are Registered Trademarks of Palladium Books Inc.; Beyond the Supernatural, Coalition States, Garden of the Gods, Heroes Unlimited, Ninjas & Superspies, Minion War, Mysteries of Magic, Psychic Scream, SAMAS, Thundercloud Galaxy, Three Galaxies, Vampire Kingdoms, and other published book titles, names, slogans and likenesses are trademarks of Palladium Books Inc., and Kevin Siembieda.
This press release may be reprinted, reposted, linked and shared for the sole purpose of advertising, promotion and sales solicitation.