By Kevin Siembieda
One game system – every genre – countless worlds – endless adventure
I wish I could tell you about everything going on at Palladium Books right now. It's weird not to be able to do so, but that happens more often than you might imagine. Exciting ventures and possible opportunities or plans for the future that we can't share with you or talk about yet.
Why? Lots of reasons really. Sometimes for business reasons or for strategic reasons, or because the parties involved want everything kept secret, or because it is a work in progress with uncertain results yet to be realized. Despite our best efforts and hard work, in the end, things do not always work out, or there are delays, and we don't want to get you excited and then dash your hopes. Bad enough our own hopes get dashed. Which happens a lot, too. For example, one project has been in development for years now and we have no idea whether it will become reality or not. We sure hope so, but its fate is not in our hands.
Gosh, I don't mean to be cryptic. I'm just trying to say there are a number of exciting things happening at Palladium Books behind the scenes that – if they come to pass – will blow your minds. Ours are already blown by the possibilities. As you can probably tell by my ramblings here. Unfortunately, some of those things have interfered with the schedule of releases we had planned at the start of the year (grrrrr), but if they pan out ... wow. And it's not just one thing. There are a number of things going on. Some small and fun for you as well as us, and others ... like I said, wow. Of course, the potential wows always seem to takes the longest, with fits of activity and excitement followed by long silence and waiting, more excitement, followed by more waiting. It's maddening at times. Keep the faith and hang in there with us. Great things are brewing.
In the very near future, you can expect new book releases. Once they start to flow, I think you will be seeing new releases in a nice steady stream. Things are moving along well on many fronts. While I wrap up Rifts® Bestiary Volume One, I have people working on art, writing or editing for In the Face of Death™, Chaos Earth® Psychic Scream™, The Rifter® #83, The Rifter® #84 (both epic issues), Garden of the Gods™, Rifts® Antarctica™, Titan Robotics™, Rifts® Bestiary™ Volume Two and others, including some surprises. We've hit a few bumps and snags here and there, darn it, but overall we should have one great book for you after another. And there are books in the pipeline for several Palladium settings, not just Rifts®. Read the many updates below for progress reports on just some of these.
Are you excited about Game of Thrones? Wasn't the battle for Winterfell epic?! I was on the edge of my seat most of the episode. Has all that excitement gotten you hungry for blood-chilling Fantasy adventures? If so, we can help you with our Palladium Fantasy RPG® Sale at prices to die for. We are putting all titles in this game line on sale for one week only. Time to build your fantasy campaign.
More good news! The Palladium Fantasy RPG® Interactive Character Sheet is now available! And I think it's awesome. This is, in fact, one of those small, fun things that I was talking about. The amount of thought and work that went into this Interactive Character Sheet blew me away. Clear, easy to use, detailed and very helpful. A great job by Travis Guerrero (Prysus). And it sure wasn't a small amount of work putting it all together either. We kept the cost of it low so that everyone who wants this awesome Player and Game Master helper can afford it. I hope you enjoy it as much as we do.
Only FOUR days left on Pinnacle's Kickstarter for Rifts®: American Armageddon. Three new, full color, Rifts® sourcebooks for Savage Worlds®, each set in North America and featuring the Vampire Kingdoms, Arzno, the Coalition States, Federation of Magic, Free Quebec, Madhaven, and more, as well as updated core rule books. Personally, I think these new titles are even better than the first batch of books that came out a couple years ago. Check 'em out before the Kickstarter ENDS on May 5th.
Our thanks for your support of the Rifts® Bundles of Holding and our various sales. Read on to get the scoop about progress on upcoming books.
NEW! Palladium Fantasy RPG® Interactive Character Sheet – available now
The Palladium Fantasy RPG® Interactive Character Sheet is a Microsoft Excel-based character management system. Packed with features and data collected from every official Palladium Fantasy sourcebook, this sheet saves you time and hassle with each character you create.
Features & Benefits:
The Main Character Sheet Page collects the important data from across multiple tabs and puts it in one place for quick and easy reference.
Separate sheets examine character construction (worktable), Skills, Magic, Psionics, and Combat in greater detail.
Built-in leveling system that calculates skill advancement for you!
Experience Tables for over 80 O.C.C.s already programmed.
Recognizes the percentages for nearly 150 skills, plus combat bonuses for over 20 Weapon Proficiencies and 7 Hand to Hand styles.
Calculates the speed and distance a character can run and jump based on character Attributes.
Also calculates how much a character can lift, carry, and throw for humanoids, Giants, and Supernatural Beings.
Add in your own Hand to Hand style, custom Skills, unique Weapon Proficiencies, and Experience Tables.
Estimated time to build a character reduced by 20% or more.
Instructions on how to use the sheet included, as well as a video walkthrough below.
Important Note: This character sheet is built to be used with Microsoft Excel 2010+ and it comes in .XLSX format. Opening this file in other spreadsheet programs is NOT guaranteed to work as intended.
Only $3.00 – available now!
Watch the Overview video here: https://vimeo.com/322271758
NEW! Palladium Fantasy RPG® Sale – available now
ALL Palladium Fantasy RPG® titles on sale at prices to kill for. The core rule book, Dragons and Gods™, Monsters & Animals™, all world books and sourcebooks, on sale for one week only. Live the Fantasy. Sale starts now and ends after midnight on Wednesday, May 8, 2019.
UPDATE: Rifts® Bestiary, Volume One – May release
We are planning to go into final layout soon and expect an end of May release. Other demands on my time over the last week means I did only a little work on Rifts® Bestiary, Volume One, but I am back to full steam ahead. As I have said, artwork is done and Alex and Wayne have been editing away. Each description is comprehensive and filled with fun surprises and ideas for adventure and various uses by players and G.M.s alike. The monsters and creatures of Rifts Earth herald from across the Megaverse and range from delightful and helpful to monstrous and alien. An end of May release.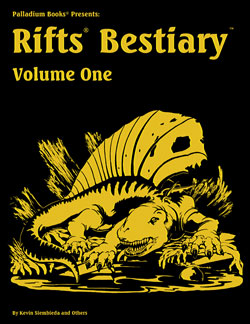 NEW! Rifts® Bestiary, Vol. One "Gold Edition" Hardcover
Because you like 'em so much, Palladium is also offering a limited, signed and numbered, Gold Edition hardcover for each Rifts® Bestiary. Same interiors as the softcover edition and the even more limited, Megaverse Insider hardcover editions.
Gold foil on a black leatherette hardcover.
Sewn and glued for long-lasting durability.
Limited to 400 or 500 signed and numbered copies.
Signed by Kevin Siembieda and Palladium staff.
224-256 pages – $50.00 retail – Cat. No. 896HC (Volume One) – in final production. End of May or June release for the Gold Edition hardcover.
UPDATE: In the Face of Death™, a sourcebook for Dead Reign®
I believe the last of the additional artwork came in this week and looks fabulous. As soon as I am finished with Rifts® Bestiary™ Volume One, I dive into finishing In the Face of Death™. I can hardly wait. A spring release.
UPDATE: The Rifter® #83 – end of May or early June release
UPDATE: The Rifter® #84 – end of June or early July release
Wayne has made most of his final selections and is currently figuring out which source material will go into each, The Rifter® #83 and #84. We have a lot of great material for Rifts®, Palladium Fantasy®, Heroes Unlimited™ and more. Contributing writers include Carl Gleba, Matt Reed, Ian Herbert, Hendrik Harterich, Steve Dawes, Greg Diaczyk and others.
UPDATE: Rifts® Chaos Earth® – Psychic Scream™ – Summer release
We will be trying hard to release this epic sourcebook by Taylor White with additional material by Kevin Siembieda in July.
UPDATE: Garden of the Gods™ – Summer release
Charles "Chuck" Walton is fine-tuning the pencils for the cover as you read this, and I have been assigning more artwork. Garden of the Gods™ is a unique adventure engine that should give players and Game Masters plenty of fuel for their characters and games. The Raw Preview Edition gives you a great idea of what you can expect when the finished book is released later this summer. We cannot wait to get all these books into your hands. I am shooting for an end of July/Gen Con release, but August is probably more realistic.
UPDATE: Rifts® Titan Robotics™
I have a couple of artists working on the interior artwork, with a few more to be assigned to the task. Meanwhile, I approved one of John Zeleznik's cover sketches and he is fine-tuning the pencils right now. A summer or fall release, which depends on how quickly some other projects come together.
UPDATE: Rifts® Bestiary™, Volume Two – Fall release
Volume One took longer than anticipated, so I'm not going to post a release date at this time for Volume Two just yet. However, we all want it to be released as quickly as possible. Looking at a fall release.
UPDATE: Rifts® Antarctica™
Carmen Bellaire turned in his edits and tweaks on Matthew Clements' fine manuscript this week. Regrettably, due to unexpected health issues, he is unable to write the additional material he and I had discussed. I don't know exactly how that may delay this book. It probably means I need to write that section. I'm waiting for Carmen's notes on the subject. I still can't get over that awesome John Zeleznik cover and want this book in your hands. Probably a fall or winter release.
I think Rifts® Antarctica™ is going to surprise and delight a lot of people. It is also a great example of the fun you can have with the Raw Editions. The sold out Rifts® Antarctica Raw Edition is a far cry from what the finished book is going to be. Those of you who bought the Raw Edition get a glimpse at Palladium's creative process. When you compare the two, you'll see what we kept, what we eliminated, what we added, and how we embellished the material to reach the creative finale of the finished book coming this fall or winter. Fun and educational for those of you who aspire to be writers yourself or just like to have the inside track at Palladium. And true of all Raw Editions vs the finished book.
UPDATE: The Disavowed™, Living Nowhere™, Beyond the Supernatural™ sourcebooks, and other titles
These titles and several others are NOT forgotten and are in various stages of active production or waiting for production. As always, just because a book is not specifically listed in every Weekly Update, it does not mean it is discontinued or in limbo, it means there are more immediate things to talk about or there's no substantive news to report. We are anxious to put as many of the books you've been waiting for into your hands as possible over the next 18 months. That includes Chaos Earth® First Responders™, Rifts® Antarctica, Rifts® CS Arsenal™, Rifts® Living Nowhere™, Beyond the Supernatural™ sourcebooks, more Fantasy sourcebooks and other titles. So if a book you are waiting for is not mentioned in an Update, it means there is nothing new to report, but it should still be in the pipeline and news for it will be coming in the weeks or months ahead. Right now, we are focused on releases for the next six months, which by our count is 6-7 titles. And many of them are in various stages of production or development.
UPDATE: Only 4 Days left on Rifts® for Savage Worlds® Kickstarter – 3 new adventure sourcebooks for Rifts® Savage Worlds® – Ends May 5, 2019
kickstarter.com/projects/545820095/rifts-for-savage-worlds-american-armageddon
Arcana & Mysticism: Explores the Federation of Magic™, Psyscape™, and Techno-Wizard™ enclaves throughout North America, and the dire threats hiding within.
Blood & Banes: Details the struggle of dark heroes against the alien Xiticix Hivelands™, encroaching Vampire Kingdoms™, mysterious Dinosaur Swamp™, and insanity of Madhaven™.
Empires of Humanity: Brings to life the wonders of human civilization from the Coalition States™ to the New West™, and uncovers the secrets of the east coast.
Updated Core Rule Books, plus Game Masters' screen, dice, bennies, and more.
If you are a fan of Rifts® for Savage Worlds® or just like to collect Rifts® products, you will want to take a look at this Kickstarter from Pinnacle Entertainment.
kickstarter.com/projects/545820095/rifts-for-savage-worlds-american-armageddon
New on DriveThruRPG.com – Palladium Fantasy RPG® SALE
In conjunction with the release of the Palladium Fantasy RPG® Interactive Character Sheet and our Palladium Fantasy RPG® SALE, we are putting ALL Palladium Fantasy RPG® titles ON SALE on DriveThru starting now thru May 8, 2019. Live the Fantasy!
We continue to work on a number of new PDF releases for DriveThru, including the three Rifts® Novels, The Rifter® #80, more Paper Minis, a few free things, and maybe a few surprises, so keep your eyes peeled.
Recent PDF additions include The Rifter® #79: gaming through history, the Kingdom of Rifts® New Oslo, a Rifts® short story, the Heroes Unlimited™ Stage Magician, tips on running a campaign, and more. The Rifter® #78 with the Modern Necromancer for use with Nightbane® and other settings, the City of Khemennu Part 2 for Palladium Fantasy®, the Nexus Zone for Rifts®, the aftermath of I Am Legion for Splicers® and more. Rifts® Heroes of Humanity™, the Coalition's response to the escalating Minion War™ crisis, uniting D-Bees, mages and heroes of every stripe to stand against this Demon Plague. CS psychics and Psi-Battalion, CS Demon Hunter, new CS power armor, cyborgs, gear, special training and more. Dead Reign® Paper Miniatures Volume Three: Zombies, Dead Reign® Paper Miniatures Volume Two: Civilians and Dead Reign® Paper Miniatures Volume One: Survivors. There are also paper miniatures for Heroes Unlimited™, Palladium Fantasy® and Rifts®. A new, up-to-date, PDF Palladium Books Catalog. Nightbane® Dark Designs™ sourcebook with 60 new Common Talents, 38 new Elite Talents, 18 new Morphus Tables, all other Morphus Tables collected and more. Systems Failure™ RPG, a 160 page RPG that deals with alien invasion and a post-apocalypse setting that is fun and dynamic. Civilization is on the verge of collapse when the so-called "bugs" invade and turn humans into zombie-like slaves. Monsters, heroes and fun. A complete RPG and setting. Rifts® World Book 34: Northern Gun™ Two: 256 pages of technology and fun. 30+ power armors, 30+ body armors, 15 combat vehicles, 45 vehicles (hovercycles, etc.), 10 robot haulers, the Robodome and more. Bizantium and the Northern Islands™: the northernmost part of the Known World, the Cold Born, Necromancy ships made from dead sea serpents, 15 creatures, Random Sea Monster Generator, and more. Rifts® Northern Gun™ One. This fan favorite might be thought of as the big book of giant robots – an in-depth look at Northern Gun, 70+ weapons, 27 robots, NG O.C.C.s, key people and places, and much more. Mysteries of Magic™ Book One: The Heart of Magic™ with Wizards, their Apprentices, nearly 60 new magic spells and remember, magic and monsters in the Fantasy RPG are easily adapted to Rifts®, Chaos Earth®, HU2 and other settings. Wolfen Empire™ Fantasy sourcebook, the Great Northern Wilderness and Killer Winters, 12 Wolfen Tribes, Wolfen military and society, 15+ creatures, 5 full adventures, 101 adventure ideas, random encounter tables, notable people, places, plus FREE Sneak Previews of The Rifter® #80, The Rifter® #81, The Rifter® #82, and more on DriveThruRPG.com.