By Kevin Siembieda
One game system – every genre – countless worlds – endless adventure
We have been pounding away on books, primarily Rifts® Bestiary™ Volume One. I've been writing like crazy. Otherwise, taking care of business and health matters, and exploring some possible small licenses.
Over the last week here in Michigan where the Palladium offices are located, we have seen 6-8 inches of snow, a few days of sub-zero temperatures, sleet, freezing rain, a 36 hour temperature bump up to 43 degrees Fahrenheit with constant rain, a plunge back into temperatures in the teens, and there is another "big weather maker" (that means snow!) that should arrive on Monday. And other parts of the country have been hit even worse than us. So I thought it might be nice to have a surprise weekend RPG sale that carried us away to warm climates in our imaginations if not in reality. Check out the Rifts® Winter Escape Sale, below. And FYI, The Rifter® Back Issue Sale ends in another week or so.
Rifts® Winter Escape Sale – One Weekend Only – now thru Monday
Escape the snow, ice and freezing temperatures with this hot RPG sale. One weekend only – January 24-28, 2019. All titles offered enable you to escape the winter blahs by role-playing in warm parts of the Rifts® Megaverse®, from the Pits of Hell (it doesn't get any hotter, right?) to the jungles of Dinosaur Swamp, Mexico and South America. Stay warm and unleash those imaginations. Note: A similar sale is available on DriveThruRPG.com for PDF versions of the titles listed below. Both sales END January 28, after midnight.
One weekend only – sale ENDS Monday, after midnight, January 28, 2019.
SALE! The Rifter® Mini-Subscriptions – Three to choose from
Each subscription, whether for 4, 3, or 2 issues of The Rifter®, provides the same savings off the cover price plus FREE shipping to subscribers in the USA only.
Note: If your subscription goes beyond The Rifter® #84, please contact Palladium Books to get a store credit for the value of your remaining subscription. Thank you.
We appreciate your loyalty and years of support, so we are happy to offer you these subscription savings and the convenience of FREE shipping right to your doorstep. It is also a way for newcomers to try these excellent sourcebooks and gaming tools. Every Rifter® is packed with adventure ideas and source material that can be adapted to most Palladium world settings. These Rifter® subscription options are all available now. We are also offering a corresponding Rifter® Back Issues Sale, see details below.
SALE! Rifter® Back Issues only $9.99 each – on sale till February 3, 2019
In conjunction with the Rifter Subscription offers, above, most available issues of The Rifter® are on sale for only $9.99 each. This is a limited time offer now through January, while supplies last. Please note that a few issues of The Rifter® are very low and could sell out. Available only while supplies last and sold on a first come, first served basis.
UPDATE: Rifts® for Savage Worlds – Art Approvals for new books
I am not sure how much I can disclose, but I think it is safe to report that Pinnacle is working on more than one new Rifts® book for Savage Worlds®. To that end I recently approved close to 50 pieces of color artwork, including cover art. And this is on top of 30 or so prior pieces of artwork. The majority of it was very good to excellent with a handful that knocked our socks off. Nice work. I expect to be reviewing and approving written text in a few weeks. Keep up the great work, Sean, Shane, and company!
UPDATE: The Rifter® #83
Wayne is reviewing material to go into this issue of The Rifter® and there is still time for you to contribute to the next issue.
Negatives and Original Art
We continue to add more negatives (many on sale) and original art to my ebay store. As noted in the last update, people are really starting to get into the one-of-a-kind negatives of old books. Cool, because I think they look great and I love them. I hang onto a few select pieces, but I have been offering most for sale in my ebay store and at conventions. There are several freelancers who snap up their favorite art and text pages as they become available, and we saw an ever-increasing number of negative requests in Surprise Packages this past season. Of course, original artwork is always popular and both are available in my ebay store, along with limited editions, rare RPG books from my own collection, toys, and other collectibles. Alex and I recently added some Charles Walton artwork and a few dozen negatives (Cyber-Knights, Mindwerks, Rifts Index 2, and others). If there is a page you might be interested in, contact us, tell us which book and which page(s), and we'll see if it is available for your consideration.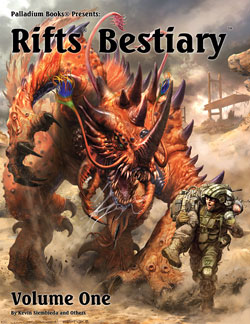 UPDATE: Rifts® Bestiary, Volume One
This is my number one focus until it is done. I want to wrap this up and get it to you as quick as I can. I'm having a blast revisiting and updating familiar creatures as well as working on new beast!
The two upcoming Rifts® Bestiary books will be great resources for players and G.M.s alike, with creatures that can be used as familiars, pets, riding animals, guard animals, and in some cases, even unlikely allies. Others are slobbering monsters or malicious predators who include humans and D-Bees among their prey. All will give you plenty of spice to add to your characters and adventures. And each has a map that shows at a glance exactly where to find these beasts.
UPDATE: In the Face of Death™, a sourcebook for Dead Reign®
As stated in the last Update, I'm going to try to finish this title quickly. Some writing is done and I am burning with ideas. Some of the art is also done and I will be assigning more to two additional artists.
UPDATE: Garden of the Gods™
Like I said, I'm hot to finish Garden of Gods and may release it as a Raw Preview first. Must wait until the two Rifts® Bestiary books come out before I can jump into it. Assigning art and making notes as new ideas hit me. Already have a few artists lined up.
UPDATE: Rifts® Antarctica™
Freelance writer Carmen Bellaire continues to fine tune and add some material that he and I brain-stormed and want to see included in this fascinating and scary World Book. The Rifts® Antarctica™ book is going to be fantastic. The finished John Zeleznik cover painting should arrive by the end of January. I will be assigning the interior art soon and may put this bad boy on the fast-track to publication. It's nice to have both Matthew and Carmen writing books again for Palladium as I love working with those two.
UPDATE: Rifts® Chaos Earth® Psychic Scream™
So many books I want to finish and get into your hands. Rifts® Chaos Earth®: Psychic Scream™ is one of them. I cannot wait to finish the editing and writing additions to it.
Other Titles
Other RPG titles are in the works or the final manuscript stage awaiting review. So if a book you are waiting for was not mentioned, it means there is nothing new to report, but it should be in the pipeline and news for it will be coming in the weeks ahead. Right now, we are focused on releases for the next 4-5 months.
New on DriveThruRPG.com – Rifts® Winter Escape SALE
Escape the snow, ice and freezing temperatures by getting PDFs of select Rifts® titles set in warm parts of the Rifts® Megaverse®, from the Pits of Hell to the jungles of Dinosaur Swamp, Mexico and South America. Stay warm and unleash those imaginations. Note: A similar sale is on now at the Palladium Books website for physical versions of these titles. Both sales END January 28, after midnight. Just some of the 200+ Palladium PDF titles available on DriveThruRPG.
One weekend only – sale ENDS Monday, after midnight, January 28, 2019.
Recent PDF additions include Rifts® Heroes of Humanity™, the Coalition's response to the escalating Minion War™ crisis, uniting D-Bees, mages and heroes of every stripe to stand against this Demon Plague. CS psychics and Psi-Battalion, CS Demon Hunter, new CS power armor, cyborgs, gear, special training and more. Dead Reign® Paper Miniatures Volume Three: Zombies, Dead Reign® Paper Miniatures Volume Two: Civilians and Dead Reign® Paper Miniatures Volume One: Survivors. There are also paper miniatures for Heroes Unlimited™, Palladium Fantasy® and Rifts®. A new, up-to-date, PDF Palladium Books Catalog. Nightbane® Dark Designs™ sourcebook with 60 new Common Talents, 38 new Elite Talents, 18 new Morphus Tables, all other Morphus Tables collected and more. Systems Failure™ RPG, a 160 page RPG that deals with alien invasion and a post-apocalypse setting that is fun and dynamic. Civilization is on the verge of collapse when the so-called "bugs" invade and turn humans into zombie-like slaves. Monsters, heroes and fun. A complete RPG and setting. Rifts® World Book 34: Northern Gun™ Two: 256 pages of technology and fun. 30+ power armors, 30+ body armors, 15 combat vehicles, 45 vehicles (hovercycles, etc.), 10 robot haulers, the Robodome and more. Bizantium and the Northern Islands™: the northernmost part of the Known World, the Cold Born, Necromancy ships made from dead sea serpents, 15 creatures, Random Sea Monster Generator, and more. Rifts® Northern Gun™ One. This fan favorite might be thought of as the big book of giant robots – an in-depth look at Northern Gun, 70+ weapons, 27 robots, NG O.C.C.s, key people and places, and much more. Mysteries of Magic™ Book One: The Heart of Magic™ with Wizards, their Apprentices, nearly 60 new magic spells and remember, magic and monsters in the Fantasy RPG are easily adapted to Rifts®, Chaos Earth®, HU2 and other settings. Wolfen Empire™ Fantasy sourcebook, the Great Northern Wilderness and Killer Winters, 12 Wolfen Tribes, Wolfen military and society, 15+ creatures, 5 full adventures, 101 adventure ideas, random encounter tables, notable people, places, plus FREE Sneak Previews of The Rifter® #80, The Rifter® #81, The Rifter® #82, and more on DriveThruRPG.com.