Palladium Books® Weekly Update – December 27, 2019
By Kevin Siembieda
One game system – every genre – countless worlds – endless adventure
I hope everyone is surviving the holidays and all the shopping and travel and fun that go with them. I know it took its toll on me this year, but there were a lot of smiling faces. Christmas itself was quiet and pleasant.
Since most of us are still basking in the holiday glow, enjoying a long weekend, or stuck back at work (like us!), I'm going to keep this very short and very much like the Christmas Eve Update with just highlights of what is going on followed by more fun Surprise Package comments from fans like you.
The Surprise Package Offer is extended another couple of weeks. We don't always extend, but we have for the last several years, because we know how much you appreciate it, and we appreciate you. We understand many of you put off getting a Surprise Package for yourselves so you can buy gifts for your loved ones, while some of you are so busy you forget. Well, you still have a chance to get a Palladium Surprise Package – $95-$100 (or more) worth of Palladium products (and signed books if want them) for only $50 plus shipping and handling. Fill in holes in your collection, try new settings, replace beat up old books, or use it to get birthday or anniversary gifts, but get one before it is too late and this deal is gone until next Christmas. Ho, ho, ho.
Garden of the Gods™ – ships around January 10, 2020. It is a big, 224 page Fantasy adventure sourcebook. We will let you know as soon as we have a ship date from our printer! We'll also try to put up a free Sneak Preview on DriveThru.
Back in Stock – 3 fan favorites.
The Titan Robotics Raw Preview edition is sold out! Even the ones we put aside for Surprise Packages are gone! I guess we had better finish the actual book over the next few months.
The Garden of the Gods Raw Preview edition is nearly sold out. I think there are only 5-6 copies left for sale and 4-5 signed copies put aside for Surprise Packages. That's it. But you won't have long to wait for the finished, 224 page book which should ship around January 10, 2020.
The Land of the Damned 3: Bleakness Raw Preview edition is still available but selling fast!
Lopan Raw Preview? I'm thinking of releasing the unedited, unfinished manuscript (it's a big one) and making it available the same time Garden of the Gods is ready to ship. What do you think?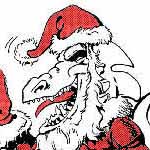 Surprise Package Offer – EXTENDED to January 14, 2020 – the best deal in gaming anytime of the year
Why extend this amazing offer? Because it is the nice thing to do. We realize many of you are so full of the Christmas Spirit that you spend your money on gifts for your loved ones rather than yourself. This wonderful act of charity often leaves no money for you to buy a Palladium Surprise Package for yourself before Christmas. We think that sacrifice is pretty wonderful and what the holiday season is all about, so we extend the offer so you selfless souls can pick up a Surprise Package after the holidays. We know this happens, because a lot of people over the years have thanked us for the extension for this very reason.
The extension is also for you Johnny Come-Latelies who are so caught up in the holiday frenzy, work, and life that somehow you miss placing your order for the Christmas Surprise Package before the offer ends. It is also for those of you who wish you had ordered one (or another one) but forgot.
Lastly, it is our way to carry that holiday good cheer into the New Year. So get your post-holiday Surprise Package and enjoy. Please note that this offer will not be extended further. This is truly your last chance until next Christmas. And please spread the word to let people know the offer is extended for a short time. Merry Christmas and happy holidays. Don't forget, the Surprise Package makes a nice gift for upcoming birthdays and anniversaries as well as a nice way to treat yourself, try new settings, fill holes in your collection, replace battle worn favorites, get prints or miniatures, etc. Media Mail is the least expensive method of shipping.
Why buy a Palladium Christmas Surprise Package AFTER the holidays?
Because it is still the best deal in gaming and something special! The Palladium 21st Annual Christmas Surprise Package gets you physical books at PDF prices and if you want them signed we will sign each and every one of them! Plus we have some original art by Chuck Walton you may request (but don't count on it, still provide us with a juicy Wish List). Treat yourself to those books you've been eye-balling, try new world settings, fill holes in your collection, get back issues of The Rifter®, replace worn out books, or get them as gifts for upcoming birthdays and anniversaries.
It enables you to get several RPG titles ($95-$100 often MORE) for ONLY $50 (plus shipping and handling) as gifts for others or for yourself. It is our way of saying thank you to our many fans for being so kind and patient, and for your years of support. You are appreciated more than you may realize.
Christmas Surprise Packages are not just for Christmas. Whether you celebrate Christmas, Hanukkah, Kwanzaa, or the Winter Solstice, or you're looking for that special gift for a birthday, anniversary, graduation, or any special occasion that falls between now and February, a Surprise Package may be the ideal way to go. You get a ton of stuff on the cheap, you can get a bunch of autographs (if you want 'em), and you look like you spent a fortune.
This is also a great way to try that game setting you've wondered about – Splicers®, Dead Reign®, Chaos Earth®, Palladium Fantasy®, Nightbane®, Mechanoid Invasion®, Rifts®, After the Bomb®, etc. – or to get something for your favorite Game Master. Or perhaps, to get your player group to consider a new game or setting.
Your "Wish List" is vital – the Palladium Surprise Packages are designed to simulate the joy and surprise of the Christmas Season of Giving. To do this, you submit a list of 12-15 Palladium products (or more) FOR EACH Surprise Package you order. This list of 12-15 items for EACH Grab Bag is critical, because you will not know which items we will select to send you. That makes it just like a Christmas gift because it's a surprise. Plus, Santa Kevin, who personally hand-picks every item for every Grab Bag, may toss in something extra like a limited edition print, or color maps, or T-shirt, or issue of The Rifter®, or something else he thinks you'll enjoy.
Autographed books. For those of you who want them (which are most people), available members of the Palladium staff, and any freelancers we can lasso at the time, are happy to autograph each and every book in your Surprise Package. This is the only way many fans, especially those in other countries, can EVER get signed books.
Send us your brief comments. There is a special form and format to fill out for Christmas Surprise Packages, including a place where you can offer your brief comments, suggestions, greetings and salutations.
It only costs $50 plus shipping to get $95-$100+ worth of Palladium products! First-timers are always nervous until they see the great value in their first Surprise Package. A typical Grab Bag has $95-$100 worth of product, sometimes more! Yes, sometimes more. Many people order 2-3. Some order 4-6, and some maniacs order even more! It makes sense, because it is a great way to fill holes in your own collection, treat yourself, get autographs, try new games and settings, rebuild your collection, replace worn out books, and get your gaming pals gifts. PLEASE spread the word about this great offer.
To those of you outside the USA, the X-Mas Surprise Package is a way to get books and circumvent the damn high cost of shipping from the United States. Since you are getting $95-$100 (often more) worth of product and only paying $50 plus a small handling charge, and shipping via Priority Mail International (required for packages weighing more than four pounds) to most locations in Europe, Canada and many other countries is around $50-$60 US dollars. HOWEVER, because the cost of the product is so low, that's the equivalent of paying retail for the products and only $0-$30 for shipping. A very good deal. Plus you get autographs if you want them! X-Mas Surprise Packages are the way to go for those of you outside the USA. Please take advantage of it to get all those products you've wished you could get except the shipping was too prohibitive. We feel your pain. Game on!
IMPORTANT NOTE: The X-Mas Surprise Package is a Grab Bag. As such, while we always try to send you items from your Wish List, you may NOT get everything you ask for and you are likely to get one or more items NOT on your list, like The Rifter®, or other item(s) we think you should enjoy. PLEASE give us a long Wish List and fill out other questions (favorite Palladium games, would like to try X, and so on) because it helps us to make your Surprise Package special. If you need or want specific items, do NOT use the Surprise Package; place a regular order at full retail to guarantee you get the books you want. Offer extended to January 14, 2020.
Updated Digital Catalog is available on Palladium Books' website (and on DriveThruRPG). To help make selections, you may want to refer to the current PDF Catalog of Palladium Books® products available on PalladiumBooks.com and on DriveThruRPG.com.
Please tell everyone about the Christmas Surprise Packages so we can put smiles on the faces of gamers across the country and around the world.
Closing Thoughts
I did a bit of writing on two upcoming books and coordinating art on a few others. 2020 is gonna see a lot of new book releases, we're so excited. More on that in a future Update. For now, enjoy the Grab Bag comments below, and the rest of the holiday season.
– Kevin Siembieda, Game Designer, Writer, & Friend
Surprise Package comments from fans like you
Every year there is a section where the customer can offer comments and suggestions with his or her Surprise Package order. Every year, in acknowledgment of our fans, and because they are fun to read, we offer a sampling in the Weekly Updates. Our heartfelt thanks to all of you who have stuck with Palladium through thick and thin. Keep those imaginations burning bright, have a joyous holiday season, and game on.
You have no idea how much your comments and support mean to all of us. Everyone at Palladium enjoys reading your brief comments. They always brighten our day. Thank you. I have tried to write a short response [in brackets] to each.
To place your Christmas Surprise Package order, click here.
O.M. in Louisville, Kentucky, writes: This is my 4th year of getting the Christmas Surprise Package and Palladium does it better every year. Truly the best deal in gaming.
[Awww, thank you, O.M., we sure try to make every one awesome. – KS]
L.L. in East Alton, Illinois, writes, in part: I'm trying to replace old stuff ... I plan on buying at least one more Surprise Package (this is my 2nd this year) early next year ... I really love Palladium Books, and I've been a fan for years ... happy holidays!
[Keep 'em coming L.L., keep 'em coming. Happy New Year. – KS]
B.W. in Manteca, California, writes: This is the 3rd Grab Bag I've ordered. These things are addicting!
[Of course they are B.W., they are fun and a tremendous savings. – KS]
J.M. in South Hadley, Massachusetts, writes: We buy a Surprise Package every year and love it. Thank you for offering it. We love your system and you guys.
[Happy New Year, J.M. I'm delighted you enjoy the Surprise Package offer so much and come back every year. Game on. – KS]
A.H. in Golden, Colorado, writes, in part: Thank you, I am enjoying the Palladium Fantasy RPG®. The setting is fun and dynamic and really shows Palladium Books' willingness to take common tropes and run with them in fun directions. I very much am excited to expand my collection of the world ... keep up the great work!
[Count on it A.H.! Btw, Garden of the Gods™ should be available soon and will blow your mind. Game on. – KS]
C.P. in Machesney Park, Illinois, writes: I have all the Rifts®, Fantasy RPG® and The Rifter® series. Not kidding, every single book. I LOVE these series! Merry Christmas.
[Merry Christmas to you and yours, C.P. So glad you enjoy our game worlds so much. – KS]
S.T. in Pocatello, Idaho, writes: Favorites are Rifts® and Beyond the Supernatural™, would like to try Heroes Unlimited™. I hope you all have a happy holiday and a wonderful New Year! Keep up the great work.
[Merry Christmas and Happy New Year to you too, S.T. I think you'll enjoy Heroes Unlimited™. Happy Holidays to everyone! – KS]
D.M. in Northwood, North Dakota, writes, in part: Favorites, ALL OF THEM!! Can't wait for the Palladium Open House. Really looking forward to it!
[Hey D.M., we are looking forward to seeing you and 300 other Palladium madmen at the Open House in April 2021. It should be a blast. – KS]
M.B. in The Dalles, Oregon, writes: Favorites: Rifts®! Overall, just love reading and playing your games!
[Cool, M.B., because I love writing and playing our games. You can look forward to a lot of new titles in 2020. And there is still time to get another Grab Bag if you want one. – KS]
D.T. in Ashabula, Ohio, writes: Hey Guys, I am a 54 year old gamer and father of three who enjoys introducing my children and their friends to the old school gaming I grew up with. All your games are great and I really enjoy the artwork. I hope you all have a great Christmas.
[Hi D.T., glad you and they are having fun gaming experiences. And thank you, we did have a nice Christmas.
Copyright 2019 Palladium Books Inc. All rights reserved.
Rifts®, The Rifter®, RECON®, Splicers®, Powers Unlimited®, Palladium Books®, The Palladium Fantasy Role-Playing Game®, Phase World®, Nightbane®, Megaverse®, The Mechanoids®, The Mechanoid Invasion®, Coalition Wars®, Chaos Earth®, Dead Reign®, and After the Bomb® are Registered Trademarks of Palladium Books Inc.; Beyond the Supernatural, Coalition States, Heroes Unlimited, Ninjas & Superspies, Minion War, Mysteries of Magic, SAMAS, Thundercloud Galaxy, Three Galaxies, Vampire Kingdoms, and other published book titles, names, slogans and likenesses are trademarks of Palladium Books Inc., and Kevin Siembieda.
This press release may be reprinted, reposted, linked and shared for the sole purpose of advertising, promotion and sales solicitation.