Palladium Books® Weekly Update – December 31, 2019
By Kevin Siembieda
One game system – every genre – countless worlds – endless adventure
Happy New Year from Palladium Books
This mini-Update will be very short as we mainly wanted to wish you all a very Happy New Year. May it be full of joy, good fortune, and good health all year long. Have fun on this New Year's Eve.
Garden of the Gods™ (Fantasy) is our next big release and is at the printer. 224 pages of gaming magic, 200+ Blessings, 100+ magic artifacts, 50+ curses, 45 forgotten gods, and over 100 adventure hooks. Matt's and my creative energies were working overtime on this book. Best of all, it is easily adaptable to other worlds and even other game systems! See the new description for it in our regular Weekly Update coming your way on Thursday or Friday.
Remember, the Surprise Package offer has been extended for a short time, but is coming to an end soon. Only 2 weeks left to order, so your opportunity to get yours is almost gone!
The New Year for Palladium will be filled with one new release after another. A slew of new RPG titles as well as new PDF items on DriveThruRPG. I will talk about what you can expect in the New Year in the next Weekly Update too.
For now, have a safe and joyful New Year's Eve and fun-filled New Year's Day. I'll be back in a day or two. Happy New Year!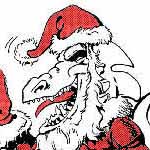 Time is running out to get a box full of RPG books at PDF prices via the Palladium Surprise Package
Why extend this amazing offer? Because we realize many of you are so full of the Christmas Spirit that you spend your money on gifts for your loved ones rather than yourself. This wonderful act of charity deserves to be rewarded, so we extend the offer so you selfless souls can pick up a Surprise Package after the holidays. It is also for you Johnny Come-Latelies who are so caught up in the holiday frenzy, work and life that somehow you miss placing your order for the Christmas Surprise Package before the offer ends. And it is a great way to the start the New Year!
What is a Christmas Surprise Package? A way to get $95-$100 or more worth of physical gaming product (not PDFs) for the price of PDFs! For ONLY $46 (plus shipping and handling), get gifts for others or for yourself. And each book is signed if you should want autographs. It is our way of saying thank you to our many fans for their support. You are appreciated more than you may realize.
The best deal of the holidays! You are likely to pay $50 or more for just a single core rule book, but for $46 plus shipping, you can get 4-6 books in a Palladium Surprise Package, depending on their retail value. Or you can get that core rule book and 2-4 sourcebooks. And we will sign the books if you request it. How do you beat that? It simply is the best deal in gaming! Our way of giving back to the fans and making the holidays special for you. A 20 year tradition of which gamers cannot get enough.
Palladium Surprise Packages make the perfect holiday gifts for the gamers in your life. Whether you celebrate Christmas, Hanukkah, Kwanzaa, or the Winter Solstice, or you're looking for a gift for a birthday, anniversary, Valentine's Day, or any special occasion that falls between now and March, a Surprise Package may be the ideal way to go. You get a ton of stuff on the cheap, you can get a bunch of autographs, and you look like you spent a fortune. Fill holes in your own collection. Try new game settings – Rifts®, Palladium Fantasy®, Heroes Unlimited™, Splicers®, Nightbane®, Dead Reign®, Beyond the Supernatural™, Rifts® Chaos Earth®, After the Bomb® (mutant animals), Ninjas & Superspies™, RECON® and all the rest. Get cool stuff (miniatures, bookmarks, maps, prints, greeting cards, T-shirts, etc.). Request autographs and Kevin and available Palladium staff and freelancers will sign every book. Get something for your fellow gamers or favorite Game Master, husband, wife, brother, sister, child, etc. Be surprised when the package arrives.
Please spread the word to gamers everywhere. People only learn about the Palladium Christmas Surprise Package offer by word of mouth, The Rifter® and our website, so please post and spread the word everywhere.
Happy New Year!
Copyright 2019 Palladium Books Inc. All rights reserved.
Rifts®, The Rifter®, RECON®, Splicers®, Powers Unlimited®, Palladium Books®, The Palladium Fantasy Role-Playing Game®, Phase World®, Nightbane®, Megaverse®, The Mechanoids®, The Mechanoid Invasion®, Coalition Wars®, Chaos Earth®, Dead Reign®, and After the Bomb® are Registered Trademarks of Palladium Books Inc.; Beyond the Supernatural, Coalition States, Garden of the Gods, Heroes Unlimited, Ninjas & Superspies, Minion War, Mysteries of Magic, Psychic Scream, SAMAS, Thundercloud Galaxy, Three Galaxies, Vampire Kingdoms, and other published book titles, names, slogans and likenesses are trademarks of Palladium Books Inc., and Kevin Siembieda.
This press release may be reprinted, reposted, linked and shared for the sole purpose of advertising, promotion and sales solicitation.