Palladium Books® Weekly Update – December 24, 2019
By Kevin Siembieda
One game system – every genre – countless worlds – endless adventure
Merry Christmas!
I love Christmas. It has always been a special time for me.
My family was poor, but somehow Mom and Dad (and Grandma and Grandpa) always managed to make the holidays special, starting with Christmas Eve at the Grandparents' house and a fabulous pierogi dinner and lots of love with aunts, uncles and cousins. Christmas was quiet, intimate and even more special. Just Mom and Dad, and little brother and me. Mom would listen closely to our wants for Christmas and magically get us presents that felt just right.
Sometimes there were disappointments, because ... well, we just didn't have the money. I can't tell you how many gifts – arts and crafts – we made by hand. As a child I always felt like my brother and I were cheating our loved ones with "handmade junk" we drew or painted or built. Mom would tell us that they meant more than store-bought gifts because they were one-of-a-kind and came from the heart. That sounded nice, but as a kid it still felt like we were cheating people. Of course, when I became an adult, I would realize how special such gifts really were. My Mom and Dad and Grandparents kept every single card my brother and I ever made. Kept them in a special box and they were bequeathed back to me by my Dad before he died. Sadly, a creep stole them all. But I still have the memories to keep me warm.
Every Christmas, my sweet mother would warn us how they could only buy so much, and hoped we wouldn't be disappointed. We never were. The morning flurry of heartfelt gift-giving was always filled with laughter and lots and lots of hugs and kisses all around. And like something out of a Charles Dickens novel, my Mom, beaming with love and warmth, would always say, "We may not be rich in material things, but we are rich in love. Richer than most people could ever hope for."
I truly wish your holidays are rich in love and filled with laughter and joy, hugs and kisses, and memories that will last a lifetime.
I know some of you are struggling financially or physically, or emotionally ... or even all three. I have known all of those difficulties myself, so I understand. Don't underestimate yourself, you will get through this, even if it seems impossible or too painful. I know for some the holidays can bring sorrow and exacerbate dark thoughts, but please don't let those demons into your heart. Hang onto the simple beauty all around you, find your joy and friends and hang onto them.
Please remember you are part of the Palladium family and you are loved and appreciated. I truly mean that. It's why I love doing the Surprise Packages and signing thousands of books, and why I personally select each Surprise Package and try to make each and every one of them special. It is my way of giving back a little of the mountain of love I have been blessed with growing up and throughout my entire life.
My thanks to the legion of wonderful friends near and far. A special shout out to Joe B., Kerry, Carmen, Ann, Louis, Roger, and to others near to my heart if not in geography, like Monica, Steven, Chloe, Jaden, Adam, Brian, Anastasia, Mark O., Mike L., Ryan, Doug, Todd, Herbie, Ian, Hendrik, a slew of Mikes, and far, far too many wonderful people to list – AND all of you, our gaming family – thank you for being part of my life and for your friendship, love, and the joy we share via the role-playing Megaverse®. You are my inspiration. My muse. And the reason I love creating these darn games and sourcebooks in the first place. Happy Holidays, one and all.
– Kevin Siembieda, Game Designer, Writer, & Friend
Surprise Package comments from fans like you
Every year there is a section where the customer can offer comments and suggestions with his or her Surprise Package order. Every year, in acknowledgment of our fans, and because they are fun to read, we offer a sampling in the Weekly Updates. Our heartfelt thanks to all of you who have stuck with Palladium through thick and thin. Keep those imaginations burning bright, have a joyous holiday season, and game on.
You have no idea how much your comments and support mean to all of us. Everyone at Palladium enjoys reading your brief comments. They always brighten our day. Thank you. I have tried to write a short response [in brackets] to each.
To place your Christmas Surprise Package order, click here.
T.D. in Portland, Oregon, writes: Have a safe and Merry Christmas team. Thank you for your hard work and creative efforts.
[Thank you and Merry Christmas to you, T.D. Game on. - KS]
E.C. in Great Falls, Montana, writes: Long time fan still collecting as much material as I can afford.
[Hi E.C., we appreciate your years of support. Merry Christmas. - KS]
W.S. in Charlotteville, Virginia, writes: Thank you for providing such fertile ground and abundant seeds for our imaginations to cultivate and grow in. You create wonderful worlds that both enthrall and free the imagination. Favorites: Rifts®, Chaos Earth®, Palladium Fantasy®, Splicers®, TMNT® and After the Bomb®.
[Thank you for your elegant words, W.S., that is always my goal. Thrilled they fire up your imagination. - KS]
S.C. in Tucson, Arizona, writes, in part: Robotech® was my favorite to play with friends, but Rifts®, TMNT®, and Ninjas & Superspies™ all had their awesome campaigns as well. Looking to build some new memories with my boy, hopefully starting in a modern setting and Rifting into other worlds later as the story grows... this has long been one of my favorite systems, due to the flexibility and content variety.
[Thanks for sharing S.C., I think you'll like what you get in your Surprise Package. Good luck with your new campaign, sounds fun. -KS]
S.B. in Manchester, Kentucky, writes: Seriously, I own nearly everything Palladium has ever printed (hence the short list of items). A lot of the stuff I get are likely to be gifts for a post-Christmas party. Also, have you ever considered making the out of print Rifters available as Print on Demand?
[Hey S.B., Happy Holidays. Actually, we are considering doing exactly that via DriveThruRPG sometime next year, so keep your eyes peeled. -KS]
S.D. in Omaha, Nebraska, writes, in part: Favorites are Beyond the Supernatural™, Dead Reign®, Nightbane® and Rifts® ... a new copy of Heroes Unlimited™ as mine is falling apart ...
[You got it S.D., enjoy this Surprise Package and thanks for the years of support. - KS]
J.D. in Las Vegas, Nevada, writes, in part: What a long strange trip it has been. Thank you for all the time and hard work on this universe that I spend so much time in... Would also pay for Rifts® maps ...
[Hey J.D., a strange and wonderful trip. When I started Palladium Books it was supposed to be a temporary sideline until I broke into the comic book business. I was striving to be a comic book artist and writer, even did some ghost pencils and ink work on Marvel's The Defenders and some small press comic books work. When Palladium took off, I eventually realized this was my true calling. Though I still enjoy comic books, I love creating RPGs and sourcebooks. - KS]
S.B. in Rouses Point, New York, writes: Favorites: Nightbane® already own all but Dark Designs™, Rifts® and Robotech® RPG Tactics™. Thank you for being awesome. I love your system better than almost all, and Nightbane® is my favorite of all time.
[Thank you, S.B. Yeah, I think some people don't realize how cool and versatile Nightbane® truly is. I mean, who wouldn't like superhero-horror and dark conspiracy? - KS]
L.C. in Ontario, Oregon, writes, in part: I also want to say how impressed I am with your games. I have been an RPG player/G.M. for many years now, and yours is high in my Top Five game systems. Please keep up the great work.
[Will do, L.C. - KS]
L.V. in Wyoming, Michigan, writes: Rifts® is by far my favorite tabletop game. Had me at giant stompy robots. From there it was the broad range of O.C.C.s, races, campaign setting options, etc., that have kept me so excited to play over the years. The group also enjoys Heroes Unlimited™ quite a bit.
[I agree L.V., Rifts® has something for everyone and truly endless possibilities for adventure. - KS]
J.C. in Lebanon, Indiana, writes: I absolutely love the new description for the Rifts® Antarctica™ book. Went ahead and pre-ordered it. A lot of faith that you all reworked the Raw Edition into something beautiful and now I can't wait to see what changed.
[Hi J.C., cool. I do not think you will be disappointed. Thanks for the pre-order. - KS]
M.J. in Kempner, Texas, writes: Favorites: I have everything and have played everything. I love these Grab Bags. So just thanks and thanks again and again.
[You are very welcome, M.J., and there is time for one more. Ho, ho, ho, Merry Christmas. - KS]
S.L. and M.L. in Casper, Wyoming, write, in part: Been playing Rifts® since it came out ... I've been running a lot of Rifts® games that utilize bionics and cybernetics ... would love to try Beyond the Supernatural™, as I was a big fan of Kolchak the Night Stalker. Thank you.
[Hi S.L., I was a fan of Kolchak as well. Hope you enjoyed your Surprise Package. -KS]
A.H. in Swisher, Iowa, writes: Gave away almost all of my books to a group of players a few years ago and I am missing having the catalog of robots, power armor, and weapons plus all the amazing art at hand.
[Well, A.H., the Surprise Package is a great way to get some of those books at a great savings, and signed if you want autographs. Happy Holidays. - KS]
N.G. in Santa Clara, California, writes: Thank you. Hope you all have a Happy Christmas and Merry New Year.
[Same to you, N.G.! Merry Christmas and Happy New Year to everyone. - KS]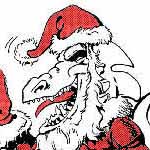 Christmas Surprise Package Offer – EXTENDED to January 14, 2020
Why extend this amazing offer? Because it is the nice thing to do. We realize many of you are so full of the Christmas Spirit that you spend your money on gifts for your loved ones rather than yourself. This wonderful act of charity often leaves no money for you to buy a Palladium Surprise Package for yourself before Christmas. We think that sacrifice is pretty wonderful and what the holiday season is all about, so we extend the offer so you selfless souls can pick up a Surprise Package after the holidays. We know this happens, because a lot of people over the years have thanked us for the extension for this very reason.
The extension is also for you Johnny Come-Latelies who are so caught up in the holiday frenzy, work, and life that somehow you miss placing your order for the Christmas Surprise Package before the offer ends. It is also for those of you who wish you had ordered one (or another one) but forgot.
Lastly, it is our way to carry that holiday good cheer into the New Year. So get your post-holiday Surprise Package and enjoy. Please note that this offer will not be extended further. This is truly your last chance until next Christmas. And please spread the word to let people know the offer is extended for a short time. Merry Christmas and happy holidays. Don't forget, the Surprise Package makes a nice gift for upcoming birthdays and anniversaries as well as a nice way to treat yourself, try new settings, fill holes in your collection, replace battle worn favorites, get prints or miniatures, etc. Media Mail is the least expensive method of shipping.
News Bits
The Titan Robotics Raw Preview edition is sold out! Even the ones we put aside for Surprise Packages are gone! I guess we had better finish the actual book over the next few months.
The Garden of the Gods Raw Preview edition is nearly sold out. I think there are only 5-6 copies left for sale and 4-5 signed copies put aside for Surprise Packages. That's it. But you won't have long to wait for the finished, 224 page Garden of the Gods which should ship around January 10, 2020.
The Land of the Damned 3: Bleakness Raw Preview edition is still available but selling fast!
I'm thinking of releasing a Lopan Raw Preview of the unedited, unfinished manuscript (it's a big one) and making it available the same time Garden of the Gods is ready to ship. What do you think?
I'm going to keep this holiday Update short and festive, so Happy Holidays from all of us to all of you.
Why buy a Palladium Christmas Surprise Package AFTER the holidays?
Because it is still the best deal in gaming and something special! The Palladium 21st Annual Christmas Surprise Package gets you physical books at PDF prices and if you want them signed we will sign each and every one of them! Plus we have some original art by Chuck Walton you may request (but don't count on it, still provide us with a juicy Wish List). Treat yourself to those books you've been eye-balling, try new world settings, fill holes in your collection, get back issues of The Rifter®, replace worn out books, or get them as gifts for upcoming birthdays and anniversaries.
It enables you to get several RPG titles ($95-$100 often MORE) for ONLY $50 (plus shipping and handling) as gifts for others or for yourself. It is our way of saying thank you to our many fans for being so kind and patient, and for your years of support. You are appreciated more than you may realize.
Christmas Surprise Packages are not just for Christmas. Whether you celebrate Christmas, Hanukkah, Kwanzaa, or the Winter Solstice, or you're looking for that special gift for a birthday, anniversary, graduation, or any special occasion that falls between now and February, a Surprise Package may be the ideal way to go. You get a ton of stuff on the cheap, you can get a bunch of autographs (if you want 'em), and you look like you spent a fortune.
This is also a great way to try that game setting you've wondered about – Splicers®, Dead Reign®, Chaos Earth®, Palladium Fantasy®, Nightbane®, Mechanoid Invasion®, Rifts®, After the Bomb®, etc. – or to get something for your favorite Game Master. Or perhaps, to get your player group to consider a new game or setting.
Your "Wish List" is vital – the Palladium Surprise Packages are designed to simulate the joy and surprise of the Christmas Season of Giving. To do this, you submit a list of 12-15 Palladium products (or more) FOR EACH Surprise Package you order. This list of 12-15 items for EACH Grab Bag is critical, because you will not know which items we will select to send you. That makes it just like a Christmas gift because it's a surprise. Plus, Santa Kevin, who personally hand-picks every item for every Grab Bag, may toss in something extra like a limited edition print, or color maps, or T-shirt, or issue of The Rifter®, or something else he thinks you'll enjoy.
Autographed books. For those of you who want them (which are most people), available members of the Palladium staff, and any freelancers we can lasso at the time, are happy to autograph each and every book in your Surprise Package. This is the only way many fans, especially those in other countries, can EVER get signed books.
Send us your brief comments. There is a special form and format to fill out for Christmas Surprise Packages, including a place where you can offer your brief comments, suggestions, greetings and salutations.
It only costs $50 plus shipping to get $95-$100+ worth of Palladium products! First-timers are always nervous until they see the great value in their first Surprise Package. A typical Grab Bag has $95-$100 worth of product, sometimes more! Yes, sometimes more. Many people order 2-3. Some order 4-6, and some maniacs order even more! It makes sense, because it is a great way to fill holes in your own collection, treat yourself, get autographs, try new games and settings, rebuild your collection, replace worn out books, and get your gaming pals gifts. PLEASE spread the word about this great offer.
To those of you outside the USA, the X-Mas Surprise Package is a way to get books and circumvent the damn high cost of shipping from the United States. Since you are getting $95-$100 (often more) worth of product and only paying $50 plus a small handling charge, and shipping via Priority Mail International (required for packages weighing more than four pounds) to most locations in Europe, Canada and many other countries is around $50-$60 US dollars. HOWEVER, because the cost of the product is so low, that's the equivalent of paying retail for the products and only $0-$30 for shipping. A very good deal. Plus you get autographs if you want them! X-Mas Surprise Packages are the way to go for those of you outside the USA. Please take advantage of it to get all those products you've wished you could get except the shipping was too prohibitive. We feel your pain. Game on!
IMPORTANT NOTE: The X-Mas Surprise Package is a Grab Bag. As such, while we always try to send you items from your Wish List, you may NOT get everything you ask for and you are likely to get one or more items NOT on your list, like The Rifter®, or other item(s) we think you should enjoy. PLEASE give us a long Wish List and fill out other questions (favorite Palladium games, would like to try X, and so on) because it helps us to make your Surprise Package special. If you need or want specific items, do NOT use the Surprise Package; place a regular order at full retail to guarantee you get the books you want. Offer extended to January 14, 2020.
Updated Digital Catalog is available on Palladium Books' website (and on DriveThruRPG). To help make selections, you may want to refer to the current PDF Catalog of Palladium Books® products available on PalladiumBooks.com and on DriveThruRPG.com.
Please tell everyone about the Christmas Surprise Packages so we can put smiles on the faces of gamers across the country and around the world.
Copyright 2019 Palladium Books Inc. All rights reserved.
Rifts®, The Rifter®, RECON®, Splicers®, Powers Unlimited®, Palladium Books®, The Palladium Fantasy Role-Playing Game®, Phase World®, Nightbane®, Megaverse®, The Mechanoids®, The Mechanoid Invasion®, Coalition Wars®, Chaos Earth®, Dead Reign®, and After the Bomb® are Registered Trademarks of Palladium Books Inc.; Beyond the Supernatural, Coalition States, Heroes Unlimited, Ninjas & Superspies, Minion War, Mysteries of Magic, SAMAS, Thundercloud Galaxy, Three Galaxies, Vampire Kingdoms, and other published book titles, names, slogans and likenesses are trademarks of Palladium Books Inc., and Kevin Siembieda.
This press release may be reprinted, reposted, linked and shared for the sole purpose of advertising, promotion and sales solicitation.