Palladium Books® Weekly Update – June 14, 2013
By Kevin Siembieda
2013 is going to be a great year for Palladium Books. Man, oh man, we have so many great products getting finished and ready for release. Of course, that also means we are all absolutely slammed with work and life is a blur. Over the past few weeks, it is not unusual to work past 10:00 PM most days, but it will all be worth it.
Right now, we are working away on Rifts® Northern Gun One, assigning art for Rifts® Northern Gun Two, picking articles and assigning art for The Rifter® #63, and working on many aspects of Robotech® RPG Tactics. I'm happy to say we're making progress on all fronts, but it never seems to be enough even though we're working all the time. Whew. When these products start to hit, you'll be thrilled and our hard work will have finally paid off.
Advertising galore. We snagged the back cover of Bleeding Cool magazine. It's the San Diego Comic Con issue, so we hope it will attract a lot of new eyes. We also knocked out the ad for ICV2 (Gen Con issue), a Gen Con Email Blast, a convention coupon, and explored some other promotional opportunities, and that's in addition to last week's advertisements. We still have to take care of some other convention details, but we're getting there. As usual, it seems everything needs to get done all at the same time. Gahh.
UPDATE: The Rifter® #63 – July release
As noted, articles are being selected and artwork being assigned. Should get the finished cover soon. Another fine issue.
UPDATE: Heroes Unlimited™
Thomas Morrison, gamer, freelance writer and all around good guy, gave us a nice surprise when he dropped by the office yesterday with his two boys, Alex and Joshua. It was a big surprise because Tom lives in Florida, but is in town visiting family. He contributed the Heroes Unlimited article to The Rifter® #62 which I love. Tom and I talked about him doing some more Rifter® articles as well as a Heroes Unlimited™ sourcebook for next year. I also have another freelance writer working on a Heroes Unlimited™ sourcebook and there is a manuscript or two under consideration by a third freelancer (yes, that's you, Glen). Heroes Unlimited™ turns 30 next year and we'd like to celebrate with a few new titles for it (especially after being unable to do likewise for Palladium Fantasy® this year).
UPDATE: Rifts® Northern Gun™ One
Been working away on NG-1. This book is great. You'll love it. I need to get it finished and to the printer! 'Nuff said.
UPDATE: Northern Gun™ Two
I had an excellent meeting with artist Mark Dudley on Tuesday. He's fired up and says he'll be coming by the office every Friday evening to draw and exchange ideas. Mark did a few robots for NG-1 and will be doing more work for NG-2. I also had a brief meeting with artist Ben Rodriguez, who is also champing at the bit to do more work on Northern Gun and other titles. I should be getting Brian and Allen Manning and Amy Ashbaugh's art in the next week or two.
UPDATE: Robotech® RPG Tactics™
When I'm not working on Rifts® Northern Gun One™ or Palladium's advertising/promotional campaign and conventions, I'm working on the writing, editing and fine-tuning of the text for Robotech® RPG Tactics™. Wayne and everyone else are busy working on the many other aspects of the game – everything from changes and corrections to art and sculpts to getting approvals and figuring out product SKUs. We are all very busy. And I'm sure everyone at Ninja Division is even busier. Crazy but looking good.
Some Robotech® Fun
I met the voice actor who played Captain Gloval at Anime North, a very nice guy and a fun character. I spoke to the actor who played Roy Fokker just this afternoon, another very nice guy. It's fun for me as meet these actors, because I'm just a Robotech fan-boy, myself. Dang, why didn't I get an autograph from Captain Gloval (John Swayze). What an idiot.
Some more Robotech fun: We're playing with the idea of offering two convention exclusive Robotech® game pieces for sale at Gen Con: Max Sterling's VF-1J and Miriya in Female Power Armor. If Ninja Division can pull it off at all (and we'll try hard), supplies will be limited. These will be different from the items offered in the Kickstarter. And, of course, we'll be running demos of the game at Gen Con.
UPDATE: Kickstarter Pledge Manager
We are getting much closer to sending out the Kickstarter survey to participants and setting up the Pledge Manager store.
Those of you who have contacted us about your Kickstarter pledge not going through, should have gotten an email from Palladium to make sure you are counted among the KS pledges and get to participate in the Kickstarter offer. If you have not heard from us, don't delay, please contact us at 734-721-2903 or send us a message through Kickstarter, just be aware it will take us longer to get back to you. We don't want anyone who tried to be part of the Kickstarter to get left behind. We greatly appreciate the tremendous support you've all given us and want everyone to be satisfied. If got left out and want in contract the Palladium offices.
DriveThruRPG.com – FREE Rifter® #62 Sneak Preview is available now; your place for PDFs of more than 90 Palladium titles
The FREE Sneak Preview of The Rifter® #62 is available now (includes the missing Experience Tables for Rifts® Black Market and Vampire Kingdoms™), as well as Rifts® Vampires Sourcebook and an early one for Rifts® Northern Gun One (with a newer one coming in a few weeks), on DriveThruRPG.com for your enjoyment. There are also previews available for Rifts® Vampire Kingdoms™ (Revised Edition), Rifts® Black Market, Rifts® Lemuria, Dead Reign™ RPG, Endless Dead™ sourcebook and others. The original Rifts® Vampire Kingdoms World Book is also available as a PDF on DriveThruRPG, for those of you who may be interested.
More than 90 other Palladium titles can be found on DriveThruRPG.com as PDFs, including Splicers®, Rifts® RPG (the edition before RUE), The Rifter® #1-52, and first edition rule books and sourcebooks for Palladium Fantasy RPG®, Heroes Unlimited™, The Mechanoid Invasion® Trilogy, Beyond the Supernatural™ and lots of other good titles. DriveThruRPG.com also offers the Rifts® and Palladium Fantasy® Game Master Kits ($5 each; both written by Carl Gleba and complete with maps, combat matrix, character sheets, spell list, and 20 pre-rolled characters created by Julius Rosenstein).
Gen Con® Indy – Palladium Booth #1025 – August 14-18, 2013
We have plans to make a big splash at Gen Con this year. There will be all kinds of Palladium product available – new titles and backstock, original art, prints, Robotech® demonstrations, painted samples of Robotech® game pieces on display, convention specials, myself and other Palladium creators to autograph books, chat and have loads of fun.
Gen Con will be a star-studded event for Palladium fans with the following Palladium creators present at Booth #1025:
Kevin Siembieda – Publisher, writer and lead game designer at Palladium Books.
Carmen Bellaire – Writer (Splicers®, Powers Unlimited™ series, etc.) and co-game designer of Robotech® RPG Tactics™ to run demos, talk about the game and sign autographs.
David Freeman – Lead game designer of Robotech® RPG Tactics™ to run demos, talk about the game and sign autographs.
Various other Ninja Division personalities and creators.
Wayne Smith – Palladium editor and Editor-in-Chief of The Rifter®.
Matthew Clements – Writer (Rifts® Black Market, Northern Gun 1 & 2, The Rifter®, etc.).
Charles Walton – Artist (Rifts® Lemuria, NG 1 & 2, and many others).
Brandon Aten – Writer (Rifts® Triax 2, Madhaven, Sovietski, and The Rifter®).
Mark Oberle – Writer (Nightbane® Survival Guide, The Rifter®, etc.).
Mike Leonard – Writer and artist.
Jeff Burke – Robotech® consultant, artist and writer.
Thomas Roache – Play-tester and writer.
Please come to the Palladium Booth #1025 to chat, get autographs, and find out the latest news. We'll also have some sneak previews, original artwork by Chuck Walton and others, prints and special promo items (even some Robotech® RPG Tactics game pieces?) available, and you'll be able to demo the game itself. Join the fun.
BREAKING NEWS! A unique convention opportunity for Palladium . . . but we need your help!
Detroit Fanfare is a growing comics, games and media convention held at the Adoba Hotel (formerly the Hyatt Regency and only 20 minutes from the Palladium offices), in Dearborn on October 25, 26, 27, 2013.
Harmony Gold's Robotech® Tour will be there. So will Palladium Books and many comic book and media guests.
But Palladium Books can have an even BIGGER presence at this event (which pulls in 4,500-6,000 people), "if" we can arrange to have a bunch of Palladium gaming events run at the convention. In fact, the convention organizers are being so encouraging and helpful, we can turn this into the next best thing to a Palladium Open House!
We need YOU to help Palladium make a big splash at Detroit Fanfare by showcasing ALL of Palladium's games with RPG events and Robotech® RPG Tactics™ demos. Plus, Palladium will have a booth in the dealers' room as well as a bunch of Palladium artists and writers. In fact, the convention is willing to let Palladium bring in ALL the Palladium creators we want! Detroit Fanfare is an up and coming multimedia convention that gets coverage on the local news stations and has a growing fan base, so this is a big deal and an exciting opportunity. We do this right, and I'm thinking we could make this a sort of "annual" Palladium Open House-type event.
To give Palladium a strong presence, we need a dozen or more Game Masters to run events and demos, as well as gamers to attend and have a blast. If we get enough G.M.s we may be able make the gaming venue exclusive to Palladium Books! Like I said, this could be an annual mini-Palladium Open House within Detroit Fanfare. And the beginning of a new tradition. Julius Rosenstein has already committed to run games, and I can't see Carmen Bellaire passing up this opportunity. Of course, the Palladium staff is onboard, but that's not enough.
Help us make Palladium Books a part of Detroit Fanfare and start a new gaming tradition. Megaversal Ambassadors, this is exactly the kind of opportunity we need to seize. Help! How many of you are close enough to give us a hand running games? Local gamers, are you willing to join the fun and come to the show to game? I believe all gaming events will be FREE. How many of you are interested in running even a few gaming events? Gaming events should be FREE and open to everybody who attends the convention.
If you are interested in volunteering to run games, PLEASE let us know pronto. Note: I know this is short notice, but the opportunity was only just offered to us and – if we can – we need to put this together fast. That means we need to get commitments from Palladium Game Masters and Megaversal Ambassadors by June 30th! We should be able to add more later, but we need to know immediately if we can provide a substantial Palladium Gaming Program. Remember, the event is in October 25, 26 and 27, 2013.
Gamers, we'll need you too, so please let us know if this is something that interests you, our fans in Michigan, and the 2-3 states around us (and Windsor, too), and is something you would attend. Thanks. If we get a good response, this could enable Palladium to conduct a Palladium Open House-type event within Detroit Fanfare every October! I think that would be pretty darn cool.
Here's the link to the Detroit Fanfare convention. Palladium is not listed yet because we've yet to determine whether or not we can do this gaming program. Either way, myself and the Palladium crew will be present.
That's the latest news for this Update. Gotta get back to writing and creating game products. Keep those imaginations burning bright.
– Kevin Siembieda, Publisher, Writer and Game Designer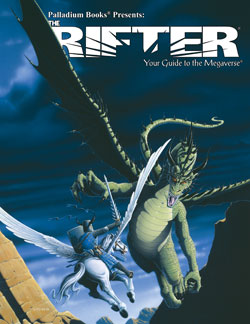 The Rifter® #62 – Available now
The Rifter® #62 is truly special, with page after page of "official" source material and one great idea after another. Do not miss out on this issue.
Each and every issue of The Rifter® is an idea factory that helps players and Game Masters to generate new ideas and keep their games fresh. It provides useful, ready to go, source material gamers can just drop into their ongoing games. A doorway to new possibilities and numerous Palladium role-playing worlds.
The Rifter® Number 62 includes:
Rifts® – OFFICIAL Rifts® Vampires Sourcebook Bonus Material by Matthew Clements and Kevin Siembieda. Awesome, fun stuff we cut from the sourcebook due to page count considerations. Heck, we had already increased the Rifts® Vampires Sourcebook from 96 pages to 128, and then to 160. The book finally topped out at 176 pages and we still had source material and ideas that Kevin Siembieda finished up for inclusion in this issue of The Rifter®.
- More about the secret vampire special forces organization, Deathspike.
- More Deathspike O.C.C.s including Werewolf Agents.
- Two notable Deathspike leaders.
- The vampires' Top Ten Enemies List.
- Vampire Harvesters and their "Meat Wagons."
- Some additional vampire fighting gear.
- 11 Hook, Line and Sinker Adventures.
Rifts® – OFFICIAL Black Market O.C.C. Experience Tables by Kevin Siembieda. Please note that the Experience Tables will also be made available online for free in the next week or so. Please make sure people who purchased Rifts® Black Market know about that.
Rifts® – OFFICIAL Necromancy and Bone Magic spells by Jeff Duncan. What else is there to say than more magic and darkness for your Necromancers (and the African Witch)?
Rifts® Northern Gun™ Sneak Preview of the Gunbot Robot-Killer by Matthew Clements and Kevin Siembieda. Text and art to give you another taste of what's coming in NG-1. Also see the more expansive, FREE Rifts® Northern Gun™ Advance Preview that has been available on DriveThruRPG.com.
Palladium Fantasy® source material by Michael Long. A very detailed presentation of a castle with dozens of maps and floor plans, plus a general description.
Heroes Unlimited™ – World Association of Super-Humans by Thomas Morrison. A peacekeeping organization with international credentials that works with law enforcement agencies and governments around the world.
All Settings – An in-depth look at the Climbing skill and its many uses, by Michael Strom.
News, coming attractions, product descriptions and more.
96 pages – Still only $11.95 retail – Cat. No. 162. Available now.
Check out the free Sneak Preview on DriveThruRPG.com!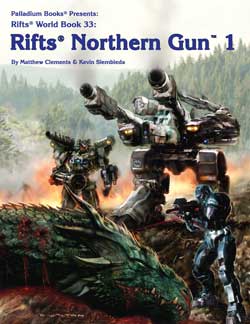 Rifts® World Book 33: Northern Gun™ One
Northern Gun™ is the largest independent manufacturer of high-tech weapons, robots and vehicles in North America. Outside of the Coalition States, one could argue, no other kingdom is as powerful or influential, at least when it comes to technology and weapons. The manufacture and sale of Northern Gun weapons and vehicles has given virtually every kingdom, town, colony of settlers and adventurer group a chance to survive and prosper. Located in Michigan's Upper Peninsula, NG has been the premier outfitter of mercenaries, adventurers and upstart kingdoms for generations. Now, for the first time ever, learn Northern Gun's history, goals and plans for the future. Of course, that means new weapons, robots, power armor, vehicles and gear.
In-depth look at Northern Gun and its business operations.
Ishpeming, the face and people of Northern Gun.
Northern Gun weapons and combat gear; new and old.
Northern Gun robot drones; new and old.
Northern Gun giant combat robots; new and old.
Northern Gun freighters and hover trains.
Northern Gun O.C.C.s and enforcers.
The NG Mercenary army and police.
The NG Bounty Board, the largest collection of bounties and mercenary contracts anywhere on Rifts® Earth.
Key locations, people and sales outlets in and around Northern Gun.
Northern Gun's relationship with the Coalition States, Triax Industries, the Black Market and others.
Written by Matthew Clements and Kevin Siembieda.
Interior Artwork by Chuck Walton, Nick Bradshaw, and others.
Wraparound cover by Chuck Walton.
160 pages – $20.95 retail – Cat. No. 887 – June release.
Check out the free Advance Preview on DriveThruRPG.com!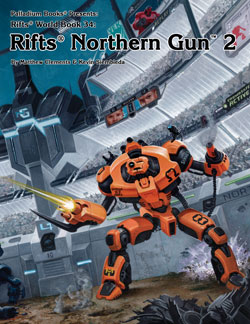 Rifts® World Book 34: Northern Gun™ Two
More information about the weapons, vehicles and practices of Northern Gun, including the new rage of robot gladiatorial combat.
Northern Gun body armor; new and old.
Bionic and cybernetic services.
Northern Gun power armors; new and old.
Northern Gun hovercycles & land vehicles; new and old.
Northern Gun aircraft; new and old.
Northern Gun boats, ships and submarines; new and old.
Northern Gun Robot Gladiatorial Arena; new!
Robot Gladiator O.C.C. and robot gladiators.
Pirates and more.
Written by Matthew Clements and Kevin Siembieda.
Interior Artwork by Chuck Walton, Nick Bradshaw, and others.
Wraparound cover by John Zeleznik.
160 pages – $20.95 retail – Cat. No. 888 – July release.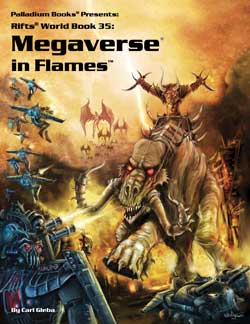 Rifts® World Book 35: Megaverse® in Flames™
The Minion War spills across Rifts Earth, where demons and infernals hope to recruit allies and use the Rifts as gateways of destruction. Their influence shakes things up across the planet, especially at locations where demons and Deevils already have a strong presence. Demons, Deevils and supernatural beings run rampant and wreak havoc across the world.
Demon plagues and mystic blights.
Soulmancy and Blood Magic revealed.
Magical and demonic weapons and war machines.
Demonic armies, strongholds and places of evil.
Hell Pits and Rune Forges.
Many Demon Lords, their minions and plans.
Calgary, the Kingdom of Monsters; in detail.
Ciudad de Diablo, Harpies' Island and other notable Hell holes on Earth.
Lord Doom, Pain and other demonic leaders.
Horune treachery, Dimension Stormers and other villains.
Notable demonic generals, mercenaries, people and places.
Battleground: Earth – as demons and infernals amass their legions.
Global chaos and the places most dramatically affected by the Demon Plagues.
Epic battles and adventure ideas galore.
Written by Carl Gleba. Part of the Minion War "Crossover" series.
192 pages – $24.95 retail – Cat. No. 876. Summer 2013 release.
Palladium Fantasy RPG® Anniversary Sale – 30% price reduction
Love Game of Thrones? Use Palladium Fantasy® to create your own epic fantasy adventures in the frozen north dominated by the Wolfen. Explore the decadent wonders of the Western Empire. Help build and defend the burgeoning kingdoms of the Eastern Territory, or explore the monster-filled lands of the Baalgor Wastelands. Or perhaps fight pirates or explore the Floenry Island chain or the foreboding Mount Nimro region, land of giants. And those are just a few of the places that await you.
Have you wondered what the Palladium Fantasy RPG® is like? Now's the perfect time to give it a try and find out. Palladium Fantasy Role-Playing Game®, 2nd Edition, is a world steeped in tens of thousands of years of history, magic and dark, dark secrets. At the moment, it is humans who dominate the land, as the times of Titans, Dwarves, Elves and others are long past. Still, the future of humanity is uncertain, as the Wolfen and the other canine races in the north challenge their dominance, and monsters gather in the fabled lands of the Old Kingdom.
Non-human races provide a host of unusual beings as player characters, including Changelings (who can assume the shape and appearance of any humanoid), Wolfen, Trolls, Ogres, Goblins, Kobolds, Gnomes, Elves, Dwarves, humans, and dozens of "optional" creatures found in both the Palladium Fantasy RPG®, Monsters & Animals and other titles.
Do you already love Palladium Fantasy® like we do, and have you been thinking about getting more sourcebooks for it? This is the time to expand your collection.
Fantasy Sale! Palladium Fantasy turns 30 years old this month, and to celebrate, we have reduced the price of every title in the game line by 30%. So give it a try or expand your collection. It will also give you a leg up for when Palladium Books releases several new and expanded Fantasy titles next year. We have exciting plans for Palladium Fantasy.
Robotech® RPG Tactics™ – Coming Fall 2013
If you're a Robotech® fan, this is the game you've wanted for decades, with beautifully sculpted, in scale, game pieces and the fast action of Robotech®.
Robotech® RPG Tactics™ is a fast-paced, tabletop combat game that captures the action and adventure of the Robotech® anime. Two or more players can engage in small squad skirmishes or scale up to massive battles. Relive the clashes of the First Robotech War, engage in stand-alone tactical games or use the dynamic game pieces to enhance your Robotech® RPG experience. Or simply collect your favorite mecha from an expanding range of top notch game pieces.
Mecha vs Mecha. Take command of the fighting forces of the United Earth Defense Force (UEDF) valiantly defending Earth from alien annihilation. Or lead the massive clone armies of the Zentraedi Armada to recover an alien artifact of immense power and enslave humankind.
Robotech® RPG Tactics™ Box Set
Brought to you by Palladium Books® and Ninja Division (the creative minds behind Soda Pop Miniatures and Cipher Studios).
Rules by legendary Alessio Cavatore, Ninja Division's David Freeman and Palladium's Carmen Bellaire.
Full color, 90+ page, softcover rule book; wraparound cover and lots of new, color artwork.
24 Battle Dice, 12 UEDF and 12 Zentraedi.
40 color game cards (unit cards, etc.).
4x VF-1A Valkyries (in Fighter, Guardian, and Battloid modes).
1x VF-1J "Officer" in all three modes.
4x Destroids: 2 Tomahawks and 2 Defenders.
12x Regult Zentraedi Battlepods.
1x Glaug Officer's Battlepod.
1x Quel-Regult Recon Battlepod.
1x Quel-Gulnau Recovery Pod.
1/285th scale, high quality, multi-pose plastic game pieces (40mm to 70mm tall). World-class sculpts from sculptors around the world.
Game rules use D6.
Turn-based system of play.
Scalable from small squad skirmishes to mass battles. Can accommodate two to several players.
Combat is fast and designed to emulate the anime action.
Measuring tape required to determine targets and distance.
Barring any unexpected delays, the Robotech® RPG Tactics™ box game and initial expansion sets should go to manufacturing end of June. An exact street date is unknown at this time and we'd rather not speculate, but definitely Fall, 2013.
$90 retail price (tentative). The price of the final box set is not yet determined, but we want to hold it at the $80-$90 range.
Expansion kits will fall into the $25-$30 range for most.
Several expansion kits will be released at the same time as the box set. More will follow. Exactly how many, and how fast, will depend on manufacturing considerations.
Palladium plans to release the mecha and settings for ALL eras of Robotech®. Many other details are still in development.
Tournament play support is planned. Ninja Division will help Palladium to develop and launch the program.
Robotech® RPG Tactics™ is designed in partnership with Ninja Division. Ninja Division brings together the design talents of Soda Pop Miniatures and Cipher Studios, makers of Super Dungeon™ Explore, Relic Knights™, Helldorado™ and Anima Tactics™.
PDF downloads from DriveThruRPG.com
This is a great resource for getting out of print Palladium titles and other select books. We've made 90 titles available as PDF digital downloads from DriveThruRPG.com. This is a great way to try Palladium products and get access to out of print RPG source material. Some notable titles include:
© Copyright 2013 Palladium Books Inc. All rights reserved.
Rifts®, The Rifter®, RECON®, Splicers®, Palladium Books®, The Palladium Fantasy Role-Playing Game®, Phase World®, Nightbane®, Megaverse®, The Mechanoids®, The Mechanoid Invasion®, Coalition Wars® and After the Bomb® are Registered Trademarks of Palladium Books Inc. Beyond the Supernatural™, Chaos Earth, Coalition States, Dead Reign, Heroes Unlimited, Ninjas & Superspies, Minion War, Mysteries of Magic, SAMAS, Thundercloud Galaxy, Three Galaxies, Vampire Kingdoms, and other published book titles, names, slogans and likenesses are trademarks of Palladium Books Inc., and Kevin Siembieda.
Robotech® and Robotech® The Shadow Chronicles® are Registered Trademarks of Harmony Gold USA, Inc.
This press release may be reprinted, reposted, linked and shared for the sole purpose of advertising, promotion and sales solicitation.