One game system – every genre – countless worlds – endless adventure
By Kevin Siembieda
The Rifter® #78 is going into the final layout phase and should go to the printer by Monday. Already working on The Rifter® #79 as well as Rifts® Sovietski™ and a few other titles. Happy to see the excitement for the 2018 Palladium Open House (see the full description in the store). It sounds like a lot of people are planning to come, both Palladium creators and gamers. I am very much looking forward to two or three hundred of you joining the fun. Please consider this your invitation to the POH. The 2018 Open House is shaping up to be a great one.
Right now, our focus is getting several books into you hands over the next three months. We're pretty excited about everything in the pipeline, and we know you will be too.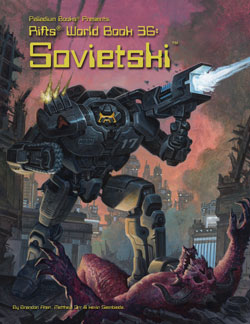 UPDATE: Rifts® Sovietski™ – coming soon
Working on Rifts® Sovietski now. Good stuff. Need to assign the rest of the artwork.
UPDATE: The Rifter® #78 – in final production
The Rifter® #78 nears completion. Wayne has wrapped up the final edits and layout begins tomorrow. Goes to the printer on Monday. This is another great issue with a range of awesome source material for Palladium Fantasy®, Rifts®, Splicers®, and Beyond the Supernatural™, including Greg Diaczyk's BTS Modern Necromancer, plus G.M. advice, news and other goodness. ALL of it adaptable to just about ANY game setting. See the full description elsewhere.
UPDATE: The Rifter® #79 – coming soon
The Rifter® #79 should quickly follow #78 as we work to catch up with this useful series. If you haven't looked at an issue of The Rifter®, we recommend it. Each issue is filled with optional (sometimes "official") source material. More importantly, most of the material can be easily modified and adapted to ANY game setting, especially adventures, monsters, villains, magic and technology.
UPDATE: In the Face of Death™ – A Dead Reign® Sourcebook
Man oh man, the ideas are percolating for this book. I find myself jotting down notes for it (and BTS), and I can hardly wait to see E.M. Gist's finished cover painting. Interior art by Nick Bradshaw and Kent Burles.
UPDATE: Rifts® Living Nowhere
This was going to be the next book I was planning to work on, but now I'm thinking Rifts® Sovietski and maybe The Disavowed next.
UPDATE: Rifts® Secrets of the Atlanteans™
Rifts® Secrets of the Atlanteans is available now from Palladium Books and hobby stores everywhere. You will love it. See the free preview on DriveThruRPG.com to get a glimpse of everything this resource-packed book has to offer. $24.95 retail. Author Carl Gleba is one of Palladium's most prolific writers, having written or contributed to more than 10 books. He and many others will be at the 2018 Palladium Open House to game, sign books and spend time talking with you.
UPDATE: Rifts® Secrets of the Atlanteans™ "Gold Edition" Hardcover – available now
What can we say, Rifts® Secrets of the Atlanteans™ is an awesome book. Getting the signed, limited Edition Gold Edition (only 300 copies printed, signed and numbered) makes this collector's edition that much more special. Sold on a first come, first served basis. The earlier you purchase, the lower the number. Available now.
UPDATE: Nightbane® Dark Designs™ sourcebook – Available now
Nightbane® Dark Designs™ available now from Palladium Books and hobby stores everywhere. It includes stats and creation tables for the Ancient Nightbane, 60 new Common Talents, 38 new Elite Talents, Talent creation rules, 18 comprehensive Mortphus Tables, plus tables and Talents from prior books collected in one volume. All great stuff that can be adapted to Heroes Unlimited, Rifts® and many other Palladium game settings as magic spells, super abilities and player characters or NPCs. Unleash your imaginations and have fun. Take a look at the free preview on DriveThruRPG.com to get an idea of everything this dynamic, new Nightbane® sourcebook has to offer. Author Mark Oberle is just one of the 30-40 Palladium personalities attending the 2018 POH.
Robotech® RPG eBooks on Amazon and iBooks – available now
Don't forget, we have made current Robotech® core RPG titles available as ebooks. Palladium Books' Robotech®: The Shadow Chronicles® Role-Playing Game, Robotech®: The Macross® Saga Sourcebook, and Robotech®: The Masters Saga™ Sourcebook are now available as eBooks, with more titles to follow. Robotech® RPG titles are available from the following eBook channels/sellers: iBooks (through iTunes), Amazon Kindle, Barnes & Noble Nook, Google Play Books, Overdrive.com, Copia (copiaclass.com), Gardners Books, Baker & Taylor, E-Sentral, Scribd, Ciando, Hoopla, Playster, and more.
UPDATE: 2018 Palladium Open House – April 20-22, 2018
Writer Josh Sinsapaugh has confirmed he plans to attend the 2018 Palladium Open House. Several other Palladium creators and fans have also expressed to me their desire and hope to attend, but cannot commit just yet. It is very exciting and all of it is building up to make the 2018 Palladium Open House one of the most fun and star-studded POHs yet. Awesome. I hope to see many of you there for a weekend of fun. Note: A full description of the 2018 Palladium Open House is available in the online store.
100+ Palladium gaming events.
Price of admission pays for all events.
Play in games run by Kevin Siembieda & other Palladium creators.
Enjoy Robotech® RPG Tactics™ tournaments, games, products and demos.
Participate in panel talks and many question and answer chats.
Bring your favorite game books to get signed.
Meet Kevin Siembieda and the Palladium staff.
Meet 30+ Palladium creators – the largest gathering of Palladium creators in the world! Most available every day, the entire day.
Meet fellow gamers from around the world.
Get new releases, back stock items and Palladium collectibles.
Get original artwork, prints, T-shirts and specialty items.
Intimate setting, unlike big conventions.
Join the fun and make memories to last a lifetime.
NEW on DriveThruRPG.com – Rifts® DB 8: Naruni Wave 2™ and Villains Unlimited™ for HU2 RPG
This week! Villains Unlimited™ presents 80+ fully fleshed out and statted super-villains ready for game play, a secret organization that supplies villains with weapons, another that hunts superhumans, magic tattoos and more. Dimension Book™ 8: Naruni™ Wave 2 is a treasure trove of high-tech weapon, force fields, power armor and equipment suitable for use on Rifts Earth or Phase World® and the Three Galaxies™.
Last Week! Heroes Unlimited™ RPG, 2nd Edition is the current set of rules that enable you to create just about any type of superhuman hero or villain you can imagine, be it a character from your favorite comic book or film, or something completely new. Includes rules for creating robots, power armor, super-vehicles, mutants, aliens, immortals, sleuths, and more. And when the three Powers Unlimited® sourcebooks are available (soon), they together with the RPG will provide more than 350 super abilities plus psionics. Rifts® Dimension Book™ 7: Megaverse® Builder™, written by Carl Gleba, offers new otherworldly locations, weapons, gear, spacecraft, O.C.C.s, alien races, monsters, adventures and even a living Demon Planet!
They join recent releases of the ever popular Rifts® Dimension Books: Wormwood™, Phase World®, Phase World® Sourcebook, Skraypers™, Anvil Galaxy™, Three Galaxies™, and Megaverse® Builder™ as well as Ninjas & Superspies™, Mystic China™ and more. These are just some of the many Rifts® and Palladium titles now available on DriveThruRPG.com as PDFs, plus many FREE previews of key book titles. We are trying to make 1-2 new PDF titles available every week.