One game system – every genre – countless worlds – endless adventure
By Kevin Siembieda
We are back into working on books and plotting release schedules. Rifts® Secrets of the Atlanteans™ and Nightbane® Dark Designs™ are flying off the shelves, as are most things Rifts®. We want to put many more new books in your hands, including a couple of overdue issues of The Rifter®. Meanwhile, Wayne is making sure there are new PDF titles being made available and is back on a weekly schedule. See details below, but Skraypers™, Wormwood™, Phase World®, and Phase World® Sourcebook are all now available, with Anvil Galaxy™ already scheduled for next week and more Rifts® Dimension Books™ and other titles to come; Ninjas & Superspies™ and Mystic China™ are recent additions too.
This weekend, Wayne and I will be at the Alliance Open House talking with retailers. Otherwise, there have been a number of potentially exciting, long-term things going on behind the scenes that I will be thrilled to tell you about when we have something concrete to say. Read on for other news, updates and info, and enjoy.
UPDATE: Nightbane® Dark Designs™ sourcebook – Available now
Nightbane® Dark Designs™, people are loving this release. From cover to cover, it is a dynamic sourcebook packed with information, Morphus tables, magical Talents (plus tables and Talents from prior books), the Ancient Nightbane and more. And remember, Talents and Morphus abilities can be easily turned into magic spells and super abilities for other world settings — and vice versa, especially with the conversion rules also in Dark Designs™.
Please take a look at the free preview on DriveThruRPG.com for more details and a few choice glimpses of what you can expect. Also see the full description of Dark Designs™ elsewhere in this Update and in the online store.
UPDATE: Rifts® Secrets of the Atlanteans™ – hot, hot, hot
Rifts® Secrets of the Atlanteans™ remains a hot item. Keep those orders coming. It is just the first of several new Rifts® titles coming soon, each with many more secrets to be revealed. Please take a look at the free preview on DriveThruRPG.com to get a glimpse of everything this 224 page, resource-packed book has to offer. $24.95 retail. And if you don't already own them, we highly recommend you pick up Rifts® World Book One: Atlantis, World Book 21: Splynn Dimensional Market™, and Rifts® Dimension Book 7: Megaverse® Builder (also written by Carl Gleba). All are fun and useful companions to Rifts® Secrets of the Atlanteans™.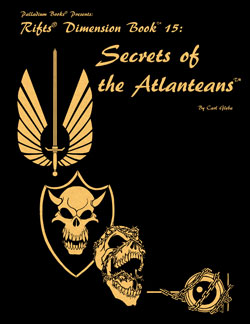 UPDATE: Rifts® Secrets of the Atlanteans™ "Gold Edition" Limited Hardcover – Ships mid-September and may sell out fast
I just got word that we can expect delivery of the limited Gold Edition Rifts® Secrets of the Atlanteans™ hardcover by September 14. It will take us a few days to sign and number them. The Atlanteans Gold Edition is limited to only 300 signed and numbered copies, and sold on a first come, first served basis. Palladium's Gold Editions have a history of increasing in value as time goes by, and with Christmas coming, I think this Gold Edition may be a hot commodity in the months ahead. If you are planning on getting one, I'd suggest getting it sooner rather than later. Only available from Palladium Books.
Important Note: Those of you who have already placed pre-orders have been charged and your number already assigned to you, so do NOT reorder. Multiple orders WILL result in you getting billed for and shipped multiple copies – NO REFUND. If you are worried about your pre-order, please call the Palladium office to inquire. Do not place a new order unless you want more than one copy.
UPDATE: Game line Tumblers are almost all sold out – only a few left
We only have a few Dead Reign® and Splicers® tumblers available. Get 'em while you can. I'm surprised there are any Splicers® tumblers left as it is a great looking item and Splicers fans are ravenous for all things Splicers®. Each tumbler holds 30 ounces, has a sealable lid, does not sweat, and looks great. $29.99 each. Sold on a first-come, first-served basis.