Palladium Books® Weekly Update – Dec. 29, 2016
By Kevin Siembieda
Happy New Year!
I hope your Christmas weekend was filled with laughter and pleasant surprises. My Christmas was small and fun. Kathy and I got together with a few friends and family, exchanged gifts, spoke with loved ones on the phone and by email, and enjoyed a very pleasant and relaxing weekend. I received books and music to inspire my writing in the new year, as well as a number of other thoughtful gifts. I have to say, I was feeling rather worn out, so I took Christmas and Monday off, and the guys got a well deserved three day weekend. Then on Tuesday, I surprised the crew by taking them to see Star Wars: Rogue One. Author Matthew Clements also joined us for the show. Yes, you can nitpick the movie, but it had the Star Wars vibe and an excellent music score (even though it is not by John Williams). I think we all enjoyed the break in our long day back at work.
People are taking advantage of the extension of the Christmas Surprise Package offer and orders continue to be strong. Otherwise we are back to work at getting books to the printer in fast order. And the ideas are still flying.
2 weeks left to get a Surprise Package – offer ends January 15, 2016
Why does Palladium extend this amazing offer? Because we realize many of you are so full of the Christmas Spirit that you spend your money on gifts for your loved ones rather than yourself. This wonderful act of charity often leaves no money for you to buy a Palladium Surprise Package for yourself. We think that sacrifice is pretty awesome and what the holiday season is all about, so we extend the offer so that you selfless souls can pick up a Surprise Package after the holidays. We know this happens because a lot people over the years have thanked us for the extension for this very reason.
The extension is also for you Johnny Come-Latelies who are so caught up in the holiday frenzy, work and life that somehow you miss placing your order for the Christmas Surprise Package before the offer ends. It's also for those of you who wish you had ordered one (or another one) but forgot. Lastly, it is our way to carry that holiday good cheer into the New Year. So get your post-holiday Surprise Package and enjoy.
This offer will not be extended further. This is your last chance until next winter, so do not delay in placing your order. Happy New Year!
Click here for more details and to place your order.
UPDATE: The Rifter® #76 – January, 2017 release
The Rifter® #76 ships in January. And we are already putting together The Rifter® #77 for a February release. Two more great issues!
UPDATE: Everything else
Everything is in motion and moving toward getting finished. Rifts® CS Arsenal, The Disavowed, Secrets of the Atlanteans, Sovietski, Garden of the Gods, various Robotech® projects and much, much more.
A Happy New Year to all of you
I know, New Year's Eve is a couple days away, but we wanted to make sure our sincere well wishes get to you before the excitement of another holiday weekend.
As far as I am concerned, the New Year should mark the beginning of a new era for Palladium Books. That's how big and exciting our plans are for the future, starting with 2017. In addition to plans for all our game lines, we are looking at some potential prospects that should take shape over the next few years. Things that may involve film, television and video games based on various Palladium intellectual properties. We are also looking hard at starting a Palladium podcast about role-playing games, game design, the art of running and playing RPGs and the history of Palladium Books. I will talk more about these things in upcoming Weekly Updates.
Start out the New Year with one more Christmas Surprise Packages (or your first), enjoy the weekend and keep all of those beautiful imaginations burning bright. May the New Year bring prosperity, good health and new wonder into your lives.
– Kevin Siembieda, Game Designer, Writer, Publisher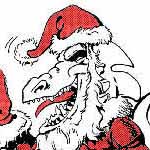 Season's greetings and comments from Palladium fans like you
I want to leave you in the warmth of the holiday season with more fun comments from fans like you. By now you should know the drill. Sharing these comments is a way to acknowledge at least some of our wonderful fans and the kind words and well wishes they share with us. I try to give a short response to most comments in brackets after the comment. Our sincere and heartfelt thanks to all of you who have stuck with Palladium through thick and thin. It has been a rough ride for a decade now. Rougher than most of you know. But we persevere and look forward to creating many new inspiring games and sourcebooks for you. We could not have done it without you. If all goes well in the New Year, you will have plenty to be excited about when it comes to new Palladium products.
Don't forget, there is only about two weeks left to order a 2016 Surprise Package! I'm just trying to give you plenty of fair warning. Enjoy the comments from fans around the world.
A.E. in Sebring, Florida, writes: Getting back into the hobby after a 20+ years absence. ALWAYS loved Palladium's games, from TMNT® to Robotech® to Beyond the Supernatural™, so many great memories.
[Ash, welcome back to the Megaverse! We have missed you. I hope the New Year is full of gaming fun and adventure. – KS]
R.D. in Silver Spring, Maryland, writes (in part): I only need Wolfen Empire and Bizantium to complete my Palladium Fantasy® collection. Of my Rifts® collection, I have the most holes in the Dimension Books, but I have the Minion War series. Excellent material! ... Also, great job on the previous grab bag this year, enough that I want round two.
[There is still time for "round three," R.D. Glad we can help fill in those holes and provide plenty of fun. Happy New Year. – KS]
E.T. in Bellevue, Washington, writes: I have never not been happy with previous years' Surprise Packages. I have almost every Rifts® book you have ever published. I very much enjoy the writing and art. Please keep up publishing Rifts® books and themes. Strong work!
[You've got it, E.T. The new Rifts® titles are going to blow minds. But while we have truly epic plans for Rifts®, it doesn't stop there. You'll also see support for Palladium Fantasy®, Robotech®, Dead Reign® and much more. When I mentioned my plans for Heroes Unlimited™, visiting pal and writer, Matthew Clements was blown away. In fact, our plan is to continually blow away our fans throughout 2017 and 2018. – KS]
M.C. in Grand Fork, North Dakota, writes: Thank you, all, for what you do. What I look forward to every week are these awesome adventures I have with my friends. I am now GM over my first game after a few years of playing, and I am having just as much fun running a game as I am playing. So again, thank you for what the whole team does and I look forward to supporting you all for many years to come!
[Thank you, M.C., for the kind words and support. I love G.M.ing too. There is nothing like it. – KS]
D.J. in Honolulu, Hawaii, writes (in part): Favorites: Definitely Heroes Unlimited™, but I have fond memories of After the Bomb® and Robotech®. Hello, I already received one X-Mas Surprise Package for this season, but was so impressed with the content and selection I had to get another one. I now have hours and hours of inspiration for the group's games ...
[Heroes Unlimited in one of my faves too, D.J. Thanks for the kind words. Happy holidays and good gaming. – KS]
P.K. in Griffin, Georgia, writes: I have been running a couple of games with my son and some of his friends for a couple years now. We have about 10 people playing every week. Palladium is the BEST!
[Thanks, P.K. Sounds like you have some awesome games going. Enjoy. – KS]
T.P. in Livermore, California, writes: Thanks again for the Surprise Packages. Ordering my third. Figured I've been a good boy this year and deserve it.
[Hey, T.P., I hope you enjoy the third Grab Bag as much as the first two. Happy Holidays. – KS]
J.C. in Iowa City, Iowa, writes: I'm fairly new to Rifts® but these sourcebooks look amazing. I lean toward horror and supernatural, but enjoy high-tech in my RPGs, too. I trust in you guys steering me in the right direction.
[J.C., I think you'll like the items we included in your Surprise Package. You sent a good list and your comments should have helped us provide you with the items you'll enjoy most. Game on. – KS]
I.P. in Indianapolis, Indiana, writes: Rifts®!! And to be fair, I haven't played in 20 years or more, BUT I Kickstarted everything GM for Rifts® Savage Worlds, and got my group back together. We've made PCs, we've played a couple of the "one sheets" and are ready to go GONZO NUTZ! I missed these themes so much over the last 20 years. Dunno why I ever stopped playing!
[Welcome back, I.P. We are thrilled you are having a blast with Rifts® for Savage Worlds. Game on! – KS]
K.J. in Surprise, Arizona, writes: This shipment is to a California State Prison. Thanks for helping make their time more peaceful by bringing them together in these games. Blessings for a Merry Christmas!
[Thank you, K.J., we'll take all the prayers and blessings we can get. The same to you and yours. I wish all prisons realized how much role-playing games help inmates to pass the time in a more peaceful and creative way. I hope your Christmas was nice, and you enjoy a happy New Year. – KS]
S.M. in Bloomington, Indiana, writes: Two weeks ago I visited the GameNerdz website. On their 'just in' list was the Palladium Fantasy® sourcebook Yin-Sloth Jungles™. It looked interesting, so following the link I discovered the world of Palladium role-playing games. Many Youtube videos and online reviews later, I got Bizantium™ and the core Fantasy book, and have been enjoying them immensely. This is a great RPG system and imaginative world. Thanks so much for sharing them with us!
[S.M., welcome to the Palladium Megaverse®. I hope you continue to enjoy our many games and world settings. – KS]
T.B. in Greenbush, Michigan, writes: Favorites: Rifts® and Palladium Fantasy RPG®. Thank you for the opportunity to do this every year. My library has grown steadily every year, and for that I thank you all and wish you a merry Christmas.
[We are happy to do the Surprise Packages, T.B., I'm glad you enjoy them. I hope your Christmas was merry as well. – KS]
E.A. in Burien, Washington, writes (in part): Favorites: Rifts®, Phase World®, Robotech®, Heroes Unlimited™, and Palladium Fantasy®. This will be my second Grab Bag. The first was amazing from last year. I have played Robotech® since you first published the game in 1988. I have always had tremendous fun in this world setting. I've grown into Rifts® in 1993, MIND BLOWN! The setting gives my players worlds and worlds of adventure, time and time again. The new version of Robotech® has been nice, detailed and I adore the creation process ... Even my kids play in games now. From my heart and childish grin, I thank you for what your games have been able to allow me to share, great times with some amazing people.
[Amen to that, E.A., "great times with some amazing people." That's what role-playing at its best is all about. I hope the fun continues into the New Year and for many more to follow. Btw, Palladium's first Robotech® RPG came out in 1986, so either you've been playing longer than 1988 or jumped on board soon after. Either way, glad to have you along for this extraordinary journey. Happy New Year. – KS]
G.W. in Salem, Oregon, writes (in part): Favorites: Robotech® and Palladium Fantasy RPG®. Would really like to fill in missing issues of The Rifter® ... Been playing/running Palladium games for 20+ years.
[Awesome, G.W. Game on and Happy New Year. – KS]
J.H. in Milwaukee, Wisconsin, writes: I love your products.
[Glad to hear it, J.H. We appreciate your passion. Happy New Year. – KS]
R.H. in Kuranda, Queensland, Australia, writes: Just love the Grab Bags! To everyone at Palladium, have a Merry Christmas and a Happy New Year.
[Thank you, R.H., the same to you. It was nice hearing from you. – KS]
Happy New Year to all of you, from all of us at Palladium Books.
NEW! The Rifter® #76 – Ships January, 2017
The Rifter® #76 is filled with strange creatures, adventure and fun across the Megaverse® and multiple world settings.
Every issue of The Rifter® is an idea factory for players and Game Masters to generate new ideas and find new avenues of adventure. It provides useful, ready to go source material you can just drop into your ongoing games. A doorway to new possibilities and numerous Palladium role-playing worlds. And the many new characters, O.C.C.s, powers, magic, weapons, villains, monsters, adventures and ideas for one setting can be easily adapted to any Palladium setting. Every issue has material for Rifts® and usually 2-3 other Palladium game lines. The focus of this issue is Rifts®, Splicers® and RPG advice. Don't forget, unofficial material can be easily adapted for use in ANY Palladium game setting.
Rifter® #76 Highlights:
Hell Followed™ – Now Shipping!
A Dead Reign® Sourcebook – Do more than survive
"This book begins to redefine the zombie genre. It broadens the field of possibilities and expands upon the modern zombie mythos. It is full of twists and surprises I had never imagined. – Alex Marciniszyn, Editor
In the wake of the Zombie Apocalypse, survivors find themselves trapped in a living hell. As everyone struggles to survive against the ravenous dead, some rise up to be heroes fighting for those in need and against all manner of evil – living and dead.
Be more than a survivor. Accept the new world and do something about it.
NEW! Rifts® Secrets of the Coalition States™ – Heroes of Humanity™ – Available now!
Rifts® CS Heroes of Humanity™ changes the landscape of Rifts North America and beyond, presents ways to upgrade and improve existing Men-At-Arms characters with Advanced Training, and includes new character classes, weapons, equipment, alliances and conflict to inspire epic new adventures.
Rifts® Heroes of Humanity™ outlines the battle for the soul of humanity. The Minion War™ has spilled onto Rifts Earth. At the epicenter of the invasion is North America. If either of the two rival demonic forces succeeds in conquering the continent, the rest of the world shall follow and Earth will be annexed to Hell. The demon hordes believe no one can stop them. The Coalition States has something to say about that.
For the first time in history, the Coalition States, Northern Gun, the Manistique Imperium, Lazlo, New Lazlo, Free Quebec, the Cyber-Knights, Lemurians, True Atlanteans, D-Bees, mages, mercs and many, many others stand together against a common enemy. Meanwhile, the Splugorth of Atlantis, Archie Three, the Republicans and the Vanguard engage in their own shadow war against the invading demon hordes, and each other.
NEW! Rifts® Secrets of the Atlanteans™
True Atlanteans are descendants from Earth's past. The survivors of the sinking of Atlantis (really a dimensional mishap) and travelers of the Megaverse, wielders of Tattoo Magic and other lost mystic arts. Most people regard them as heroes, but are they? The Sunaj Assassins are mythic villains feared by all, yet they too are True Atlanteans who serve dark forces.
For the first time, much of the story behind True Atlanteans and their secrets are revealed.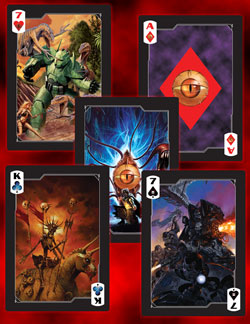 NEW! Rifts® Poker Deck One (Color) – available now
For the first time ever, Rifts® is captured in a deck of playing cards. Each card a powerful image. Perfect for playing cards, collecting, gifts and use as an Action Deck for Pinnacle's Rifts® Savage Worlds game line.
Gen Con gamers went wild over the two Rifts® Poker Decks and you will too. Both contain iconic Rifts® artwork and characters, and look gorgeous. The color and design of both poker decks makes the artwork pop and a joy to use. Available now.
New! Rifts® Poker Deck Two (black & white illustrations) – available now
52 iconic images and characters by your favorite artists. This second deck of playing cards captures Rifts® in a different light. Each card features a different iconic, black and white illustration set in a color border of rippling magic energy from the Rifts. Illustrations are by a wide range of fan favorite artists. A fun and attractive item for playing cards, collecting, and other uses.
Robotech®: The Masters Saga™ Sourcebook – New, large format 8½ x 11 sourcebook – Now available!
Robotech®: The Masters Saga™ Sourcebook has been enlarged to the standard 8½ x 11 inch format and 160 pages. Artwork was given the deluxe treatment – large, clear, and detailed to go along with the wealth of information about the Second Robotech War, the Army of the Southern Cross, its combat forces, mecha, weapons, and vehicles. The same comprehensive treatment was given to the invading Robotech Masters.
Forget the corny drama, the emphasis of this sourcebook is on the Second Robotech War and the equipment on both sides. Making the Masters Saga a big mecha and equipment book that you will want in your collection. Did you know the Army of the Southern Cross used power armor and Battloids in addition to their famous mecha? You'll find out all about it in this comprehensive 160 page sourcebook. Much of it described and statted out in an "official" capacity for the very first time in this sourcebook. Note: Only the size, size of artwork and layout has changed. The text and data are the same as the manga-sized edition, apart from eratta and minor additions.
Robotech® RPG Tactics™
Robotech® is getting hotter and hotter. It is the Number One Anime on Crackle, the Robotech® movie from Sony Pictures sounds like it is going to be become a reality, more Robotech® licensed products are appearing, and Palladium is gearing up toward the release of Robotech® RPG Tactics™ Wave Two and more Robotech® products. Ah, but the core game and expansion packs to get you started are available right now.
Robotech® RPG Tactics™ is a fast-paced, tabletop combat game that captures the action and adventure of the Robotech® anime. Two or more players can engage in small squad skirmishes or scale up to massive battles. Relive the clashes of the First Robotech War, engage in stand-alone tactical games, or use the dynamic game pieces to enhance your Robotech® RPG experience. Or simply collect your favorite mecha from an expanding range of top-notch game pieces. Get yours now.
Robotech® RPG Tactics™ Convention Exclusives – now available to anyone
These dynamic pieces are available as a regular item in the Palladium store. They are powerful fun and only have 4-6 parts, so they are easy to put together. They look awesome on your shelf or in your game. Get yours while supplies last.
© Copyright 2016 Palladium Books Inc. All rights reserved.
Rifts®, The Rifter®, RECON®, Splicers®, Powers Unlimited®, Palladium Books®, The Palladium Fantasy Role-Playing Game®, Phase World®, Nightbane®, Megaverse®, The Mechanoids®, The Mechanoid Invasion®, Coalition Wars®, Chaos Earth®, Dead Reign®, and After the Bomb® are Registered Trademarks of Palladium Books Inc. RPG Tactics™, Beyond the Supernatural, Coalition States, Heroes Unlimited, Ninjas & Superspies, Minion War, Mysteries of Magic, SAMAS, Thundercloud Galaxy, Three Galaxies, Vampire Kingdoms, and other published book titles, names, slogans and likenesses are trademarks of Palladium Books Inc., and Kevin Siembieda.
Robotech® and Robotech® The Shadow Chronicles® are Registered Trademarks of Harmony Gold USA, Inc.
This press release may be reprinted, reposted, linked and shared for the sole purpose of advertising, promotion and sales solicitation.