Palladium Books® Weekly Update – Dec. 23, 2016
By Kevin Siembieda
Happy holidays to everyone! Christmas Eve is Saturday. Hanukkah also begins on Saturday, and Kwanzaa follows on Monday, so no big sales pitch or news updates this week other than the fan comment section and notice that we are extending the Christmas Surprise Package offer for a few weeks after Christmas. This extension has become part of the Grab Bag tradition as much as the Surprise Packages themselves.
Christmas Surprise Package Offer – EXTENDED to January 15, 2017
Why extend this amazing offer? Because it is the nice thing to do. We realize many of you are so full of the Christmas Spirit that you spend your money on gifts for your loved ones rather than yourself. This wonderful act of charity often leaves no money for you to buy a Palladium Surprise Package for yourself. We think that sacrifice is pretty wonderful and what the holiday season is all about, so we extend the offer so that you selfless souls can pick up a Surprise Package after the holidays. We know this happens, because a lot people over the years have thanked us for the extension for this very reason.
The extension is also for you Johnny Come-Latelies who are so caught up in the holiday frenzy, work and life that somehow you miss placing your order for the Christmas Surprise Package before the offer ends. It is also for those of you who wish you had ordered one (or another one) but forgot. Lastly, it is our way to carry that holiday good cheer into the New Year. So get your post-holiday Surprise Package and enjoy. Please note that this offer will not be extended further. This is your last chance. And please spread the word to let people know the offer is extended. Happy Holidays.
Click here for more details and to place your order.
A Note about Shipping Methods
Considering the large volume of Surprise Packages and orders we ship out between Thanksgiving and Christmas, we are amazed (and pleased) that the vast majority of packages arrive in good to perfect condition. However, we have gotten a few, and I mean only a few, reports of books damaged in shipping. Usually via Media Mail. Please note that we strongly suggest people do NOT use Media Mail, especially during the holiday season. MOREOVER we state that if YOU choose to select Media Mail – the slowest and least reliable, but the most economic method of shipping – that YOU assume ALL RISK and Palladium Books will not replace damaged or lost items shipped by Media Mail.
UPS: I want to remind you that one advantage of shipping UPS Ground, or any UPS method, is that the contents of your package are automatically insured for $100. Roughly the value of the contents of most Surprise Packages. If that box arrives with a crunched corner and your books are all damaged. Send Palladium photos of the clearly damaged box and the damage to the books, and UPS will pay to replace the damaged goods. Please note, Palladium Books has absolutely no control over what happens to your package AFTER it leaves our warehouse.
This past week has left us ready for Christmas weekend
It seems many people waited until after Black Friday to dive deep into holiday shopping, so we have been processing and shipping orders like crazy. It's not just Palladium Books experiencing this either. According to our UPS man, it is everybody. I suspect the warm autumn had something to do with that. For the last two weeks, orders have been pouring in at such volume that most days I spend a good six hours in the warehouse – longer for Julius. We love it. Picking, pulling, packing and shipping orders is just about all we have done the past week and a half! In part because we are doing everything we can to get the orders out fast – sometimes hours after the order has been placed – so you get them in time for Christmas.
That's the case every year, but somehow you forget until you are back in the thick of it and looking at piles and piles of orders. Don't get me wrong, that's fantastic! It is exactly what we want to see, and we are all happy to work our tails off to get you your holiday orders. It was funny though, we had an out of town business associate visiting on Wednesday for a meeting. I asked him if we could talk while I signed books and checked orders. He said yes, so I'm out there doing my thing and he says, "Wow, you really are like Santa. You're even checking the list twice." We laughed and I apologized for it taking so long. He said, "Oh no, it's not a problem. I think it's great you do this, and I can see you enjoy it." Funny.
I do really enjoy it. I get why Santa is so jolly. It is a joy to sign books, maybe doing a quick drawing on a book, and ship them out knowing your efforts are making someone happy someplace in the world. What a great job I have. As always, I am thrilled by the number of people who enjoy this offer. And now you have three more weeks to snag a Surprise Package.
The Palladium Office Party
Last Friday was the Palladium office party. Despite a long day of shipping, everyone seemed to have caught their second wind and had a good time that evening. A couple of old friends joined the party and there was plenty of laughter, good conversation and delicious food to be had. It was a shame that an impending snow (another six inches after the previous weekend's 9-11 inches) kept some friends home, fearful of rough travel back home. That made the party a bit smaller, but it was very cozy and nice. It wound down around midnight and was a good time. I have the added bonus of working with some pretty wonderful people.
Merry Christmas and Happy Holidays to you all
It doesn't matter to us whether you celebrate Christmas, Hanukkah, Kwanzaa, Winter Solstice or something else, we wish you a joyful and pleasant holiday season. Safe travels and fun. Happy holidays from all of us at Palladium Books to all of you. Please know that you matter to us more than some of you may realize. You are appreciated and thought of with warm regard. Ho, ho, ho.
- Kevin Siembieda & Company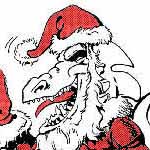 Surprise Package comments from fans like you
Every year there is a section where the customer can offer comments and suggestions with his or her Surprise Package order. Every year, in acknowledgment of our fans, and because they are fun to read, we offer a sampling in the Weekly Updates. Our heartfelt thanks to all of you who have stuck with Palladium through thick and thin. Keep those imaginations burning bright, have a joyous holiday season and game on.
You have no idea how much your comments and support mean to all of us. Everyone at Palladium enjoys reading your brief comments. They always brighten our day. Thank you. I have tried to write a short response [in brackets] when applicable.
And remember, if you missed getting the Palladium Christmas Surprise Package, you still have the next few weeks to do so. Game on!
Click here for more details and to place your order.
M.L. in St. Peter, Minnesota, writes: Rifts®. It never gets old.
[I know what you mean, M.L. Thanks. – KS]
J.B. in Erlanger, Kentucky, writes: Tried and love them all.
[Thanks, J.B. Merry Christmas! – KS]
T.D.P. in Annadale, Virginia, writes: It's that time of year. My group is always happy to open their Surprise Package every Christmas!
[Awesome. Keep those imaginations burning bright. – KS]
M.L. in Grand Fork, North Dakota, writes: Just getting started being a Game Master and need a good set of books of my own to get going.
[Hi, M.L. I think you will find the items in your Grab Bag will help on that front. Enjoy. G.M. tip: Relax, don't over think it, and have fun with it. – KS]
M.W. in Bunker Hill, Illinois, writes: I participated in this offer last year and loved it. Kevin did a great job picking things out. It literally made my week this morning when I remembered this special was going on. I'm excited to see what I will get this time. I've always loved Palladium Books and I know you guys have had some rough times, but it's good to see that you are still at it after all these years.
[Hey M.W., if you loved last year's Grab Bag, you'll be elated when you get this year's. Enjoy, and thank you so much for your warm, heartfelt words. – KS]
S.M. in Hackensak, New Jersey, writes (in part): Thank you. This Grab Bag helps rebuild my RPG collection. Thank you for doing this and I hope you keep rocking out amazing products for years to come!
[Thank you, S.M. Good luck rebuilding your collection and happy holidays. – KS]
A.H. in Santa Fe Springs, California, writes: Thank you very much! This is such a great thing you do every year. This how I got my start in Rifts® (and for my girlfriend). I hope others do the same. :)
[That's great to hear, A.H. I'm glad you enjoy our games so much. Keep those imaginations burning bright. – KS]
S.M.C. in Houston, Texas, writes: You guys are the best, we love your products. We've tried everything. You need anything tested?
[Thanks, S.M.C. As far as play testing, you know, we might just have some things coming up. I'll try to keep you in mind for play testing. – KS]
C.T. in Grand Fork, North Dakota, writes (in part): I love RUE and I'm playing Fantasy right now. Thanks for doing what you guys do. I recently started playing and it has been such a great time. I look forward to playing every week!
[Awesome, C.T. Game on! And happy holidays. – KS]
G.C. in Tampa, Florida, writes: You are awesome. I am one step closer to my goal of owning every book you have printed.
[Cool. Good luck, that's a lot of books G.C. Happy holidays. KS]
M.W. in Danville, Illinois, writes: I have loved you guys and your work for almost two decades now. So thrilled and pleased with the new material recently. Keep up the good work, and see you at the next convention. Thanks for keeping this wonderful tradition alive.
[You are very welcome, M.W. We are happy to do it. Keep your imagination burning bright. – KS]
W.S. in Johnson City, Tennessee, writes: Been a huge fan for years. I compare all new RPGs to Palladium. Most come up short. I will continue to buy Palladium as long as you keep putting them out. Please put out more Heroes Unlimited™ and Dead Reign®.
[Thanks for the high praise, W.S. We have more planned for both Heroes Unlimited™ and Dead Reign® in 2017. Watch for 'em. – KS]
R.S. in Lake Mary, Florida, writes: These Grab Bags are so awesome! I'm looking forward to a lot of gaming this winter! The Christmas Surprise Packages are my favorite part of the holiday shopping season. Merry Christmas and Happy New Year to all of you at Palladium!
[Glad you like them so much, R.S. I think you'll enjoy the two coming your way. Merry Christmas and may the New Year be a grand one for you and all of us. – KS]
R.S. in Leeds, Alabama, writes: Hey big dawg! This is my second X-Mas Package for the year! The last one was dope. I am starting a Rifts® Minion War™ campaign in January, so I need demons to throw at my players ... thanks for all you do for your fans year round.
[It is my pleasure, R.S. I'm glad you appreciate our efforts. Game on and start tossing demons at your players. Ho, ho, ho. – KS]
What has been HOT for Christmas?
Here are some of the most requested and popular items of the 2016 holiday season for Palladium Books:
Rifts® Ultimate Edition (Core Rules) (Cat. No. 800HC)
Rifts® Heroes of Humanity™ sourcebook (Cat. No. 889)
Rifts® Megaverse® in Flames™ World Book (Cat. No. 876) and other World Books and sourcebooks.
Rifts® Poker Deck 1 (color, Cat. No. 2575)
Rifts® Poker Deck 2 (black and white, Cat. No. 2576) (It is almost as popular as the color deck.)
Robotech® RPG (Cat. No. 550HC), RRT and other sourcebooks and miniatures.
Hell Followed™ (Cat. No. 236) – the new Dead Reign® sourcebook.
Dead Reign® RPG (Cat. No. 230) and other sourcebooks.
Chaos Earth® RPG (Cat. No. 660) and sourcebooks. (I would say Resurrection™ and Rise of Magic™ are roughly neck and neck.)
Heroes Unlimited™ RPG (Cat. No. 500) and sourcebooks.
Palladium Fantasy RPG® (Cat. No. 450) and sourcebooks.
Nightbane® RPG (Cat. No. 730) and sourcebooks.
Splicers® RPG (Cat. No. 200)
After the Bomb® RPG and sourcebooks (this one surprised us, but it has been very popular this season).
Weapons, Armor & Castles of the Orient (Cat. No. 404) (back in print)
But we have been selling everything, Beyond the Supernatural™, Ninjas and Superspies™, Splicers®, issues of The Rifter®, baseball caps, etc. Those listed above are just some of the most requested.
© Copyright 2016 Palladium Books Inc. All rights reserved.
Rifts®, The Rifter®, RECON®, Splicers®, Powers Unlimited®, Palladium Books®, The Palladium Fantasy Role-Playing Game®, Phase World®, Nightbane®, Megaverse®, The Mechanoids®, The Mechanoid Invasion®, Coalition Wars®, Chaos Earth®, Dead Reign®, and After the Bomb® are Registered Trademarks of Palladium Books Inc. RPG Tactics™, Beyond the Supernatural, Coalition States, Heroes Unlimited, Ninjas & Superspies, Minion War, Mysteries of Magic, SAMAS, Thundercloud Galaxy, Three Galaxies, Vampire Kingdoms, and other published book titles, names, slogans and likenesses are trademarks of Palladium Books Inc., and Kevin Siembieda.
Robotech® and Robotech® The Shadow Chronicles® are Registered Trademarks of Harmony Gold USA, Inc.
This press release may be reprinted, reposted, linked and shared for the sole purpose of advertising, promotion and sales solicitation.