Palladium Books® Weekly Update – June 13, 2015
By Kevin Siembieda
Another crazy busy week has just flown by. I mean it. It feels like Monday was only yesterday, so how can today be Saturday? We continue to work away on everything, and we are making progress. We are working on things for Robotech®, Gen Con, and book releases.
UPDATE: Robotech®: The Expeditionary Force Marines™ – July release
This book is truly awesome. Allen Manning, Brian Manning, Chuck Walton, Ben Rodriguez and Michael Wilson are all working away on the interior artwork. Harmony Gold has approved the text with some changes and corrections. On Thursday, Ben Rodriguez and Chuck Walton were both drawing away in the artist bullpen area of the office. I'm working on the final edit right now, before I hand it over to Alex and Wayne to work their magic. As soon as the artwork is in and approved, it gets typeset, laid out and sent to the printer. July release!
UPDATE: Chaos Earth® Resurrection™ – July release
I put a lot of work in on Chaos Earth® Resurrection™ in the first part of the week. I've been trying to devote X number of hours every day to both CE Resurrection and Robotech®: The Expeditionary Force Marines™. Not the usual way I work, but things are coming along well. Wonderful ideas by author Taylor White. You will love this book. Plus it will have uses in current day Rifts® Earth and other settings. A July release!
UPDATE: The Rifter® #71
I approved the Amy L. Ashbaugh cover (CS vs dinosaurs and magic) and we're looking through submissions to make this issues's selections.
UPDATE: Robotech® RPG Tactics™
We've been going over rules and rules descriptions with Carmen Bellaire as well as fine-tuning the abilities, damage and point costs for Micronian Infantry, Grell and all the other new units. In fact, we hope to post those early next week. Grell comes with a Malcontent card and he is one tough character within that faction. We also expect to post Force Organization Charts; something else people have been wanting.
Robotech® Convention Exclusives: We received a prototype for the Miriya Super Valkyrie Convention exclusive from GHQ and though there were a few small things that need to be addressed, it is drop-dead gorgeous. The lines are clean and sharp, the detail is exquisite, and there are only seven pieces (one of the benefits of working in metal). It goes together like a dream. When we have a final version of it, we will post photos. We can hardly wait till we see Grell (in male power armor) and Breetai (in heavy body armor). We will post photos of the pieces as soon as they are completely finished. We think you will love them. Note: All three exclusives (plus the old exclusives, Max in VF-1J and Miriya in female power armor) will be available at Gen Con® Indy on a first-come, first-served basis (and to our Kickstarter backers online; no limit to how many).
FOR YOUR REFERRENCE: Robotech® RPG Tactics™ 6mm vs 15mm Thoughts
We posted this from me on Kickstarter earlier in the week. I figured we should include it here too, since you were all sent the Robotech® Update last week.
Hey, Everyone. It's Kevin Siembieda.
This sentence from an email I recently received seems to reflect the sentiment of many of you: "I was a bit perplexed by part of the latest update....there was a lot of trash talk on 6mm stuff."
No trash talk of 6mm was intended whatsoever. Ironically, Palladium has NO plan nor personal desire to depart from 6mm. Nor do you have to convince me of the quality or value of a consistent 6mm (1/285th) scale.
Personally, from day one, I have always wanted to see all generations of Robotech® done in the same scale. If for no other reason than it has never been done and would be freaking awesome!
HOWEVER, we have had a number, and I mean a good number of Kickstarter backers raise the issue and ask us whether we are considering doing a larger scale for some of the smallest Robotech mecha – namely man-sized units like Southern Cross soldiers, the Invid and most notably, the Cyclones.
I thought it was a valid question. And since we have had so many people ask it, I wanted to make sure that we are still on the right path with 6mm (1/285th scale). I used myself as an example only to represent that I understood how and why those suggesting a larger scale might feel about it. AND IF that might be the way the majority of the backers and RRT supporters feel, I want to know about it NOW, not later. From a manufacturing and design point of view, as well as for wargamers, 6mm throughout seems, to all of us at Palladium, the way to go. Most of the arguments in favor of going larger were more important to collectors and those who want these figures as display pieces, which is a segment of our backers that we didn't want to just dismiss. Thus, the discussion.
I'm just trying to make sure that Palladium gives you, our RRT Kickstarter backers, what YOU WANT. And I want you to think about it so that if and when we say yes, we're sticking with 6mm scale, there can be no issues later when the pieces are in that scale.
So please, don't any of you feel perplexed. But please do let us know what YOU want. That's the entire reason for my raising the question. And I raised it in the strongest possible way so there could be no confusion or doubt. I really want YOU all to really think about what you want from these game pieces.
In fact, I made the case for 15mm as strongly as I did purely to make people really stop and think about it, rather than dismissing it out of hand. My only regret is that it seems to have made some people push back even stronger precisely because they thought I was trying to steer them in that direction.
The only reason Palladium would even consider deviating from 6mm is if this conversation suggests that the vast majority of you might want larger figures (of any size scale, really). Personally, I would be shocked if that happened.
Of course, ALL the new convention exclusives and Earth Defender figures are at 6mm (1/285th) scale. Speaking of which, we'll be posting the stats and data for how these units function and impact combat in the RRT game for you to see. That's coming soon.
So please really think about this, talk about it amongst yourselves and let us know your thoughts on the matter.
Wayne will post a poll, probably next week, after there has been time for everyone to think about the subject. PLEASE participate in the poll. Please only vote once, because we are only counting the actual numbers in the poll, and we want them to be accurate.
This helps Palladium in a number of ways, because it will give us an absolute true indication of what you want, but it also gives us an idea if there is a large enough interest for us to consider making both sizes available; 6mm first and maybe 10mm or 15mm later. The idea of offering two sizes in the same package, upon further consideration, is wasteful because those who have no interest in the other size may just toss them out. But unless you tell us otherwise, 6mm is what we plan for ALL RRT game pieces.
Again, I want to make clear that the only reason we are even having this discussion is out of respect for the RRT Kickstarter backers who raised it in the first place and our desire to give you the game YOU want! – Kevin Siembieda, Publisher
UPDATE: Gen Con Indy
Convention Exclusives at Gen Con® Indy – Booth 1129
Reminder: Palladium is taking pre-orders from Kickstarter backers for the convention exclusives (with no limit on quantity) and the six Earth Defender Blister Packs online, now through July 15, 2015.
NEW! Miriya Sterling's Super Valkyrie in Guardian Mode. A sleek, dynamic item; 1/285th scale (6mm). $22 plus shipping.
NEW! Breetai ready for combat. This is Commander Breetai in a suit of Zentraedi Heavy Body Armor. His right hand opened enough to place a weapon, Micronian or the severed head of a Valkyrie or other bit of wreckage; 1/285th scale (6mm). $22 plus shipping.
NEW! Grell's Male Power Armor. Includes a Grell Malcontent character card; 1/285th scale (6mm). $22 plus shipping.
Max Sterling's VF-1J Valkyrie in Battloid Mode; a couple different poses are possible; 1/285th scale (6mm). $22 plus shipping.
Miriya's Female Power Armor; a couple different poses are possible 1/285th scale (6mm). $22 plus shipping.
All of these convention exclusives will be available at Gen Con® Indy to ANYONE on a first-come, first-served basis. Each is metal/pewter, 1/285th scale (6mm). RRT Kickstarter backers, however, can pre-order them from the comfort of their home and in any quantity (no limit) and have them shipped right to their doorstep. Palladium may also make them available at a couple of trade shows and other conventions, including the 2016 AdeptiCon. NOTE: We would like to get pre-orders from our RRT Kickstarter backers by July 15, 2015.
For instructions on how to order the exclusives (sorry, RRT Kickstarter backers only), click here.
UPDATE: Coming for Robotech® RPG Tactics™ – Earth Defenders (Micronian Forces!)
The Earth Defenders blister packs expand the scope of combat and are ideal for gamers looking to play the Malcontents faction or who want to bring Micronian troops into play on any battlefield. Note: None of this has any negative impact on Palladium finishing and manufacturing RRT Wave Two, but does plenty to enhance your battlefield options with your current game piece.
When we make these Earth Defenders available at retail in the Fall, they will probably sell at a retail price of around $12 or so per blister pack.
The first six Earth Defenders Blister Packs:
What's next? The Comanchero Helicopter and combat vehicles like the Cat's Eye Recon and other Macross war machines. We had initially included the Comanchero Helicopter as one of the items our Kickstarter backers could pre-order along with the six listed above. However, after further discussion involving its development we realized we could not, at this time, pinpoint a specific date of release or its true cost, so we have decided to remove it from the schedule until we can verify all the details and get a good handle on a realistic release date. So while the Comanchero Helicopter will be in development, it will be no longer be available for pre-order for the time being. Those initial few who were charged for that item will be contacted to arrange the refund of that portion of their orders.
The good news is that we are putting the finishing touches on the squad sizes, point costs and related rules and special abilities for these vehicles and Micronian Infantry. These stats and will be posted next week for your knowledge and in assisting you with rounding out your squadrons and platoons. These units really add some nice strategies and flavors to the battlefield.
UPDATE: George Romero's Night of the Living Dead comic book series by Double Take — Doubletakeuniverse.com
I want to remind you about the new comic book company Double Take and the 10 zombie titles they are launching in August/September; each based on George Romero's iconic movie Night of the Living Dead. Some of you who have ordered books lately may be finding one of their card sets with your purchase from Palladium Books. These cards depict five of the 10 comic book covers and could become collector items.
I also wanted to remind you about the deals you can find on Double Take's Ultimate Night of the Living Dead Kickstarter. This is a nice way to make sure you, or your favorite comic book store (spread the word), gets a selection of these cool sounding comic books. As a comic book collector myself, it is always nice to get a new company's first releases as they often become collector items. The $10 Super Pack is a steal because you get ALL TEN ISSUE #1s for only ten bucks. That's only one dollar an issue! I don't know about you, but I can't pass a deal like that up. I mean what is that? A $30 or $40 value (most comics retail for $3-4 each) for only $10? What do you have to lose? $10 for ten different issue number ones that could become worth 2-10 times (or more!) than that in just a few years from now. I'm shocked comic book collectors have not been scooping up the $10 Super Pack like free candy. I suspect a lot of people have not yet heard about Double Take and their George Romero inspired zombie comic book series coming out this year. That means we really are on the ground floor of something that could become big.
I'm going to order myself a $10 Super Pack or two, or maybe the Jumbo Print package (10 11x17 prints limited to 300 sets, plus the set of 10 different #1 comic books) for $25. I'm telling you, this could be the start of something big. This offer is only available from their Kickstarter which is starting to wind down.
https://www.kickstarter.com/projects/221551805/ultimate-night-of-the-living-dead
UPDATE: Rifts® Savage Worlds™ RPG
I can't say much at this point other than work on the game is coming along and everyone involved seems very excited. I received the pencil sketch of the cover this week for approval. We all loved it. Very dynamic and truly captures the essence of Rifts®. We will let Pinnacle reveal details and images when they are ready to do so in the coming months. I only expect them to keep up the great work.
UPDATE: Kevin Siembieda voted into the Origins Hall of Fame
I wrote a Murmur about this last weekend when it happened. As I said then, this honor was a complete surprise. A very pleasant one. Game designer Monte Cook was also voted into the Origins Hall of Fame. Congrats to Mr. Cook. My thanks to those who voted me in. It's a nice feeling.
Palladium Birthdays
Friday evening, after work, we celebrated Kathy Simmons and Alex Marciniszyn's birthdays. It was a pleasant evening of watching some Key & Peele and Futurama on Comedy Central, good conversation, food, cake, ice cream and laughter with the staff and friends.
That's it for now. Gotta get back to work.
– Kevin Siembieda, Publisher, Writer and Game Designer
Robotech®: The Expeditionary Force Marines™ Sourcebook – July
Epic fun is coming next month with this long-awaited book.
NEW & LIMITED – Coalition Briefing, Covert Operations™, 110 P.A. – "RAW" Preview Edition of Rifts® Heroes of Humanity and The Disavowed
Fewer than 20 copies of the RAW preview remain available! Get 'em while you still can! Sold on a first-come, first-served basis. This is the "raw," sneak preview of two upcoming Rifts® titles, Rifts®: Heroes of Humanity™ and Rifts® The Disavowed™. About half of each book is present in this "Raw" Preview Edition. Artwork, more text, more stats, more weapons and gear to be added to both titles. The Coalition Briefing™ "Raw" Preview is a super limited edition (our hardcover books are usually printed in quantities of 300-600 copies, sometimes more) and a rare chance to see part of the "raw" manuscripts for two upcoming Rifts® books before they go through final edit and layout.
Note: Read the Purchaser's Covenant! By purchasing this book, you agree not to post its contents online. We want people to enjoy the final books. No spoilers!
NEW! Glitter Boy™ Mouse Pad
Full color mouse pad that looks dynamic on any desk. This art is the famous Glitter Boy™ in flames that was made into a poster and is the cover to the Rifts® Chaos Earth® RPG.
NEW! Fantasy Old Ones™ Mouse Pad
Full color mouse pad that looks dynamic on any desk. This is the powerful art depicting a Minotaur and Old One from the cover of the Old Ones™ Fantasy Sourcebook. The claw-like tentacles in the background is an Old One rising. Be afraid.
NEW! Zombie Graveyard Mouse Pad
Full color mouse pad that looks dynamic on any desk. This one is a zombie rising from a graveyard to stalk the living. It is from the cover to the Dead Reign® Sourcebook: Graveyard Earth™. Are you a survivor?
NEW! Coalition Heroes of Humanity Dog Tag
A sharp-looking, black dog tag, laser etched with the CS skull and lightning bolt, with the words "Coalition States, Hero of Humanity" on one side. The image and words are silver.
NEW! Rifts® Logo Dog Tag
A sharp-looking, ley line blue dog tag, laser etched with the full Rifts® logo and the words "Celebrating 25 years" on one side. The image and words are silver.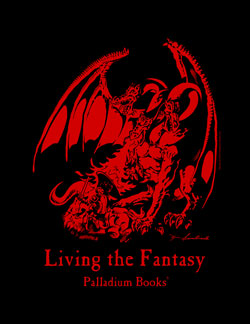 NEW! Living the Fantasy T-Shirt – available now
Celebrate the Palladium Fantasy RPG® with the red and black image from the original RPG that gave Palladium its start. This is a favorite of Kevin Siembieda. The slogan, "Living the Fantasy" comes from fan and freelance writer, Travis Guerrero. Art by Kevin Siembieda.
NEW! Cyber-Knight Game Master T-Shirt – available now
This shirt exudes both power and nobility, and a sense of wonder that captures the spirit of role-playing. Art by Freddie Williams III.
NEW! Rifts® 25 Years, The Adventure Continues T-Shirt – available now
We wanted an image that said Rifts® and more adventures to come. This Ramon Perez artwork captures that nicely. And we love the grin on that Headhunter and the sparkle in his eyes that seems to say, "Oh yeah, there are adventures to come." Art by Ramon K. Perez.
NEW! 2015 Open House Dragon T-Shirt – Available now.
This was not Kevin's idea. In fact, he felt a bit embarrassed by it, but people loved it. This commemorative 2015 Open House T-shirt is perfect for those of you who attended the event as well as those of you who were there with us in spirit. It features the infamous Kevin Siembieda signature dragon that graces thousands of books around the world with his signature; complete with Kevin's signature and the words, "2015 Open House." It seemed especially appropriate to us if this was, indeed, the last Open House. This shirt is not likely to be reprinted, so available only while supplies last. Art by Kevin Siembieda.
BACK IN PRINT – Property of the Coalition – Available now
New Limited Edition Prints – Available now
NEW! Death and Ice (Bizantium Cover) Print
The cover to the new Bizantium sourcebook.
NEW! Winged Fury (Heroes Unlimited™) Print
A hero on her night patrol to protect the innocent.
NEW! Chrome and Carnage Print (Chaos Earth®)
An epic battle as a NEMA Chromium Guardsman (Glitter Boy) battles a legion of bizarre zombies.
NEW! SAMAS/Dragon Dogfight Print
Buckle your seatbelt for this wild ride.
NEW! Rifts® Red 'Borg Print
The iconic Kevin Long "Red Cyborg" can now hang on your wall.
NEW! Rifts® Ley Line Walker Print
The iconic Kevin Long "Ley Line Walker" can now hang on your wall.
NEW! Rifts® Heroes of Humanity Print
The aftermath of a skirmish between Coalition forces and the minions of Hell. SAMAS scourer the sky for enemy forces as a Rift closes in the sky.
NEW! Coalition Strike Force (Rifts®) Print $10
The iconic Kevin Long Calendar center-spread can now hang on your wall.
NEWish! Robotech® Dice Bag – Available now
People have enjoyed the Rifts® dice bag for years, so we thought we'd do one for Robotech®. The Robotech® Dice Bag debuted at AdeptiCon and went over very well. Now it is available in the Palladium store for everyone. This is just one tiny thing we've been working on behind the scenes for Robotech®. More to come.
BACK IN PRINT: Rifts® and the Megaverse® – John Zeleznik Collector's Masterwork Limited Edition
Kevin pulled this amazing offer out of mothballs for the Open House and immediately sold a few copies. This is the most unbelievable deal we have ever heard of. In fact, we don't think anybody has EVER done anything like this before, and it's all John Zeleznik's idea.
Each copy of the Collector's Masterwork Limited Edition includes an original piece of artwork by John Zeleznik! Most are concept sketches tipped (glued) into the book itself, by hand, done personally by Kevin Siembieda. That's right, YOU will have an original sketch/drawing/concept artwork from one of John Zeleznik's paintings or illustrations that appears in this very book!
"I've never heard of anything like this," said Publisher, Kevin Siembieda. "It's remarkable. A true collectible with a piece of original art and Palladium history all rolled into one. This is a deal of a lifetime, NOW more than ever before, because the $125 dollar price is the same low price when this item was first offered back in 2007! Today, this book would sell for $175-$200. Each piece of art has to be worth $50-$100, and is a piece of Palladium history. John Zeleznik is such a great guy, he wants us to keep the price low so Palladium fans can afford one. How cool is that?"
NEW! Palladium Fantasy RPG® Sourcebook: Bizantium and the Northern Islands™ – Available now
To the civilized world, Bizantium and the waters and lands around it are frightening. A realm of sea serpents, monsters, and barbarians. To the heroes and people who live there, it is a realm of adventure, beauty and opportunity. One might consider Bizantium as the center of adventure and mystery in the North.
North of Bizantium are the Icy Ocean and Great Ice Shelf, places where only a handful of the bravest Bizantian sailors have ever set sail, and the rest of the world knows nothing about. For kingdoms in the south, only a few scholars have ever heard of the Great Ice Shelf or the cannibalistic Necromancers known as the Iceborn who make the frozen wasteland their home. Those who have heard tales of the land of ice and death are convinced they are nothing but the stuff of myth. Very soon, they will find out otherwise. And these are but a few of the revelations presented in Bizantium and the Northern Islands™. Discover for yourself the wonders and horrors that await.
Robotech® RPG Tactics™
– Available now in the USA, Canada, European Union, Australia and New Zealand
If you love Robotech®, you'll want to take a look at this game. Beautifully detailed game pieces of your favorite Robotech® mecha, and fast playing rules that capture the Robotech® experience in a new, exciting way. And this is just the beginning. We have so much more planned. Available NOW – in game stores across the USA, Canada, UK, European Union, Australia and New Zealand.
The First Six Robotech® RPG Tactics™ Expansion Packs are available to retail along with the main box game. Here are the SKUs and retail prices.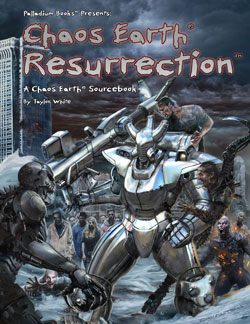 COMING – Rifts® Chaos Earth® Resurrection™
In the shattered depths of Wisconsin, survivors are besieged by the dead come back to life. Zombies. But not just any type of zombie, zombies done Rifts-style. And unless the source of the zombie plague can be found and neutralized by NEMA defenders, North America may be overrun by the dead.
This was actually something Taylor White and I have been kicking around for years, even before we released the Dead Reign® RPG line. We think you'll love it.
COMING – Rifts® Sourcebook – The Coalition States: Heroes of Humanity™
The events unfolding in World Book 35: Megaverse® in Flames threaten to change the entire landscape of Rifts® Earth as the demonic minions of Hades and Dyval seek to bring Hell on Earth, and turn the planet into a dimensional gateway to Armageddon!
The Coalition States, along with Northern Gun and Lazlo, take the lead in the defense of North America. Heroes of Humanity explores the good and bad in the Coalition's efforts to save humanity and send this new threat back to the pits of Hell.
COMING – Rifts® Secrets of the Coalition States: The Disavowed™
"Desperate times require desperate measures. War has nothing to do with morality or justice. It's all about winning or dying. We cannot bind our hands with high ideals, even our own, or worry about the laws of renegade nations or the rights of alien people. We must fight fire with fire. And you are the match." – Colonel Lyboc addressing a Disavowed team
The Disavowed are so Top Secret that their existence is known only to a handful of the Coalition States' most elite, top echelon, with Joseph Prosek II the mastermind behind the Disavowed operation, and Colonel Lyboc its shadowy face. Find out who these men and women are. How the Disavowed get away with using magic, traveling to other parts of Rifts Earth and even to other dimensions in pursuit of enemies and strategic information that cannot be had through conventional means. Learn about the secret parameters in which these hard-boiled warriors, secretly hand-picked by Joseph Prosek II, operate, why almost every mission is considered a suicide mission, and why they must forever be the Disavowed.
COMING – Rifts® Secrets of the Atlanteans™
True Atlanteans are descendants from Earth's past. The survivors of the sinking of Atlantis (really a dimensional mishap) and travelers of the Megaverse, wielders of Tattoo Magic and other lost mystic arts. Most people regard them as heroes, but are they? The Sunaj Assassins are mythic villains feared by all, yet they too are True Atlanteans who serve dark forces.
For the first time, much of the story behind True Atlanteans and their secrets are revealed.
COMING – Rifts® Chaos Earth® Sourcebook: First Responders
The Great Cataclysm has devastated civilization, but humanity fights for survival. The struggles of civilian law enforcement, fire and rescue, and everyday men and women are some of the most epic tales to be told in a world gone to hell. They fight monsters, aliens, the paranormal, the elements, and each other, all with the hope of reclaiming their lives from the Chaos.
Rise of Magic™ – Rifts® Chaos Earth® Sourcebook – Now shipping
We've all played "post" apocalyptic games. Now imagine playing as the apocalypse is happening. As the world you know is crumbling. As magic and monsters from myth become real and your world is reshaped by forces beyond your comprehension. That is the premise behind the Rifts® Chaos Earth® series. That YOU play through the Great Cataclysm as the apocalypse happens.
Rifts® Chaos Earth®: Rise of Magic™ is a key book in that continuing story (new books are coming this Spring and Summer). In Rise of Magic™, humans, particularly children, are discovering they can draw upon mystic energy and cast magic. The thing is, they don't really know what they are doing. Magic is just part of the chaos and the impossible that is happening all around them. Meanwhile, others have found they can summon and control monsters and demons, while still others make pacts with supernatural beings to become witches and worse. And some have learned they can harness the magic to animate and command the dead. Madness and more chaos ensues. All of this only complicates things for NEMA, Earth's defenders, as the line of distinction between "good guys" and "bad guys" begins to blur, and things go from bad to worse.
Rifts® Chaos Earth® RPG – Available now
The origins of Rifts® start here! It is a new beginning. But first everything that human civilization had become during the Golden Age of Science, more than eighty years in our future, must come to a crashing end. The Earth is in the process of being transformed into a place more alien than a thousand alien worlds. Ley lines erupt with even more power and ambient energy than what is known on Rifts Earth 300 years later. Rifts – tears in space and time – appear along ley lines to unleash legions of aliens, monsters, dragons, supernatural horrors, and ancient gods of myth and legend in a mad symphony of chaos and transformation.
You play survivors or the heroes of NEMA. The men and women of the Northern Eagle Military Alliance equipped with their Chromium Guardsmen (Glitter Boys), Silver Eagles (SAMAS) and host of other robots and power armor to stand against a rising tide of enemies and alien invaders. They are humanity's last and only hope to survive the apocalypse that will become known as the Great Cataclysm. These are the heroes you play in a world that can only be described as Chaos Earth.
Back in print – Rifts® World Book 21: Splynn Dimensional Market™
This awesome sourcebook is, in effect, Rifts® Atlantis Part Two. It is said that anything you may desire – especially if it is dark, magical or alien – can be purchased, for a price, at the Splynn Dimensional Market. Anything. 'Nuff said.
PDF downloads from DriveThruRPG.com
This is a great resource for getting out of print Palladium titles and other select books. We've made 100 titles available as PDF digital downloads from DriveThruRPG.com, as well as Fantasy Paper Miniatures, Game Master resources and other good things with more to come. This is a great way to try Palladium products and get access to out of print RPG source material. Some notable titles include:
© Copyright 2015 Palladium Books Inc. All rights reserved.
Rifts®, The Rifter®, RECON®, Splicers®, Palladium Books®, The Palladium Fantasy Role-Playing Game®, Phase World®, Powers Unlimited®, Nightbane®, Megaverse®, The Mechanoids®, The Mechanoid Invasion®, Coalition Wars®, Dead Reign®, Chaos Earth®, and After the Bomb® are Registered Trademarks of Palladium Books Inc. RPG Tactics™, Beyond the Supernatural, Coalition States, Heroes Unlimited, Ninjas & Superspies, Minion War, Mysteries of Magic, SAMAS, Thundercloud Galaxy, Three Galaxies, Vampire Kingdoms, and other published book titles, names, slogans and likenesses are trademarks of Palladium Books Inc., and Kevin Siembieda.
Robotech® and Robotech® The Shadow Chronicles® are Registered Trademarks of Harmony Gold USA, Inc.
This press release may be reprinted, reposted, linked and shared for the sole purpose of advertising, promotion and sales solicitation.