Palladium Books® Weekly Update – Jan. 9, 2015
By Kevin Siembieda
We should probably call this a Last Call Update. The week has been so hectic and busy, there has been no time for me to finish writing the Weekly Update. That's due, in part, to the fact that it will be packed with a lot of news and information. There is so much to talk about: the latest on Robotech® RPG Tactics™, update on shipping to our overseas backers, plans for upcoming books, new games, and all kinds of stuff. But it is already 7:00 PM Friday evening and it will take a few hours to finish writing that Update, so here's what we're going to do. We're going to make this Update our notice that the Palladium Christmas Surprise Package ENDS this weekend. That's right, you have tonight, tomorrow and Sunday to place your Grab Bag order before it is done and gone until Christmas 2015. Order yours right now.
Then, I will finish writing the full Weekly Update over the weekend and we'll post it on Sunday or Monday evening. Be prepared for a lot of reading, because the Weekly Update on Sunday or Monday will be filled with news, new book descriptions, updates and expectations for the rest of the year. All stuff you'll want to know about. Ah, but that's in a couple of days.
UPDATE: 3 days left to order your Christmas Surprise Package – offer ENDS Sunday, January 11, 2015
If you have not ordered yours yet or you want to order one more, this is the last weekend to do it. You have two days left to order. Do it now or wait till next Christmas.
Surprise Packages make great gifts for birthdays, anniversaries, graduations, filling in holes in your collection or trying a new game setting. This offer will NOT be extended further. This is it. Order yours now and game all winter long.
For complete ordering information about the Surprise Package, click here.
Much, much more to come in a few days
We'll be giving you a bunch of new information and news in a few days. Watch for it.
– Kevin Siembieda, Publisher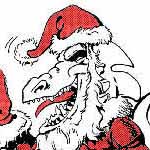 A Final Selection of Fan Comments from the Holidays
This is probably the last selection of Grab Bag comments for the season. Every year, in acknowledgment of our fans, and because they are fun to read, we offer a sampling of Surprise Package comments in the Weekly Updates. Our thanks for your suggestions, encouragement, stories and kind words. Your comments and support mean the world to all of us. Happy New Year, good health and prosperity.
Oh, and thank you to those of you who sent the Palladium crew Christmas cards. They are always appreciated. We were especially surprised and pleased with the three that came from Australia! Somehow getting cards from Australia and other faraway lands is always exotic and exciting. Silly, perhaps, but true.
G.B. in Dedham, Massachusetts, writes: Happy New Year!
[Thanks G.B., you were the first fan to send us a New Year salutation in the Grab Bag comments. Right back at you. – KS]
J.R. in Kamloops, British Columbia, Canada, writes: Happy New Year to the whole Palladium crew. Here's to many hours of epic and more often than not, silly adventures. I'm certain Palladium will continue to grow in the new year, as it has since I started playing back in 1995. Twenty years with you guys. I wish I could tell you all about the adventures I've had, the ones I've written and the characters created in those two decades. I'm sure I'll have tones more in the years to come as well.
[Thanks for the new year well wishes and kind words, J.R. Come to the Palladium Open House in May to share with us some of your gaming yarns. Or maybe write a couple short articles or source material and submit it for consideration in The Rifter®. May your new year be filled with fun, silliness and adventure all year long. There should be plenty of fun new material coming from Palladium this year. Game on. – KS]
C.S. in Edmonton, Alberta, Canada, writes: You guys are the best! Keep up the good work in the New Year!
[Thanks for the kind words, C.S, we shall do our best to produce one exciting new release after another in 2015. – KS]
M.L.M. in Meadville, Pennsylvania, writes (in part): Hello, just wanted to tell you guys I love your RPG system. I got introduced to the Palladium gaming system three years ago, and immediately fell in love with the Rifts® setting – saving D-Bees from the Coalition States as a valiant Cyber-Knight. And soon after, fell in love with Nightbane®, and it has become one of my favorite games to play. And got super excited when I found out about Dead Reign®... and have been able to introduce new people to them, and have made new friends because of them.
[Thank you, MLM, for sharing your thoughts and gaming experiences. We are delighted you have fallen in love with Palladium's RPGs and settings. Please continue to introduce them to others. Word of mouth is a powerful force. Game on! – KS]
R.C. in Glasgow, Virginia, writes: Teenage Mutant Ninja Turtles® & Other Strangeness was one of the first RPGs I played after D&D, and it was a blast. My brother still has fond memories of his Blue Bird.
[Awesome, R.C., that what we like to hear: fond memories. Game on. – KS]
Z.B. in Louisburg, North Carolina, writes (in part): I have been playing Rifts® for a solid year now, and I have been loving every second of it. My G.M., who is now one of my greatest friends, introduced it to me on last Thanksgiving, and ever since I have collected a decent amount of Palladium Books.
[Fun, friends and adventure is what it's all about, Z.B. Keep that imagination burning bright. – KS]
M.G. in Federal Way, Washington, writes (in part): I love the Palladium game system. I have been collecting and playing them for almost 10 years now. I especially love Madhaven™ and Rifter® #23 books. Thanks for the awesome Megaverse® you guys created!
[We love creating the Palladium Megaverse® for others to play in, as much as you guys and gals enjoy playing in it. – KS]
J.K. in Collinsville, Illinois, writes: I have enjoyed your games ever since I found a copy of Rifts® in a comic store when I was 16. Now I'm 38. Twenty-two years of great times. The games have fueled my imagination ever since. Keep the great times rolling.
[We have a zillion ideas for Rifts® and our other game lines, J.K., so more great times will be rolling in. Here's to another 22 years of adventure fueled imagination. Game on! – KS]
E.T. in Belleuve, Washington, writes (in part): I very much enjoy your entire line. Keep up the hard work. Please know you are appreciated.
[Thank you, E.T., we appreciate your kind words. Keep that imagination burning bright. – KS]
T.M. in Louisville, Kentucky, writes (in part): Keep up the good work guys. I get a Grab Bag (or two) every year, and it is always exciting to see what kind of good stuff you have picked out.
[We'll try, T.M. Hope you enjoy your Surprise Package. – KS]
A.H. in Maricopa, Arizona, writes: THANK YOU! You have helped make getting my friends into RPGs.
[Glad to help, A.H. Game on. – KS]
D.T. in Post Falls, Idaho, writes: Thanks again for offering this wonderful Surprise Package program. It is a great boon to all of your fans. Palladium forever!
[Thanks for the kind words, D.T. Glad you enjoy it so much. – KS]
J.T. Garrison, in North Dakota, writes: I've been a fan since I picked up my first TMNT® game back in the Eighties. Now I'm introducing the games to my children. They absolutely LOVE Heroes Unlimited™. Keep up the good work, and we'll keep playing.
[Deal. – KS]
E.F. in Cleveland, Ohio, writes: Just getting back into Rifts® after a 15 year hiatus. Rifts® Australia is still my favorite sourcebook.
[Welcome back to Rifts®, E.F. Enjoy the ride. – KS]
T.S. in Redmond, Oregon, writes: Thank you for this wonderful game [Rifts®]!
[Thank you, T.S., for taking the time to write. Glad you enjoy Rifts® so much, it is one of my favorites to write for. – KS]
M.H. in Sarasota, Florida, writes: I have been playing Palladium games in one form or another since the mid-Eighties. Recently, I have been introducing my children to your fantastic games. Keep up the good work.
[Awesome, M.H., thanks for sharing. I love that our games are being played by second and third generation gamers. Um, of course, that means I've been doing this for something like 34 years! Talk about one lucky son of a gun, eh? :) – KS]
J.D. in Modesto, California, writes: Every single year I tell myself I am only going to buy one X-Mas package as a present to myself, but as soon as I get my first package, it is so chock full of awesome that I just have to give in to the awesomeness and purchase another. I have never in my life had something that continues to entertain and inspire me the way the Palladium Megaverse® does! I just want to say an honest thank you for all the joy Palladium has given me over the years. Keep up the amazing work!
[Gosh, J.D., thank you so much for the high praise. I love to hear such enthusiasm and words like "joy" and "inspire." I am thrilled that our work at Palladium – be it writing, art or ideas – inspires other people. Now that's awesome. Thanks again and keep that imagination burning bright. – KS]
P.H. in Spokane Valley, Washington, writes: Palladium always keeps me coming back for more.
[Glad to hear it, P.H. We have ideas for many new books and settings that will most certainly have you coming back again and again. – KS]
S.C. in Charlottesville, Virginia, writes: This has been a great promotion. Shame you don't do it at other times of the year. Have you considered doing it as a "Christmas in July" promotion?
[Thanks for the suggestion S.C. Yes, we have considered "Christmas in July" and did it once or twice in past years. However, we feel it takes away from the specialness of the holiday season, so we've stopped doing it. We will be offering a few other sales in the weeks to come. In fact, The Rifter® Super-Subscription offer will start in a week or two. – KS]
P.D. in Brownsboro, Alabama, writes: Thanks so much for the great [Surprise Package] deal and for extending the offer past Christmas. The previous package I ordered was great! Especially love Northern Gun 2.
[We are happy to do it, P.D. Game on! – KS]
S.E. in Carmel, Indiana, writes: As cliche as this is, thank you for making my junior high and high school years awesome with your games. We would spend 40 hours a week playing campaigns that would go on for years. And we would break the occasional rule, and go straight from one universe to another with the same characters. It was hands down some of the best times I've ever had, so thank you for that.
[You are so very welcome, S.E., glad our games have meant so much to you. As for breaking the occasional rule, no problem, it is all about character and story. You do what you need to do to make a great gaming experience. I have always encouraged tweaking and mixing rules to create the most fun. As for going to other universes, ahhhh, that's what the Palladium Megaverse is all about. Good for you and your group. Keep those imaginations burning bright. – KS]
R.W. in Kansas City, Missouri, writes: Love character options such as O.C.C.s and R.C.C.s to put in my toolbox regardless of how cool the background material is. Third year in a row [buying Grab Bag], love my new tradition.
[We love your new tradition too, R.W., and cool settings, ideas and characters are our speciality, so sit back and enjoy. – KS]
D.E. in Milwaukie, Oregon, writes: Been a couple of years since I've gotten a Grab Bag. Very happy to see you are continuing the tradition. Eagerly looking forward to its arrival. Many thanks to all the folks at Palladium, and happy holidays to you all!
[We aim to please, D.E. I know you will love the Grab Bag we sent. Game on and Happy New Year. – KS]
J.C. in Navarre, Florida, writes: As always, you guys are doing a great job this year. Despite work, I continue to build my Robotech® RPG Tactics™ minis and I am really happy with them. My daughter can't wait to help me paint them and start playing. (Though I'm apparently going to be stuck as the Zentraedi and Malcontents in most of the games.) Keep up the great work. Can't wait for RRT Wave Two. :) One thing I'd like to see return to the store are the original Rifts® T-shirts with the Line Walker and the Red Cyborg. I wore mine out over the years. They were great.
[Thank you, J.C., for the positive feedback. Glad you are enjoying Robotech® RPG Tactics™, we are too. And like you, we can hardly wait for Wave Two to be released. More info on it in the weeks to come. – KS]
V.U. in Winston, Oregon, writes: Please keep up the great work. Would love to see more Splicers®. Maybe see something new for Heroes Unlimited™ as well.
[We hope to release several sourcebooks for both of those game lines. Keep your eyes peeled for them. – KS]
J.R. in Noblesville, Indiana, writes: Just wanted to say Merry Christmas to the ENTIRE team at Palladium. Thank you for everything that you have done and currently do for this hobby of ours!
[Our pleasure, J.R., thanks for the kind words. I too want to thank ALL the people, past and present, who help make Palladium Books the company all that it is. This is a group effort, I could not do this without the help of many wonderful people, from the Palladium staff to friends and volunteers who pitch in to help, to the volunteer online moderators and admin, our charismatic Megaversal Ambassadors and everyone who runs games, spreads the word about Palladium's games and offers us their input, ideas, well wishes and love. You all make a difference and help make all of this possible. Thank you and Happy New Year. May 2015 be the start of a new era of prosperity and joy for us all. – Kevin Siembieda]
The Rifter® #68 – Available now
Another great issue. Selling fast. And don't forget, most of the material can be easily adapted for use in ANY Palladium game setting.
This is traditionally the horror themed issue, but every issue of The Rifter® is an idea factory for players and Game Masters to generate new ideas and find new avenues of adventure. It provides useful, ready to go source material you can just drop into your ongoing games. A doorway to new possibilities and numerous Palladium role-playing worlds. And the many new characters, O.C.C.s, powers, magic, weapons, villains, monsters, adventures and ideas for one setting can be easily adapted to any Palladium setting. Every issue has material for Rifts® and at least 2-3 other Palladium game lines. And don't forget, most of the material can be easily adapted for use in ANY Palladium game setting.
The Rifter® Number 68 includes:
Heroes Unlimited™ – Band of Bothers, a light-hearted adventure by Branden Loizides.
Rifts® – Megaverse® in Flames/Minion War™ "official" source material by Carl Gleba and Kevin Siembieda.
Rifts® – The Crusaders and the Black Crusade, Part 4: Arcadia, by Andrew Landers. More about Rifts® Atlantis and new magic tattoos.
"Brulyx?" – An Adventure for Beyond the Supernatural™ (not Dead Reign™) by Steven Dawes.
News, coming attractions, product descriptions and more.
Heroes Unlimited™ cover by John Zeleznik.
96 pages – $13.95 retail – Cat. No. 168. Available now.
COMING! Palladium Fantasy RPG® Sourcebook: Bizantium and the Northern Islands™
Journey to the Island Kingdom of Bizantium, situated at the far northern peak of the Palladium World. Its vast fleets of merchant vessels and warships travel the high seas and bring untold wealth back to the kingdom, as well as exotic goods, people, customs, weapons and foreign magic. As foreign powers exert their influence on the throne, treachery and potential power grabs lurk in the shadows.
New Waterchanter O.C.C. and 20+ magic spell new to the Fantasy setting.
New Sea Serpents and the warrior sailors who hunt them.
Sea Serpent generation table to create your own sea monsters.
New animals of the North Sea and Sea of Despair.
Sea serpent ships! Dead serpents turned into deadly, massive attack ships (as depicted on the cover). And the forgotten race who creates these ships and threatens sailors in the Northern seas.
New O.C.C.s including the Serpent Chaser and Bizantium Marine.
New weapons and equipment for sailors, mariners, soldiers and adventurers at large.
New Bizantium ships including the Bireme, Ice Breaker and Battleship.
Full time-line of the history of Bizantium.
Bizantian society, culture, religion and magic.
The Eoten of the Northern Islands, their mythology and influence.
The Northern Islands described in full, cities and geography, as well as threats to sailors in the North Sea and Sea of Despair.
Bizantium's many shipyards, possibly the kingdom's greatest asset.
Key figures of Bizantium and political intrigue.
The Noble Houses, Warlocks and foreign powers all trying to capture the throne of Bizantium for themselves!
Written by Glen Evans. Additional text Matthew Clements and Kevin Siembieda.
Cover by Chuck Walton and Eduardo Dominguez S.
Interior art by Chuck Walton, Kevin Siembieda, Tanya Ramsey, Jeff Burke and others.
160 pages – $20.95 retail – Cat. No. 474 – January release.
NEW! Robotech®: Expeditionary Force Marines Sourcebook One
– Formerly titled 'UEEF Marines'
Robotech®: Expeditionary Force Marines sourcebook is set in space with the UEEF (United Earth Expeditionary Force) led by Admiral Rick Hunter. This valiant force of mecha-clad heroes travel across the galaxy liberating planets from the bondage of the Invid Regent, the Robotech Masters and other tyrants and monsters.
New mecha and weapons of the UEEF Marines.
New UEEF Marine character classes and background.
Alien species and allies.
Planet hopping, adventure and much more.
Epic battles and adventure ideas galore.
Written by Irvin Jackson. Additional text by Kevin Siembieda.
160 pages – $20.95 retail – Cat. No. 553 – January/February, 2015, release.
Coming BACK IN PRINT – Rise of Magic™
A Rifts® Chaos Earth® Sourcebook – Winter
The return of magic has empowered humans with strange and wondrous powers, unlike anything quite yet seen (and different from most conventional types of magic). This only complicates things for Earth's defenders as the line of distinction between "good guys" and "bad guys" begins to blur.
Chaos Magic, new magic specific to the Chaos Earth® setting.
More than 100 unique Chaos Magic spells.
New magic O.C.C.s like the Blue Zone Wizard and Chaos Wizard.
New evil magic users like the Chaos Witch and Demon Caller.
More on NEMA and the Demon Plagues.
Written by Kevin Siembieda.
64 pages – $14.95 – Cat. No. 662. Probably a January, 2015, release.
Robotech® RPG Tactics™ – Available in USA and Canada stores
This game makes an awesome gift or a great addition to your own collection. Fun. Fast. Captures Robotech. Assembly and painting REQUIRED. Note: Those of you outside North America can place pre-orders, but your order will not ship until after items have shipped to our Kickstarter backers overseas first.
● Robotech® RPG Tactics™ Boxed Set (Main Box Game) – Cat. No. 55100 – $99.95 retail price. This is the game Robotech® fans have wanted for decades. Robotech® RPG Tactics™ is a fast-paced, tabletop combat game that captures the action and adventure of the Robotech® anime. Two or more players can engage in small squad skirmishes or scale up to massive battles. Relive the clashes of the First Robotech War, engage in stand-alone tactical games, or use the dynamic game pieces to enhance your Robotech® RPG experience. Or simply collect your favorite mecha from an expanding range of top-notch game pieces.
The First Six Robotech® RPG Tactics™ Expansion Packs will be available to retail at the same time as the main box game. All are available now in the USA and Canada. Here are the SKUs and retail prices.
● Battle Foam Robotech bag/carrying case – Cat. No. 55107 – $120 retail (limited supply). Note: We only have about 50 Robotech® RPG Tactics™ Battle Foam bags available. Once they are sold out it will be months before we manufacture more, if ever.
2015 Palladium Open House (POH) – May 15-17, 2015
The 2015 Open House is going to be awesome. Take a look at the growing list of Palladium Creators who have already confirmed they will be attending.
Ramon Perez – artist – Ramon has been working in the comic book industry at Marvel Comics, DC, Boom and other publishers. He is currently illustrating Marvel Comics' Spider-Man: Learning to Crawl. Ramon remains "tentative," but he hopes to clear his schedule to join the fun and hopes to be able to make it in 2015. I will update you when he confirms. Note: Everyone else in this list has confirmed.
Amy L. Ashbaugh – artist
Mark Dudley – artist and Game Master
"Madman" Michael Leonard – artist, writer & Game Master
Apollo Okamura – artist
Benjamin Rodriguez – artist
Charles Walton – artist
Brandon Aten – writer & Game Master
Matthew Clements – Palladium Staff – Head writer
Greg Diaczyk – writer & Game Master
Glen Evans – writer & Game Master
Taylor White – writer, musician & Game Master
Matthew Balent – writer (the Weapons & Armor series, Monsters & Animals, etc.)
Thomas Bartold – writer and one of the original Defilers
James Brown – Megaversal Ambassador & Game Master
Jeffery Burke – Palladium Staff – Robotech® coordinator & artist
Steven Dawes – freelance writer & Game Masters
Alex Marciniszyn – Palladium Staff – editor, research, more
Victor Peterson – Megaversal Ambassador Coordinator & Game Master
Julius Rosenstein – Palladium Staff – proofreader, writer, Game Master
Jeff Ruiz – Megaversal Ambassador Coordinator & Game Master
Kevin Siembieda – Palladium Staff – writer, artist, game designer
Kathy Simmons – Palladium Staff – Customer Service & POH Coordinator
Wayne Smith – Palladium Staff – Editor, The Rifter®, Projects Manager & more.
MANY more writers, artists and creators are expected to join this list.
And we may have a surprise guest or two.
I think we may max out our attendance numbers for 2015, so make sure you order your tickets sooner than later to make sure you are not turned away. Palladium can only accommodate around 300 gamers total (plus staff and Palladium creators). Once we reach that number, the POH will be sold out. Order in the coming months or risk not being able to attend. If you wait till March or April, 2015 it may be too late!
A more complete description of the 2015 POH is in the online store and you can start purchasing your admission for the weekend or individual days as well as VIP Thursday (May 14, 2015). This write-up is just the highlights, please read the full description in the store. Remember, Price of admission covers ALL EVENTS, except VIP Thursday. There are no extra fees for gaming events, panel talks or autographs.
$45 per person for the Three Day Weekend (Friday, Saturday & Sunday; May 15, 16 & 17) when ordered in advance per each individual. ($60 at the door and after April 12, 2015, if space is available.)
$87 additional for VIP Night – Thursday – May 14, 2014. The VIP Night always sells out within weeks, so make your reservation as soon as possible. First-come, first-served. VIP Night is a special, one-evening event limited to around 120 gamers – 70 are available right now. VIP Thursday, May 14, 2014: 3:00 P.M. till 12:00 P.M. NOTE: As has become tradition, we hold a number of VIP slots to be offered at a later date – typically February – so that gamers who decide to attend at a later date have a chance at getting into the coveted VIP Night too. You get the delicious meal catered by Palladium's very own Kathy Simmons (people rave about her meals), plus you get an extra afternoon and evening of gaming (opens late afternoon), a more intimate chance to talk with Palladium staff, artists and writers, and first crack at rare collectibles, prints and original art.
Other POH Highlights:
40+ Palladium creators. See the store description for details. In the past, the POH usually has 35-50 creators (writers, artists, editors, staff, Rifter contributors, etc.) attending. More than at any other convention or gathering anywhere, ever! And most are available to you almost the ENTIRE event to chat with you and sign autographs. Some will even run gaming events!
3 days of Palladium gaming.
100+ gaming events. Game Masters/Megaversal Ambassadors NEEDED!
Many games run by the people who make them, including Kevin Siembieda, Julius Rosenstein, Carmen Bellaire, Brandon Aten, Greg Diaczyk, Taylor White and many others!
8-10 panel talks each day, Friday, Saturday & Sunday. Subjects run from player and G.M. tips, to writing and game design, to meeting various artists and more.
Auction of art and collectibles.
A family reunion atmosphere. Meet gamers from around the world
And it all happens at the Palladium warehouse and offices, where the magic happens! Okay, not quite "all." When the gaming stops around 1:00 AM every night, the hotel has a large conference room where you maniacs can continue to game till you drop. There is room for at least 8 games in the room.
2015 Open House Hotel – reserve your room now
You should reserve your hotel room today. Your card will not be charged until next May. Other hotels are booked due to a sporting event the same weekend, so other area hotels will be filled. RESERVE YOUR ROOM TODAY or the next available hotel may be 20+ miles away.
Comfort Inn
40455 Ann Arbor Road
Plymouth, MI 48170
Phone: 734-455-8100
Group Code: Palladium Books – you MUST request the Group Code "Palladium Books" at the time of booking to ensure the correct rate will be quoted and billed to you.
Dates of the 2015 Palladium Open House (POH): May 15-17 (May 14 is VIP Thursday), 2015.
$109.00 (plus tax) per night at the Comfort Inn, a.k.a. "Plymouth Clock Tower Hotel." That's $109 (plus tax) for a room with two queen beds or one king with a sofa that has a pull-out sleeper. ALL rooms have a micro-fridge and FREE high-speed wired/wireless Internet. The hotel also offers a FREE hot breakfast from 6 A.M. to 10 A.M. near the lobby, heated indoor swimming pool, a fitness center (24 hours), and a coin operated laundry. The large conference room is ours to use for around the clock open gaming. Reserve using Group Code: Palladium Books. And do it as soon as possible. The hotel has been remodeled, resulting in a smaller number of rooms. If you know you are coming to the 2015 Palladium Open House, we recommend you reserve your room today. Important Note: You MUST give them the Group Code: Palladium Books to get this rate. Call 734-455-8100 to make your reservation. The hotel does NOT charge your credit card until a few days before the event and you can cancel up to May 10, 2015. So there is no reason to wait.
2015 POH Game Masters needed
Palladium Megaversal Ambassadors, Palladium creators, and any experienced Game Master planning to come to the 2015 Palladium Open House – please let us know if you are planning to run one or more gaming events. Those who run three or more get special discounts, free T-shirt and more. We need plenty of games to satisfy 300 gamers. Your help is appreciated. Contact us by telephone (734-721-2903) or by email at This email address is being protected from spambots. You need JavaScript enabled to view it..
© Copyright 2015 Palladium Books Inc. All rights reserved.
Rifts®, The Rifter®, RECON®, Splicers®, Palladium Books®, The Palladium Fantasy Role-Playing Game®, Phase World®, Powers Unlimited®, Nightbane®, Megaverse®, The Mechanoids®, The Mechanoid Invasion®, Coalition Wars®, Dead Reign®, Chaos Earth®, and After the Bomb® are Registered Trademarks of Palladium Books Inc. RPG Tactics™, Beyond the Supernatural, Coalition States, Heroes Unlimited, Ninjas & Superspies, Minion War, Mysteries of Magic, SAMAS, Thundercloud Galaxy, Three Galaxies, Vampire Kingdoms, and other published book titles, names, slogans and likenesses are trademarks of Palladium Books Inc., and Kevin Siembieda.
Robotech® and Robotech® The Shadow Chronicles® are Registered Trademarks of Harmony Gold USA, Inc.
This press release may be reprinted, reposted, linked and shared for the sole purpose of advertising, promotion and sales solicitation.