Palladium Books® Weekly Update – Nov. 26, 2014
By Kevin Siembieda
Happy Thanksgiving! To all of Palladium's fans in the USA, Happy Thanksgiving. To everyone else, may your weekend be a pleasant one full of laughter and gaming. The Palladium crew have all worked so hard that I'm giving them the long holiday weekend off (Thursday through Sunday). I'll probably pop in to do a little writing and editing on Bizantium, but I think I'll take a couple days off too. Orders will, of course, continue to be processed and please don't overlook Palladium Books when out shopping. We will be back on Monday rested and ready to ship out your Christmas orders.
News Briefs
* The Rifter® #68 is at the printer. It is done and is another issue packed with awesome material. Ships in a couple weeks.
* Bizantium and the Northern Islands™ comes out next; end of December or January release.
* Robotech® RPG Tactics™ is available in stores starting today, across the US and Canada. All of us felt a tremendous amount of responsibility in making Robotech® RPG Tactics™ something wonderful. It was not lost on us that Robotech fans, like you and us, had been waiting 25 years for a game like this. It is a tremendous honor that this responsibility has fallen upon our shoulders. We love Robotech®. We are long-time fans ourselves, so we know full well what this game deserves to be. I hope you like our humble attempts to bring you a fast, fun game and dynamic, detailed game pieces.
* The Christmas Surprise Package is the best deal of the holiday season. Only 28 days to Christmas. Less for Hanukkah. And less to guarantee shipping to arrive in time for the holidays.
Something different this Update
It is the day before Thanksgiving here in the USA. Christmas is just 28 days away. So this Update is going to focus on things other than sales and book releases. Remember those you care about. Call them and tell them how much they mean to you. For myself, I have an army of wonderful people who are my friends. That includes you – the Palladium fans. So I want to say, thank you for being part of the Palladium family and for your many years of love and support. We couldn't do any of this without you, our fans – our friends – and fellow gamers. May there be many more Thanksgivings and fun games and supplements for years to come.
I wrote the following for The Rifter® #68, but I also want to share it with everyone who gets these Updates. It comes from the heart.
I'm glad our many role-playing games and settings are part of the holiday fun via our Christmas Surprise Package offer, and for the fact that RPGs bring people together. That's the most important part, the friends and revelry that role-playing games create.
A close member of the Palladium family had a recent scare. For awhile, it looked like his father was at death's door. He was struck down by a brain aneurism without warning. Family gathered and prayed. Those prayers appear to have been answered, as his Dad seems to have escaped certain death and looks to be on the road to recovery. He's not out of the woods yet, but looking great and we are hoping this story has a happy ending. But it is a reminder of how precious and limited our time is in the world.
We don't know when our time is up or when we might lose a loved one. Make the best of that time by telling those who matter how much they mean to you – especially during the holidays.
During this holiday season, make time for family and friends, laughter and fun. Remember to tell mom and dad, sis and brother, and everyone who matters to you how much you love and appreciate them. That includes family and "friends."
Personally, I have been blessed with the greatest friends a man could ever want. And a multitude of them, no less. To some of you, it may seem strange that so many of my friends are the very people I employ. But Palladium is as much a family as it is a business. The Palladium staff and many freelancers are much, much more than mere employees, artists, editors or writers. Over the years, they have become very dear friends, confidants and family. And I love them and appreciate them. Matthew Clements, Chuck Walton, Mark Dudley, Carl Gleba, Brandon Aten, Sarah Aten, Big Nick Bradshaw, Carmen Bellaire, Mark Oberle, Brian and Allen Manning, Mike Leonard, Kent Burles, Apollo Okamura, Ramon Perez, John Zeleznik, Scott Johnson, Amy Ashbaugh, Ben Rodriguez, Greg Diaczyk, Irvin Jackson, Jolly and Barb Blackburn, Kevin Eastman, Larry Elmore, Cheryl Corey, Renee Lane, Marc Moore, Tom Bartold, Ken Bartold, Matthew Balent, Kevin Long, Wayne Breaux Jr., William Messner Loebs, Erick Wujcik, Kay Kozora, Keith Parkinson, Kevin Lowry, and all the rest – there are so many, past and present (I hope those of you I haven't specifically mentioned by name are not offended in the least). And while I value all of Palladium's fans, there are many who have become friends too, Joe, Doug, Todd, Dennis, Tom, Rawson, James, Diane, Connor, Lonnie, Shawn, Lisa, Eric, Bill, Rawson, Drew, Barry, Hendrik, and many, many others. And when it comes to the Palladium staff . . . wow. These ladies and gentlemen have the souls of heroes and the hearts of poets. All of these people are the best of the best. They are among the most generous, kindest, hard working, loyal and caring people on the face of the planet, and they make my world richer and more wonderful for being in it.
The past several years, and the last two in particular, life at Palladium has been so incredibly insane and hectic that I do not get the chance to talk with many of you like we used to, or as much as I like. I'll try to change that, but you are in my thoughts all the time. I love you all and miss sharing more time with each and every one of you. I appreciate your friendship and your genius. You mean the world to me. I hope you know that. Know that this holiday season I will be thinking of you ALL and wishing you the good fortune and joy you deserve.
And to all of you – the Palladium fans – may your holidays be full of love, laughter and joy. You are appreciated and respected, more than you will ever know. Palladium Books is not some big corporation. We're just a bunch of gamer nerds just like you. And we're delighted that you have let us into your life and consider us to be your friends. The feeling is mutual.
Happy Holidays from me and the Palladium crew, to all of you.
– With Love and Sincere Appreciation, Kevin Siembieda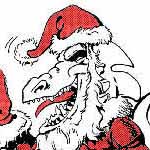 Surprise Package comments from fans like you
Every year there is a section where the customer can offer comments and suggestions with his or her Surprise Package order. Every year, in acknowledgment of our fans, and because they are fun to read, we offer a sampling in the Weekly Updates. Our heartfelt thanks to all of you who have stuck with Palladium through thick and thin. Keep those imaginations burning bright, have a joyous holiday season and game on.
You have no idea how much your comments and support mean to all of us. Everyone at Palladium enjoys reading your brief comments. They always brighten our day. Thank you. Since I haven't been posting as much as I'd like, I have tried to write a short response [in brackets] when applicable.
A.N. in Raymond, New Hampshire, writes: Thanksgiving Surprise Package time! More books, art and possibly now time for some miniatures! Thanks again for all the fun of these Surprise Packages! Happy Thanksgiving to all of the Palladium crew!
[Thank you, A.N. Happy Thanksgiving to you and all of Palladium's awesome fans. – KS]
N.S. in Frederick, Maryland, writes: Thank you so much for offering this great deal every year. I try to take advantage of it as often as I can. I love the setting and detail of Rifts®. Keep up the good work!
[Thank you, N.S. I love Christmas and enjoy putting a smile on the faces of our loyal and supportive fans every holiday season. Thank you for your kind words. Happy holidays. – KS]
M.S. in Lawrenceville, Georgia, writes: Thanks for all the hard work that goes into providing us with some of the best products in gaming today. Favorite: Rifts®, the grand daddy of them all!
[Our pleasure, M.S. We love what we do and are thrilled that you and so many others enjoy our games so much. – KS]
J.M. in Grand Forks, North Dakota, writes: Please, please, please keep up the awesome work. Here in the frozen north we look forward to game night (every Thursday) and playing these amazing games in the rich worlds.
[Okay, we'll keep working hard just for you J.M., lol. You ain't seen nothin' yet. 2015 releases and announcements are going to rock your world. – KS]
D.K. in Stow, Ohio, writes: Thank you for doing this (the Surprise Packages) every year! We all appreciate and love your talent and dedication. Have a good holiday.
[You have a wonderful holiday too, D.K. I am honored to work with some of the most imaginative, hardworking and awesome people in the world. We inspire each other to push the envelope and create new fun books and games. A lot more of which is coming in 2015. – KS]
C.O. in Billings, Montana, writes: Keep up the good work. Looking forward to Robotech® UEEF Marines!
[Will do, C.O.; Robotech® Expeditionary Force Marines will ship in the first quarter of 2015, and you are gonna love it. – KS]
T.S. in Grand Rapids, Michigan, writes: First one [Surprise Package] of the season, but I've gotten them before. More companies need to do something like this. Palladium continues to serve its fans.
[Thanks T.S. I can't speak for other companies, but for me and the guys, it is our way of giving back to our family of gamers. After all, we're just a bunch of gaming geeks ourselves. Happy Holidays. – KS]
S.E. in Pinellas Park, Florida, writes (in part): Most of all, have fun while making the X-Mas Grab Bag. Don't fret about anything; I'll be happy with what you can do, because I appreciate all that you do. Have a Merry Christmas and a Happy New Year. And keep Dead Reign™ rollin'.
[Thank you, S.E., for the heartfelt sentiment and holiday well wishes, the same to you. It's nice comments like yours that make everything we do worthwhile. FYI: I have fun making every Christmas Surprise Package. Happy Holidays. – KS]
Palladium's First AdeptiCon – March 19-22, 2015
Palladium will be attending its first AdeptiCon, March 19-22, in the Chicago area. This sounds like a very cool event for games and wargames. We don't know exactly what to expect, so this is as much a reconnaissance mission as anything else. Palladium and Robotech® RPG Tactics™ will only have a small presence this year with just a couple of tables in the exhibitor hall, but we are making a contribution to the AdeptiCon Swag Bag. We'll be looking to see if we can find volunteers to run demos and we will have some Robotech® RPG Tactics™ and other role-playing game titles available for sale. We'll keep you posted if we add any special events or convention exclusives. We hope to see some of you there.
Hey, if any G.M.s who are planning to attend AdeptiCon would like to help demo or design and run a small tournament for Robotech® RPG Tactics™ for Palladium, please contact us immediately at This email address is being protected from spambots. You need JavaScript enabled to view it. or by telephone (734-721-2903). Thank you!
Palladium Open House Game Masters WANTED
Run three or more games and get a FREE special G.M. T-shirt unveiled for the first time at the POH and a 30% Game Master Supreme discount on Palladium's RPG books, T-shirts and most other items (sorry, excludes original art, limited editions, art prints, auction items and Robotech® RPG Tactics products). We need plenty of games to satisfy 300 gamers, so . . . HELP! Your help is appreciated and welcomed.
Contact us by telephone (734-721-2903) or by email at This email address is being protected from spambots. You need JavaScript enabled to view it.. Please contact us as SOON as possible. We want to post a schedule by February 25, 2015.
We're hoping to offer more than 100 gaming events so we need experienced Game Masters to run Palladium events for all of game lines – Robotech® and Rifts® to Nightbane® and After the Bomb®. Run three or more events to get that special, debut T-shirt and special G.M. Supreme discount.
Palladium Megaversal Ambassadors, Palladium creators, and any experienced Game Master planning to come to the 2015 Palladium Open House – please let us know if you are planning to run one or more gaming events. Thanks.
Gen Con Indy – July 30-August 2, 2015
Gen Con comes early next year. Palladium gaming events at Gen Con went over great in 2014, and we want to see even MORE Palladium gaming events being offered at the 2015 Gen Con Indy.
Gen Con Game Masters WANTED. To make that happen we NEED Game Masters to start contacting Palladium Books and/or Gen Con Game coordinators Victor Peterson and NMI by the middle of January, 2015. To get into the Gen Con Games Pre-Registration and the program books, Gen Con needs ALL game information by the end of January! So please start making your plans and contact us pronto. We need games for all Palladium RPGs, from Rifts® and Palladium Fantasy® to Robotech® RPG Tactics™. Thank you. And just like last year, we'll be offering players, Best Players and Game Masters rewards for their participation.
Palladium Open House – May 15, 16 & 17, 2015
The Palladium Open House is three days (four for those who also attend VIP Thursday) of nonstop Palladium gaming. More than 100 gaming events. Best of all, many of the games are run by the very writers and artists who create your favorite games.
We also host many panel talks that include subjects like Game Master tips for various settings, player tips, game design, writing, licensing, Hollywood, running a game company, questions and answers, and chats with Palladium creators, as well as other events. All of it covered under the cost of admission.
In addition, the Open House usually has 20-40 Palladium creators (staff and freelance writers, artists, editors, etc.) available to sign autographs and sell special merchandise like art prints, original art and other good stuff. Some of the artists like Chuck Walton, Mark Dudley, Brian Manning, Allen Manning, and others, are even willing to do character sketches. And they are available to you throughout the event, so you have plenty of access to meet and chat with your favorite Palladium creators in an informal and intimate venue. That's the beauty of the Open House, it's not like a big convention, you get to spend real time with me, the Palladium staff and our many writers, artists and creators. I'm personally psyched up that Ramon Perez and Jolly Blackburn are likely to attend. Can hardly wait.
A rare event, the POH is sort of like the Olympics in that we only host one every 2-4 years (the last one was held in 2012), making it all the more special. Moreover, as our warehouse gets filled with new product releases, there may soon come a time when we simply do not have the space to host the Open House anymore. I'm not saying this is the last one, but you never know. Also, remember we can only accommodate around 350 people total – including 30-50 Palladium creators and staff, so there's a chance that we may have to close attendance if we fill up. That has never happened yet, almost a few times, but we can usually take visitors at the door throughout the event.
Please register for attendance sooner than later for two reasons. One, it guarantees your admission, and two, it informs us of how many games we need to have to keep everyone gaming and having fun. This helps us immensely.
At the Open House you can sit down with me, Kevin Siembieda, the Palladium staff and many Palladium creators to talk and laugh about just almost anything. We are all gamer geeks like you, happy to talk about gaming, the creative process and all kinds of subjects. You can have in-depth conversations because the venue is small and intimate, not at all like big conventions. We've been told repeatedly by those who have attended past POHs that the atmosphere is more like a family reunion where they feel welcomed as friends. That's because you are welcomed guests at our home, the Palladium warehouse and offices. We are happy to spend this special weekend gaming and talking about games, comic books, movies, writing, drawing and just about anything else you'd like to chat about. And you do it all in the Palladium office and warehouse where the magic happens.
The price of admission covers ALL events. The price of admission gives you access to all the guests, Kevin and crew, as well as the gaming events (first come, first served), panel talks, auction and other activities.
Three days of non-stop Palladium gaming, laughs and fun.
100+ Gaming Events, panel talks, auction, meet 20-40 Palladium creators and fans from around the world.
Open House Hotel
$109.00 per night – Reserve your room as soon as possible. If you know you are coming, reserve your room NOW. The hotel does not charge your credit card till the day of the event and you can cancel up to a few days before the event. No risk. No cost to you now. And you guarantee your room. Furthermore, the number of double beds is limited. Book your room NOW to get this great price and location (five minutes from the Palladium office).
Hotel information:
$109.00 (plus tax) per night at the Comfort Inn, a.k.a. "Plymouth Clock Tower Hotel." That's $109 (plus tax) for a room with two queen beds or one king with a sofa that has a pull-out sleeper. ALL rooms have a micro-fridge, FREE high-speed wired/wireless Internet and there is a FREE hot breakfast from 6 A.M. to 10 A.M. near the lobby.
Comfort Inn
40455 Ann Arbor Road
Plymouth, MI 48170
Phone: 734-455-8100
Group Code: Palladium Books – you MUST request the Group Code "Palladium Books" at the time of booking to ensure the correct rate will be quoted and billed to you.
Dates of the 2015 Palladium Open House (POH): May 15-17 (May 14 is VIP Thursday), 2015. May 14 is V.I.P. Night.
- Plenty of places to eat just down the road (Denny's, Wendy's, McDonald's, 275 Restaurant, and many others).
- Palladium Books – 39074 Webb Court – Westland, MI 48185
2014 Releases – All Available Now
Coming in December
© Copyright 2014 Palladium Books Inc. All rights reserved.
Rifts®, The Rifter®, RECON®, Splicers®, Palladium Books®, The Palladium Fantasy Role-Playing Game®, Phase World®, Powers Unlimited®, Nightbane®, Megaverse®, The Mechanoids®, The Mechanoid Invasion®, Coalition Wars®, Dead Reign®, Chaos Earth®, and After the Bomb® are Registered Trademarks of Palladium Books Inc. RPG Tactics™, Beyond the Supernatural, Coalition States, Heroes Unlimited, Ninjas & Superspies, Minion War, Mysteries of Magic, SAMAS, Thundercloud Galaxy, Three Galaxies, Vampire Kingdoms, and other published book titles, names, slogans and likenesses are trademarks of Palladium Books Inc., and Kevin Siembieda.
Robotech® and Robotech® The Shadow Chronicles® are Registered Trademarks of Harmony Gold USA, Inc.
This press release may be reprinted, reposted, linked and shared for the sole purpose of advertising, promotion and sales solicitation.