Palladium Books® Weekly Update – Dec. 24, 2013
By Kevin Siembieda
It is Christmas Eve, so I'm not going to talk much about product, schedules or business plans.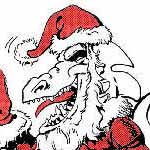 Christmas Surprise Packages – Offer EXTENDED to January 12, 2014
Every year, we debate whether or not we should extend the Christmas Surprise Package AFTER Christmas. And every year (so far), we extend it. Why?
Because it's the nice thing to do. We realize many of you are so full of the Christmas Spirit that you spend your money on gifts for your loved ones rather than yourself. This wonderful act of charity often leaves no money for you to buy a Palladium Surprise Package for yourself. We think that sacrifice is pretty awesome and what the holiday season is all about, so we extend the offer so that you selfless souls can pick up a Surprise Package after the holidays. We know this happens, because a lot people over the years have thanked us for the extension for this very reason.
The extension is also for you Johnny Come-Latelies who are so caught up in the holiday frenzy, work and life that somehow you miss placing your order for the Christmas Surprise Package before the offer ends. It's also for those of you who wish you had ordered one (or another one) but forgot. Lastly, it is our way to carry that holiday good cheer into the New Year. So get your post-holiday Surprise Package and enjoy. Please note that this offer will not be extended further. This is your last chance. Happy Holidays.
UPDATE: A Heroes Unlimited™ RPG Hardcover for 2014
The response to my question last Weekly Update has convinced me to make a limited edition, 30th Anniversary Edition of the Heroes Unlimited RPG (originally released in June 1984). I plan to print 300-400 copies of a Thirtieth Anniversary "Hardcover Edition" of Heroes Unlimited RPG, 2nd Edition (i.e. the current rules) and offer it at the low, reasonable price of $40; signed and numbered by the Palladium staff. Available only from Palladium Books, while supplies last. It will become available in February 2014. Thank you for your input and comments that helped me to make that decision.
UPDATE: Mark Dudley – iMAGiNOs PLUS Kickstarter – Met its goal
Congratulations to Mark and Company, you met and surpassed your Kickstarter goal! Now where's my comic book?! Oops, sorry. That happens so much to Palladium, I just couldn't resist doing it to someone else. :)
Behind the scenes at Palladium: The Warehouse at Christmas-time
Take a gander at some of these photographs. Orders for books and Christmas Surprise Packages have been pouring in and keeping us busy.
On Monday, I posed as Spidey Santa in my new Spider-Man Hoodie (yes, I am that much of a comic book geek). It was fun and we posted it on our Facebook Page. We can get pretty silly at Palladium, sometimes. A good thing, I think. Oh, by the way, ALL the packages in that photo were shipped out on Monday.
The other photos posted in this update show more of the Palladium crew and Surprise Package madness. Six of our rolling tables covered in Surprise Package orders, which gives you an idea of how many we process. And yes, that's Julius Rosenstein waving in the distance, not a Christmas elf. (Or is he?)
We also have a large, Halloween Rat wearing a Christmas hat to great people at the front door, provided they make it into our inner sanctum.
The Surprise Packages are a lot of work, but we all enjoy spreading holiday cheer around the world — Palladium style. It brings us all great pleasure to make you smile when you open up those Grab Bags. Keep those imaginations burning bright.
Have a Wonderful Christmas and Thank You ...
Thank you for helping to make 2013 an exciting and prosperous year. Thank you for being the greatest fans on the planet and for your support. Also, my sincere thanks to the friends and folks who sent me, or me and the Palladium crew, a gift or a card, as well as the kind words of appreciation via the many emails, Private Messages, and the comment section of the Surprise Packages. They are all appreciated.
Reminder during this hectic time of holidays – make sure you take a moment to tell the ones you love, that you care. Give 'em a call, send an e-mail, or an e-card, or a text message. And if you see them in person, give them a big hug or hearty handshake and let them know how much they mean to you. The Palladium family got a little smaller this year with the recent passing of Kay Kozora and Bill Bailey. Both were rather unexpected, so I am glad they knew how much they meant to me. With Christmas and New Year's coming, make sure your loved ones know how special they are to you.
Speaking of which, the Palladium Office Christmas Party was last Friday. It was a fun event with plenty of laughter and hugs, joy and gifts all around. Kathy Simmons made a feast for us and my dear friends, Thom, Ed, Paul, and Mark joined the fun with the Palladium crew. Lots of nerd-talk about science, history, sci-fi, fantasy, games, books, movies, TV shows, and comic books, but Kathy put up with all of us anyway. :) It was a good time, and the weather was outstanding, with the ice storm coming in the next evening. We escaped the storm's wrath too, though some of the suburbs north of us were clobbered.
I hope your Christmas is also filled with friends, joy and laughter. I'm going to leave the rest of this Christmas Update with a number of the many fan comments we get with the Christmas Surprise Package. Warm tidings from all of us at Palladium Books to you and yours.
– Kevin Siembieda, Publisher & Spidey Santa!! Ho, ho, ho
Surprise Package comments from fans like you
Every year there is a section where the customer can offer comments and suggestions with his or her Surprise Package order. Every year, in acknowledgment of our fans, and because they are fun to read, we offer a sampling in the Weekly Updates. Our heartfelt thanks to all of you who have stuck with Palladium through thick and thin. Keep those imaginations burning bright, have a joyous holiday season and game on.
You have no idea how much your comments and support mean to all of us. Everyone at Palladium enjoys reading your brief comments. They always brighten our day. Thank you. I've started putting in my own brief responses, as we've gotten positive feedback about it. Enjoy.
G.G. in Lees Summit, Montana, writes (in part): I'll say it again this year and for many years to come: Thank you. You guys have been wonderful and it's fun to read the Weekly Updates. The books are wonderful, albeit, I wish they came out faster, but the quality has been wonderful ... better and better.
[Thanks G.G., and you'll continue to see high quality and great art in the books coming in 2014. – Kevin Siembieda]
L.C. in Belleville, Illinois, writes: Love the Surprise Packages. Have bought one every year for as long as I can remember. Thank you, Santa Kevin!!!
[You are very welcome, L.C. We love making this offer available to our awesome fans. Enjoy and happy holidays. - KS]
B.T. in Buffalo, New York, writes: You guys made the game tht got me into gaming. Love it. Still have the collection of books my old GM gifted me before he passed away. He used to get this [Surprise Package] every year, and I want to get one to keep the tradition rolling. Happy holidays!
[Thank you B.T., I appreciate the sentiment and think it is nice to remember your friend like this. I'm sorry for your loss. – KS]
A.L. in Hermon, Maine, writes: Hi, I've been waiting for this all year! Thank you for doing this!
[My pleasure, A.L. Enjoy your Grab Bag and the holidays. - KS]
J.M. in Penngrove, California, writes (in part): Hey Guys and Gals of Palladium, I'd like to thank you for giving me YEARS of gaming without breaking my bank. This order is the first real 'update' to my collection in many years. Keep the awesomeness flowing, Merry Christmas and Happy New Year, everyone!
[Nice to hear, C.S. – KS]
K.M. in Garden City, Kansas, writes: Love the work you do. Palladium's games were a huge part of my college life and I am hoping to bring it to a new group of friends. Thanks for all the hard work you all put in. I was proud to be a supporter for Northern Gun and it was awesome to see my name in the book [as a character]. I've been a supporter for years and I am looking forward to years more. I can't wait to see what you do next.
[Wow, thank you for the kind words, K.M. I am truly delighted so many people have gotten a kick out of seeing their name listed or as a character in NG-1. Fantastic. Oh, you are going to love what's coming next. – KS]
B.D.G. in Cathedral City, California, writes: The only game I haven't tried and don't own is RECON. I love your work and detail, keep up the good work. Happy holidays to the Palladium staff.
[Thanks, and right back at you, B.D.G., happy holidays. – KS]
J.L. in Pensacola, Florida, writes (in part): The Kickstarter campaign was brilliant and I hope you have more.
[Thank you J.L., we are very excited by its success and many ideas for future projects are brewing. Game on. – KS]
J.C. in Niles, Michigan, writes: I love the Palladium gaming system and enjoy running games for my friends. This is my first Grab Bag, so I will be excited to see what comes in it. Thanks for giving us, your loyal fans, this kickass gift.
[J.C., yo are so very welcome. I hope you enjoyed your very first Surprise Package. – KS]
F.P. in Altus, Oklahoma, writes: Loved the Christmas package you guys sent me, but I want more!
[You got it, F.P., hope the second one met with your expectations. Ho, ho, ho. - Spidey Santa/KS]
J.G. in Midland, Texas, writes: I play all of Palladium's games and collect everything, so thanks for all the wonderful games and stories.
[What a nice thing to say. We'll try hard to keep cranking out many more, new and wonderful games and stories. - KS]
N.B. in Kenosho, Wisconsin, writes: Thank you all for providing me with such fun stories and adventures. I'm excited to share this world with our new group of adventurers!
[Outstanding N.B., I hope they come to love it as much as you. Boy, do I have fond memories of staying in Kenosho during the early days of Gen Con. Good times. Game on! - KS]
D.O.M. in Trinity, Florida writes: Palladium's games, namely Rifts® and Palladium Fantasy®, kept me out of trouble in high school. Practically every weekend was a weekend long game for more than four years. Now, as a service member, I don't get nearly that amount of time to play, but I still love to jot my ideas down for campaigns or even the odd idea for possible submission to The Rifter®. Who knows, right? I'd like to thank you for an awesome game system. It has been a huge part of my life.
[Hey Sgt., you have no idea how wonderful it is to read comments like these. Thank you. And you most definitely need to submit to The Rifter®. A lot of you should. We are always looking for Rifter® submissions, especially short, 5-20 pagers. Keep that imagination burning bright and I'll be watching for that submission. - KS]
Christmas Surprise Package Offer Extended to January 12, 2014
The best bargain of the holidays
$85-$95 worth of product for only about $48 or so in every Palladium Christmas Surprise Package! These days, that's the price of a core rule book or two supplements. And sometimes the crazy Publisher includes even more value than that!
Autographs in every book in your Surprise Package, upon request if you want them. For many gamers, this is the only way for them to get signed books.
Get original artwork. The inclusion of art is considered only for those who request it, and depending on the size, subject and quality of the art, you may only get the art and one or two other items. (The typical piece of original art is 8½ x 11 and has a value of $30-$60.)
Get other goodies like limited edition prints, posters, back issues of The Rifter®, game settings you've been meaning to try, T-shirts, coffee mugs, bookmarks, magnets, Chi-Town Library pencils, Palladium greeting cards, and other Palladium goodies.
A great gift for ALL gift-giving occasions – Hanukkah, Kwanzaa, birthdays, anniversaries, and so on.
It's a surprise, like a real present, because you never know exactly what you are going to get and it is packed with love!
FREE Erick Wujcik Keepsake for Christmas Surprise Packages. A paperback novel or a magazine read and owned by Erick. This is a bonus item. Include it in your Wish List or in the Comments section by saying, "Please include an Erick Wujcik Keepsake," and we'll do so; while supplies last.
Placing your Surprise Package order involves you sending Santa Kevin a "Wish List" of 12-14 different in-stock products and a flat payment (plus shipping and handling). I then hand-pick items from that Wish List and I may include product you didn't ask for (hence the nickname, "X-Mas Grab Bag"), but all things I think you'll enjoy, and we ship it all off to you. Gamers have been loving this special offer for 15 or 16 years now. Order one or several for yourself and for your gaming buddies. For the holidays, birthdays, anniversaries, or just to get cool stuff and signatures. Get all the information from the description in the online store.
Christmas Surprise Packages or Grab Bags are a long-running holiday tradition in which you can get several RPG titles at a substantial discount. It is our way to say thank you to our many fans for being so kind and patient, and for your years of support. You are appreciated more than you may know.
A great way to try that game setting you've wondered about (Splicers®, Dead Reign™, Chaos Earth®, Palladium Fantasy®, Nightbane®, etc.), or to get something for your favorite Game Master, or perhaps to get your player group to consider a new game or setting.
Click here to get more details and to place your order.
Check your Wish List twice. Make sure you give us 12-14 items on your Wish List that are in print (and NOT all Gold Editions, which are very limited), or you might get items you already have or don't want. It is a Grab Bag, after all, and if we don't know what you'd like to get, we just grab items randomly.
HAPPY HOLIDAYS FROM PALLADIUM BOOKS
© Copyright 2013 Palladium Books Inc. All rights reserved.
Rifts®, The Rifter®, RECON®, Splicers®, Palladium Books®, The Palladium Fantasy Role-Playing Game®, Phase World®, Nightbane®, Megaverse®, The Mechanoids®, The Mechanoid Invasion®, Coalition Wars® and After the Bomb® are Registered Trademarks of Palladium Books Inc. RPG Tactics™, Beyond the Supernatural, Chaos Earth, Coalition States, Dead Reign, Heroes Unlimited, Ninjas & Superspies, Minion War, Mysteries of Magic, SAMAS, Thundercloud Galaxy, Three Galaxies, Vampire Kingdoms, and other published book titles, names, slogans and likenesses are trademarks of Palladium Books Inc., and Kevin Siembieda.
Robotech® and Robotech® The Shadow Chronicles® are Registered Trademarks of Harmony Gold USA, Inc.
This press release may be reprinted, reposted, linked and shared for the sole purpose of advertising, promotion and sales solicitation.