Palladium Books® Weekly Update – April 18, 2013
By Kevin Siembieda
Palladium Books® and Ninja Division (the creative minds behind Soda Pop Miniatures and Cipher Studios, makers of Super Dungeon™ Explore, Relic Knights™, Helldorado™ and Anima Tactics™) are proud to announce the launch of the Robotech® RPG Tactics™ Kickstarter.
Discover the Robotech® gaming experience
Robotech® RPG Tactics™ brings you an array of beautifully sculpted Robotech® game pieces, suitable for collecting, in a fast-paced, strategy battle game that brings the epic combat of Robotech® to your tabletop.
Take command of the fighting forces of the United Earth Defense Force (UEDF) valiantly defending Earth from alien annihilation. Or lead the massive clone armies of the Zentraedi Armada to recover an alien artifact of immense power and enslave humankind. Relive the massive battles on your tabletop, engage in stand-alone tactical games or use the dynamic game pieces to enhance your Robotech® RPG experience. Collect your favorite mecha from an expanding range of world-class game pieces. Whether you are familiar with Robotech® or not, this game is fun.
Why should you care?
The Robotech® RPG Tactics™ Kickstarter helps Palladium to fund the launch of a compelling and expanding game line designed specifically for Robotech® fans and gamers.
Six months of product development has produced nearly two dozen gorgeous sculptures (with more to come), a mountain of artwork, and game rules that have been play-tested by more than 100 Robotech fans and gamers to ensure we make Robotech® RPG Tactics™ everything you could want.
Once the Kickstarter reaches our funding goal, we have a host of fantastic upgrades, additional game pieces and new unit add-ons to unlock! Every Destroid. More Zentraedi mecha. More fun!
And because so much is DONE, this project should go into manufacturing within 45 days after the Kickstarter! That's fast.
Please support this ambitious Robotech® project
This is just the beginning. Palladium Books plans to bring you the mecha and adventure of each and every era of Robotech®. And you have the chance to get in on the ground floor. Your support of this Kickstarter is vital to the successful funding of this massive undertaking. Please take a look and consider supporting us. Also please spread the word and help us create some excitement. Thank you so much for your time, consideration and support.
Robotech® RPG Sale
Ever consider playing the Robotech® role-playing game? This is the time to check it out.
To introduce even more gamers to Robotech®, Palladium will be offering ALL Robotech® role-playing game titles at a 20% discount. This is a limited time sale for the next few weeks only.
Each Robotech® RPG book contains a wealth of information, artwork and sometimes never-before-revealed stats and information about the mecha, vehicles, weapons, characters and settings you love. The four core books – Robotech® The Shadow Chronicles® Role-Playing Game, the Macross Saga™ Sourcebook, the Masters Saga™ and New Generation™ – are worth owning just to have the reference they provide, even if you never play the game. An inexpensive way to try a new setting, and all titles are available now.
Other News and Happenings at Palladium
Needless to say, the big news this week is the launch of the Robotech® RPG Tactics™ Kickstarter. As such, it is the focus of this Update. We are extremely excited about it and hope you are too.
Meanwhile, we have all been working away on various projects with most of our focus on the Robotech® RPG Tactics™ Kickstarter, The Rifter® #62 and Northern Gun™ 1 & 2. Chuck Walton continues to come to the Palladium offices to work on the NG art, and the contributions of all other artists are finished. The Rifter #62 is epic, and the feedback coming in about Rifts® Vampires Sourcebook show people are raving about it. Like I keep saying, creatively, we are on fire right now, and the books coming out are all going to blow you away, one after the other.
– Kevin Siembieda, Publisher, Writer and Gamer
UPDATE: Robotech® RPG Tactics™
Go to the Kickstarter and see for yourself. You'll like it.
Robotech® RPG Tactics™ Boxed Game Highlights.
And once the Kickstarter reaches our funding goal, you'll have the opportunity to acquire a range of additional game pieces and upgrades.
Kickstarter exclusive prints! We thought it would be a nice gesture for Palladium role-players to offer a couple of print sets. One features the never-before-seen full wraparound cover painting for the original Robotech® RPG cover (1986) and the wraparound cover of the RDF Manual (1987). Each is 17 x 11 inches and signed by Kevin Siembieda. The other set contains five, 8½ x 11 inch prints from various Robotech RPG titles from the 1990s and represent the Three Robotech Wars; plus a Certificate of Authenticity, signed and numbered by Kevin Siembieda. It brought back a lot of memories for us, and it seemed appropriate to have a little bit of history in this exciting new era of Robotech® gaming.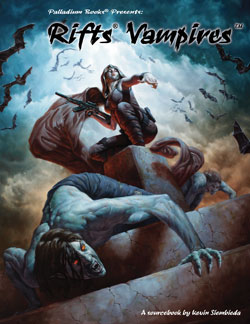 Rifts® Vampires Sourcebook™ – Available Now
Rifts® Vampires Sourcebook™ is a hit. Gamers are going wild over it just as we hoped. You can get a peek at the contents and some material in the FREE Sneak Preview available on DriveThruRPG.com. I am so pleased that everyone is enjoying the book so much. Every contributor rocked this book.
New secrets, new monsters and danger, new places to explore, new magic to wield, dark magic and forces to fear, new trouble and adventure in Mexico and the Yucatan. New conflicts between rival forces are brewing as Doc Reid prepares to take his private war with the vampires to a whole new level. Meanwhile, the vampires live like smug tyrants and gods, dominating an underclass of slaves and people used as cattle to feed upon. Learn more about the vampires, their rivals, allies and the humans who willingly serve them. A must-have guide for those who wish to travel deeper into the Vampire Kingdoms or play as vampires and their human minions.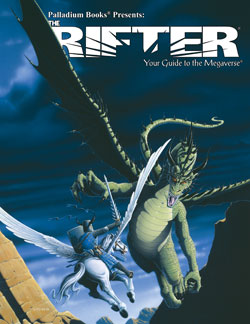 The Rifter® #62 – Ships April 29
This issue of The Rifter® is truly going to be spectacular, with as many as 48 pages of "official" source material for Rifts® (20 pages of "official" Rifts® Vampires source material, new Necromancy spells, a Northern Gun mech, and the missing Rifts® Black Market experience tables!), plus detailed castle floor plans and descriptions that can be dropped into any Palladium Fantasy® campaign anywhere you need one, plus some epic Heroes Unlimited source material I may expand into a complete sourcebook in the future, news and information.
Since 2013 is the Palladium Fantasy RPG's 30 Year Anniversary, we are trying to include something special for the Fantasy RPG line in every issue. This issue has that detailed castle and many maps/floor plans and the cover reprints the popular Kevin Long Palladium Fantasy RPG® cover from the 1980s. In fact, EVERY cover of The Rifter® in 2013 will be a fantasy illustration. Last issue was Amy L. Ashbaugh, this issue a classic Kevin Long, next issue's cover will be by Chuck Walton. Still trying to decide who will do the October issue. Note: Writers & Game Masters, if you have some awesome Fantasy material (large or small) you've been thinking about sending in for The Rifter®, this is the time to do so. Thanks!
And The Rifter® is a bargain. Since this publication is a special product, it only costs $11.95 for a 96 page book. That's less than what we charge for a 64 page sourcebook!
Each and every issue of The Rifter® is an idea factory that helps players and Game Masters to generate new ideas and keep their games fresh. It provides useful, ready to go, source material gamers can just drop into their ongoing games. A doorway to new possibilities and numerous Palladium role-playing worlds. It offers new monsters, villains, characters, O.C.C.s, powers, magic, weapons, adventure and ideas for your games. It presents new villains, monsters and dangers to battle, and new ideas to consider. Every issue has material for Rifts® and at least two or three other Palladium game lines.
The Rifter® Number 62 includes: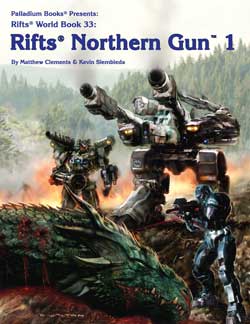 Rifts® World Book 33: Northern Gun™ One
Northern Gun™ is the largest independent manufacturer of high-tech weapons, robots and vehicles in North America. Outside of the Coalition States, one could argue, no other kingdom is as powerful or influential, at least when it comes to technology and weapons. The manufacture and sale of Northern Gun weapons and vehicles has given virtually every kingdom, town, colony of settlers and adventurer group a chance to survive and prosper. Located in Michigan's Upper Peninsula, NG has been the premier outfitter of mercenaries, adventurers and upstart kingdoms for generations. Now, for the first time ever, learn Northern Gun's history, goals and plans for the future. Of course, that means new weapons, robots, power armor, vehicles and gear.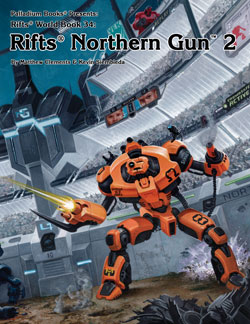 Rifts® World Book 34: Northern Gun™ Two
More information about the weapons, vehicles and practices of Northern Gun, including the new rage of robot gladiatorial combat.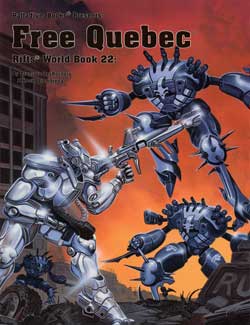 BACK IN PRINT: Rifts® World Book 22: Free Quebec™
This World Book contains a wealth of information about Free Quebec, Glitter Boys and notable people and places.
More Palladium news and updates next week. Game on and enjoy Palladium's very first Kickstarter funding campaign.
© Copyright 2013 Palladium Books Inc. All rights reserved.
Rifts®, The Rifter®, RECON®, Splicers®, Palladium Books®, The Palladium Fantasy Role-Playing Game®, Phase World®, Nightbane®, Megaverse®, The Mechanoids®, The Mechanoid Invasion®, Coalition Wars® and After the Bomb® are Registered Trademarks of Palladium Books Inc. RPG Tactics™, Beyond the Supernatural, Chaos Earth, Coalition States, Dead Reign, Heroes Unlimited, Ninjas & Superspies, Minion War, Mysteries of Magic, SAMAS, Thundercloud Galaxy, Three Galaxies, Vampire Kingdoms, and other published book titles, names, slogans and likenesses are trademarks of Palladium Books Inc. and Kevin Siembieda.
Robotech® and Robotech® The Shadow Chronicles® are Registered Trademarks of Harmony Gold USA, Inc.
This press release may be reprinted, reposted, linked and shared for the sole purpose of advertising, promotion and sales solicitation.