Palladium Books® Weekly Update – March 7, 2013
By Kevin Siembieda
It remains a whirlwind of activity at Palladium Books®.
We've been working at fever-pitch trying to get books finished as fast as possible and Robotech® RPG Tactics™ ready to send to the manufacturer in a few months. This week I did writing and editing on Rifts® Vampires Sourcebook, Rifts® Northern Gun™ One, and assigned more artwork for NG. Today, I am assigning the last of the artwork for Northern Gun™ One. The assigning of Northern Gun™ Two artwork will start next week or the following week. The entire time, Chuck Walton has been working away on artwork for both books. Meanwhile, Wayne and I put together a Distributor Update, a Robotech® RPG Tactics™ press release, some tweaks to the Palladium website, and worked with Ninja Division to get promotional materials together for the GAMA Trade Show and other advertising and promotion considerations.
We've also been submitting Robotech® materials to Harmony Gold for input and approvals, I spoke with various freelancers, found a new writer for Robotech RPG books (okay, he sorta found me and we had an excellent conversation this morning), and I'm trying to help put together a couple of exciting third party projects for Rifts®. In fact, yesterday I had a fun and inspiring telephone conference with a couple of cool guys that I would love to do business with in the future. Time and a little bit of luck will dictate how that pans out.
EVERYTHING is moving forward at a good pace on all fronts. Very exciting.
UPDATE: Rifts® Vampires Sourcebook
We are getting close to completion. Wayne should be able to start typesetting this weekend. I've done some writing this week, but not as much as I had intended. A number of time-sensitive matters and opportunities pulled me away from Rifts® Vampires Sourcebook more than I would like, but things are moving forward with this book. A book that will surprise and please everyone, I think. There are all sorts of new goodies and information that nobody should see coming. Stuff that will advance the saga of the Vampire Kingdoms and Reid's Rangers in a big way.
UPDATE: Northern Gun™ One and Two
As noted above. All the art for Northern Gun™ One has been assigned and the book is prepped for final editing and some additional writing. Last Friday, I enjoyed an inspired creative meeting with Chuck Walton. We covered several subjects concerning the two Northern Gun™ books and various design concepts for the final stage of the art. There is a lot of conceptual work and discussion that goes into the design for the concepts, text, art and look of these books.
As I've noted for a while now, the very instant I'm done with the Rifts® Vampires Sourcebook I dive into the two Northern Gun™ books.
UPDATE: Rifts® Megaverse® in Flames
This is another epic sourcebook that will be coming your way this Spring/Summer. What else is in store for you?
UPDATE: Robotech® UEEF Marines™ Sourcebooks
The first manuscript is in and I'm slating these titles for Summer release. Irvin Jackson has turned in another book you'll find revealing and fun. Meanwhile, I've lined up what I hope will be a long-term contributor to the Robotech® RPG line of books. More on him and our plans in the future.
UPDATE: Robotech® RPG Tactics™
Scuplts for Destroids and Veritechs have been coming in all week. A few have blown us away. Some still need some tweaking before they are ready for mold-making. All look sweet. We don't want to reveal too much before the Kickstarter (because we want to wow you), but here's a little snippet – the GU-11 gun pod. The Kickstarter will reveal all. Game pieces are 1/285th scale.
We are in frequent contact with the design team at Ninja Division (which brings together the creative forces of Soda Pop Miniatures and Cipher Studios) and Harmony Gold. Every aspect is being designed with Robotech® fans and gamers in mind.
A bit of sad news
I want to acknowledge the passing of a lady who was very special to many of us in the gaming industry, Phyllis Opolko. She was a good friend and supporter of Palladium Books. Through thick and thin, Phyllis was there for Palladium, always ready with good advice, a kind word, and a helpful suggestion. She was another one of those unsung heroes, behind the scenes, helping to make everything work. She will be missed by many. For more about Phyllis, see my Murmur from the Megaverse®.
As always, we must keep fighting the good fight, and press on with a sad heart for those we've lost. Live every day like it could be your last. Tell those you love how much they matter, and enjoy the beauty and the goodness around you. Keep those imaginations burning bright and game on.
– Kevin Siembieda, Publisher, Writer and Gamer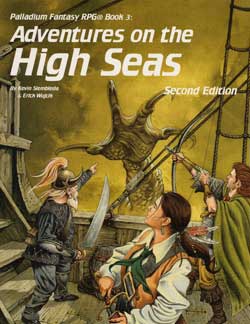 Palladium Fantasy RPG® Book 3: High Seas – Second Edition
– Back in print and available now
Adventures on the High Seas is one of those books packed with material that makes players and G.M.s salivate. It has something for everyone: Magic and monsters, pirates and jungles, exotic ports and ship combat rules, and lots and lots of people and places for adventure.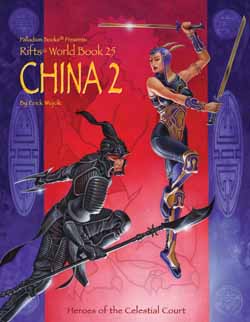 Rifts® World Book 25: Rifts® China 2™ – Available now
Back in print and available now. This book has it all! Martial arts, wondrous mystic martial art powers, Chi channeling, Chi powers, Chi weapons, magic items, and a lot of special abilities and powers that will blow your mind! Plus, great warriors, demon hunters and their tricks of the trade, blind mystics, fortune tellers, Spirit Hosts (half-man and half-animal spirit), Enlightened Demons (as player characters!), and heroes, powers and special abilities galore.
And for you high-tech junkies, there are wonders from Geofront with things like Demon Skin body armor, the Gun Dragon, Black Tiger power armor, high-powered weapons, select vehicles, the Demon Eater and Assault Geo-Borgs, and the incomparable Gun Master. Rifts® China One set the stage and presented the nefarious Yama Kings and their demonic henchmen. Rifts® China Two presents the heroes out to stop them.
Robotech® RPG Tactics™
Prepare for invasion! Robotech® RPG Tactics™ is a fast-paced, strategy battle game that expands on the popular Palladium role-playing system to enter new realms of adventure.
Mecha vs Mecha. Take command of the fighting forces of the United Earth Defense Force (UEDF) valiantly defending Earth from alien annihilation. Or lead the massive clone armies of the Zentraedi Armada to recover an alien artifact of immense power and enslave humankind.
● Collect your favorites from an expanding range of world-class game pieces and relive the massive battles on your tabletop at home to enhance your Robotech® RPG adventures or as a stand-alone tactical game.
● 1/285th scale game pieces with detail and power.
● Robotech® RPG Tactics™ is designed in partnership with Ninja Division. Ninja Division brings together the design talents of Soda Pop Miniatures and Cipher Studios, makers of Super Dungeon™ Explore, Relic Knights™, Helldorado™ and Anima Tactics™, to bring you the best quality game pieces, design and rules for Robotech® RPG Tactics™ and all of your Robotech® adventures.
● Stay tuned for news about the Robotech® RPG Tactics™ Kickstarter Campaign! Support our goals to bring you this exciting product and an expansive range of quality game pieces.
● Palladium Books and Ninja Division will showcase the game pieces and reveal all with the upcoming Robotech® RPG Tactics™ Kickstarter Campaign. This is a product line Robotech® fans have wanted for decades! And we aim to deliver. If you are one of those people, please spread the word and support this upcoming Kickstarter.
● The final details and cost of the Robotech® RPG Tactics™ box set and expansion kits are still morphing and changing at this time. They will conform to industry standards for pricing and packaging.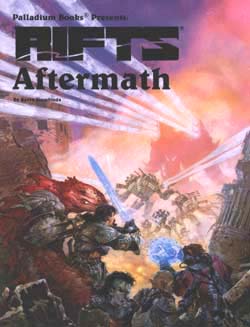 Rifts® Aftermath – Back in Print – Available now
This world-spanning sourcebook examines the changing landscape of North America and the rest of the planet in the aftermath of the Coalition's Siege on Tolkeen. Somehow, North America seems to be more dangerous than ever before, and things are about to get worse.
The Coalition Army continues its occupation of Tolkeen, the fallen Kingdom of Magic, bulldozing the cities, flushing out resistance fighters and capturing its secrets. The CS intends to wipe the Kingdom of Tolkeen from existence, and use its secrets of magic as bait to lure out other enemy forces and destroy other enemies of the CS. However, the Coalition's war has stretched the nation thin, and the CS must worry about other rivals and adversaries.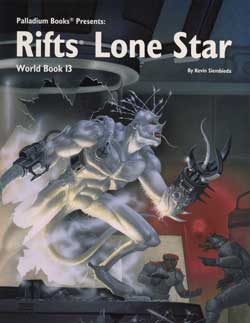 Rifts® Lone Star – Back in Print – Available now
Rifts® Lone Star is part of the Coalition State's dark underbelly. Though the entire state of Texas is claimed by the CS, it mainly controls one small corner. That corner includes the pre-Rifts Lone Star Genetics Complex. The birthplace of the Psi-Hounds better known as Dog Boys. The rest of Texas is a wild badland claimed by bandits and D-Bees known as the Pecos Empire.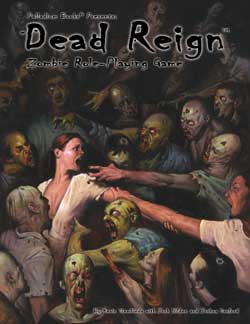 Dead Reign™ RPG – Back in print, and hot, hot, hot
Can you survive the zombie apocalypse?
Yes, you may think so. But there is only one way to find out for sure: Play the Dead Reign™ RPG. The core rule book is all you need to start playing. Rules are easy. Character creation is fast and fun. Combat, quick and deadly. Survival? Harder than you might think. Good luck.
Dead Reign™ RPG is the aftermath of the zombie apocalypse. Civilization is gone, the dead reign, and the living fight to survive against impossible odds. Battle zombies, mad men and death cultists in a post-apocalyptic world where the last of humanity struggles to survive. Think you know zombies? Think again.
Dead Reign™ Sourcebooks
Civilization Gone™: Dead Reign™ Sourcebook One. There is no army, no government, no help coming. You are on your own and things are only getting worse. Villains include madmen and psychopaths, bandits and raiders. Many random tables for encounters, houses, and survivor camp creation, and more. $12.95 – 64 pages. Cat. No. 231.
Dark Places™: Dead Reign™ Sourcebook Two. Using railroad tracks and subways, sewer tunnels, steam tunnels and other dark places to travel undetected by zombies. Many tables for random encounters, boxcar contents, zombies and more. Survival tips, new zombies like the Bug Boy, Sewer Crawler and Impersonator. $12.95 – 64 pages. Cat. No. 232.
Endless Dead™: Dead Reign™ Sourcebook Three. Zombie hordes grow in number and strangeness. Where is the military? What's next for the living survivors? Many new types of zombies, new O.C.C.s like the Wheelman and Zombie Hunter, the military and random tables for military bases, police and other places. Plus weaponizing vehicles, vehicle combat, Survivor caravans, and more. $16.95 – 96 pages. Cat. No. 233.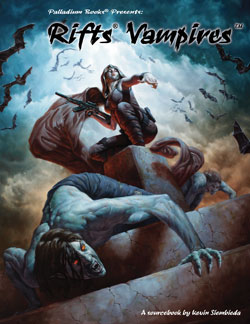 Rifts® Vampires Sourcebook™ – In final production
We are nearing completion of this epic book. Even we can't believe how much source material we've crammed into it. It should go to the printer very soon.
New secrets, magic and monsters of Mexico and the Yucatan. New conflicts between rival forces are brewing as Doc Reid prepares to take his private war on vampires to a whole new level. Meanwhile, the vampires live like smug tyrants and gods, dominating an underclass of cattle people used as slaves and food stock. Learn more about the vampires, their rivals, allies and the humans who willingly serve their supernatural masters for a chance to join the undead. A must-have guide for those who wish to travel deeper into the Vampire Kingdoms or play as vampires and their human minions. In final production right now, with art and text coming in and final editing and writing in progress.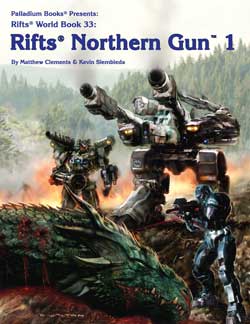 Rifts® World Book 33: Northern Gun™ One
The long-awaited Rifts® Northern Gun™ One nears completion.
Northern Gun™ is the largest independent manufacturer of high-tech weapons, robots and vehicles in North America. Outside of the Coalition States, one could argue, no other kingdom is as powerful or influential, at least when it comes to technology and weapons. The manufacture and sale of Northern Gun weapons and vehicles has given virtually every kingdom, town, colony of settlers and adventurer group a chance to survive and prosper. Located in Michigan's Upper Peninsula, NG has been the premier outfitter of mercenaries, adventurers and upstart kingdoms for generations. Now, for the first time ever, learn Northern Gun's history, goals and plans for the future. Of course, that means new weapons, robots, power armor, vehicles and gear.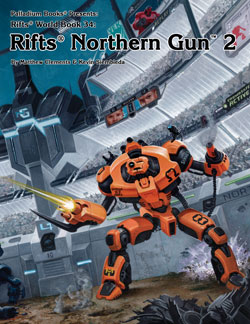 Rifts® World Book 34: Northern Gun™ Two
More information about the weapons, vehicles and practices of Northern Gun, including the new rage of robot gladiatorial combat.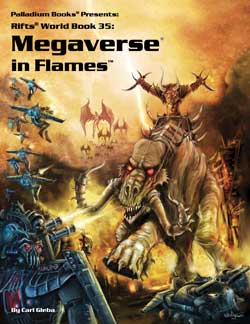 Rifts® World Book 35: Megaverse® in Flames™
The Minion War spills across Rifts Earth, where demons and infernals hope to recruit allies and use the Rifts as gateways of destruction. Their influence shakes things up across the planet, especially at locations where demons and Deevils already have a strong presence. Demons, Deevils and supernatural beings run rampant and wreak havoc across the world.
PDF downloads from DriveThruRPG.com
This is a great resource for getting out of print Palladium titles and other select books. We've made 90 titles available as PDF digital downloads from DriveThruRPG.com. This is a great way to try Palladium products and get access to out of print RPG source material. Some notable titles include:
Don't forget about these recent releases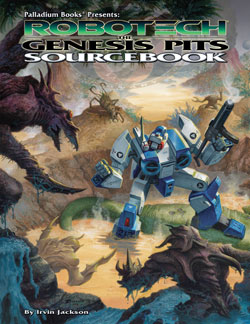 Robotech® Genesis Pits™ Sourcebook – Available now
This is a truly epic sourcebook that takes an in-depth look at the Invid Genesis Pits, their purpose, function, the mutants and monsters they unleash and the dangers they pose for non-Invid. It is jam-packed with never before seen source material, mutations, mutation tables (so you can generate your own Genesis Pit monsters and characters) and more. Robotech® fans have been loving this book.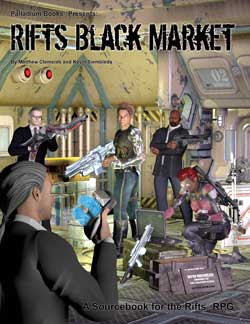 Rifts® Black Market™ – Softcover Edition – Available now
See what everyone is talking about and order yours today. Rifts® Black Market™ is an epic, 192 page sourcebook that contains a wealth of information about the inner workings of the Black Market, the Five Factions, new Bandito Arms/Black Market weapons and gear, how to make any O.C.C. a Black Marketeer, special abilities of the Black Marketeer, criminal enterprises, Black Market loans, merc and crime jobs, and much more. This book has it all. AND best of all, a lot of it can be easily adapted to just about any world setting, not just Rifts Earth.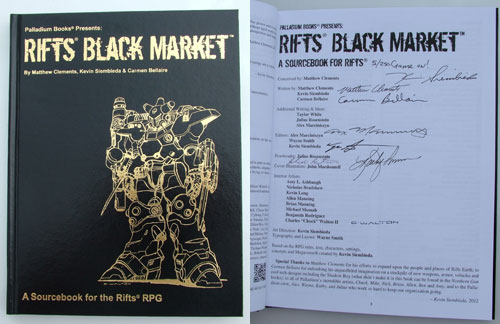 Rifts® Black Market Hardcover – Gold Contraband Edition – Available now
Everything you want to know about the Black Market of Rifts® North America presented inside a pair of gorgeous black leatherette covers. Gold foil embossing on front cover and spine. Historically, gold collector editions only increase in value on the collector's market, and often quickly. This is the lowest number of a Collector's Gold Edition that Palladium has ever printed.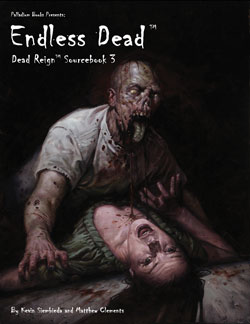 Endless Dead™ – Dead Reign™ Sourcebook Three
The zombie hordes grow in number and strangeness. Can humankind survive? Where is the military?
Back in Print and Great Gift Ideas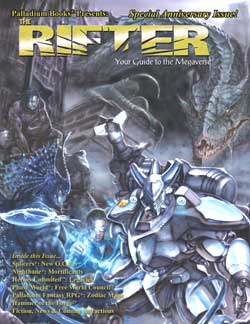 The Rifter® #50, Anniversary Special – back in print due to popular demand
You might think of The Rifter® #50 as a special "all-star" anniversary issue with official source material for Rifts®, Heroes Unlimited™, Nightbane® and many other Palladium RPG settings.
The Rifter® #50 includes: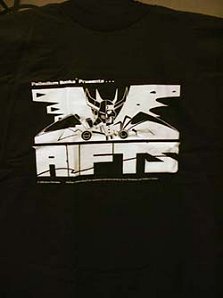 BACK IN PRINT: Rifts® Logo T-Shirts in most sizes
We've been asked over and over again to re-issue the popular Rifts® Logo T-shirt in sizes other than XL. We heard your requests, and here you go. Order yours today.
● The full Rifts® logo as created by artist Kevin Long, printed in white on a black T-shirt.
● Sizes Small to 5XL.
● 100% cotton – our usual quality T-shirt.
● Prices vary according to size:
Small: $18.95
Medium: $18.95
Large: $18.95
X-Large: $18.95
2XL: $20.95
3XL: $22.95
4XL: $24.95
5XL: $26.95
● Cat. No. TS804
● And don't forget other fun T-shirt designs like . . .
Upcoming Appearances
Anime North – May 24-26, 2013 – Toronto, Canada
I am one of the guests at Anime North in Toronto, Canada. The event takes place Memorial Day weekend, May 24-26, 2013. Wayne Smith and one or two other Palladium creators will also be present to chat and sign autographs. We also hope to bring a pile of books, prints and other goodies to sell in the dealers' room. www.animenorth.com
Gen Con® Indy – August 15-18, 2013 – Indianapolis, Indiana
We can hardly wait for Gen Con this year as we hope to have advance copies of Robotech® RPG Tactics™: Defense of Macross Island™ there. Not to mention a stock of new releases from throughout the year. We may even need to expand the size of our booth. Hope to see many of you there.
Game Masters, submit your events now to get into the Gen Con program book! See http://www.gencon.com/host/eo-gm for more details.
Note: There will be no Palladium Open House in 2013 or 2014.
© Copyright 2013 Palladium Books Inc. All rights reserved.
Rifts®, The Rifter®, RECON®, Splicers®, Palladium Books®, The Palladium Fantasy Role-Playing Game®, Phase World®, Nightbane®, Megaverse®, The Mechanoids®, The Mechanoid Invasion®, Coalition Wars® and After the Bomb® are Registered Trademarks of Palladium Books Inc. Beyond the Supernatural™, Chaos Earth, Coalition States, Dead Reign, Heroes Unlimited, Ninjas & Superspies, Minion War, Mysteries of Magic, SAMAS, Thundercloud Galaxy, Three Galaxies, Vampire Kingdoms, and other published book titles, names, slogans and likenesses are trademarks of Palladium Books Inc., and Kevin Siembieda.
Robotech® and Robotech® The Shadow Chronicles® are Registered Trademarks of Harmony Gold USA, Inc.
This press release may be reprinted, reposted, linked and shared for the sole purpose of advertising, promotion and sales solicitation.