Palladium New Year's Eve Update – December 31, 2012
By Kevin Siembieda
Happy New Year!
I can't believe 2012 ends today
Christmas Eve was only one week ago, but we've been so busy this past week that it feels like Christmas was more like 2-3 weeks ago. We've all been working away at Palladium signing books and processing Surprise Packages and regular orders as well as taking care of all kinds of other business. All of us came in to work over the weekend. Gosh, I hope that doesn't sound too Scrooge-like, but there is so much to do.
Holiday sales have been excellent. Up about 7% for the season compared to last year. Purchases of the Christmas Surprise Package are continuing to keep us busy, but we're also seeing strong regular sales, and distributor restock orders, so thank you for your enthusiastic support. And remember, you only have two weeks left to order a Surprise Package. If you haven't done so yet, time is running out.
Busy, busy, busy . . .
Wayne continues to edit and put The Rifter® #61 together as well as prep a couple of books for reprints and work on a variety of other things. Artwork for the book has been coming in.
Alex has been giving Wayne a hand with The Rifter® #61 as well as other responsibilities.
Julius came in over the weekend to pack and ship Surprise Packages as well as prep for year-end inventory today.
Kathy spent the weekend working away at processing orders and going through paperwork.
As for myself, I've been handling a wide range of business matters, responding to many correspondences, took a few meetings, did a bit of editing and writing, tackled some advertising, did some of my writing for The Rifter® #61, as well as this Update, and coordinated work on various projects.
The sad news about artist Mike Mumah's stroke wrecked me on writing the first two-thirds of the week, so, as you can see, I spent a good amount of time working on things that didn't require the creative part of my brain, but also needed to get done.
UPDATE: Mike Mumah
It is still too soon to offer much information. Mike's condition is serious, but he appears to be stable. He is a bit more awake and alert. He is speaking, but just a little bit, though he does seem to recognize people. All good signs. It is hard to give any kind of prognosis for the future as the doctors are still making their assessments, adjusting Mike's meds, and just don't know yet. Mike is young and he's a fighter, so we can only hope for the best. The hard part for all of us is that there is little we can do at the moment, except wish Mike and his family well, and continue to pray.
New Year's Reflection
On the eve before the New Year it is natural for us to reflect about our lives as we look back on the past year and wonder what lays ahead in the new. Sometimes the year ahead seems uncertain and scary. Other times, it seems full of promise and good.
For Palladium, I think 2013 is mostly full of promise and good. We still have a lot of work ahead of us, but things seem to be getting much better. We've struggled long and hard, and that struggle seems as if it is ready to pay off. We have big dreams and high hopes for 2013. We want to fill the entire year with one exciting new product after another. And for all of the Palladium game lines. With your continuing support and many new releases, we expect sales to soar and for Palladium to become truly strong again. There are more ideas and projects bouncing around behind the scenes than you may imagine, and the New Year seems full of promise and reward. Finally.
Of course, we may be pressing forward without one of Palladium's stalwart supporters and friends, Mike Mumah, which saddens me. For Mike, the New Year is filled with immediate uncertainty and challenges I hope none of us will ever have to face. I worry for him and pray Mike will make a quick and miraculous, full recovery from his stroke. We stand ready to help in whatever way we can, but for the moment, all we can do is pray, offer words of support and wait.
For me, Mike's sudden illness and my friend Kevin Lowry's death (massive heart attack in November) are reminders that life is all too fragile. That's why we should make the time to show our loved ones we love and appreciate them. Moreover, I think we should try to recognize and appreciate all that we have. From glorious sunrises and the gentle caress of a kiss, to the things that make us sing and laugh and fire up our imaginations. That includes people, places and things like books, music, theater, movies and games. We need to focus more on the good. The fun. The positive. To be appreciative and joyful.
I'm making that my agenda for the New Year. That, and actually releasing a truckload of epic, new gaming products. I'm done with the negative and the trivial garbage that we let weigh us down. I want to promote imagination and fun, positivity and goodwill.
None of us know what's going to happen to us tomorrow, or even in the next minute. If I'm struck down I want to know I lived life to the fullest, and that my last moment was filled with joy or doing something to make the world — even if it's just a small corner of the gaming world, a little better. I want Palladium to be an even brighter, friendlier and better place. I've known Mike Mumah since he was a teenager. Mike has always known how to live large and enjoy life, his friends, and all the silly, goofy things that make life fun. I'm confident his playful spirit will serve him well in his recovery in the new year. We need to do the same.
It's time to shed the negative and let our inner child roam free to find fun, friends and joy. To enjoy the simple wonders all around us and to let our gamer's imaginations run wild across an endless Megaverse. Never forget, as human beings, we are truly limited only by our imaginations. That's not some tag-line or slogan I dreamed up one day. It is true. It's what my beautiful mother taught me when I was a child, and it's the way I have tried to live my entire life. So join me, won't you? Push away the negative and let your joyful imaginations take wing. Let them the soar to find and enjoy friends, new people, ideas and adventures. Let us meet each new encounter and adventure with a smile in our hearts and a child's sense of wonder and joy. I'm serious.
There are all kinds of other things I could mention and talk about: A meeting with a Hollywood studio exec, my many wonderful conversations with Palladium gamers (reminding me that Palladium fans are the greatest on the planet), growing momentum for the company, our plans for next year, and so on. But this is still the holidays and I think I'd like to close with the thoughts above. As I did with the last Special Update, I'm going to keep this short, focus on good cheer and leave you with more fan comments from Christmas Surprise Packages. I doubt there will be a Weekly Update this Thursday, but who knows? I am a blabbermouth. ;)
I sincerely thank you all for making my life so rich, rewarding and full of joy. I hope I can return the favor with more new books and sincere words that come from the heart. Happy New Year. May it be a bold, joyful and triumphant year for us all.
– Kevin Siembieda, Publisher, Writer and Gamer
Two Weeks left – Surprise Package offer ENDS January 13, 2013
As stated in the Special Christmas Eve Update, Jolly Ol' Saint Nick may be done and resting on December 26th, but at Palladium Books, we want to keep on giving into the New Year. But you only have till January 13, 2013 to order your last Christmas Surprise Package of the 2012 season.
We extended the offer because we realize many of you are so full of the Christmas Spirit that you spend your money on gifts for your loved ones rather than yourself. This wonderful act of charity often leaves no money for you to buy a Palladium Surprise Package for yourself. We think that's pretty darn awesome, so we extend the offer so you selfless souls can pick up a Surprise Package after the holidays. We know this happens, because a lot of people over the years have thanked us for the extension for this very reason.
The extension is also for you Johnny Come-Latelys who are so caught up in the holiday frenzy, work and life that somehow you miss placing your order for the Christmas Surprise Package before the offer ends. And for those of you who wish you had ordered one (or another one) but forgot.
Lastly, it is our way to carry that holiday good cheer into the New Year. So get your post-holiday Surprise Package and enjoy.
A Special Gift. While supplies last, you get the Mike Mumah, Santa Day After Christmas color print ($10 value) signed by me, Kevin Siembieda, when you order one or more Surprise Packages during the extended period. Mike did this fun illustration as a gift to me, the Palladium crew and the entire Palladium family. Including it in the post-holiday Surprise Packages just seemed perfect, especially under the circumstances.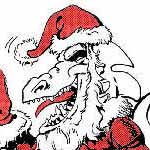 The Palladium Christmas Surprise Package offer
What a great way to start the New Year, with Palladium product you've been meaning to try. The Palladium Christmas Surprise Package is an opportunity to try new game settings, fill in your collection, stock up on reading material for the winter, get gifts for other occasions and acquire books and artwork with autographs. Order yours today, and be certain to provide a nice, long Wish List of currently available books (12+ items) and we'll do our best to delight you with your Surprise Package.
$85-$95 worth of product for only about $45 or so in every Palladium Christmas Surprise Package! These days, that's the price of a core rule book or two supplements. And sometimes the crazy Publisher includes even more value than that!
Autographs in every book in your Surprise Package, upon request if you want them. For many gamers this is the only way for them to get signed books.
Get original artwork. The inclusion of art is considered only for those who request it, and depending on the size, subject and quality of the art, you may only get the art and one or two other items. (The typical piece of original art is 8½ x 11 and has a value of $30-$60.)
Get other goodies like limited edition prints, posters, back issues of The Rifter®, game settings you've been meaning to try, T-shirts, coffee mugs, bookmarks, magnets, Chi-Town Library pencils, and other Palladium goodies.
A great gift for ALL gift-giving occasions – birthdays, anniversaries, Valentine's Day (just around the corner), graduation, and so on.
It's a surprise, like a real present, because you never know exactly what you are going to get and it is packed with love!
Placing your Surprise Package order involves you sending Santa Kevin a "Wish List" of 10-12 different in-stock products and a flat payment (+ shipping and handling). I then hand-pick items from that Wish List and I may include product you didn't ask for (hence the nickname, "X-Mas Grab Bag"), but all things I think you'll enjoy, and we ship it all off to you. Gamers have been loving this special offer for 14 or 15 years now. Order one or several for yourself and for your gaming buddies. For the holidays, birthdays, anniversaries, or just to get cool stuff and signatures. Get all the information from the description in the online store. The Christmas Surprise Package offer ends January 13, 2013.
Click here for complete details and to place your order.
Need a reason to buy a Christmas Surprise Package?
Here's what real customers have had to say:
R.K. in Story City, Iowa, writes: Best deal, ever.
J.B. in Caldwell, Idaho, writes: Yes, you have made my Christmas "joyful." Thank you for all the wonderful gifts in my last Surprise Package. My brain is all abuzz and wishing for more. And "Thank you," to you and the crew for always giving us your best. Have a Happy New Year.
A.H. in Commerce, California, writes: Phew! After the crazy holidays, it's always nice to know that you guys extended the deadline for the Surprise Package. I was really worried I would have to miss out this year, but you guys delivered once again. Much Appreciated!
A.S. in Missoula, Montana, writes: This is such a great idea. It will be my second year in a row ordering the Surprise Package. I'm 37 years old and I've been enjoying Palladium games since I was 14 years old. I now have my kids playing as well. :) Thanks to all of you for all of your hard work.
A.V. in Riverbank, California, writes: Thanks guys. You make shopping for my husband easy. As long as I can figure out what books he already has . . . he has a lot of them!
D.T. in Post Falls, Idaho, writes: Thanks once again for the X-Mas Surprise Packages. They are a wonderful way to catch up on all the awesome Palladium products. Your books are always a great read!
S.C. in London, Canada, writes: This is a great promotion you are running. I love Palladium games and hope to enjoy them for many more years to come!
S.H. in Las Vegas, Nevada, writes: Second Grab Bag I've bought. The first one was awesome.
D.K. in Stow, Ohio, writes: This is my 2nd Surprise Package of this season. I love it! Supported all three of the crowdfunding offers and can't wait to see what great source material you come out with next. I'm always impressed and forever a fan.
T.S. in Grand Rapids, Michigan, writes: 4th Grab Bag order of the season and loving every second of it. The epic just keeps coming!
C.K. in Garden City, New York, writes: Hey Kev and PB Staff, keep up the great work! Nothing compares to the imaginative worlds described in Palladium Books. These are the most fun you will have reading pen and paper RPG books!
J.M. in Glennis Ferry, Idaho, writes: I look forward to Murmurs and Weekly Updates and over the years have come to think of everyone at Palladium as friends. So I would just like you to let Mike know our thoughts and prayers are with you for a swift recovery. Have a happy New Year and please reprint Rise of Magic.
M.V. in Albany, Oregon, writes (in part): I have been playing Robotech® since 1986. I have every sourcebook from that era, and I'm very excited to see and hear that you are writing new material for Robotech®. I have enjoyed those books immensely over the years and told hundreds of stories with them.
G.S. in Colorado Springs, Colorado, writes: Kevin and crew, I just want to say thank you for all that you guys do for us, your fans. No other company shows its fans how much they are appreciated like you do.
G.A. in Fargo, North Dakota, writes: Rifts is the most versatile game system I have ever played. Thanks for the good times Kevin, and everyone else [at Palladium].
B.R. in Modesto, California, writes: I heard Santa Kev had a new deal going again this year, so I decided to scrounge some last minute change up to grab a Surprise Package before the year is over. It really seems like the prices keep going up on everything in this economy, so it is so nice of you guys to do this deal every year. The heart in the Palladium company truly shines through. I'm looking to fill some gaps in my ever growing Palladium collection and these Surprise Packages help speed up the process and put a smile on my gamers' faces (and my own). I'm looking forward to another year with Palladium Books.
J.F. in Los Angeles, California, writes (in part): The bottom line is I love Palladium. Your books were a huge part of my childhood and the reason I'm a screenwriter today. The only thing I'm expecting in return is that you keep publishing and keep inspiring all of us.
J.N. in Greeley, Colorado, writes: Merry Christmas to Santa Kev and all the Palladium Elves! I can't wait to check out the Baalgor Wastelands and Library of Bletherad. I've heard they're both very rich with Palladium Fantasy history. Thanks for extending the X-Mas Grab Bag deadline. Keep up the great work and wish the crew a happy, prosperous New Year! Can't wait to see what's in store for 2013.
S.S. in Modesto, California, writes: Love your games! Keep up the great work.
L.E.F. Jr., in Moscow, Idaho, writes: Just do what you guys do best. :)
Happy New Year. Start the New Year off with a bang, but stay safe and have fun. Keep those imaginations burning and those orders coming in. – Kevin Siembieda and the Palladium Crew
© Copyright 2012 Palladium Books Inc. All rights reserved.
Rifts®, The Rifter®, RECON®, Splicers®, Palladium Books®, The Palladium Fantasy Role-Playing Game®, Phase World®, Nightbane®, Megaverse®, The Mechanoids®, The Mechanoid Invasion®, Coalition Wars® and After the Bomb® are Registered Trademarks of Palladium Books Inc. Beyond the Supernatural™, Chaos Earth, Coalition States, Dead Reign, Heroes Unlimited, Ninjas & Superspies, Minion War, Mysteries of Magic, SAMAS, Thundercloud Galaxy, Three Galaxies, Vampire Kingdoms, Warpath, and other published book titles, names, slogans and likenesses are trademarks of Palladium Books Inc., and Kevin Siembieda.
Robotech® and Robotech® The Shadow Chronicles® are Registered Trademarks of Harmony Gold USA, Inc.
This press release may be reprinted, reposted, linked and shared for the sole purpose of advertising, promotion and sales solicitation.