Palladium Books® Special Update – December 24, 2012
By Kevin Siembieda
Christmas Surprise Package offer extended to January 13, 2013
Yep, Jolly Ol' Saint Nick may be done and resting on December 26th, but at Palladium Books we want to keep on giving for another two and a half weeks. It has become something of a holiday tradition for me to extend the Surprise Package offer. We debate it every year, but always seem to end up doing it.
Why?
Because we realize many of you are so full of the Christmas Spirit that you spend your money on gifts for your loved ones rather than yourself. This wonderful act of charity often leaves no money for you to buy a Palladium Surprise Package for yourself. We think that's pretty darn awesome, so we extend the offer so you selfless souls can pick up a Surprise Package after the holidays. We know this happens, because a lot people over the years have thanked us for the extension for this very reason.
The extension is also for you Johnny Come-Latelys who are so caught up in the holiday frenzy, work and life that somehow you miss placing your order for the Christmas Surprise Package before the offer ends. And for those of you who wish had ordered one (or another one) but forgot.
Lastly, it is our way to carry that holiday good cheer into the New Year. So get your post holiday Surprise Package and enjoy.
A Special Gift. The first 250 people to order a Surprise Package on December 24th and after, will get the Mike Mumah color print (a $10 value) signed by me, Santa Kev. Mike did this funny illustration (seen in this Update) as a gift to me and the Palladium crew. On Friday, Mike and I spoke, and he told me I could turn it into a print to sell or giveaway, or use in any way I'd like, because it was his gift to me and the entire Palladium family. Including it in the post-holiday Surprise Packages just seemed perfect. Especially so, considering the unexpected turn of events this weekend.
A bit of sad and troubling news. I'm sorry to have to tell everyone such distressing news during a time of cheer and togetherness, but I thought you'd want to know. Our friend and artist, Mike Mumah, has suffered a stroke. He is hospitalized and is in stable but critical condition. The doctors are still trying to figure out what happened. It is too soon for a prognosis about Mike's recovery. If you would all be so kind as to say a pray for an amazing recovery and think of our pal with warm regard, it would be appreciated. Our prayers are with Mike and his family. Hey, it's a time of miracles, right? Maybe one of those miracles be a quick and complete recovery for Mike.
Fun News and Warm Wishes
Until the news about Mike Mumah, this past week had been a joyful one. I presented some of the following in a Murmur from the Megaverse®, but I wanted to share the good fun and latest happenings with everyone. I think all of us at Palladium are feeling the joy and warmth of the holiday. There has been a lot of laughter, hugs and well wishes all around. I've been getting phone calls and emails from friends and family from around the world. Which is pretty darn cool! My old friend, Robyn Stott, called from Australia, on Friday morning, I spoke to Mike Mumah later that afternoon, and I've been getting calls and emails from friends, family and loved ones the entire past week, and into Christmas, I'm sure. They've been calling and emailing to wish us a Merry Christmas and a prosperous New Year. And/or to say how pleased they are with the holiday gifts I sent and to offer their thanks. I seem to have hit the mark with the right presents this year. Awesome!
I've also received some pretty sweet gifts in the mail, myself. And, of course, lots and lots of warm wishes from throngs of gamers in the comment section of the Surprise Packages. My heartfelt thank you to all of you.
The Palladium offices have also been visited by a number of friends and creators like Matthew Clements and Mark Dudley (I love those two guys) over the past week, and Wayne and I even took three hours off to go see The Hobbit with Matt. By the way, I thought The Hobbit was, for me, the best fantasy movie to date. I enjoyed it more than the Lord of the Rings films (I know, blasphemy), and anxiously look forward to the next two films in the series. And . . . many of you will be glad to hear this, it has inspired me to write new material for the Palladium Fantasy® RPG line. (After the books already in the pipeline, of course.) I walked out of the theater with ideas burning in my head and I had to stop and make notes for future books. Yes, that's books, plural.
The week has been good in many other ways too. Nick Bradshaw sent a new artist our way, Tanya J. Ramsey, and she has blown us away with the quality and creativity of her artistry. You'll get to see her work for yourselves in The Rifter® #61 for the After the Bomb® article. And you can count on seeing a lot more of Tanya in future books. Welcome to the Palladium Family, Tanya.
Talk about impressive artists: Amy L. Ashbaugh knocked our socks off with a cover that kills! Literally and figuratively. It's for The Rifter® #61 and I'd dare say it's the best painting she's done to date, for anybody. Nice, if you like undead things. ;)
I also got to see the rough color sketch for the cover to a secret project of mine and it's looking great too. Not only is the book a secret, but so is the artist. Another person who is new to the Palladium family of rockin' artists and creators.
You may be getting a call from me during the week and over the weekend as I try to call the top crowdfunding supporters if Rifts® Lemuria and Northern Gun. As part of their Megaverse Insider purchase I owe some people a telephone call. I spoke with 6-8 people on Saturday and planned to call even more on Sunday, but the news about Mike rather took the wind out of my sails. Trying to stay hopeful and positive on that front. Yet another reminder to tell those we love how much they mean to us, especially this holiday season.
Otherwise I'm making progress on many fronts. Put in some good hours of writing and I'm filled with excitement for upcoming products that I know you will love.
Merry Christmas and Happy Holidays! Our warmest wishes and best regards to our friends, family and customers around the world. May your holiday and the New Year be filled with love, good health, friends and joy.
– Kevin Siembieda, Publisher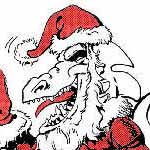 Christmas Surprise Package offer extended to January 13, 2013
What a great way to start the New Year, with Palladium Product you've been meaning to try. The Palladium Christmas Surprise Package is an opportunity to try new game settings, fill in your collection, stock up on reading material for the winter, get gifts for other occasions and acquire books and artwork with autographs. Order yours today, and be certain to provide a nice, long Wish List of currently available books (12+ items) and we'll do our best to delight you with your Surprise Package.
$85-$95 worth of product for only about $45 or so in every Palladium Christmas Surprise Package! These days, that's the price of a core rule book or two supplements. And sometimes the crazy Publisher includes even more value than that!
Autographs in every book in your Surprise Package, upon request if you want them. For many gamers this is the only way for them to get signed books.
Get original artwork. The inclusion of art is considered only for those who request it, and depending on the size, subject and quality of the art, you may only get the art and one or two other items. (The typical piece of original art is 8½ x 11 and has a value of $30-$60.)
Get other goodies like limited edition prints, posters, back issues of The Rifter®, game settings you've been meaning to try, T-shirts, coffee mugs, bookmarks, magnets, Chi-Town Library pencils, and other Palladium goodies.
A great gift for ALL gift-giving occasions – birthdays, anniversaries, Valentine's Day (just around the corner), graduation, and so on.
It's a surprise, like a real present, because you never know exactly what you are going to get and it is packed with love!
Placing your Surprise Package order involves you sending Santa Kevin a "Wish List" of 10-12 different in-stock products and a flat payment (+ shipping and handling). I then hand-pick items from that Wish List and I may include product you didn't ask for (hence the nickname, "X-Mas Grab Bag"), but all things I think you'll enjoy, and we ship it all off to you. Gamers have been loving this special offer for 14 or 15 years now. Order one or several for yourself and for your gaming buddies. For the holidays, birthdays, anniversaries, or just to get cool stuff and signatures. Get all the information from the description in the online store. The Christmas Surprise Package offer ends January 13, 2013.
Click here for complete details and to place your order.
Need a reason to buy a Christmas Surprise Package?
Here's what real customers have had to say:
T.S. in Grand Fork, North Dakota, writes: Thanks for the awesome game play. Some of the best fun I've had with friends in years.
J.B. in Erlanger, Kentucky, writes: Thanks for making Christmas special with the Surprise Packages and being the best RPG company! Keep up the great work and best wishes for continued and expanded success in the new year. Thanks to Santa Kev and all those crazy Elves.
R.G. in San Antonio, Texas, writes: I just started playing your games over the past year and now I am hooked. I only own the Rifts core book and look forward now to GMing a game in one of your many worlds, especially Beyond the Supernatural™. I love how twisted a tale you tell in your game worlds.
Guys I love your stuff!! I am new to your games and I think they are wicked. Just got my first Grab Bag and now I need another fix of the Palladium Megaverse goodness. I am so stoked to have my players jump through Rifts and discover new worlds. A lot of my players are also new to your gaming system so it's going to be a shock when I have them jump through their first Rift. Kevin, sir, keep doing what you do, cuz I like it.
J.B. in Sherman Oaks, California, writes: Rifts has been a game that has inspired me since I was eight [years old].
T.P. in Saline, Michigan, writes (in part): This is my 4th Grab Bag this year. I have never ordered more than one, but the Palladium Fantasy® line has me hooked.
M.M. in Phoenix, Arizonia, writes (in part): I've done the X-Mas Surprise Package before and have always enjoyed what I received. I look forward to many more years of fun and really appreciate the memories and enjoyment that your games have provided me while growing up.
T.F. in Stuart, Florida, writes: Thanks so much for having this every year. It helps me fill the holes in my collection and allows me to give some books to my players.
J.R. in Riverside, Missouri, writes: Life long fan of Palladium! Cut my teeth on Palladium Fantasy RPG® 2nd Edition; been playing over half my life. Keep up the good work.
J.F. in Elk City, Oklahoma, writes: Last year the Grab Bags my fiancé and I received were wonderful. They have given us days, nights and weekends of great role-playing adventures and resources.
C.C. in Independence, Missouri, writes: I was a part of your X-Mas Grab Bags for at least your first five years. It's a wonderful feeling to get that box in the mail. I had to stop buying so many game books and my huge Palladium collection stopped growing for quite a few years. Then I saw the Robotech® Shadow Chronicles digest book at my local game store. Wow. New Robotech Material! And a Revised Rifts® Sourcebook One! Old favorites revisited! So this year I dipped into the Grab Bag again. Get back to Beyond the Supernatual™. I need to see what my Arcanist will look like in Second Edition.
E.B.T. in Morris, Minnesota, writes (in part): Rifts® RPG has been my main game for about 10 years now. I like the diversity and that the rules can be bent and expanded to accommodate the game as well as opening a Rift to another game setting entirely. Don't change and cannot wait for Rifts® Vampires Sourcebook to be released.
J.H. in Snellvile, Georgia, writes: After being given Dead Reign™ from you guys [in my last Grab Bag] I love it. I own them all now and will buy the new ones as they are released.
J.F. in Kamploops, Canada, writes: Thanks fo this great offer every year! It always reminds me that Palladium is not a faceless company, but a group of fans who feel more like an extended family. That coupled with Kevin's Murmurs each week, and it becomes that Palladium is all about reaching out to their fans and helping build a stronger community.
L.H. in Clarksville, Tennessee, writes (in part): Thanks for still being around and putting out new stuff that sparks the imagination and brings friends together. Merry Christmas.
A.H. in Pleasant Hill, California, writes: Thank you for 27 years (and counting) of great memories and adventures!
R.K. in Chattanooga, Tennessee, writes: Thank you for the worlds you allow us to escape into. Merry Christmas.
© Copyright 2012 Palladium Books Inc. All rights reserved.
Rifts®, The Rifter®, RECON®, Splicers®, Palladium Books®, The Palladium Fantasy Role-Playing Game®, Phase World®, Nightbane®, Megaverse®, The Mechanoids®, The Mechanoid Invasion®, Coalition Wars® and After the Bomb® are Registered Trademarks of Palladium Books Inc. Beyond the Supernatural™, Chaos Earth, Coalition States, Dead Reign, Heroes Unlimited, Ninjas & Superspies, Minion War, Mysteries of Magic, SAMAS, Thundercloud Galaxy, Three Galaxies, Vampire Kingdoms, Warpath, and other published book titles, names, slogans and likenesses are trademarks of Palladium Books Inc., and Kevin Siembieda.
Robotech® and Robotech® The Shadow Chronicles® are Registered Trademarks of Harmony Gold USA, Inc.
This press release may be reprinted, reposted, linked and shared for the sole purpose of advertising, promotion and sales solicitation.