Rifts® Lemuria Shipping Now!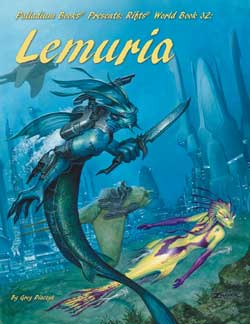 Rifts® World Book 32: Lemuria is shipping now!
The Lemurians, their history & society.
5 aquatic races.
5 Sea Dragons.
5 Symbiotic Stone vehicles.
8 expansive, new O.C.C.s.
9 monstrous and wondrous Lemurian War Steeds.
10 suits of living Bio-Armor, plus the Wave Strider and Bio-Skins.
10 Biomancy plants and creatures from the Lemurian Gardens.
16 strange and exotic animals.
19 types of Lemurian weapons.
21 new Hydro-Psionic abilities.
50+ new Biomancy spells and a handful of new Ocean Magic spells.
The Stone Guardians of Easter Island and other mysteries.
Symbiotic creatures and Biomancy constructs.
Written by Greg Diaczyk, with Matthew Clements and Kevin Siembieda.
Cover by John Zeleznik.
Tons of interior art by Chuck Walton, Mike Mumah, Brian and Allen Manning, Kent Burles, Nick Bradshaw and Amy Ashbaugh.
224 pages – Cat. No. 885.