Palladium Books® Weekly Update – December 8, 2011
By Kevin Siembieda
Sometimes I think my entire life is a roller coaster ride.
The week started out with the roller coaster rocketing across with thrilling ooohs and ahhhs.
Monday began with stellar (finally!) online sales (sure hope it stays that way). At 10:30 A.M. the printer called to tell us Rifts® Path of the Storm™: One writer's vision for the Rifts® movie would be arriving later that day, a day earlier than expected. The book looks great, reproduction of the interior pencil art and the color cover is beautiful, and we are just geeked about this title. This is Matthew's first, fully authored book with his name on the front cover, so he was beside himself with anticipation. I'd have to say Christmas came early for him this Monday. Matthew's excitement and energy made me silly, and we clowned around all afternoon while packing books. Wayne and I teased poor Matthew without mercy the entire day, making up stories and calling him "Mister Hollywood." It was a fun, if busy, day. Busy, because we also had a zillion Christmas Surprise Packages to process. It made the day seem to zoom by at lightning speed. Whew.
Distributor orders for Rifts® Path of the Storm™ shipped on Monday, pre-orders shipped on Tuesday, and I've been tossing copies into Christmas Surprise Packages at a liberal pace. YOU HAVE TO READ THIS SCREENPLAY. Okay, you don't have to, but I recommend it. It is a fun, entertaining and worthwhile read. I hope people like it as much as we do. Matthew and I can hardly wait for fan reaction. Of course, this is not likely to be the movie Jerry Bruckheimer Films makes – if they ever make one at all – but it's a fun ride. I think I can report that the screenplay currently under development for JB Films is very different from Path of the Storm.
Tuesday was another busy day that felt like a racing roller coaster. We packed and shipped another big stack of Surprise Packages, I worked on Rifts® Lemuria a bit, addressed several correspondences, met with a freelancer, talked on the phone, ran some errands, paid some bills, signed a stack of books, handled several business matters and the next thing I knew it was 8:00 PM and time to call it a day.
Wednesday turned into one rapid-fire meeting after another. As soon as one ended, another started. I met with Wayne and Matthew to discuss the status of books in the pipeline in the morning, snuck out to get an oil change for the car and haircut for myself, then came back to the office, where I met with Carmen Bellaire, followed by Mark Dudley, followed by a freelance artist and a trio of pals. Next thing I knew it was 9:15 PM. Yikes.
Today has been quiet by comparison. My day started at 6:30 AM with news of another strong day of online sales. Got to the office at 7:30 AM, put out food for the birds, made Surprise Package selections and signed some books, spoke with Matthew and Wayne briefly, paid some bills, talked with Mike Mumah by phone, answered a few Private Messages (sorry for being so behind) and now it's lunchtime and I'm writing this Weekly Update.
UPDATE: Robotech® The New Generation™ Sourcebook and Rifts® Path of the Storm™ have shipped and are winging their way to you or stores everywhere. Both books should hit store shelves sometime next week. If you ordered online, then your book is on its way to you. Both are outstanding products.
UPDATE: Rifts® Path of the Storm™ – Shipped Monday. This product is part Rifts® movie screenplay, part sourcebook and all fun – especially for the low, low price of $12.95 retail. Cat. No. 305, 96 pages.
UPDATE: Rifts® Lemuria. This is going to be a sourcebook that is epic in scope. I spoke with the author, Greg Diaczyk, on Tuesday and he's on board with the tweaks, changes and additions we're making. He is pumped up about seeing this book released. That makes two of us . . . no wait . . . it's more like a few thousand of us. Hey, I know the delays are frustrating, but this beauty is nearing completion and worth the wait. You will love this book. It is packed with clever ideas, many new Biomancy Magic spells, Ocean Magic spells, Millennium Tree items, aquatic riding animals, sea monsters, sea dragons, living armor and weapons, symbiotic organisms, information about the Lemurian people, their floating cities, great artwork and more. Getting it to the printer in the next week or two remains my top priority, but my printer's schedule is such that it will be a January release.
UPDATE: Dead Reign™ Sourcebook 3: Endless Dead™. I was showing off the artwork to Mark Dudley and a host of others, and everyone has been blown away by it. I keep telling people Endless Dead™ is going to surprise and create bone chilling amazement, with zombies like you have never seen them, new survivor O.C.C.s including the Wheelman and Zombie Hunter, vehicle armor rules, many encounter tables, adventure tables, what the military is doing and more. At this point, also a January release. Sorry. But you will love it. I can hardly wait to finish it and get it to the printer.
(Can't get your zombie fix fast enough? Order the 11x8½ inch or 17x11 inch Endless Dead™ zombie print by artist Mike Mumah. The prints may be requested in Christmas Surprise Packages but only some requests will be honored and you are most likely to get the small, 11x8½ inch version. You can also request a staff photo with us as zombies – our drawn heads from the print superimposed on our photographed bodies. Silly fun.)
UPDATE: About Palladium's new releases. As I said in the last Weekly Update, I know some of you are frustrated with books getting delayed, but I want you to know that the guys and I are working hard to get them out as quick as we can. We have one great book coming your way after another and you are going to love them. Lemuria™, Endless Dead™ and The Rifter® #57 will all be released in January. Fear not, they are coming soon. I hope you can focus on the fact that books are coming out and new releases should continue on a regular basis every month from this point forward. Help us keep these releases coming by gobbling them up when they come out and spreading the word about how much you enjoy them.
Rifts® Vampires Sourcebook will follow after Endless Dead™, followed by (in not exact order), Robotech® Genesis Pits, Rifts® Black Market, Rifts® Megaverse in Flames®, Rifts® Northern Gun, a couple of Palladium Fantasy® sourcebooks, Splicers® sourcebooks and bunch of other cool stuff.
UPDATE: Online sales are finally rockin'. Orders for the two new releases and Christmas Surprise Packages are streaming in at an excellent pace. So are orders for back stock items, T-shirts, the bookmarks and other product. Awesome. Please keep 'em coming! We're still working toward seeing December sales skyrocket over the next three weeks, carrying us into the New Year like a runaway freight train. ;)
16 DAYS TILL CHRISTMAS! Palladium's Christmas Surprise Package is a deal gamers cannot afford to pass up! I keep saying it because it's true: Palladium's Christmas Surprise Packages are the best deal of the holidays. $80-$90 (or more!) worth of Palladium Books product for only $38 plus shipping and handling. A minimum of eighty dollars ($80) retail. Sometimes much more! Santa Kevin often packs in $90-$100 worth of goodies. It is our way of saying thank you to our fans and putting smiles on the faces of gamers around the world. Offer ends December 23, 2011. Just over two weeks till Christmas – and you need to factor in at least 3 to several days in shipping time – which means order your Grab Bags SOONER than later!
BIG SALE at Kevin's Online Toy & Collectibles Store ENDS Monday, December 12. We'll still have nice items at low prices after the sale, but our big additional discount (all items are 20% to 30% LESS than the usually low prices) ends December 12. There are action figures, toys, original artwork, and Palladium collectibles looking for a nice new home for the holidays. All are from my personal collection and are generally in very good to mint condition. Check it out.
http://stores.ebay.com/kevinstoys-artandcollectibles
Carmen Bellaire – Children's book author. Many of you may not know it, but Palladium's own Carmen Bellaire took a year hiatus from doing RPG material to write a children's book in the vein of Harry Potter. It is entitled Persephone's Tale: A Daughter in Rhyme, 274 pages of epic adventure. We enjoyed it and now YOU can order your copy. Carmen has made his enchanting fantasy novel available as a print-on-demand book from both CreateSpace and Amazon.com.
Keep those Christmas orders rolling in while you still have time! Oh, and let us know what you think about Robotech® The New Generation Sourcebook and Rifts® Path of the Storm, and keep those imaginations burning bright!
– Kevin Siembieda, Publisher, Writer and Surrogate Santa
Time is running out!
You have only 2 weeks to get a Palladium Christmas Surprise Package.
Offer ends December 23, 2011
One of the best holiday deals anywhere is right here: The Christmas Surprise Package – $80-$90+ worth of merchandise (often more!) for only $38 plus shipping and handling. And you also get autographs in every book if you want them and the element of surprise with your wish list. Heck, the Palladium Christmas Surprise Package may be the "very best gift" money can buy, period! At least for gamers.
Buy one or several as gifts for your friends or for yourself. Use it to get books on the cheap to fill in holes in your gaming collection, try new RPGs and game settings, or get back issues of The Rifter®, or get original art, art prints and autographs. Surprise your fellow gamers with one choice book or a big pile of books for Christmas thanks to Palladium's Surprise Package. Can you imagine the look on your friend or loved one's face when you hand him or her a pile of role-playing products worth $90 (or more) . . . with autographs? And you only paid $38 (plus shipping and handling). Word it right and you may get a Surprise Package that has enough items to give to two or three friends.
No other game company offers an opportunity like this. And for a lot of people this is the only way to get books signed by some of the creators and Palladium staff. What are you waiting for? Order yours today. :)
Click here to order yours today.
Shipping guidelines to consider when purchasing ANY items as gifts for the holidays
Media Mail: This is the most inexpensive method of shipping. HOWEVER, please be advised that Media Mail takes 3-14 days at the best of times. During the holiday season it takes more like 5-24 days, so do NOT use Media Mail if you need your Palladium order before Christmas! Order later and it may arrive AFTER Christmas. Media Mail is also much more likely to get "lost" in the mail. NOTE: Any order shipped Media Mail that is "lost in the mail" is YOUR loss, not Palladium's. Your order will NOT be recreated. YOU use Media Mail – the most unreliable of shipping services – completely at your OWN risk. We strongly recommend UPS or Priority Mail.
Priority Mail: This is a very reliable method of shipping. It is supposed to take three days, and usually does, but sometimes 4-5 days during the Christmas season. Note that orders shipped via the US Postal Service cannot be traced or tracked.
UPS Ground takes 1-3 days to deliver to most places east of the Mississippi. 4-5 days to those of you west of that dividing line, so those living out west should take that into account. Orders shipped via UPS can be tracked at any time and the contents are insured if lost. This early before Christmas there is NO NEED to have orders shipped via 3-Day or 2-Day UPS.
UPS 3rd Day Service: Guaranteed to arrive 3 days after being shipped. REMEMBER, it can take one or two days for your order to be processed and shipped. This is definitely the case when you place an order on Friday, Saturday or Sunday. We cannot process your order till Monday and that means it ships on Tuesday.
To expedite your order, PLEASE make your Wish List/Special Wants clear, include 8-12 currently available books/items, and make certain your address is complete and correct. We MUST have a complete street address including Apartment Number to ship via UPS. UPS cannot ship to a P.O. Box (see Priority). If you give us the wrong or incomplete address and the order gets lost – the loss is yours. Palladium cannot replace the order as a result of your mistake or omission. Remember, we are packing Christmas Surprise Packages full, often with $85-$100+ worth of product, and Palladium cannot afford to send the package out twice due to your mistake. We hope you understand. Likewise, numbered, limited editions and original artwork can NOT be replaced if lost. BE CAREFUL, send your complete, current address – including your apartment number – and use a reliable, trackable and insured method of shipping like UPS.
Note to Customers Outside the U.S.A.: 1. You, the customer, are responsible for any and all duties, taxes or Customs fees. Books have the lowest fees and duties, but they can still be costly (typically around $20-$30). 2. Palladium Books is not responsible for any delays at Customs. We cannot guarantee time of arrival, so give yourself a few extra days. International Priority Mail should arrive within 5-7 business days, but give yourself a little extra time to be safe. 3. Palladium charges you ONLY for ACTUAL postage plus a small handling fee. We are a small company and can not offer the low or no shipping that big companies like Amazon are able to provide. We hope you understand.
Starting December 5th, Palladium Books processes Christmas Surprise Package orders EVERY day (except weekends) in an effort to get them to you before Christmas. Have a wonderful and joyous holiday.
Fan Comments from Christmas Grab Bags
During the holiday season, we like to let you see some of the many comments we get with the Christmas Surprise Packages. It's a nice way to acknowledge some of our fans and to share with you the kinds of words we hear from gamers throughout the season. We show only initials as some people would rather keep their identity private. Our thanks for your kind words of appreciation and encouragement. We're happy to see so many satisfied customers and the rampant enthusiasm.
We are happy to do the Christmas Surprise Packages and spread a little joy and fun around the globe. It is a privilege and an honor to touch so many people with our games. The Surprise Packages are our way of giving back and saying thank you to our legion of amazing fans. Game on! – Kevin Siembieda
R.G. in Salt Lake City, Utah, writes: I have tried to order this [Surprise Package] every year. Thanks for all the great stuff you put in these. It's one of the best surprises for me under the tree.
J.G. in Prosper, Texas, writes: I've done at least one grab bag for at least the last decade and it is one of the most amazing things in gaming I have ever seen.
G.S. in Pueblo West, Colorado, writes: Kevin & crew, thanks for doing the Christmas Grab Bags again this year. I really like the suspense of waiting to see what's inside. Your generosity has allowed me to bring the wonder of role-playing to my children. I have been playing Palladium's RPGs for 27 years and I hope to be playing them with my children and grandchildren for 27 more. Thanks Kevin and everyone at Palladium. Happy Holidays!
J.H., in Louisville, Kentucky writes: I would like to tell all of you thanks for everything you do to make this the best RPG [company] on the planet. And I hope you have a great year.
R.V. in Eugene, Oregon, writes: Hi Folks! This awesome Surprise Pack is for my husband. When I met him four years ago I was shocked to find that he had never participated in an RPG. That seemed pretty weird, since he was an articulate, creative guy who reads sci-fi and fantasy books. So one afternoon I took him down to the game shop and introduced him to Rifts® . . . pretty much since that day there is always a Rifts® book laying around within easy reach of the couch, dining table or bed. . . Thank you so much for the marvels of Rifts. This is one Christmas gift that I can't wait for my husband to open!
P.F. in Columbus, Ohio, writes: I love Palladium Books! Met Kev and he is a great guy. I am happy you guys are working on Robotech® again (wish you could do Star Wars). My only suggestion is get out more Palladium Fantasy® books, those are the first Palladium Books I was ever exposed to and they are still the best darn RPG out there.
J.B. in Pagaso Springs, Colorado, writes: Another year of growing pains that has seen some really great work. Keep up the job gang.
R.C. in Victoria, Texas, writes: We LOVE you Palladium Books!
D.M. in Dunedin, Florida, writes: I only want one of the these [two Surprise Packages]. I am purchasing two so that someone else can get a Christmas present. Feel free to pick someone – anyone – at random and give them my second Surprise Package. Merry New Year and all that!
[Wow. Now that's Christmas spirit. And I'm proud to say that D.M. is not the first or only person to do this. How awesome. I sent the extra Grab Bag to gamers I know are having a rough time. And some people wonder why I always insist Palladium fans are the greatest in the whole wide world. Well, take a look at this. Makes me proud. – Kevin Siembieda]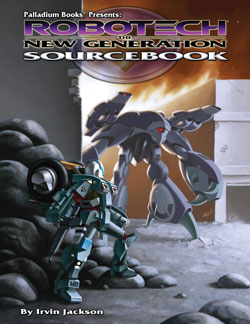 NEW! Robotech® The New Generation™ Sourcebook
Available now! Have you ordered yours?
This sourcebook is epic in scope and opens up an entirely new range of game play by allowing mecha and O.C.C.s from all eras of Robotech® in one setting.
For the first time ever, Veritech Fighters, Destroids, Battloids, Hover Tanks, Cyclones, and something called "Frankenmecha" – giant mecha amalgamations that combine the limbs, weapons and body parts of two or more mecha. There are also rules for creating Frankenmecha, new weapons and vehicles, seven new resistance fighter character classes, Invid Hives, key characters from the TV show, world overview and more. 8½ x 11 book format (not manga size), 96 pages.
The battle for the liberation of Earth starts here. For the first time in its history, the Earth has been invaded and occupied by alien invaders – the Invid. The Invid think they have won, but Freedom Fighters, UEEF soldiers and other heroes continue to fight until they win.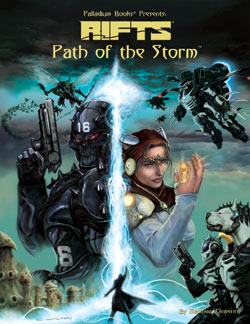 NEW! Rifts® Path of the Storm™
– One writer's vision for the Rifts® movie – Available Now
Everyone wants to know what's going on with the Rifts® movie. Well, this book presents an insight and behind the scenes info on that front by Kevin Siembieda, plus an entire screenplay written on speculation by Matthew Clements as well as game stats and artwork for major characters in the script. Kevin was so impressed with the writer's screenplay that he had Matthew make changes and improvements and sent the second draft to Jerry Bruckheimer Films for their consideration. Meanwhile, Matthew and Kevin hit it off and the next thing he knew he became Palladium's new staff writer.
We thought it would be fun to let Rifts® gamers and Palladium fans see the type of Rifts® movie we at Palladium Books would like to see made. So we are presenting Matthew's screenplay as a proposed Rifts® movie script and Rifts® sourcebook. The screenplay is a fast, fun adventure story that is sure to please Rifts fans. To make it more fun, the author has statted out the key characters in the script and gamers can use the heroes, villains and story ideas in their own campaign should they choose to do so.
This is a unique product and a fun read that should appeal to all Palladium fans. After all, it lets the reader step behind the veil and see what goes on behind the scenes.
Coming in January . . .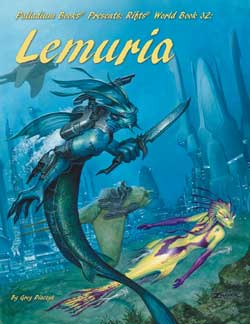 NEW! Rifts® World Book: Lemuria™
Ships January
The power, secrets and magic of the underwater realm of Lemuria revealed. Player characters can use symbiotes, magic and technology to breathe underwater and spend time below the waves.
Lemuria is more than an underwater civilization of aquatic beings. They can trace their lineage as far back as the Atlanteans and can survive on dry land as well as underwater. In fact, their greatest secret is that there is no one resting place for the Lemurians, their great cities are always moving. Learn about the people of Lemuria, new Biomancy magic and weapons, Biomancy engineered riding animals, sea herbs, new powers of healing, sea monsters, and more. Epic adventure awaits.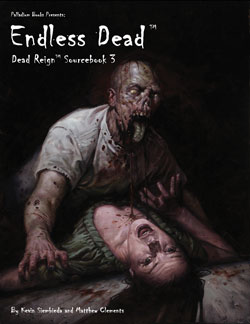 NEW! Dead Reign™ Sourcebook 3: Endless Dead™
Ships January
As time goes on, the zombie hordes only grow in number and strangeness. This book contains horrifying new zombies to haunt your player characters along with new O.C.C.s and tons of tables for detailing Survivors' Hideouts, Safe Haven Communities, Death Cults and more. Survival is not enough. Now is the time for the war against the Endless Dead™. This book is going to be epic. Kevin and all the Palladium creators are pushing the envelope with each and every book they work on.
Available Now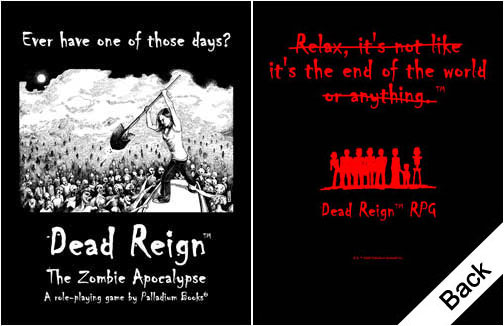 Dead Reign™ T-Shirt
– The Zombie Apocalypse – Available now
The ultimate Zombie Apocalypse T-shirt: The front depicts a woman armed with a shovel standing on the roof of her car as a massive horde of zombies swarm around her. The front of the shirt reads: "Ever have one of those days?" Below the art is the Dead Reign™ logo and the words "The Zombie Apocalypse." Printed white on a black T-shirt. Art by Amy Ashbaugh.
The back of the shirt is red on black and says, "Relax, it's not like it's the end of the world or anything." - but most of that statement has lines crossing it out, leaving only the words "it's the end of the world." Under it is a Nick Bradshaw zombie silhouette and a small version of the Dead Reign™ logo. Funny, poignant, awesome!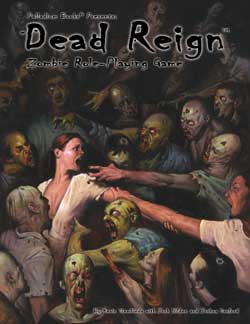 Dead Reign™ RPG – Available Now
With zombies and horror all the rage in film and books, this RPG captures all the best aspects of the zombie genre. The setting is as much about survival in a post-apocalyptic world as it is about battling legions of walking dead. If tales of human survival, horror and zombies are of interest, you will love this fast paced game and its sourcebooks.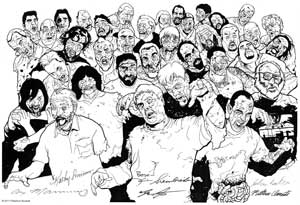 NEW! Endless Dead™ Zombie Print
– Available now
A zombie horde stumbles toward you, but these aren't ordinary zombies, they are the Palladium staff and freelancers! That's right, this horrifying mash of zombies includes Kevin, Wayne, Alex, Kathy, Julius and Matthew, as well as Kevin Long, Ramon Perez, Freddie Williams, Mike Mumah (the artist), Mark Dudley, Chuck Walton, Nick Bradshaw, Carl Gleba, Jason Richards, Brandon Aten, Greg Diaczyk and many, many others (36 monstrous faces total). Available in two sizes, both signed by the Palladium staff.
PDF downloads from DriveThruRPG.com
This is a great resource for getting out of print Palladium titles and other select books. We've made 90 titles available as PDF digital downloads from DriveThruRPG.com. This is a great way to try Palladium products and get access to out of print RPG source material. Some notable titles include:
© Copyright 2011 Palladium Books Inc. All rights reserved.
Rifts®, The Rifter®, RECON®, Splicers®, Palladium Books®, The Palladium Fantasy Role-Playing Game®, Phase World®, Nightbane®, Megaverse®, The Mechanoids®, The Mechanoid Invasion®, Coalition Wars® and After the Bomb® are Registered Trademarks of Palladium Books Inc. Beyond the Supernatural™, Chaos Earth, Coalition States, Dead Reign, Heroes Unlimited, Ninjas & Superspies, Minion War, Mysteries of Magic, SAMAS, Thundercloud Galaxy, Three Galaxies, Vampire Kingdoms, Warpath, and other published book titles, names, slogans and likenesses are trademarks of Palladium Books Inc., and Kevin Siembieda.
Robotech® and Robotech® The Shadow Chronicles® are Registered Trademarks of Harmony Gold USA, Inc.
This press release may be reprinted, reposted, linked and shared for the sole purpose of advertising, promotion and sales solicitation.