Rifts® Path of the Storm Shipping Now!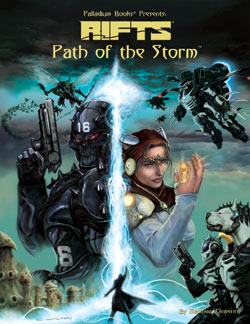 Rifts® Path of the Storm™ is shipping now!
A complete movie screenplay, with dialog.
A story that captures the feel and attitude of Rifts®.
Character stats for inclusion in your own games.
Three new demons and other villains.
Use the story and ideas in your own Rifts® campaign.
Some concept art and character illustrations.
A fun read and insight behind the scenes at Palladium.
Cover and interior artwork by Charles Walton.
Written by Matthew Clements. Additional notes by Kevin Siembieda.
96 pages – Cat. No. 305.