Robotech® New Generation Shipping Now!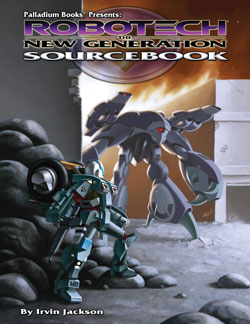 Robotech® The New Generation™ Sourcebook is shipping now!
7 new O.C.C.s – including the Invid Genetics and Cyborg Experiments, plus Invid Prince and Princess.
New weapons, vehicles and mecha.
A setting where Battloids, Veritechs, power armor, technology and O.C.C.s from ALL eras of Robotech® come together.
"Frankenmecha" – kit-bashed mecha creations that combine the parts, weapons and limbs of different mecha.
Stats for notable New Generation characters like Rand and Rook.
Invid Hives, world overview and adventure ideas galore.
An 8½ x 11 inch sourcebook (

not

manga size).
96 pages – Cat. No. 554.