Rifts® Vampire Kingdoms Now Shipping!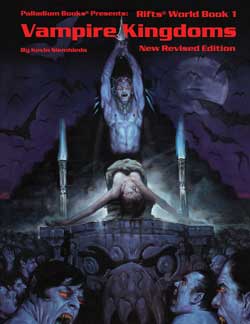 Rifts® Vampire Kingdoms arrived a week early, and is shipping now!
Two Vampire Hunter O.C.C.s, all new.
Vampire minions, henchmen and protectors, all new.
The new Hero Vampire and Deluded Vampire R.C.C.s as player characters.
Who can be turned into vampires and who cannot.
Chupacabras and other monsters and riding animals.
Town creation tables and rules. All new.
Updated and revised to 109 P.A.
224 pages – Cat. No. 802-E.