Palladium Books® Weekly Update – Nov. 16, 2018
By Kevin Siembieda
One game system – every genre – countless worlds – endless adventure
It has been a crazy yet productive week despite computer issues and other goings-on. Lost a day of writing and I was hot as hell ... still am, thank goodness! The Rifts® Bestiary is freakin' epic and moving forward nicely. I'm really in the zone and kicking out some great new monsters and filling out the existing ones. Having a blast with it. Chuck Walton has been rocking with the art too. You can catch a preview of a few of the "beasts" in the Bestiary in The Rifter® #82 (at the printer) and in the FREE Sneak Preview of The Rifter® #82 available on DriveThruRPG.com right now. I love The Rifter® #82 for a lot of reasons and think you will too.
Christmas is coming up fast, so keep those Christmas Surprise Package orders coming in. Actually, these Grab Bags are great for any type of gift, not just the holidays. I have been loading them up and filling them full of holiday joy. FYI: One of the good things about ordering early is that I can give them more love and attention, like doing more dragon head sketches in books and as art requests, taking more time to make them awesome. The two weeks before Christmas, we are slammed with orders and I just cannot give them all the close and personal attention I can now due to the sheer volume and the tight Christmas deadline. Gotta work fast those two weeks before the holiday.
Available early! I just got back from the printer and the three fan favorite, out of print titles that we are making available just for the holidays – Systems Failure™ RPG (fun), Boxed Nightmares™ for BTS, 1st Edition rules (cool adventures easily adapted to BTS, 2nd Ed.), and Nightbane® Shadows of Light™ sourcebook – are available NOW. They start shipping today (Friday, November 16, 2018). This is a limited print run made available just for the holidays, but we expect to print enough to make it through the holiday season and into January. Systems Failure™ RPG is also now available as a PDF on DriveThruRPG – Nightbane® Dark Designs™ is the new PDF for the week, along with a free Sneak Preview of The Rifter® #82.
Of course, the week was a bit of a bummer for many of us with the announcement that comic book legend, Stan Lee, passed away at age 95. I actually had the privilege of meeting Stan, in passing, a few times over the years. The man lived a long and positive creative life. And his legacy continues to live on and will inspire us for decades to come. That's all any of us storytellers and world builders can ask for. I talk more about Stan Lee and his impact on me in my Closing Thoughts, below.
AVAILABLE NOW – Just for the Holidays – Back in stock for the first time in decades!
Just for the holidays, Palladium is doing a limited short-run of three out-of-print titles that have been out of print for years. Two of them have been out of print for decades! We are printing enough that they should be available now thru December, and probably into January – available only while supplies last – so order 'em while you can. All are available in Palladium's online store and will be considered as requests in Christmas Surprise Packages while supplies last. We expect to print enough to get us through the holiday season. Enjoy. Ho, ho, ho.
Only 5 Weeks till Christmas – Order your Palladium Christmas Surprise Package NOW!
Can you believe it? It's that time again for the Palladium Christmas Surprise Package offer. Palladium Books® has been doing Christmas Surprise Packages, or "Grab Bags," for 20 years! And what a great tradition it has become.
It enables you to get several RPG titles ($90-$100 worth) for ONLY $46 (plus shipping and handling) as gifts for others or for yourself. It is our way of saying thank you to our many fans for being so kind and patient, and for your years of support. You are appreciated more than you may realize.
Christmas Surprise Packages are not just for Christmas. Whether you celebrate Christmas, Hanukkah, Kwanzaa, or the Winter Solstice, or you're looking for that special gift for a birthday, anniversary, graduation, or any special occasion that falls between now and February, a Surprise Package may be the ideal way to go. You get a ton of stuff on the cheap, you can get a bunch of autographs (if you want 'em), and you look like you spent a fortune.
This is also a great way to try that game setting you've wondered about (Splicers®, Dead Reign®, Chaos Earth®, Palladium Fantasy®, Nightbane®, Mechanoid Invasion®, Rifts®, After the Bomb®, etc.), or to get something for your favorite Game Master. Or perhaps, to get your player group to consider a new game or setting.
Your "Wish List" is vital – The Palladium Surprise Packages are designed to simulate the joy and surprise of the Christmas Season of Giving. To do this, you submit a list of 12-15 Palladium products (or more) FOR EACH Surprise Package you order. This list of 12-15 items for EACH Grab Bag is critical, because you will not know which items we will select to send you. That makes it just like a Christmas gift because it's a surprise. Plus, Santa Kevin, who personally hand-picks every item for every Grab Bag, may toss in something extra like a limited edition print, or color maps, or T-shirt, or issue of The Rifter®, or something else he thinks you'll enjoy.
Autographed books. For those of you who want them (which are most people), available members of the Palladium staff, and any freelancers we can lasso at the time, are happy to autograph each and every book in your Surprise Package. This is the only way many fans, especially those in other countries, can EVER get signed books.
Send us your brief comments. There is a special form and format to fill out for Christmas Surprise Packages, including a place where you can offer your brief comments, suggestions, greetings and salutations.
It only costs $46 plus shipping to get $90-$100+ worth of Palladium products! First-timers are always nervous until they see the great value in their first Surprise Package. A typical Grab Bag has $90-$100 worth of product, sometimes more! Yes, sometimes more. Many people order 2-3. Some order 4-6, and some maniacs order even more! It makes sense, because it is a great way to fill holes in your own collection, treat yourself, get autographs, try new games and settings, and get your gaming pals gifts. PLEASE spread the word about this great offer.
To those of you outside the USA, the X-Mas Surprise Package is a way to get books and circumvent the damn high cost of shipping from the United States. Since you are getting $90-$100 worth of product and only paying $46 plus a small handling charge, shipping via Priority Mail International (required for packages weighing more than four pounds) to most locations in Europe, Canada and many other countries is around $50-$60 US dollars. HOWEVER, because the cost of the product is so low, that's the equivalent of paying retail for the products and only $0-$30 for shipping. A very good deal. Plus you get autographs if you want them! X-Mas Surprise Packages are the way to go for those of you outside the USA. Please take advantage of it to get all those products you've wished you could get except the shipping was too prohibitive. We feel your pain. Game on!
IMPORTANT NOTE: The X-Mas Surprise Package is a Grab Bag. As such, while we always try to send you items from your Wish List, you may NOT get everything you ask for and you are likely to get one or more items NOT on your list, like The Rifter®, or other item(s) we think you should enjoy. PLEASE give us a long Wish List and fill out other questions (favorite Palladium games, would like to try X, and so on) because it helps us to make your Surprise Package special. If you need or want specific items, do NOT use the Surprise Package; place a regular order at full retail to guarantee you get the books you want. Offer ends December 24, 2018.
Please tell everyone about the Christmas Surprise Packages. We want to put smiles on the faces of gamers around the world.
UPDATE: The Rifter® #82 – ships November 26 (maybe sooner)
The Rifter® #82 is at the printer. I approved the proof last week and it is in the queue for printing. As soon as we have an exact date, we will update you. We're guessing around November 26, but it might be a bit sooner. We'll let you know. You can see a FREE Sneak Preview of it on DriveThruRPG right now.
The Rifter® #82 is epic. Most of it is "official" source material and fun as can be: the reprinted Wujcik gaming advice, the Pyromancer O.C.C., the 50+ Pyromancy spells, the HU2 and Nightbane material, the preview monsters from Rifts® Bestiary, it's all top-notch and fodder for adventure. Numerous people who have seen the proofreader's copy have said the Erick Wujcik Remembrance is wonderful. Some said part of it brought tears to their eyes, while other parts made them chuckle and smile. All of it is a celebration of life and imagination. So I highly recommend The Rifter® #82 to everyone. The preview is up and available on DriveThruRPG.
The Rifter® #82 contains official source material for the Rifts® Bestiary™ Volume One (a sneak preview of just a few old and new monsters and animals), official source material for Rifts® Chaos Earth® (Pyromancer, 50+ Pyromancer spells, the Zone Twister, notable characters, and adventure ideas), official source material for Nightbane® (age modifiers and tables for selecting skills based on a Nightbane's age, and more), an expanded revisit of the Physical Training character for Heroes Unlimited™, gaming advice from Erick Wujcik, a historically significant, fun and touching Remembrance of Erick Wujcik, 10 years after his death, some cool photos too, plus news and more.
UPDATE! Garden of the Gods™ (Fantasy)
I took a peek at the material that writer Matthew Clements submitted and it looks sweeeet. Exactly what I was hoping for. I can hardly wait to finish this book. Thinking of releasing a Raw Preview edition in time for Christmas. Garden of the Gods™ will be an early 2019 winter release.
An ancient ruin partially buried and covered in centuries of vegetation has been unearthed to reveal the Garden of the Gods. A place of meditation and wonder. Others say it is a place of magic and mystery. And some say it is also a place for miracles and divine inspiration. Many an adventurer finds his path or a great quest after visiting the Garden of the Gods. But there is also said to be a place of darkness on the Island Kingdom of Lopan. A place that may be linked to the Old Ones and serves as a Portal to the Land of the Damned!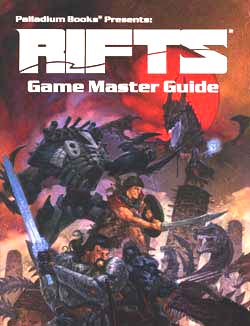 BACK IN STOCK – Rifts® Game Master Guide™ – Available now
I always forget how jam-packed with valuable reference stats and comprehensive info the Rifts® Game Master Guide™ really is, with every Rifts® robot, power armor, body armor, vehicle, weapon, gadget, skill, experience table, and map that has appeared in Rifts® World Books 1-23 and Sourcebooks 1-4, plus a bionics index, an O.C.C. and R.C.C. index, rules clarifications, combat examples, advice on how to run a game and more.
Other core Rifts® titles: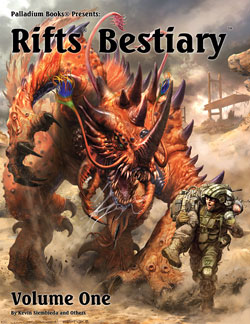 UPDATE: Rifts® Bestiary, Volume One – Ships December
I'm sorry this book is taking longer than we had hoped, but we want to make Rifts® Bestiary, Volume One truly inspiring with cool monstrous pets, riding animals and alien familiars for players to use and monsters and dangers that inspire Game Masters to build better adventures. We have been working like crazy on this book, and it is coming along great, but it is taking time to get everything just the way we know you want it.
Wayne and Alex are busy editing, Chuck is drawing the beasts, Nick Bradshaw is doing art for a few last minute new monsters, and I have been writing and updating as fast as I can. The new monsters are awesome and some of the updates will make familiar and forgotten creatures feel new again. I'm behind where I wanted to be on this book, but it and Volume Two are going to be something special.
We are all excited by how much new material has been added to the Rifts® Bestiary, Volume One (and Two). Every single creature has extra information and updates, but many are much more expanded and detailed than I had originally imagined I would make them. It has been fun to revisit and expand upon these monsters and animals. These comprehensive rewrites only serve to make two better and more useful books for gamers. And the new beasts? I'm loving them and so will the fans. We know the customer will enjoy and get a lot of use out of these tomes.
The two upcoming Rifts® Bestiary books are great resources for players and G.M.s alike, with creatures that can be used as familiars, pets, riding animals, guard animals, and in some cases, even unlikely allies. Others are slobbering monsters or malicious predators who include humans and D-Bees among their prey. All giving you plenty of spice to add to your characters and adventures. And each comes with a map that shows at a glance exactly where to find these beasts. The Rifts® Bestiary, Volume One ships early December. Volume Two end of December.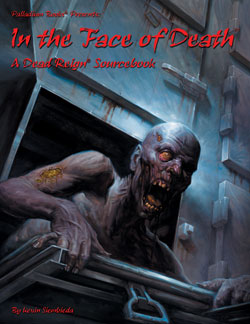 UPDATE: In the Face of Death™ for Dead Reign®
I spoke to Nick Bradshaw about the art and some ideas and expect to plunge into finishing In the Face of Death™ as soon as the Bestiary books are done. Cannot wait.
UPDATE: Rifts® Antarctica
Artist John Zeleznik is painting away while author Matthew Clements is making changes and improvements to the manuscript to ensure that Rifts® Antarctica is a truly compelling and exotic land you'll want to explore.
UPDATE: Chaos Earth® Psychic Scream™
I approved the Psychic Scream final cover art, the artist Anthony Moravian has transferred it to masonite and should be painting away. Another book I'm dying to get into your hands as soon as possible.
UPDATE: The Rifter® #83 and #84
As previously mentioned, we are already thinking about and reviewing material for these two issues. The Rifter® #83 should have a Heroes Unlimited™ theme cover by Anthony Moravian, and The Rifter® #84 will have a Rifts® cover by John Zeleznik.
2 New Items on DriveThruRPG.com – Nightbane® Dark Designs™ sourcebook AND The Rifter® #82 FREE Sneak Preview
New: The Nightbane® Dark Designs™ sourcebook contains 60 new Common Talents, 38 new Elite Talents, 18 new Morphus Tables, all other Morphus Tables collected into this one book, the Ancient Nightbane and more. The Rifter® #82 FREE Sneak Preview gives you a look at the Pyromancers and Pyromancy magic, some Rifts® Bestiary monsters, HU heroes, bad guys, Nightbane®, and Erick Wujcik remembered.
Recent PDF additions include Systems Failure™, a 160 page RPG that deals with alien invasion and a post-apocalypse setting that is fun and dynamic. Civilization is on the verge of collapse when the so-called "bugs" invade and turn humans into zombie-like slaves. Monsters, heroes and fun. A complete RPG and setting. Rifts® World Book 34: Northern Gun™ Two: 256 pages of technology and fun. 30+ power armors, 30+ body armors, 15 combat vehicles, 45 vehicles (hovercycles, etc.), 10 robot haulers, the Robodome and more. Bizantium and the Northern Islands™: the northernmost part of the Known World, the Cold Born, Necromancy ships made from dead sea serpents, 15 creatures, Random Sea Monster Generator, and more. Rifts® Northern Gun™ One. This fan favorite might be thought of as the big book of giant robots – an in-depth look at Northern Gun, 70+ weapons, 27 robots, NG O.C.C.s, key people and places, and much more. Mysteries of Magic™ Book One: The Heart of Magic™ with Wizards, their Apprentices, nearly 60 new magic spells and remember, magic and monsters in the Fantasy RPG are easily adapted to Rifts®, Chaos Earth®, HU2 and other settings. Wolfen Empire™ Fantasy sourcebook, the Great Northern Wilderness and Killer Winters, 12 Wolfen Tribes, Wolfen military and society, 15+ creatures, 5 full adventures, 101 adventure ideas, random encounter tables, notable people, places, plus FREE Sneak Previews of The Rifter® #80 & The Rifter® #81, and more on DriveThruRPG.com.
Charles Walton II Artwork, Toys and Collectibles "on sale" now in Kevin's Online Toy & Collectibles eBay Store along with other good things
For the first time ever, Charles "Chuck" Walton has decided to offer a dozen or two dozen pieces of original artwork via my online store. All money goes to the artist. Includes original art from Rifts® Sovietski, Secrets of the Atlanteans, Rifts® Chaos Earth® Resurrection and others. This is a fun and unique opportunity to get some of Chuck's art other than having to attend one of the few conventions where Chuck is a guest. He sold a good number at Gen Con and was wondering how he might make his art more available to people. I suggested trying my online store. Most prices range from $50-150, with a few more expensive pieces. Artwork make a great gift for the hard to surprise gamer. Enjoy. Chuck says thanks.
Other one-of-a-kind original artwork available by me (Kevin Siembieda), Kevin Long, Mark Evans (money goes to the artist), as well as prints, limited edition hardcovers, proofreader copies, out of print items, Star Wars toys, Marvel toys and many other toys and collectibles from my personal collection. Alex and I will keep adding items as our busy schedules allow, but we have a lot of fun collectibles available now and coming soon. Hundreds of items. Take a look every weekend for new additions.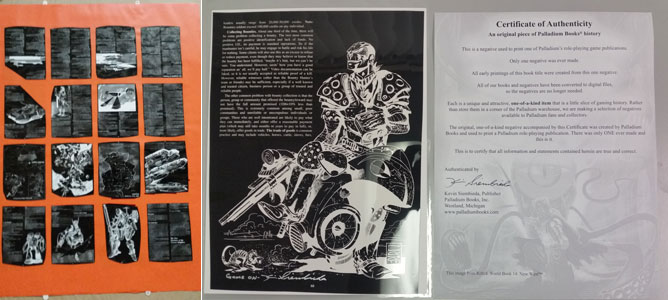 Available now: One-of-a-kind book negatives. Negatives were very popular items at the Palladium Open House and people went crazy over them at Gen Con – including actor Joe Manganiello who scooped up a pile of TMNT negatives, while Palladium's own Mark Oberle, Carmen Bellaire, Brandon Aten and a whole lot of Palladium gamers went for negatives from Rifts® New West, Lone Star and Free Quebec. Fun.
Negatives are unique and attractive, one-of-a-kind (on rare occasions two-of-a-kind if a page was replaced or a second edition was made) works of art that resemble woodcut art and are very dynamic conversation pieces. Before digital printing, pages of a book were laid out by hand on a board, and each page was photographed. The plastic film negatives were then "ganged" on a massive sheet of Mylar 16 pages per big sheet, and the printing plates were made from the negatives – everything white, printing black.
When our printer, McNaughton and Gunn, went completely digital, they asked if Palladium Books wanted the negs, otherwise they would be destroyed. Regrettably, I let a few dozen be destroyed, but the negatives of many books were sent to Palladium. They have sat in our warehouse for years until I started to offer them for sale. I have also started signing the negatives in silver and each comes with a Certificate of Authenticity. Each negative comes on a white board inside a plastic magazine bag and looks fabulous framed! Fits in an 8x10 inch matt opening in a frame (each neg is roughly 8½ x 11 inches).
http://stores.ebay.com/kevinstoys-artandcollectibles
Closing Thoughts
All creators, whether they be writers, artists, musicians, filmmakers, etc., have been influenced and inspired by somebody. Probably several somebodies. Comic book writer and visionary, Stan Lee, had a most profound impact on me starting at age 9.
My mother instilled a great love of books and artwork in me. As early as I can remember, I was surrounded by books with pictures and later, books with just words. Words that would create not only pictures in my head, but entire worlds filled with adventure and knowledge. So I guess it was no wonder that I fell in love with a medium that combines words with pictures: comic books.
I had enjoyed DC, Harvey, Dell, Gold Key and Classic comic books for a number of years. While I enjoyed these comic books, most of the stories were simplistic, funny, and often downright corny and goofy. And I hated imaginary stories most of all. I doubt I consciously realized it, but I craved something more. Then one day a classmate in grade school (Johnny Leish?) slipped me a couple of copies of Fantastic Four to read at lunchtime. They were issues #39 and #40. My imagination was immediately seized by the evocative, dark, moody Jack Kirby cover and the words of the cover blurb. Both were instantly and permanently burned into my brain. The blurb read: A Blind Man Shall Lead Them!
What? Wow! Sure enough, there was a cast of characters (the F.F.) and a guy clad in a red suit (Daredevil) leading them as he used a stick/cane the way a blind man would. Behind them, a cityscape with this menacing guy in grey armor and a green hood looming over them (Doctor Doom). The heroes seemed powerless and vulnerable and inside a spotlight. Jack Kirby knocked that cover out of the park and Stan Lee's teaser had me hooked at a glance. I could hardly wait to open the book to see what came next. And Stan and Jack delivered. This was the last two parts of a larger story arc and thank goodness my classmate had both issues. I don't know if 9 year-old Kevin could have survived if he had to track down issue 40 to learn what happened next!
My mind was blown. My life forever changed. The ideas and characters and the writing, the drama, the humor, the realism. It all expanded my world view of what comic books could be. Should be. Would become. Of course, I became a Marvel maniac, tracking down everything Marvel. The Fantastic Four, the Avengers, X-Men, Tales to Astonish, Tales of Suspense, my ultimate favorite, Spider-Man, and all the rest. If it was Marvel, I tried it. And there were a couple of coin and book exchanges that sold back issues of comic books! I wanted them all, of course. Oh the agony of poverty when I had to pick and choose which of those 10 cent gems my Mom and Dad could afford to buy for me for my birthday and Christmas or where my tiny allowance would go.
That Christmas, after devouring a stack of comics I had gotten as gifts, I waltzed out of my bedroom to proudly announce to my parents and other family members, that when I grew up, I was going to be a comic book artist and writer. I dedicated the next 15 years to that dream, self-published an alternative comic book with my best friend Alex Marciniszyn in the mid-1970s before most people ever heard of the term "alternative" or "independent" comic book, did some freelance inking and color work for Noble Comics (another independent comic publisher), and did some ghost-work penciling and inking on a few issues of Marvel's The Defenders.
My dream of becoming a comic artist and freelance illustrator was on the cusp of coming true when something else caught my imagination, role-playing games. And you know where that has taken me.
It's funny when I think about it now, but when I started Palladium Books, it was only supposed to be temporary, until I broke into comics and went full-time in that business. I drew from many sources of inspiration as I created games and sourcebooks, but comic books, especially those written by my favorite comic book writer of the 1960s and 1970s, Stan Lee, were a gigantic influence on me and how I approached the creative process and world building. And not just the importance of characters and story, pacing and thinking big, the art of making memorable villains, or world building and creating a cohesive universe of heroes, villains and settings, but also how he respected his audience and NEVER wrote down to them. How he and the stable of amazing artists like Jack Kirby, Steve Ditko, Wally Wood, John Romita, Gene Colon, John Buscema, Jim Steranko, and many others always seemed to go for the "Wow Factor." And how they seemed to be having fun while doing it. Changing the standard for the entire industry and trying new ideas as they went along. Stan's work wowed me for decades on a weekly basis. Stan Lee's imagination lit a fire under mine, and helped me to go on to create my own worlds ... my ... our ... Palladium Megaverse®. From day one I envisioned Palladium Books as my Marvel Comics.
I had the honor and pleasure of meeting Stan Lee, in passing, on a few occasions at conventions. We even shared an elevator once. While nobody who knows me today can believe that I was once very shy, I was. In a lot of ways, I still am. But shyness aside, what do you say to the man who fueled your young and burgeoning imagination and made it burn so hot and bright for a lifetime? As a result, I never had very much to say to Stan Lee other than stuff like, "I love your work. You're the greatest. Thank you for years of enjoyment."
Finally, one year, at a convention in Ohio, in the mid-1990s, I told Stan Lee that he inspired me to be a book publisher and writer. And that I had created my own sprawling universe of heroes and villains enjoyed by millions, albeit in a different medium. I was in a long line of people waiting for autographs, so there was no time for a longer or more personal conversation. Stan seemed a bit taken aback by my heartfelt statement. He looked up at me with a surprised expression as if he didn't quite know what to say. He handed me back a few choice comic books he had signed for me, smiled and still looking a bit bewildered said, "I'm glad my work inspired you in such a profound way, young man. Great success to you." We shook hands and I walked away to let the many others in line have their moment with Stan Lee.
I sometimes wish I had a chance to talk with Stan at length about writing, storytelling and the creative process, but in a way, I feel like he had already taught me everything I needed to build upon in my own work. More importantly, he sparked my imagination in a way that enabled me to go on and do the same for many others. I do not say that out of ego or presumptiveness, but rather out of the knowledge that I have. I am endlessly amazed by the number of people in gaming, in video games, in film, in art, and other creative mediums who tell me how my work and my words have inspired them to follow their own dreams. I don't think there is a greater gift that anyone can give to another person. It is humbling and heartwarming. It makes me tear up with joy even as I write this. So I guess I understand how Stan Lee must have felt that day.
Of course, Stan Lee is not the only person to inspire and shape me or my work. My dear Mother and Father, Alex, Erick, and so many others have inspired and shaped me in friendship and working together, while countless other authors, playwrights, filmmakers, artists and thinkers have inspired me through their work and ideas. As I have often stated, I include you, our fans, among my sources of inspiration. You are always on my mind, challenging me to do more, to do better, to think outside the box, push the envelope and to unleash my imagination in new ways, all of which I absolutely love to do. But Stan Lee and his brilliant, playful work, played a bigger role than most. His work continues to fuel and inspire me to this day. Thank you, Stan. For everything.
That's it for me in this Update. I have monsters and books to finish writing. Keep those imaginations burning bright and please dare to follow your dreams wherever they may carry you. It is so worthwhile. I'll do the same. Excelsior! That one's for Stan.
– Kevin Siembieda, Game Designer & Publisher
Surprise Package comments from fans like you
Every year there is a section where the customer can offer comments and suggestions with his or her Surprise Package order. Every year, in acknowledgment of our fans, and because they are fun to read, we offer a sampling in the Weekly Updates. Our heartfelt thanks to all of you who have stuck with Palladium through thick and thin. Keep those imaginations burning bright, have a joyous holiday season, and game on.
You have no idea how much your comments and support mean to all of us. Everyone at Palladium enjoys reading your brief comments. They always brighten our day. Thank you. I have tried to write a short response [in brackets] to each.
D.H. in Central City, Nebraska, writes: Thanks again fo the Grab Bag. My people love it!
[Happy to hear that, D.H., game on! – KS]
J.W. in Mena, Arkansas, writes: Thank you for doing these Christmas boxes. The one I got my husband last year was a huge hit, even if he did use it to put my dragon through Hell.
[Glad last year's Surprise Package was a hit with the husband, J.W., I think this one will be too. Sorry it put your dragon through some challenging times, but thanks for making me laugh with that comment. Merry Christmas and Happy New Year! Is it too soon to say that? – KS]
C.P. in Chicago, Illinois, writes: Thanks for offering the X-Mas Surprise Package again this year. I always look forward to this deal and appreciate that you are so good to your fans. It's part of what keeps me so loyal to Palladium Books.
[Thank you for the kind words, C.P. Palladium fans are the greatest in the world, and we try our best to show our appreciation whenever we can. We don't always succeed, but we sure try our darnedest. Thanks for your support. – KS]
C.P. in Chipley, Florida, writes: I have enjoyed Rifts®, Chaos Earth®, Phase World® and Dead Reign®. Our next project is to try and run a Nightbane® adventure. I have enjoyed the Rifts® universe. It has been lots of fun. Great job. Keep up the good work.
[Delighted that you and your crew enjoy our game worlds so much, C.P. We have not been producing as much as we'd like to for a few years now, but that should be changing big time. Got a lot of great books in the pipeline to keep you imagination stoked for a long time. – KS]
J.B. in Vancouver, Washington, writes: I am really enjoying the Surprise Package I received a week or so ago, so I'm back for more!
[Come back as often as you'd like, J.B. – KS]
C.H.K. in Casselberry, Florida, writes, in part: ... I hope all of you have a terrific and safe holiday season with great memories ... and thanks you so much again for the goodies you gave me last time ... love it! You are terrific!
[Aw, shucks C.H.K., happy to do it. I try to make every Surprise Package as special as I can. I hope you enjoy this latest one just as much. You had asked about music that I like to listen to or inspires me. I often listen to music while I write. Mostly movie scores and television soundtracks, because I love movies and I cannot write to music with words. Some of my favorite composers (in no particular order) are John Williams, Jerry Goldsmith, James Horner, James Newton Howard, Hans Zimmer, Danny Elfman, Brian Tyler (been really enjoying his music in recent years), Alan Silvestri, Tyler Bates, Michael Giacchino (love all of his Mission Impossible scores and lots of other stuff), Ramin Djawdi (I think his music for Game of Thrones Season 5 and 6 are my faves, and I'm digging Westworld Season One,), and recently been getting into Blake Neely's TV scores for Arrow, Flash and Legends of Tomorrow, among many, many others, including the late, great Elmer Bernstein (Great Escape, Magnificent 7, etc.), Ennio Morricone (The good, the Bad & the Ugly, Once Upon a Time in the West), and John Barry (a dozen James Bond movies, Zulu, etc.). C.H.K., may you also enjoy a memorable and joyous holiday season. – KS]
C.G. in Lombard, Illinois, writes: Just trying to complete my library. Thanx.
[You are very welcome, C.G. – KS]
B.W. in Belmont, New Hampshire, writes, in part: Rifts® is the only game I had the chance to play. I love playing characters from the Coalition. I have recently started getting back into the gaming world ... so this [the Surprise Package] is a great program and for someone like myself who is rebuilding a collection, it's a great step forward. I want to thank you for what you guys are doing for gamers.
[Thanks for the kind words, B.W., glad the Surprise Package offer is helping you build your collection and to expand into other parts of the Megaverse. Game on and happy holidays. – KS]
The Rifter® #82 – Ships November 26 (maybe sooner)
The Rifter® #82 is all about discovery and unleashing the power inside of you. That's true whether you are playing a Chaos Earth® Pyromancer™ learning to survive and save lives after the Great Cataclysm; or a newly awakened Nightbane® seeking his or her purpose in a dark world of conspiracy and demons; or a Heroes Unlimited™ vigilante trained to the height of physical perfection in a war against evil; or an RPG gamer like you and me, unleashing our imaginations to create wonderful new characters and epic adventures. This issue of The Rifter® also lovingly celebrates a master of unleashed imagination and big thinking, Erick Wujcik, ten years after his untimely passing. Bits of Palladium history and heartfelt sentiments revealed along the way. Enjoy.
Rifter® #82 Highlights:
Systems Failure™ RPG
– Back in Stock – just for the Holidays
When the cities fell, and the world went "off-line," all seemed lost. Anarchy reigned.
On an alternate Earth, all that is left are the Survivalists, Nature-Lovers, Farmers, Gun Bunnies, Eggheads and backwoods wackos living on the fringe. Either people found in remote regions or those who were prepared for the Y2K Bug and the collapse of civilization.
Oh, and there are "bugs" alright. Alien, bug-like things that feed on energy and turn humans into zombie-like slaves. Things are worse than anyone could have imagined, even for those who were prepared. But these survivors are not ready to give up. America (and then the world) will be free! And they mean business. Play the unlikely heroes fighting to save the world in a post-holocaust environment.
This is an action-packed, post-holocaust role-playing game that can be played straight and serious, or with a touch of satire and humor. Back in 1999, this RPG was inspired by fears of the Y2K Bug and possible end of the world as we knew it. So THIS game is an alternate Earth where Y2K was a real event and worse than anyone could imagine. Enjoy the wild characters and setting, and destroy some Bugs!
Boxed Nightmares™ – Adventure Sourcebook for Beyond the Supernatural™
– Back in Stock – just for the Holidays
Boxed Nightmares™ is exactly what the title suggests, ordinary people coming face to face with supernatural nightmares. The adventures are designed to give players and Game Masters a better idea of the variety and scope of adventures one can explore in the world of modern horror. Some adventures are short, others long. Some are monster stomping action, while others require investigation, cunning, and the uncovering of clues.
The newspaper portion is in the back of the book. It is one of those sensational, check-out counter tabloids that boasts headlines like Woman marries Big Foot, or Elvis's clone living in Tampa. However, this tabloid is tied to the adventure portion of the sourcebook in several different ways. First, it contains clues and information for the actual adventures inside the sourcebook. Second, the publishers of the paper often hire psychics and parapsychologists to investigate strange phenomena, so your characters could be working for the tabloid company. And third, it may give you ideas for additional adventures.
Shadows of Light™ – A Nightbane® Sourcebook
– Back in Stock – just for the Holidays
The forces of Light and Darkness clash as never before in the modern setting of the Nightbane® RPG.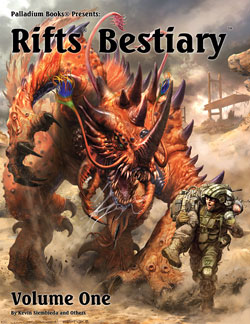 New! Rifts® Bestiary™: North America, Vol. One
A series of books that collects all the notable monsters, dinosaurs and creepy crawlers and creatures of Rifts® North America (US, Canada and Mexico) into two juicy volumes with a number of new creatures. Each volume includes maps and new creatures, large and small, to help or plague player characters. Between them, these two volumes compile all the beasts of Rifts North America (unintelligent monsters, predators, notable animals and intelligent beings that are monstrous or animal-like in appearance or behavior) from all current World Books and Sourcebooks. In addition, Kevin Siembieda, Chuck Walton and Greg Diaczyk are adding some new monsters to make life in the wilderness interesting. Presented in alphabetical order, with maps showing their range and location, in two big books.
Winter releases, both volumes are being worked on simultaneously, right now, so that Volume Two will quickly follow Volume One within 4-6 weeks. Other volumes, like a Bestiary of Spirits and the Supernatural, are likely to follow.
Future volumes will include spirits, ghosts and entities, another on dragons, other volumes on creatures in other parts of Rifts Earth, and so on.
NEW! Rifts® Bestiary Volume Two – ships December
More of notorious Rifts® monsters and animals, old and new, everything updated and expanded.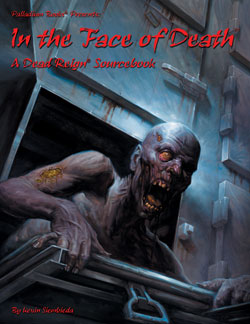 COMING: In the Face of Death™ – A Dead Reign® Sourcebook
"People will tell you no one can survive in the big cities. They are wrong." – Brad Ashley, Leader of the Road Reapers in the Zombie Apocalypse.
This sourcebook is all about inner city survival. Survivor colonies finding a way to live and prosper in the big city. The conventional wisdom is that living in the big population centers is impossible. These survivors prove otherwise.
UPDATE: Garden of the Gods™ – A Palladium Fantasy® Sourcebook
Matthew Clements is still adding to his considerable contributions to Garden of the Gods before turning it in to Palladium. Matthew has started work on another Fantasy sourcebook and other projects.
The Garden of the Gods is said to be a holy place watched over and even frequented by the avatars of the gods. According to legend, the god may visit heroes and followers in dreams or in person by an avatar of the god, to be given guidance, inspiration, heroic quests, and gifts of knowledge and magic. More details about this title will follow.
Back in Stock – Beyond the Supernatural™ RPG – available now
Beyond the Supernatural™ RPG is supernatural horror in the modern world. A plausible modern horror setting that makes sense and will have you wondering if this stuff could be for real. Play ordinary people, psychics or paranormal investigators.
Back in Stock – Rifts® World Book 18: Mystic Russia™ – available now
Rifts® Mystic Russia™ – setting information, key people and places, demons, monsters, gypsies and magic galore.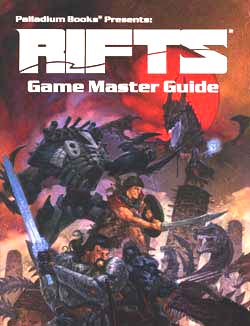 Back in Stock – Rifts® Game Master Guide™ – Available now
The Rifts® Game Master Guide™ is a massive 352 page reference book with short stats and description on every Rifts® robot, power armor, body armor, vehicle, weapon, gadget, skill, experience table, and map that appears in Rifts® World Books 1-23 and Sourcebooks 1-4, plus a bionics index, an O.C.C.s and R.C.C. index, rules clarifications, combat examples, advice on how to run a game and more.
Other core Rifts® titles to remember:
Fun and Notable Podcasts and Sites that feature Palladium Books
If you are doing a Palladium fan-based website, podcasts, YouTube programming, etc., please let us know so we can take a look at what you are doing and so we can give you a shout out. We do not have the staff and resources to do everything we want to do, so we appreciate the fan sites that feature Palladium Books' games and settings and promote the RPG hobby. Awesome. We are happy to support you when we can.
What's Coming (in production or development):
Copyright 2018 Palladium Books Inc. All rights reserved.
Rifts®, The Rifter®, RECON®, Splicers®, Powers Unlimited®, Palladium Books®, The Palladium Fantasy Role-Playing Game®, Phase World®, Nightbane®, Megaverse®, The Mechanoids®, The Mechanoid Invasion®, Coalition Wars®, Chaos Earth®, Dead Reign®, and After the Bomb® are Registered Trademarks of Palladium Books Inc.; Beyond the Supernatural, Coalition States, Heroes Unlimited, Ninjas & Superspies, Minion War, Mysteries of Magic, SAMAS, Thundercloud Galaxy, Three Galaxies, Vampire Kingdoms, and other published book titles, names, slogans and likenesses are trademarks of Palladium Books Inc., and Kevin Siembieda.
This press release may be reprinted, reposted, linked and shared for the sole purpose of advertising, promotion and sales solicitation.