Unexpected Palladium Mini-Update – August 2, 2013
Hi Everyone,
Sorry to pester you with an emailing so soon after the Weekly Update, but here are a couple of Breaking News kinda things.
ALERT! Northern Gun™ One Megaverse Insiders
Please check the list for the correct and complete spelling of your name in Rifts® Northern Gun™ One – you have ONLY until Tuesday, August 6, 2013
This is very important and time sensitive, and yet we have forgotten to include it in the last two Weekly Updates. Sorry, we're just too busy and juggling too many things.
Wayne has posted a list of all our Megaverse Insider crowdfunding backers for Rifts® Northern Gun One. Everyone who participated in that crowdfunding gets their name printed on a special thank you credits page. The last time we did this, we spelled a dozen names wrong and we do NOT want that to happen again.
Please check the list and make sure your name is spelled properly. If it is spelled wrong or incomplete, contact Palladium immediately so it is printed correctly in the book. If it is correct, nothing more needs to be done. You are set to go.
DEADLINE: Tuesday, August 6, 2013.
Click here to see the list of names by category.
---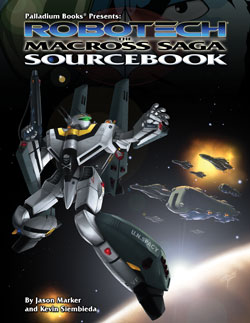 Robotech® The Macross® Saga Sourcebook – Available now!
We also want you to know that the printer surprised us by getting Robotech® Macross® Saga Sourcebook done a week early. The large format book is in our warehouse right now and looks beautiful. Remember, this is Macross in our usual 8½ x 11 inch book format (not the smaller, manga size). (Robotech® The Masters Saga should see similar resizing in a few months.)
BACK IN PRINT: Robotech® Macross® Saga Sourcebook. This sourcebook contains some of the most iconic mecha and famous action of Robotech® starting here with the Macross Saga – the First Robotech War. This is also the setting for Robotech® RPG Tactics™, so if you're looking for more information about the mecha, Earth's defenders, the Zentraedi invaders, and Macross Saga setting, this is the book for you. Epic adventure awaits.
A Robotech® Role-Playing Game Sourcebook:
Transformable Veritech Fighters known as Valkyries take to the sky to defend the Earth.
Destroids, giant walking tanks, are among Earth's front-line defenders.
The SDF-1 and Earth air, ground and space combat vehicles.
Zentraedi mecha, powered armor suits, and select spacecraft.
The Zentraedi warriors, their war machines and culture.
Notable characters from the TV series statted out.
Quick Character Creation Tables enable you to make Macross characters in 15 minutes or less.
New skills and M.O.S. skill bundles.
The Robotech® The Shadow Chronicles® RPG "rule book" is needed to play (Cat. No. 550 or 550HC).
128 pages – $16.95 – Cat. No. 551 – standard 8½ x 11 size – Available now.
Have a great weekend and game on!
Sincerely,
Kevin Siembieda
© Copyright 2013 Palladium Books Inc. All rights reserved.
Rifts®, The Rifter®, RECON®, Splicers®, Palladium Books®, The Palladium Fantasy Role-Playing Game®, Phase World®, Nightbane®, Megaverse®, The Mechanoids®, The Mechanoid Invasion®, Coalition Wars® and After the Bomb® are Registered Trademarks of Palladium Books Inc. Beyond the Supernatural™, Chaos Earth, Coalition States, Dead Reign, Heroes Unlimited, Ninjas & Superspies, Minion War, Mysteries of Magic, SAMAS, Thundercloud Galaxy, Three Galaxies, Vampire Kingdoms, and other published book titles, names, slogans and likenesses are trademarks of Palladium Books Inc., and Kevin Siembieda.
Robotech® and Robotech® The Shadow Chronicles® are Registered Trademarks of Harmony Gold USA, Inc.
This press release may be reprinted, reposted, linked and shared for the sole purpose of advertising, promotion and sales solicitation.