Palladium Books® – Cyber Monday Reminder – November 28, 2011
We hope everyone had a wonderful Thanksgiving weekend. For those of you gearing up for Christmas – which is only 4 weeks away – take a look at this.
The Best Deal of the Holiday Season for Gamers
$38 (plus shipping and handling) gets you at least $80-$90 of Palladium game product, sometimes MORE, in a single Palladium Christmas Surprise Package.
The Christmas Surprise Package is one of the best deals of the holiday season, bar none. For the cost of what most other game companies charge for ONE large supplement, you can get a Palladium Christmas Surprise Package containing 4-5 juicy Palladium game books/products! And if you want autographs, we are happy to sign each and every book. NOBODY in the game industry will do that for you. So order yours TODAY and don't stop with just one. Buy them for friends. Buy them for yourself. Buy them to try a new setting or complete your collection, but take advantage of this great deal.
Best of all, this amazing offer lasts the entire holiday season, from now till December 23, 2011. But don't delay, order today. It can take weeks via Media Mail (the least expensive method of shipping) to get to you and you will want your Surprise Package to arrive BEFORE Christmas.
The Palladium Christmas Surprise Package is our way of saying thank you to our fans and putting smiles on the faces of gamers around the world.
What is a Christmas Surprise Package? $80-$90 (or more!) worth of Palladium Books product for only $38 plus shipping and handling. A minimum of eighty dollars ($80) retail. Sometimes much more! Santa Kevin often packs in $90-$100 worth of goodies.
It's a surprise package because you never know exactly what you're going to get or who will sign your books. We try to include many of the items on your "wish list," but we'll surprise you with stuff you are not expecting. All Surprise Packages are "handpicked" by Kevin Siembieda from YOUR "wish list." All books will be autographed if you want us to sign them. For many of you, this is the only way to get autographs!
Spread the word. Tell all your gaming pals, because the Christmas Surprise Package is only publicized by word of mouth, to readers of The Rifter® and on Palladium's website, so tell everyone you know. Buy one for every gamer you know and have a very Merry Christmas.
Click here to learn more and place your order(s).
MORE BIG Savings! This sale lasts only till next Monday
Kevin Siembieda's BIG SALE at his Online Toy & Collectibles Store. He and Alex have put a dozen new "Palladium" items (books, proofreader copies of books, rare stuff), and a lot more toys and action figures in Kevin's online store. ALL items are from Kevin Siembieda's personal collection and are generally in very good to mint condition. Collectibles are often "rare" or out of print, and even one-of-a-kind items (such as artwork). ALL items have been reduced from the usually low, low prices for these gems. Great holiday presents for someone. Check it out.
http://stores.ebay.com/kevinstoys-artandcollectibles
PDFs of select Palladium RPG titles
Don't forget, DriveThruRPG.com offers 90+ Palladium titles as PDFs including The Rifter® #1-48, first edition rule books for Rifts®, Palladium Fantasy®, Heroes Unlimited™, BTS, and other game lines, as well as books such as Nightbane® Book Four: Shadows of Light™ and both versions of the The Mechanoids® RPG (1985) and The Collected Mechanoid Invasion® Trilogy (1981-1983), plus the new G.M. Support Kit and sneak previews of various books. The sneak peeks for Rifts® Lemuria, Vampires Sourcebook, and Endless Dead™ will be appearing soon.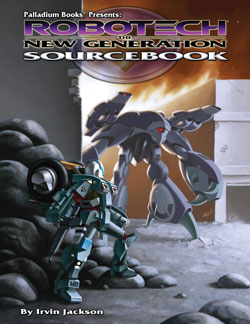 NEW! Robotech® The New Generation™ Sourcebook
Ships this week!!
As soon as Robotech® The New Generation™ hits our warehouse (which should be any day now) we ship it to YOU. That's right, those of you who have pre-ordered a copy of New Generation™ have Top Priority and your pre-order ships the day Palladium receives it from our printer.
This sourcebook is epic in scope and opens up an entirely new range of game play by allowing mecha and O.C.C.s from all eras of Robotech® in one setting.
For the first time ever, Veritech Fighters, Destroids, Battloids, Hover Tanks, Cyclones, and something called "Frankenmecha" – giant mecha amalgamations that combine the limbs, weapons and body parts of two or more mecha. There are also rules for creating Frankenmecha, new weapons and vehicles, seven new resistance fighter character classes, Invid Hives, key characters from the TV show, world overview and more. 8½ x 11 book format (not manga size), 96 pages.
The battle for the liberation of Earth starts here. For the first time in its history, the Earth has been invaded and occupied by alien invaders – the Invid. The Invid think they have won, but Freedom Fighters, UEEF soldiers and other heroes continue to fight until they win.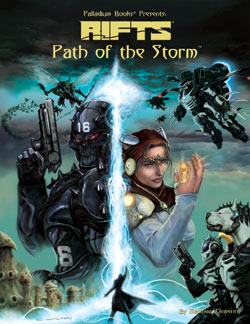 NEW! Rifts® Path of the Storm™
– One writer's vision for the Rifts® movie – at the printer
– Ships Next Week – December 5 – or sooner
We're hoping this unique and fun title arrives early (Friday). Even if it doesn't, it ships next Monday.
Everyone wants to know what's going on with the Rifts® movie. Well, this book presents an insight and behind the scenes info on that front by Kevin Siembieda, plus an entire screenplay written on speculation by Matthew Clements as well as game stats and artwork for major characters in the script. Kevin was so impressed with the writer's screenplay that he had Matthew make changes and improvements and sent the second draft to Jerry Bruckheimer Films for their consideration. Meanwhile, Matthew and Kevin hit it off and the next thing he knew he became Palladium's new staff writer.
We thought it would be fun to let Rifts® gamers and Palladium fans see the type of Rifts® movie we at Palladium Books would like to see made. So we are presenting Matthew's screenplay as a proposed Rifts® movie script and Rifts® sourcebook. The screenplay is a fast, fun adventure story that is sure to please Rifts fans. To make it more fun, the author has statted out the key characters in the script and gamers can use the heroes, villains and story ideas in their own campaign should they choose to do so.
This is a unique product and a fun read that should appeal to all Palladium fans. After all, it lets the reader step behind the veil and see what goes on behind the scenes.
Also coming in by the end of December . . .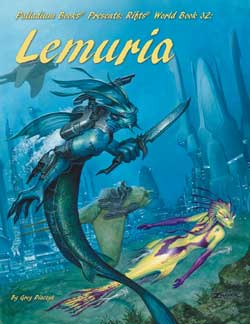 NEW! Rifts® World Book: Lemuria™
Ships December
The power, secrets and magic of the underwater realm of Lemuria revealed. Player characters can use symbiotes, magic and technology to breathe underwater and spend time below the waves.
Lemuria is more than an underwater civilization of aquatic beings. They can trace their lineage as far back as the Atlanteans and can survive on dry land as well as underwater. In fact, their greatest secret is that there is no one resting place for the Lemurians, their great cities are always moving. Learn about the people of Lemuria, new Biomancy magic and weapons, Biomancy engineered riding animals, sea herbs, new powers of healing, sea monsters, and more. Epic adventure awaits.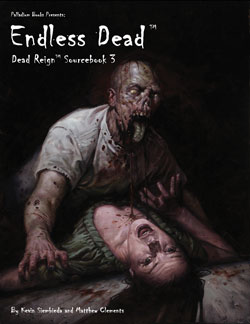 NEW! Dead Reign™ Sourcebook 3: Endless Dead™
Ships December
As time goes on, the zombie hordes only grow in number and strangeness. This book contains horrifying new zombies to haunt your player characters along with new O.C.C.s and tons of tables for detailing Survivors' Hideouts, Safe Haven Communities, Death Cults and more. Survival is not enough. Now is the time for the war against the Endless Dead™. This book is going to be epic. Kevin and all the Palladium creators are pushing the envelope with each and every book they work on.
Available Now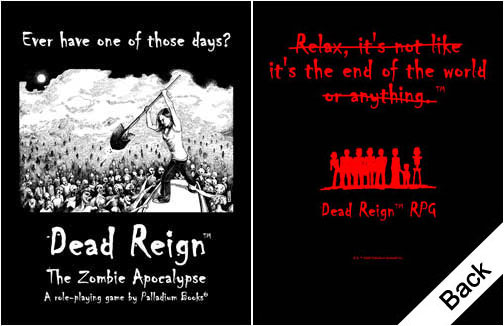 Dead Reign™ T-Shirt
– The Zombie Apocalypse – Available now
The ultimate Zombie Apocalypse T-shirt: The front depicts a woman armed with a shovel standing on the roof of her car as a massive horde of zombies swarm around her. The front of the shirt reads: "Ever have one of those days?" Below the art is the Dead Reign™ logo and the words "The Zombie Apocalypse." Printed white on a black T-shirt. Art by Amy Ashbaugh.
The back of the shirt is red on black and says, "Relax, it's not like it's the end of the world or anything." - but most of that statement has lines crossing it out, leaving only the words "it's the end of the world." Under it is a Nick Bradshaw zombie silhouette and a small version of the Dead Reign™ logo. Funny, poignant, awesome!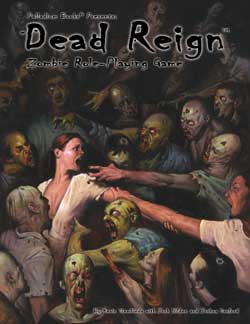 Dead Reign™ RPG – Available Now
With zombies and horror all the rage in film and books, this RPG captures all the best aspects of the zombie genre. The setting is as much about survival in a post-apocalyptic world as it is about battling legions of walking dead. If tales of human survival, horror and zombies are of interest, you will love this fast paced game and its sourcebooks.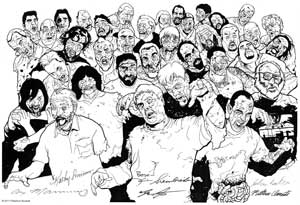 NEW! Endless Dead™ Zombie Print
– Available now
A zombie horde stumbles toward you, but these aren't ordinary zombies, they are the Palladium staff and freelancers! That's right, this horrifying mash of zombies includes Kevin, Wayne, Alex, Kathy, Julius and Matthew, as well as Kevin Long, Ramon Perez, Freddie Williams, Mike Mumah (the artist), Mark Dudley, Chuck Walton, Nick Bradshaw, Carl Gleba, Jason Richards, Brandon Aten, Greg Diaczyk and many, many others (36 monstrous faces total). Available in two sizes, both signed by the Palladium staff.
PDF downloads from DriveThruRPG.com
This is a great resource for getting out of print Palladium titles and other select books. We've made 90 titles available as PDF digital downloads from DriveThruRPG.com. This is a great way to try Palladium products and get access to out of print RPG source material. Some notable titles include:
We'll have new information in our usual Thursday, Weekly Update. Until then, have fun shopping on Cyber Monday and good luck finding that little something for that special someone, a friend and loved ones to show you care this holiday season.
© Copyright 2011 Palladium Books Inc. All rights reserved.
Rifts®, The Rifter®, RECON®, Splicers®, Palladium Books®, The Palladium Fantasy Role-Playing Game®, Phase World®, Nightbane®, Megaverse®, The Mechanoids®, The Mechanoid Invasion®, Coalition Wars® and After the Bomb® are Registered Trademarks of Palladium Books Inc. Beyond the Supernatural™, Chaos Earth, Coalition States, Dead Reign, Heroes Unlimited, Ninjas & Superspies, Minion War, Mysteries of Magic, SAMAS, Thundercloud Galaxy, Three Galaxies, Vampire Kingdoms, Warpath, and other published book titles, names, slogans and likenesses are trademarks of Palladium Books Inc., and Kevin Siembieda.
Robotech® and Robotech® The Shadow Chronicles® are Registered Trademarks of Harmony Gold USA, Inc.
This press release may be reprinted, reposted, linked and shared for the sole purpose of advertising, promotion and sales solicitation.