Palladium Books® Weekly Update – Nov. 23, 2011
By Kevin Siembieda
All too often the world feels like a pile of poop.
It seems like we are challenged to face some kind of obstacle, sorrow, illness or tragedy all too often. Many of us live with worry and uncertainty on what feels like a daily basis and the media is full of gloom and doom. All the more reason to find the things that bring us love and joy, and cherish them. That's probably the people we love, but too often take for granted.
It's Thanksgiving Day weekend in the United States, so be thankful if you have loving parents, your spouse, your friends, your job and all the people and things that make you happy, laugh, and bring you joy. Be thankful and let them know how you feel.
Seriously. Do it today and tomorrow and between shopping on Black Friday. When you're standing in that mile long shopping line, take the hand of your loved one (mother, wife, husband, child, friend) and say, "I love you. Thank you for being here with me." Tell your friends, siblings, children, and your parents that you love them and are proud of them. That you are glad you have them in you life. Let them know you appreciate and need them.
A moment ago, I said to tell "even your parents." I say "even," because I think we forget our parents need to hear they are loved and appreciated. That you are as proud of them, as they are of you. I suspect most of us think of our parents as strong and always there for us. That they are forever people – immortals. In a way they are, because they shape who we are, and in so doing, embed a little piece of themselves in our hearts. Everyone who touches us with love and friendship leaves a little piece of themselves in our hearts that we can hold onto forever.
As I write this, I have two very dear friends fighting for their lives. Kathryn Kozora is battling the monster we know as cancer. Sophie Bartold is in the final days with her battle against the same monster. Both are wonderful people. As good and kind and caring as can be. Both are deeply loved and cherished by many. With any luck, Kay will win her battle. For Sophie, a gentle and loving mother to us all, even the "kids" who were not blood members of her family, her battle appears to be coming to an end. Now we wait for her to slip quietly and hopefully, gently into the embrace of her maker. I visited Mrs. Bartold on Sunday. She was in amazingly good spirits and her usual cheerful self. We had a long, nice visit. Sophie Bartold is (as is Kay Kozora) another one of the Palladium Heroes behind the scenes who helped me and the company when we needed it most. But Sophie is much more than that. She is a dear friend and surrogate Mom who I love and care about. Her passing will be felt deeply by many people, but that's only because she shared her love and laughter with so many of us fortunate souls. I love you, Mrs. Bartold, thank you for being a part of my life.
In this time of sorrow, I find comfort in the warm memories of my own parents, in the friendship of Sophie's sons, Thom and Ken, and from all the wonderful people in my own life. Thom is another great friend who has played a huge role in my life as well as Palladium's. I am grateful and thankful to have him as a friend and I'm sorry for his pain. The struggles of these two wonderful people so close to Thanksgiving Day and my own struggles make me grateful for everyone in my life.
This Thanksgiving Day I'm grateful for so many things. I'm thankful for having had two amazing parents who taught me about all the best things life has to offer. They taught me to cherish love and friendship. They taught me not to be afraid of sharing my thoughts, feelings and my life with other people. They taught me to recognize the gifts of beauty and joy all around me. To cherish what really matters: People, friendship and love. That includes all my wonderful friends, my crazy-but-wonderful family, and you, the greatest fans on the entire planet. Heck, in the entire Megaverse! You help keep me going. You are part of the joy in my life. Thank you.
Alex, my best friend since 8th grade, scared the daylights out of us and gave us reason to worry twice this year, first with his house fire and then with his serious blood condition. I am so thankful that he is back at home, back on his feet and has his medical condition under control. I'm thankful Palladium is on the move with new releases as we move forward into an uncertain future. I'm thankful to have the privilege of working with so many talented and creative souls and to have so many awesome, kind and generous people as Palladium fans. I'm thankful for a job I love and hope I am able to continue to spin new worlds of adventure for many years to come. I have so many stories yet to tell. I'm thankful to have this forum with which to share my feelings, my sorrows, my happiness, hopes and dreams.
I am thankful for everything I have and to the multitude of people who love and care about me. I love you too. I care about you too. I want you to know that. From Alex, Kathy, Wayne, Julius, Matthew, Monica and Adam, Kay, Sophie, Connie, Thom, Ken, Jeff, Joe, Aubrey, Teresa, Tony, Barry, and Brian, to the Palladium fans and all my friends and family around the world, you are special and important to me. You are appreciated. You give me strength. I apologize that I cannot list all of you by name, and I am humbled to be able to say that I have so many people in my life that I cannot begin to list them all. Each and every one of you have brought happiness, laughter and warmth into my life. Most of all, you have helped make me a better person and rich in the things that make life worth living. Thank you so very, very much.
I could probably go on, but don't worry, I won't. ;)
This weekend I want to make sure I let the people I love know how much they matter, and I hope you will do the same. Don't wait until that person is fading or gone. Do it now. Spread a little joy and love with a few simple words of appreciation and gratitude. I'd say we should all do such every day, but we all know that's not going to happen. But on this holiday of Thanksgiving, it is the perfect opportunity to take a moment to say I love you to the people who matter. Yep, sounds like a good plan. I'm starting with this Weekly Update.
Now on to the gaming segment of this Update
I'll be brief and to the point.
Robotech® New Generation™ Sourcebook is at the printer. I approved the printer proof last Friday. It should ship between November 29 and December 2. With the Thanksgiving holiday we cannot get an exact ship date from our printer at this time. This book is hot and has one of the highest pre-order numbers we've seen in a long time. Robotech® fans will not be disappointed. Have you ordered yours?
Rifts® Path of the Storm™ – One writer's vision for the Rifts® movie is at the printer! We finished it last weekend and it was waiting for our printer first thing Monday morning. I approved the printer proof just this morning and have been told the book ships December 5!
This title is part sourcebook, part movie script and all fun. It was a labor of love for all parties involved and we think Palladium fans are going to love it too. The screenplay is a fast, fun adventure story that is a pleasure to read. To make it more fun, the author has statted out the key characters in the script and gamers can use the heroes, villains and story ideas in their own campaign should they choose to do so. This is a unique product that should appeal to all Palladium fans. After all, it lets the reader step behind the veil and see what goes on behind the scenes. And it's a 96 page book priced at only $12.95 retail. It will ship December 5.
I continue to tweak and fine tune Rifts® World Book 32: Lemuria. It should go to the printer in a week or two. I've been calling Rifts® Lemuria a book of wonders. It is jam-packed with exciting new ideas and characters, not to mention a lot of cool new weapons, living body armor, Biomancy magic, monstrous riding animals, symbiotes and toys gamers will go wild over. Stuff that can be used on land and undersea. This is another hotly anticipated book with a high number of pre-orders. Keep 'em coming.
Dead Reign™ Sourcebook Three: Endless Dead™ is next in line for completion and it too is full of ideas that will surprise and please gamers.
Online sales remain worrisome. However, they have closely mirrored 2010 sales, and last year around this time, sales shot through the roof and stayed there for the entire month of December. I'm praying that will be the case again this year. So please, don't forget about us over the long holiday weekend. Order some of those books you've been meaning to get. Buy a Christmas Surprise Package for yourself or a gaming friend and let your imagination run wild.
Best deal in gaming. Alright, it's that time of year where you start thinking about Christmas and buying loved ones holiday presents. Stores everywhere are advertising like crazy and offering amazing sales. But one of the best deals anywhere is right here: The Christmas Surprise Package – $80-$90+ worth of merchandise (often more!) for only $38 plus shipping and handling. And you also get autographs if you want them and the element of surprise with your wish list. Heck, the Palladium Christmas Surprise Package may be "the very best" gift money can buy! At least for gamers. Don't miss out.
The other cool thing about the Palladium Christmas Surprise Package? You can buy one (or several) for yourself to fill in holes in your gaming collection, try new RPGs and game settings, get back issues of The Rifter®, get original art, art prints, autographs, and surprise your fellow gamer with one choice book or a pile of books for Christmas. Can you imagine the look on your friend or loved one's face when you hand him a pile of role-playing products worth $90 (or more) . . . with autographs? And you only paid $38 (plus shipping and handling). Word it right and you may get a Surprise Package that has enough items to give to two or three friends. No other game company offers an opportunity like this. And for a lot of people this is the only way to get books signed by some of the creators and Palladium staff. What are you waiting for? Order yours today. :)
Click here to order yours today.
Don't forget, DriveThruRPG.com offers 90+ Palladium titles as PDFs including The Rifter® #1-48, first edition printings of Rifts®, Palladium Fantasy®, Heroes Unlimited™, BTS, and other game lines, as well as books such as Nightbane® Book Four: Shadows of Light™ and both versions of the The Mechanoids® RPG (1985) and The Collected Mechanoid Invasion® Trilogy (1981-1983), plus the new G.M. Support Kit and sneak previews of various books. The sneak peeks for Rifts® Lemuria, Vampires Sourcebook, and Endless Dead™ will be appearing soon.
BIG SALE on Kevin's Online Toy & Collectibles Store. Alex and I put a dozen new "Palladium" items (books, proofreader copies of books, rare stuff), and a lot more toys and action figures into my online store. All items are from my personal collection and are generally in very good to mint condition – and over the holiday weekend, starting today, ALL items are 20% to 30% LESS than the usually low prices. What a steal. Great holiday presents for someone. Check it out.
http://stores.ebay.com/kevinstoys-artandcollectibles
Have a wonderful Thanksgiving Day and a joyful, long weekend with those you love. Give thought to those presents for those special people and have fun shopping, seeing movies and gaming. Please don't forget about Palladium Books when you're running around to all those other sales this weekend. Game on and enjoy!
– Kevin Siembieda, Publisher, Writer and Surrogate Santa
Fan Comments from Christmas Grab Bags
During the holiday season, we like to let you see some of the many comments we get with the Christmas Surprise Packages. It's a nice way to acknowledge some of our fans and to share with you the kinds of words we hear from gamers throughout the season. We show only initials as some people would rather keep their identity private. Our thanks for your kind words of appreciation and encouragement.
We are happy to do the Christmas Surprise Packages and spread a little joy and fun around the globe. It is a privilege and an honor to touch so many people with our games. The Surprise Packages are our way of giving back and saying thank you to our legion of amazing fans. In this selection of comments everyone seems to be looking forward to new product. – Kevin Siembieda
R.B. in Dedham, Massachusetts, writes: Thank you once again for continuing to provide the Christmas Surprise Package. I look forward to it every year, and enjoy expanding my gaming collection. I may not get to game as much as I would like, but the time spent is well worth it. Whoever said paper and dice games are dead has obviously never seen Palladium's ever expanding game collection. Thanks again.
K.I. in Orlando, Florida, writes: I love the Christmas Surprise Packages! It's funny, the first thing that gets me in the Christmas spirit is seeing this go on sale. Thanks Palladium.
S.G. in St. Anns Ontario, Canada, writes: Keep the great ideas coming!!
J.W. in Gatlingburg, Tennessee, writes: You guys rock. I bought the first Rifts® book and it remains a linchpin for my concepts of storytelling and science fiction. Thanks.
J.D. in Elyria, Ohio, writes: Just got my Surprise Package, and it was awesome! I'm coming back for more!
E.W. in Park Forest, Illinois, writes: Always love this [Christmas Surprise Package] every year. Keep up the good work.
E.B. in Spearfish, South Dakota, writes: Rifts® is awesome, fun gaming at its peak.
C.A. in Edmonton, Alberta, Canada, writes: I hope things look up for Palladium Books. I haven't played since the 90s, but I read the books and roll up characters for imagination's sake now and again. I cut my teeth playing horrible hack and slash games of Robotech® on an almost daily basis with my best friend and little brother. Perhaps I will look for a campaign someday. In the meantime, I appreciate these little opportunities to get lost in your creative work and think about character and destiny in a potently imaginative way. Thanks for all the memories and long live Palladium Books.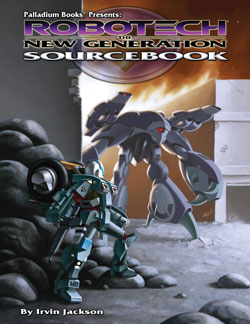 NEW! Robotech® The New Generation™ Sourcebook
At the printer – ships Next Week!!
This sourcebook is epic in scope and opens up an entirely new range of game play by allowing mecha and O.C.C.s from all eras of Robotech® in one setting.
For the first time ever, Veritech Fighters, Destroids, Battloids, Hover Tanks, Cyclones, and something called "Frankenmecha" – giant mecha amalgamations that combine the limbs, weapons and body parts of two or more mecha. There are also rules for creating Frankenmecha, new weapons and vehicles, seven new resistance fighter character classes, Invid Hives, key characters from the TV show, world overview and more. 8½ x 11 book format (not manga size), 96 pages.
The battle for the liberation of Earth starts here. For the first time in its history, the Earth has been invaded and occupied by alien invaders – the Invid. The Invid think they have won, but Freedom Fighters, UEEF soldiers and other heroes continue to fight until they win.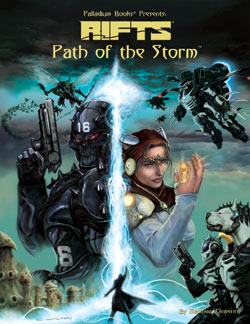 NEW! Rifts® Path of the Storm™
– One writer's vision for the Rifts® movie – at the printer
– Ships December 5
Everyone wants to know what's going on with the Rifts® movie. Well, this book presents an insight and behind the scenes info on that front by Kevin Siembieda, plus an entire screenplay written on speculation by Matthew Clements as well as game stats and artwork for major characters in the script. Kevin was so impressed with the writer's screenplay that he had Matthew make changes and improvements and sent the second draft to Jerry Bruckheimer Films for their consideration. Meanwhile, Matthew and Kevin hit it off and the next thing he knew he became Palladium's new staff writer.
We thought it would be fun to let Rifts® gamers and Palladium fans see the type of Rifts® movie we at Palladium Books would like to see made. So we are presenting Matthew's screenplay as a proposed Rifts® movie script and Rifts® sourcebook. The screenplay is a fast, fun adventure story that is sure to please Rifts fans. To make it more fun, the author has statted out the key characters in the script and gamers can use the heroes, villains and story ideas in their own campaign should they choose to do so.
This is a unique product and a fun read that should appeal to all Palladium fans. After all, it lets the reader step behind the veil and see what goes on behind the scenes.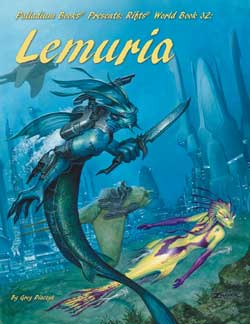 NEW! Rifts® World Book: Lemuria™
Ships December
The power, secrets and magic of the underwater realm of Lemuria revealed. Player characters can use symbiotes, magic and technology to breathe underwater and spend time below the waves.
Lemuria is more than an underwater civilization of aquatic beings. They can trace their lineage as far back as the Atlanteans and can survive on dry land as well as underwater. In fact, their greatest secret is that there is no one resting place for the Lemurians, their great cities are always moving. Learn about the people of Lemuria, new Biomancy magic and weapons, Biomancy engineered riding animals, sea herbs, new powers of healing, sea monsters, and more. Epic adventure awaits.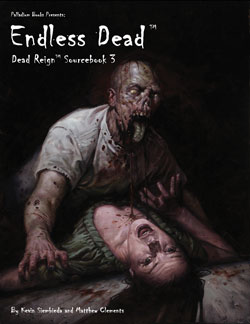 NEW! Dead Reign™ Sourcebook 3: Endless Dead™
Ships December
As time goes on, the zombie hordes only grow in number and strangeness. This book contains horrifying new zombies to haunt your player characters along with new O.C.C.s and tons of tables for detailing Survivors' Hideouts, Safe Haven Communities, Death Cults and more. Survival is not enough. Now is the time for the war against the Endless Dead™. This book is going to be epic. Kevin and all the Palladium creators are pushing the envelope with each and every book they work on.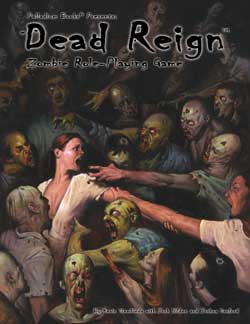 Dead Reign™ RPG
– Available Now
With zombies and horror all the rage in film and books, this RPG captures all the best aspects of the zombie genre. The setting is as much about survival in a post-apocalyptic world as it is about battling legions of walking dead. If tales of human survival, horror and zombies are of interest, you will love this fast paced game and its sourcebooks.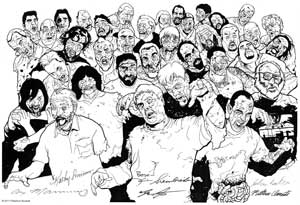 NEW! Endless Dead™ Zombie Print
– Available now
A zombie horde stumbles toward you, but these aren't ordinary zombies, they are the Palladium staff and freelancers! That's right, this horrifying mash of zombies includes Kevin, Wayne, Alex, Kathy, Julius and Matthew, as well as Kevin Long, Ramon Perez, Freddie Williams, Mike Mumah (the artist), Mark Dudley, Chuck Walton, Nick Bradshaw, Carl Gleba, Jason Richards, Brandon Aten, Greg Diaczyk and many, many others (36 monstrous faces total). Available in two sizes, both signed by the Palladium staff.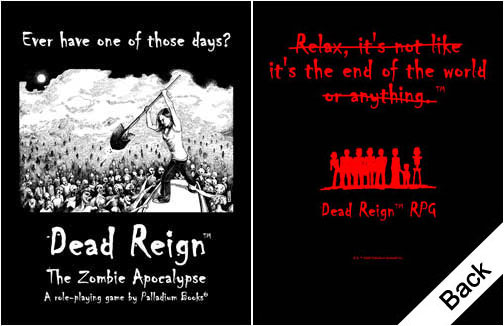 Dead Reign™ T-Shirt
– The Zombie Apocalypse – Available now
The ultimate Zombie Apocalypse T-shirt: The front depicts a woman armed with a shovel standing on the roof of her car as a massive horde of zombies swarm around her. The front of the shirt reads: "Ever have one of those days?" Below the art is the Dead Reign™ logo and the words "The Zombie Apocalypse." Printed white on a black T-shirt. Art by Amy Ashbaugh.
The back of the shirt is red on black and says, "Relax, it's not like it's the end of the world or anything." - but most of that statement has lines crossing it out, leaving only the words "it's the end of the world." Under it is a Nick Bradshaw zombie silhouette and a small version of the Dead Reign™ logo. Funny, poignant, awesome!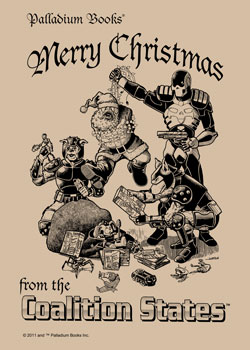 NEW! A Coalition Christmas T-Shirt
– At special holiday prices – Available now
The shirt is here and looks even better than the original version printed on a white shirt back in the 1990s. We tweaked and darkened some of the artwork to make it even more dynamic. We have made this shirt affordable so as many people as possible can get one if they want it.
The T-Shirt depicts a Coalition Dog Pack man-handling Santa. (He is a magic user, after all.) Scattered on the floor from Santa's bag of presents are action figures of a Skelebot, Glitter Boy, Erin Tarn, Emperor Prosek, Victor Lazlo, Mechanoids, a Dog Boy plush toy, Spider-Skull Walker, RPG books and other items. The words: "Merry Christmas from the Coalition States."
This T-Shirt has been a fan fave requested for years, but the art for the shirt was lost. The T-shirt place had gone out of business, artist Scott Johnson had sold the original art at a convention and did not have a photocopy, and Palladium's original design and photocopies had vanished. It was only recently that Publisher Kevin Siembieda found a photocopy tucked away where it didn't belong in the Palladium archives. The rediscovery of the photostat has allowed us to reissue this beloved T-shirt in all sizes for the first time in a decade.
As noted earlier, Kevin thought this fun and playful shirt should be made available for the holidays at prices affordable for everyone. These lower than usual prices are good from now through New Year's Eve. Order yours today.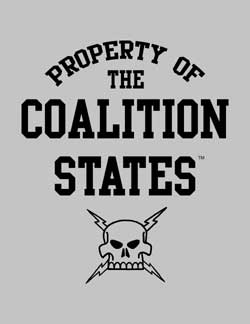 Coming Soon – Property of the Coalition States™ T-Shirt
We plan to reprint this T-shirt as soon as our cash-flow improves, probably in a couple weeks. It has the symbol of the Coalition Army and the words, "Property of the Coalition States" emblazoned on it.
Don't forget there is also a fabulous Property of the Coalition States™ coffee mug; white image on black cup. Perfect for that hot cup of cocoa on a cold winter's night, or soda when you game. Looks very official. Everyone at Palladium has one. Holds 15.5 ounces. Mircrowave safe. Cat. No. 2543. Other coffee mugs include Rifts®, Dead Reign™ and Gamer mugs. See the Palladium Books online store for complete details.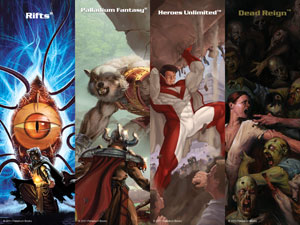 NEW! Palladium Bookmarks, Set One
– Available now
A set of four, 2 x 6 inch bookmarks, each depicting a different Palladium game line: Rifts®, Palladium Fantasy®, Heroes Unlimited™ and Dead Reign™. They are attractive, useful and make a fun collectible.
NEW! Rifts® Vampires Sourcebook™
Ships December
Unknown to most humans, deep within Mexico the vampires have established entire kingdoms. There they live like tyrants and gods, dominating an underclass of cattle people used as slaves and foodstock. Learn more about the vampires, their rivals, allies and the humans who willingly serve their supernatural masters for a chance to join the undead. A must-have guide for those who wish to travel deeper into the Vampire Kingdoms or play as vampires and their human minions.
NEW! Robotech® Genesis Pits™ Sourcebook
Ships February 2012
The Genesis Pits™ Sourcebook takes a deep look at one of the most awesome and terrifying powers wielded by the Invid: the ability to alter genetic structures and evolve their own species as well as other beings. To that end, the Invid have built massive evolutionary laboratories across the Earth and numerous worlds in an effort to find the perfect form to dominate the universe forever. The sourcebook includes a wide range of mutations, different types of Genesis Pits, new Robotech O.C.C.s and new "Frankenmechs" – hybrid mecha made from the leftovers of Earth's fallen defenders.
The Genesis Pits™ Sourcebook goes beyond the cartoon and deep into the machinations of the Invid and their deadly consequences for all who happen into their path.
NEW! Rifts® Megaverse® in Flames™
Ships February 2012
We wanted this truly epic title out in December or January, but February is just a more realistic release date. We sure don't want to rush a book so many people have been waiting for. We hope you understand.
The Minion War spills across Rifts Earth, where demons and infernals hope to recruit allies and use the Rifts as gateways of destruction. Their influence shakes things up across the planet, especially at locations where demons and Deevils already have a strong presence. More details to follow, but for now, 'nuff said.
NEW! Rifts® Chaos Earth™ Sourcebook: First Responders
Data about the chaos and madness of the early days of the Great Cataclysm, and the brave men and women who tried to stem the tide of destruction and save lives, the First Responders.
PDF downloads from DriveThruRPG.com
This is a great resource for getting out of print Palladium titles and other select books. We've made 90 titles available as PDF digital downloads from DriveThruRPG.com. This is a great way to try Palladium products and get access to out of print RPG source material. Some notable titles include:
4th Quarter 2011 Releases
October 2011 Releases
November 2011 Releases
December 2011 Releases
2012 Schedule of Releases (tentative and subject to change)
January 2012 Releases
February 2012 Releases
All of Palladium's Core Game Lines to be Supported in 2012
All of the following (and more) are being written right now. A few are already finished. Most will be 2012 releases. And this does not include projects I would like to do for Palladium Fantasy®, Dead Reign™, Warpath™: Urban Jungle and new mediums.
New Books in Development (listed in alphabetical order):
Beyond the Supernatural™: Arcanum
Beyond the Supernatural™: Tome Grotesque
Beyond the Supernatural™ Sourcebook
Chaos Earth™ First Responders
Chaos Earth™ – Zombie Apocalypse Rifts-style during the Great Cataclysm.
Heroes Unlimited™ – Had two people who were supposed to be working on a pair of books, but they disappeared on me, so we are looking for folks to write a couple of HU2 sourcebooks.
Nightbane® – An as of yet untitled project, and looking for more.
Palladium Fantasy® – Mysteries of Magic 2 & 3
Palladium Fantasy® – Tombs of Gersidi expanded and new. Plus I have a few ideas on this front myself to revitalize this line, including writing Land of the Damned 3 for 2012 release.
Phase World®: United Worlds of Warlock™
Phase World®: Pirates of the Three Galaxies™
Rifts® Antarctica
Rifts® Black Market
Rifts® China Three
Rifts® Deep South
Rifts® New Navy™
Rifts® Northern Gun™ Books One & Two.
Rifts® Sovietski™
Rifts® Titan Industries™
Robotech® Genesis Pits™ adventure sourcebook.
Robotech® UEEF Marines™
Splicers® Sourcebook One – concepts and art by Charles Walton.
Splicers® Sourcebook Two – concepts and art by Charles Walton.
Recently Back in Print
Palladium Fantasy Role-Playing Game®
Aliens Unlimited™ – For Heroes Unlimited™
Rifts® Dark Conversions™
Rifts® Game Master Guide
Rifts® Book of Magic™
Rifts® Bionics Sourcebook™
Rifts® Adventure Sourcebook: The Black Vault™
Rifts® World Book Five: Triax & the NGR™
Rifts® World Book 8: Rifts® Japan™
Rifts® World Book 13: Lone Star™
Rifts® World Book 24: Rifts® China One
Rifts® Dimension Book™ 7: Megaverse® Builder
Rifts® Dimension Book™ 6: Three Galaxies™
Rifts® Mercenaries™
Rifts® World Book 20: Rifts® Canada™
Rifts® World Book 22: Rifts® Free Quebec™
Rifts® World Book 23: Xiticix Invasion™
Coalition Wars® One: Sedition
Coalition Wars® Two: Coalition Overkill
2011 Christmas Surprise Package
– Available now thru December 23, 2011
The Christmas Surprise Package is our way of saying thank you to our fans and putting smiles on the faces of gamers around the world.
What is a Palladium Christmas Surprise Package? $80-$90 (or more!) worth of Palladium Books product for only $38 plus shipping and handling. A minimum of eighty dollars ($80) retail. Sometimes much more! Santa Kevin often packs in $90-$100 worth of goodies.
It's a surprise package because you never know exactly what you're going to get or who will sign your books. We try to include many of the items on your "wish list," but we'll surprise you with stuff you are not expecting. All Surprise Packages are "handpicked" by Kevin Siembieda from YOUR "wish list." All books will be autographed if you want us to sign them. For many of you, this is the only way to get autographs!
We are taking orders right now. Buy one or ten, but get at least one. Buy them as gifts or to try a new game line, or fill holes your collection. Just don't miss out. The Surprise Packages will be available till December 23, 2011.
Spread the word. Tell all your gaming pals, because the Christmas Surprise Package is only publicized by word of mouth, to readers of The Rifter® and on Palladium's website, so tell everyone you know. Buy one for every gamer you know and have a very Merry Christmas.
Click here for more information and to place an order.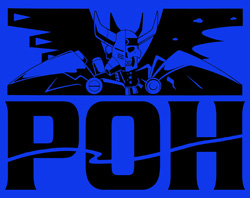 Palladium Open House
– May 4, 5 & 6, 2012 (May 3 is VIP Night)
The Palladium Open House (POH) is, plain and simply, a blast for everyone.
Think family reunion with people you like from around the world that involves laughs, fun and three days of role-playing games. (Four for those who attend VIP Thursday.) We invite you into our home – the Palladium warehouse and office – where we make the games you love and treat you like family and welcomed guests.
● 40+ Palladium creators are there for you. The Palladium staff and as many of the freelance writers, artists, Game Masters and Megaversal Ambassadors as possible (typically 30-45) are present the entire event. Many run games you can play in. All are there to sign autographs and talk with you.
Unlike game conventions, at the Palladium Open House you have unprecedented access to Kevin Siembieda and other Palladium creators, because they are there, on the floor with you all day long. They are happy to talk about Palladium Books, artwork, writing, movies, comic books and exchange stories about their own gaming experiences as well as listen to yours. Some artists are willing to do sketches of your characters, others bring prints and original artwork to sell. All are friendly and goofy gamers just like you. It seems like we laugh and have fun all weekend long, stopping only to catch a little sleep.
● Gaming events are run all day and into the night. Many are run by the very people who create the games, like Kevin Siembieda, Julius Rosenstein, Carmen Bellaire, Carl Gleba, Brandon Aten, Mark Oberle, Irvin Jackson and many others. There is also an open gaming area for pick up games. When gaming ends for the day at Palladium, there are two meeting rooms at the hotel where you can continue to play games, chat and have fun into the wee hours of the night.
● Panel talks (every day). I and others host several panel talks and question and answer sessions that reveal secrets, offer G.M. tips, player tips and lots of laughs.
● Costume contest (Saturday). YOU should make a costume based on one of Palladium's RPG settings and enter the costume contest. It is always a ton of fun and winners who take 1st, 2nd, and 3rd Place all get Palladium gift certificates and a plaque worthy of hanging on the wall. Best of show gets a $100 gift certificate (actually, it's Palladium Bucks redeemable wherever you find Palladium, at the POH, conventions, or via mail order). Costume contest categories are: Rifts/Science Fiction, Fantasy, Horror/Modern/Superhero, and Best of Show.
● Live auction (Saturday). Get rare, out of print books, proofreader copies, artwork, prints, posters, collectibles, and strange things put up for rapid-fire auctioning by Kevin Siembieda.
● Meet fans from around the world. This year we already have gamers coming from Japan, Australia, Germany, England, Canada and across the country. Note: Our capacity is limited to about 350 people, so if there is a bigger than usual turnout, you may not be able to attend. Order your admissions tickets and reserve your hotel room now. The hotel will not be charged to your credit card till the day before the event.
● The POH is inexpensive compared to most game and comic conventions. You get more bang for your buck, total access to Palladium creators and enjoy everything for the price of admission.
The cost of admission covers everything. The games, the panel talks, the auction, entry in the costume contest . . . EVERYTHING.
The hotel is only $69.95 a night for a room with two double beds or one king-size bed. Suites are under $140. Free hot breakfasts. Note: you MUST tell them you want a room in the Block Reserved for Palladium Books to get the special rate. Your credit card is not charged until a day before the event, so reserve early. Call 734-455-8100, Comfort Inn Plymouth Clock Tower Hotel.
Food and stores all around. There are fast food places and inexpensive restaurants to eat all around Palladium Books. A Bennigans is across from the hotel. Denny's, Dunkin Donuts and McDonald's are down the street one direction, Burger King, McDonald's, Wendy's, Lee's Chicken, Baskin & Robbins, and more are down the other way. Westland Mall is a half mile away, so is Wal-Mart, K-Mart, Target, Kohls, Macy's, Sears, JC Penny, Lowes, Meijer, Sam's Club, Ikea and Dollar Tree, among many others. A large movie theater is around the block, almost walking distance, and another is near Westland Mall. We've got it all. ;)
Price of Admission
Palladium Open House – May 4, 5 & 6, 2012
$40 for the Three Day Weekend (Friday, Saturday & Sunday) when ordered in advance per each individual. $50 at the door and after March 31, 2012, if space is available. Cost of emission covers all events. Note: VIP Night, May 3, 2012, is an additional cost. A new batch of tickets will be made available in February, 2012.
$20 for Friday 9:00 AM till Closing.
$20 for Saturday 9:00 AM till Closing.
$10 for Sunday, 9:00 AM to 5:00 PM.
$75 per person for VIP Night – Thursday – May 3, 2012. VIP night is a catered event limited to around 70-80 gamers plus Palladium creators. It is an additional cost, so if you plan to attend the entire weekend you must get a weekend ticket as well. NOTE: Since VIP tickets sell out so fast, we offer them in two batches. The first is sold out. The second offering will be in February 2012. VIP Thursday, May 3, 2012: 3:00 P.M. till 11:00 P.M.
Placing Your Order: Please include your FULL address and apartment number. Also include the complete NAME of EACH person you are ordering a ticket for, as well as your telephone number in case there is a problem and we need to contact you.
Credit Cards: Visa, MasterCard and most credit cards are accepted. All Credit Card orders must include: Credit Card No. – Name on the card – Address of the Credit Cardholder – Expiration Date – Telephone Number of the cardholder. If you are buying tickets for several people, please make sure we have the full NAME of each person.
By Telephone: Call (734) 721-2903 – have your credit card information ready. You may place your reservation online in a similar way as placing a book order or you may use Palladium's order line (734) 721-2903.
Check or Money Order by Mail: Sent via the USPS or other delivery service. Send check or money order to:
Palladium Books
Dept. POH
39074 Webb Court
Westland, MI 48185-7606
Please include your FULL address and apartment number. Also include the complete NAME of EACH person you are ordering a ticket for, as well as your telephone number in case there is a problem and we need to contact you.
All tickets are sold on a first come, first served basis, so get your reservations in as soon as possible! Due to space and parking limitations and safety concerns, attendance will be limited to approximately 350 admission tickets.
Click here for more details and to reserve your tickets.
The Queen of Ghouls: Life-Sized Halloween Props
The Queen of Ghouls – Palladium's very own Kathy Simmons – is locked in her dungeon, devising new ghouls. Go to queenofghouls.com to see her current selection of life-sized Halloween props. See her zombie doctor and other new zombies, Jack Skellington and Sally, and more. New creations are on the drawing board, and so is a new website. Each Halloween prop is truly life-sized (most are 6 feet or taller – Jack is almost 8 feet) and seems almost alive.
Each is an all-weather, life-sized Halloween prop that can handle rain and snow, and is a one-of-a-kind work of art (no two are exactly the same). Each looks frighteningly "real." All come apart and fold down to slightly larger than a king-size pillow for easy storage. Comes with easy instructions, a plastic storage bag, and the lawn stake to stand it up in your front yard. Indoor stand sold separately.
Types of "Ghouls" include: Zombies (all kinds!), killer clowns, wizards, witches, devils, grave ghouls, scarecrows, executioners, mad doctors, deadly nurses, vampires, werewolves, and more. Kathy's also now offering an array of hand-painted Halloween signs, signs with heads and bodies hanging from them, witch's brewing pots, Halloween centerpieces and more. Best of all, her high quality creations are much more affordable and imaginative than most competitors or mass produced items in a store, making them affordable Halloween fun.
If you think the photos online look good, you should see them in person. A typical "ghoul," as she calls her creations, costs $129-$259. You can see some of her work at her Queen of Ghouls™ Ebay store – queenofghouls.com.
Conventions & Events
2012 Gen Con Indy
Palladium Books has already reserved its booth at Gen Con Indy 2012.
We need Game Masters!
We want to have a bigger presence at Gen Con Indy 2012 and that means more Palladium gaming events. We want Palladium Books to be a much bigger part of the gaming experience at Gen Con Indy 2012. Toward that end, we're hoping a number of Game Masters will step forward and run "official" gaming events at Gen Con. To do that we need your help.
Please let us know if you are planning to run at Gen Con Indy 2012, but most importantly, YOU NEED to contact Gen Con directly and fill out the Event Submission form/application and send it in to them BEFORE THE JANUARY DEADLINE. This can all be done online.
Note: Though there are different "rounds" and deadlines for submitting events, it is our experience that submitting in time for the very first deadline is the only way to sure-fire guarantee the event will be included. So please, let's plan now and get our events entered in the first round, mid-January 2012. Megaversal Ambassadors, please be a vocal and visible part of getting people to run Palladium gaming events for Gen Con Indy 2012. Any and all game settings (Rifts®, Heroes Unlimited, Palladium Fantasy®, Robotech®, Dead Reign™, Nightbane®, Splicers®, BTS, and all the rest) are welcomed. Let's make the halls of Gen Con Indy 2012 ring with Palladium gaming.
© Copyright 2011 Palladium Books Inc. All rights reserved.
Rifts®, The Rifter®, RECON®, Splicers®, Palladium Books®, The Palladium Fantasy Role-Playing Game®, Phase World®, Nightbane®, Megaverse®, The Mechanoids®, The Mechanoid Invasion®, Coalition Wars® and After the Bomb® are Registered Trademarks of Palladium Books Inc. Beyond the Supernatural™, Chaos Earth, Coalition States, Dead Reign, Heroes Unlimited, Ninjas & Superspies, Minion War, Mysteries of Magic, SAMAS, Thundercloud Galaxy, Three Galaxies, Vampire Kingdoms, Warpath, and other published book titles, names, slogans and likenesses are trademarks of Palladium Books Inc., and Kevin Siembieda.
Robotech® and Robotech® The Shadow Chronicles® are Registered Trademarks of Harmony Gold USA, Inc.
This press release may be reprinted, reposted, linked and shared for the sole purpose of advertising, promotion and sales solicitation.