By Kevin Siembieda
One game system – every genre – countless worlds – endless adventure
Whew. I think I have finally cleared the deck so that I can just write away for several weeks and finish Garden of the Gods™ (Fantasy) before moving into In the Face of Death™ (zombies), The Rifter® #84, Psychic Scream™ for Chaos Earth® and Rifts® Titan Robotics™.
It has been a very busy week. I've had a few meetings, various business matters to contend with, and dealing with some unexpected printer issues. But mostly I have been signing, drawing sketches, collating and handing off Rifts® Bestiary™ Megaverse® Insider items to pack and ship to the many supporters of our Insider offer. I love our fans and always want to make these unique Insider offers truly special and fun. That means a lot of signed prints, signing and numbering hundreds of books and drawing scores of dragon head sketches over the past several days, among other things. I think everyone will be pleased with the special editions (and other goodies for the higher level tiers) coming their way.
The Rifts® Bestiary™ Gold Edition hardcover is also back from the printer and shipping now. And because I'm in the groove of drawing dragon head sketches, I have been randomly adding such a large dragon head sketch to many of the Gold Edition pre-orders, and will continue to do so for books sold throughout the weekend and into next week, so this is a good time to place an order, especially if the Gold Edition is a birthday or anniversary present.
Something like 40 or 50 "color cover" hardcovers (gorgeous) shipped yesterday or today to Palladium Insiders. The Benefactors also shipped today, and I think Ultimate Insiders and the Ultimate Benefactor will ship today or tomorrow. The rest will ship as soon as possible.
Speaking of Rifts® Bestiary™ Megaverse® Insider items, the PDF of Rifts® Bestiary Volume One should start being emailed to Cyber-Insiders and everyone else who gets it next week.
Like I said, we've been busy. Now it's back to writing and getting new books to the printer.
Oh, before I forget, the sale in my Ebay Store continues for another week. It includes Negatives that are on sale at half price, and almost everything else is on sale at a less steep discount, including artwork by Charles Walton, collectible books and toys. We are also adding a handful of collectible items, including HU2 hardcovers, Northern Gun and Lemuria hardcovers, and a few other out of print items. The two Palladium Fantasy RPG® hardcovers we put up sold out in a couple of days. I think I only have 2-3 left that I'll probably save for the auction at the 2021 Palladium Open House. To see what's available go to: http://stores.ebay.com/kevinstoys-artandcollectibles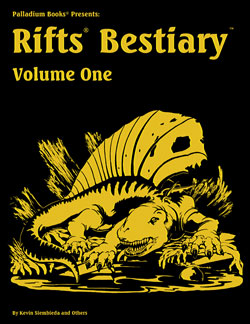 Now Shipping – Rifts® Bestiary™ Vol. One – "Gold Edition" Hardcover – Signed and Numbered
A deluxe, limited, Gold Edition hardcover, signed and numbered by Palladium staff and maybe a few freelancers. And I've drawn one of my trademarked dragon head sketches (large) in many of them and will continue to do so on orders that arrive now through next week. Note: Historically, Palladium Books' Gold Editions have doubled, tripled or increased in value many times over. Valued as cherished collectibles. Sold on a first come, first served basis, while supplies last. Please note the slight increase in price to $55.
Gold foil on a black faux leather hardcover.
Sewn and glued for long-lasting durability.
Only 300 signed and numbered copies. Only from Palladium Books.
Sold on a first come, first served basis while supplies last.
Signed by Kevin Siembieda and Palladium staff.
80+ creatures of Rifts North America described in detail.
Same contents as the softcover edition.
Easily adapted to any Palladium setting; basic S.D.C. stats included for each creature description.
256 pages – $55.00 retail – Cat. No. 896HC (Volume One).
Shipping now! Starting with #1 of 300.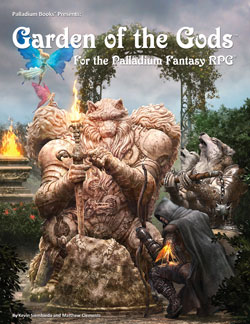 UPDATE: Garden of the Gods™ (Fantasy) – in final production
At the moment I am writing blessings, miracles and curses from the gods (the latter from dark gods). They're all interrelated so I'm bouncing between one or the other. Fun, but time consuming as they involve stats and game balance. Of course, you'll love them. Garden of the Gods™ is epic, and just one of several Palladium Fantasy titles in the works or done and waiting for final edit and tweaking.
Garden of the Gods™ is packed with magic artifacts, holy weapons, blessings, miracles, visions, curses, intrigue, and all kinds of great stuff for players and hundreds of adventure hooks for Game Masters. This book has so much flavor it should give players and Game Masters all kinds of avenues of adventure. There are some unexpected dangers and bad guys, and good guy NPCs or player characters like the Knights Fossar, the super-cool and redefined Fossar Wardens (keepers of the Order's secrets), Champions of the Gods, and so much more. You will absolutely love this book.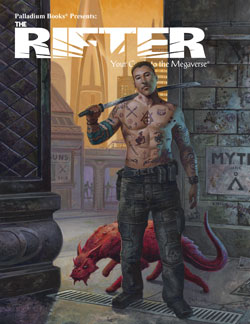 UPDATE: The Rifter® #84 – September release
The articles have been selected. The material is being edited, and I have been assigning artwork. Another great issue full of fun and ideas.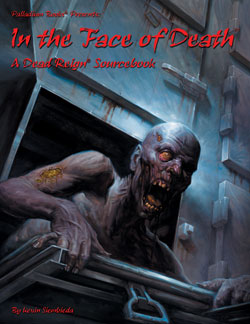 UPDATE: Dead Reign®: In the Face of Death™
I'm itching to finish writing this book. Getting some feedback and ideas from some of my freelance writers too. An end of September or more likely October release.
UPDATE: Rifts® Chaos Earth® – Psychic Scream™
I got some of the artwork for Psychic Scream just yesterday, along with some notes and ideas for additional material. Very inspiring. I need to assign the rest pronto. If the description for Psychic Scream™ doesn't get your heart pumping, I don't know what will! Fall release.
UPDATE: Rifts® Titan Robotics™ – Fall release
Another epic new title with robots and power armor galore, but also the inner workings of Titan Robotics and Archie Three's schemes. More and more finished artwork and concept sketches are arriving every week and are looking fabulous. I continue to make notes and we are all pumped up about this power armor, robot, and weapon filled sourcebook.
UPDATE: Rifts® Antarctica™ – Fall or Winter Release
Nothing new to report. I think Rifts® Antarctica™ is going to surprise and delight a lot of people. It is also a great example of the fun you can have with the Raw Editions. The sold out Rifts® Antarctica Raw Edition is a far cry from what the finished book is going to be. Those of you who bought the Raw Edition get a glimpse at Palladium's creative process. When you compare the two, you'll see what we kept, what we eliminated, what we added, and how we embellished the material to reach the creative finale of the finished book coming this fall or winter. Fun and educational for those of you who aspire to be writers yourself or just like to have the inside track at Palladium. And true of all Raw Editions vs the finished book. Probably a fall or winter release.
UPDATE: Rifts® Bestiary™, Volume Two – Winter Release
Nothing new on this front, but we all want it to be released as quickly as possible. Looking at a winter release.
UPDATE: The Disavowed™, Living Nowhere™, Beyond the Supernatural™ sourcebooks, and other titles
These titles and several others are NOT forgotten and are in various stages of active production or waiting for production. As always, just because a book is not specifically listed in every Weekly Update, it does not mean it is discontinued or in limbo, it means there are more immediate things to talk about or there's no substantive news to report. We are anxious to put as many of the books you've been waiting for into your hands as possible over the next 18 months. That includes Chaos Earth® First Responders™, Rifts® Antarctica, Rifts® CS Arsenal™, Rifts® Living Nowhere™, Beyond the Supernatural™ sourcebooks, more Fantasy sourcebooks and other titles. So if a book you are waiting for is not mentioned in an Update, it means there is nothing new to report, but it should still be in the pipeline and news for it will be coming in the weeks or months ahead. Right now, we are focused on releases for the next six months, which by our count is 6-7 titles. And many of them are in various stages of production or development.

NEW on DriveThruRPG.com – The Rifter® #81
Available tomorrow, August 23, 2019: The Rifter® #81: A big 112 page issue filled with "official" source material for Palladium Fantasy RPG® (a complete, 33 page, Wolfen Vampire adventure by Kevin Siembieda with 20+ NPCs, and a 20 page Gnomes of the Ophid's Grasslands), Rifts® Chaos Earth® Nebraska Part 2, Heroes Unlimited™ (Super Sleuth), and more. And don't forget to check out the very helpful Palladium Fantasy RPG® Interactive Character Sheet: A Microsoft Excel-based character management system available on DriveThru.
Also new this month on DriveThruRPG.com is Rifts® Dimension Book™ 15: Secrets of the Atlanteans™. It features True Atlanteans, their tribes, goals, and history, more about the Sunaj, new Magic Tattoos, new Shadow Magic™, new Shadow monsters, maps and descriptions of Atlantean Stone Pyramids, and more about the wicked Sunaj's secret agenda. An awesome resource and fun read.
A number of new products will be coming your way on DriveThruRPG.com in the weeks ahead. This includes the re-edited and improved three original Rifts® Novels from the 1990's, one every two weeks or so. We may also make them available as Print on Demand (POD) books from DriveThru.
Recent PDF additions include the free Rifts® Bestiary™ Volume One Sneak Preview: See what's in this great new sourcebook before you buy it! The Rifter® #80: A big 112 page issue filled with "official" source material for Palladium Fantasy RPG® Rifts® Chaos Earth® (setting and monsters), Splicers® (desert setting), Heroes Unlimited™ (villains), and more. Palladium Fantasy RPG® Interactive Character Sheet: a Microsoft Excel-based character management system. Packed with features and data collected from every official Palladium Fantasy sourcebook to enable you to create Fantasy characters quickly (25 minutes!) and help you to update and manage them for years to come. The Rifter® #79 (Rifts®, Palladium Fantasy®, Heroes Unlimited™, Gaming through History, G.M., and more), The Rifter® #78 (the Modern Necromancer, Palladium Fantasy®, Rifts®, Splicers®, more); Rifts® Heroes of Humanity™, the Coalition's response to the escalating Minion War™ crisis, Psi-Battalion, CS Demon Hunter, special training and more).
Dead Reign® Paper Miniatures Volume Three: Zombies, Dead Reign® Paper Miniatures Volume Two: Civilians and Dead Reign® Paper Miniatures Volume One: Survivors. There are also paper miniatures for Heroes Unlimited™, Palladium Fantasy® and Rifts®. A new, up-to-date, PDF Palladium Books Catalog. Nightbane® Dark Designs™ sourcebook with 60 new Common Talents, 38 new Elite Talents, 18 new Morphus Tables, all other Morphus Tables collected and more. Systems Failure™ RPG, a 160 page RPG that deals with alien invasion and a post-apocalypse setting that is fun and dynamic. Civilization is on the verge of collapse when the so-called "bugs" invade and turn humans into zombie-like slaves. Monsters, heroes and fun. A complete RPG and setting. Rifts® World Book 34: Northern Gun™ Two: 256 pages of technology and fun. 30+ power armors, 30+ body armors, 15 combat vehicles, 45 vehicles (hovercycles, etc.), 10 robot haulers, the Robodome and more. Bizantium and the Northern Islands™: the northernmost part of the Known World, the Cold Born, Necromancy ships made from dead sea serpents, 15 creatures, Random Sea Monster Generator, and more. Rifts® Northern Gun™ One. This fan favorite might be thought of as the big book of giant robots – an in-depth look at Northern Gun, 70+ weapons, 27 robots, NG O.C.C.s, key people and places, and much more. Mysteries of Magic™ Book One: The Heart of Magic™ with Wizards, their Apprentices, nearly 60 new magic spells and remember, magic and monsters in the Fantasy RPG are easily adapted to Rifts®, Chaos Earth®, HU2 and other settings. Wolfen Empire™ Fantasy sourcebook, the Great Northern Wilderness and Killer Winters, 12 Wolfen Tribes, Wolfen military and society, 15+ creatures, 5 full adventures, 101 adventure ideas, random encounter tables, notable people, places, plus FREE Sneak Previews of The Rifter® #80, The Rifter® #81, The Rifter® #82, and more on DriveThruRPG.com.