Palladium Books® – Countdown Update – November 20, 2023
Palladium Books® – Countdown Update – November 20, 2023
One game system – every genre – countless worlds – endless adventure
By Kevin Siembieda and Sean Owen Roberson
Kickstarter Countdown – Final 8 Days – spread the word and make your pledge
The Teenage Mutant Ninja Turtles and Other Strangeness Kickstarter is rushing toward an epic end in 8 days. Make sure you are a part of it, because the books, the variant covers and other Kickstarter Exclusives are truly amazing and created with love.
TMNT Passion Project. As I stated in the Weekly Update, the super-deluxe, full color redux editions of the Teenage Mutant Ninja Turtles and Other Strangeness RPG and Sourcebooks – heck, the entire Kickstarter – is a passion project for us and for every person involved. That includes me (Kevin Siembieda), Sean Owen Roberson, Kevin Eastman, Peter Laird and every single artist, writer, and over 30 contributors in all! Kevin and Peter are dear, old friends. So are Jim Lawson, Freddie E. Williams II, Ramon K. Perez, and many other contributors. Each is a fan of the Ninja Turtles and/or the RPG. The shared goal of each and every one of us is to create books, miniatures, and Kickstarter Exclusives that are truly special and celebrate the beloved TMNT and Other Strangeness RPG, the Ninja Turtles, and you, the dedicated TMNT fans around the world.
To accomplish that lofty goal, we have created two beautiful, remastered, full color hardcovers that collect the RPG and 5 TMNT specific sourcebooks. (After the Bomb® titles are a separate and distinct game line.) The two books (each with variant cover editions) are more than a fully-functioning role-playing game and adventure sourcebook collection – each is filled with dozens of brand new, full color, full page, tribute art by top industry artists and TMNT creators. Many beautiful enough to be comic book covers! There is also bonus material such as behind the scenes information, never before and seldom seen art, bonus characters, tweaks and additions – all designed to delight gamers, comic book fans, and all fans of the Teenage Mutant Ninja Turtles.
Buy in now for $1. We implore you to get your pledge in sooner than later, especially with Thanksgiving, Black Friday, and Cyber-Monday all on the horizon. Even if it's only a one dollar pledge or a pledge for one of the $50 hardcovers, it enables you to upgrade your pledge level and select add-ons in the Backerkit pledge manager after the holidays when things are less hectic and you might have more spending money.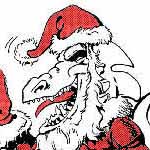 Countdown to Christmas and getting Surprise Packages available now at PalladiumBooks.com
Palladium's 25th annual Palladium Christmas Surprise Package offer is underway. A great way to build your collection, try new world settings, and to get gamers gifts for Christmas, Hanukkah, Kwanzaa, Winter Solstice, birthdays, and anniversaries in the coming months. Keep those orders coming and tell your friends. And order now to beat the holiday rush and so you can buy one or two more before the offer ends December 24th. You know you want to.
© 2023 Palladium Books, Inc., Palladium Books, Dead Reign, Splicers, and all related titles and names are trademarks of Palladium Books.
TMNT © 2023 Viacom International Inc. All Rights Reserved. Nickelodeon, Teenage Mutant Ninja Turtles and all related titles, logos, and characters are trademarks of Viacom International Inc.