Palladium Books® – Weekly Update – October 19, 2020
One game system – every genre – countless worlds – endless adventure
By Kevin Siembieda
Sorry for the late Weekly Update, but we have been swamped and juggling one thing after another. Much of it good news. There are a lot of things coming your way. New books, old favorite titles for the holidays, gorgeous playmats, new coffee mugs, minis, surprises, and ... the Palladium Christmas Surprise Package Offer starts now!
Yep, it is Surprise Package time again. Shipping now. And God knows this year has been so crazy, we need something fun like the Christmas Surprise Package to bring a little joy and laughter into our lives. With so many people suffering from Covid-19 related doldrums, frustration, and in some cases, money issues, they need to escape to realms of role-playing adventures. Not to mention the huge savings and autographs, if you want them, available via a Palladium Christmas Surprise Package.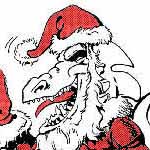 What is a Christmas Surprise Package?
A smile and a hug that comes in a box filled with signed game books from available Palladium staff and freelancers. It's a way for you to get physical books (and autographs if you want them) for PDF prices! $95-$100+ worth of Palladium products for only $50 (plus shipping and handling)! That can nab you four or more items when these days one core rule book can cost you that alone.
These Surprise Packages are our way of saying thank you for your support and showing you our love and appreciation. It's a surprise because you never know exactly what you're going to get or who will sign your books, because we pick from your Wish List and may surprise you with stuff you are not expecting. Extra items may include other RPGs, sourcebooks, issues of the Rifter®, novels, miniatures, prints, art books, greeting cards, T-shirts, negatives, original art, and other items. Some books may be slightly damaged (scuffs, scratches, dings, a crunched corner, etc.) so we can send you more.
Truly the best deal in gaming, Palladium's 23rd Annual Christmas Surprise Package gets you $95-$105, sometimes MORE, worth of product for ONLY $50 (plus shipping and handling), as gifts for others or for yourself. That's physical books at PDF prices. And if you want them signed we will sign each and every one of them. Plus we have some original art by Chuck Walton and maybe a few others you may request. But don't count on it, still provide us with a juicy Wish List. Art is donated by the artists and very limited.
Christmas Surprise Packages are not just for Christmas. Whether you celebrate Christmas, Hanukkah, Kwanzaa, or the Winter Solstice, or you are looking for that special gift for a birthday, anniversary, graduation, or any special occasion that falls between now and the end of the year, a Surprise Package may be the ideal way to go. You get a ton of stuff on the cheap, you can get a bunch of autographs (if you want 'em), and you look like you spent a fortune.
This is also a great way to try that game setting you've wondered about – Splicers®, Dead Reign®, Chaos Earth®, Palladium Fantasy®, Nightbane®, Mechanoid Invasion®, Rifts®, After the Bomb®, etc. – or to get something for your favorite Game Master. Or perhaps, to get your player group to consider a new game or setting.
Your "Wish List" is vital – the Palladium Surprise Packages are designed to simulate the joy and surprise of the Christmas Season of Giving. To do this, you submit a list of 10-15 Palladium products (or more) FOR EACH Surprise Package you order. This list of 10-15 items for EACH Grab Bag is critical, because you will not know which items we will select to send you. That makes it just like a Christmas gift because it's a surprise. Plus, Santa Kevin, who personally hand-picks every item for every Grab Bag, may toss in something extra like a limited edition print, or a negative or similar collector's item, or an issue of The Rifter®, or something else he thinks you'll enjoy.
Autographed books. For those of you who want them (which are most people), available members of the Palladium staff, and any freelancers we can lasso at the time, are happy to autograph each and every book in your Surprise Package. This is the only way many fans across the country and overseas can ever get signed books.
Send us your brief comments. There is a special form and format to fill out for Christmas Surprise Packages, including a place where you can offer your brief comments, suggestions, greetings and salutations.
First-timers are always nervous until they see the great value in their first Surprise Package. A typical Grab Bag has $95-$105 worth of product, sometimes more! Yes, sometimes more, for only $50 plus shipping and handling. Many people order 2-3. Some order 4-6, and some maniacs order even more! It makes sense, because it is a great way to fill holes in your own collection, treat yourself, get autographs, try new games and settings, rebuild your collection, replace worn out books, and get your gaming pals gifts. PLEASE spread the word about this great offer.
To those of you outside the USA, the X-Mas Surprise Package is a way to get books and circumvent the damn high cost of shipping from the United States, since you are getting $95-$100 (often more) worth of product and only paying $50 plus a small handling charge. Shipping via Priority Mail International (required for packages weighing more than four pounds) to most locations in Europe, Canada and many other countries is around $50-$60 US dollars. HOWEVER, because the cost of the product is so low, that's the equivalent of paying retail for the products and only $0-$30 for shipping. A very good deal. Plus you get autographs if you want them! X-Mas Surprise Packages are the way to go for those of you outside the USA. Please take advantage of it to get all those products you've wished you could get except the shipping was too prohibitive. We feel your pain. Game on!
Please spread the word. The Christmas Surprise Package is only publicized by word of mouth, on Palladium's website, and social media, so please tell everyone you know. Buy one for every gamer you know. They make astonishing gifts for every occasion.
COMING in 2 weeks – Back for the Holidays only – 3 out of print titles
You loved it when we did this a couple years ago, so we thought we would do it again. A limited run of the following select out of print titles. Available on a first come, first served basis, while supplies last.
Systems Failure™ RPG: It is time to fight back, kill some bugs, and take our world back! In this invasion setting you battle a plague of bugs – alien bugs – that drink electrical energy and have plunged the world into crisis. This fun, standalone post-apocalypse game was designed at the start of the New Millennium and poked fun at the Y2K fears about the end of the world in 2000. The game is a blast whether you play it deadly serious or with a touch of humor. Kill the bugs! $22.99 retail – Cat. No. 650 – Ships November 3.
Boxed Nightmares, a Beyond the Supernatural sourcebook: Six adventures, monsters, and many adventure ideas. Scary fun. $17.99 retail – Cat. No. 701 – Ships November 3.
Shadows of Light, a Nightbane® Sourcebook: The angel-like Athanatos, Fallen Guardians, the Reapers, info about various factions, a vampire conspiracy, a Pittsburgh adventure, and more. $22.99 retail – Cat. No. 734 – Ships November 3.
COMING in 2 or 3 weeks: Rifts® Lazlo Raw Preview Edition
The manuscript is finally in and we will be sending it off to the printer in short order. This is a big, juicy, Raw Preview with an overview of the Free State of Lazlo, its government and laws, Schools of Magic, the elite (and secret) Exploratory Corp, Erin Tarn, magic, notable characters, and more. Watch for the Weekly Update for more details, price and shipping date. And yes, you may request it in your Surprise Package Wish List but only a limited number are being put aside for it.
What is a Raw Preview Edition? It is the unfinished, unedited, advance manuscript subject to rewrites and expansion. It gets a limited print run of around 200-300 copies and is fun for collectors to have something rare and unique, and is especially handy for writers and game designers (and curious gamers) because they get a glimpse into the development process at Palladium when they compare what is in the Raw Preview and what sees print in the final book, what gets expanded, dropped out, etc. In this case, writer Mark Oberle has been building Lazlo from material written by Matthew Clements and notes from me. It should be pretty darn good. And remember, Rifts® Lazlo is likely to be 2-4 books. That is how comprehensive we want to make Lazlo. Heck, fans have waited 30 years, we do not want to disappoint. The Raw Preview is looking like it will be 160-192 pages all by itself.
COMING in 2 weeks: 2 NEW and 2 Favorite Palladium Coffee Mugs
With so many people working from home, Palladium's fun and attractive coffee mugs have been in high demand. The Rifts® logo mug sold out a couple of weeks ago, and the Palladium Fantasy® mug sold out last week. As a result, we sent them in for another printing as well as two new mugs: A new, dynamic Dead Reign® zombie mug with an illustration by Steven Cummings done specifically for use on this coffee mug, and a Rifts® Titan Robotics™ mug, also featuring artwork by Steven Cummings. All four should be in stock and ready to ship by October 30, 2020. Pre-order yours today. See details below.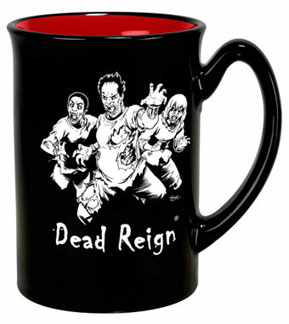 NEW! Dead Reign® (Zombie attack) Coffee Mug – available for pre-order
A nice, large, 16 ounce coffee mug with artwork that appears on both sides of the mug, and the mug has a color interior, adding a nice splash of color to your morning or game time beverage. Everyone loves these mugs.
The "Dead Reign®" logo with three hungry zombies ready to attack. Art designed specifically for this mug by artist Steven Cummings of comic book renown (Wayward® and various Marvel Comics). White on a black mug. Very dynamic.
Art is located on the front and back of the mug.
Glossy black exterior with a blood red interior.
16 ounce ceramic mug.
Dishwasher and microwave safe.
$10.99 retail – Cat. No. 2594 – ships October 30, 2020.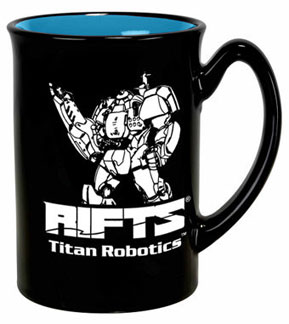 NEW! Rifts® Titan Robotics™ Coffee Mug – available for pre-order
A nice, large, 16 ounce coffee mug with artwork that appears on both sides of the mug, and the mug has a color interior, adding a nice splash of color to your morning or game time beverage. Everyone loves these mugs.
The "Rifts® Titan Robotics™" mug features the Rifts logo with the words Titan Robotics below it. Above the logo is one of the new Titan robots from the upcoming book release, standing in a dynamic pose. Art by Steven Cummings.
Art is located on the front and back of the mug.
Glossy black exterior with a blue interior.
16 ounce ceramic mug.
Dishwasher and microwave safe.
$10.99 retail – Cat. No. 2595 – ships October 30, 2020.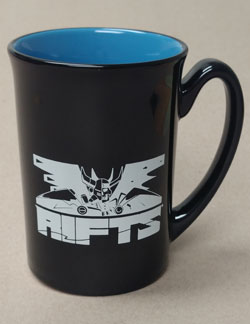 Fan Favorite: Rifts® LOGO Coffee Mug – available for pre-order
Back due to popular demand! A nice, large, 16 ounce coffee mug with large artwork that appears on both sides of the mug, and the mug has a color interior, adding a nice splash of color to your morning or game time beverage. Fans have been loving these mugs.
The famous Rifts® logo in white on a black mug.
Art is located on the front and back of the mug.
Glossy black exterior with a bright blue interior.
16 ounce ceramic mug.
Dishwasher and microwave safe.
$10.99 retail – Cat. No. 2587 – ships October 30, 2020.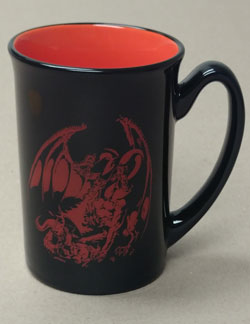 Fan Favorite: Palladium Fantasy RPG® "Dragon" Coffee Mug – available for pre-order
Back due to popular demand. A nice, large, 16 ounce coffee mug with large artwork that appears on both sides of the mug, and the mug has a color interior, adding a nice splash of color to your morning or game time beverage. Fans have been loving these mugs.
The fan favorite "3-Headed Hydra" battling a knight from the iconic, original Palladium Fantasy RPG® cover. Red art on a black mug harkens back to the original RPG red and black cover.
Art appears on the front and back of the mug.
Glossy black exterior with an attractive orange interior.
16 ounce ceramic mug.
Dishwasher and microwave safe.
$10.99 retail – Cat. No. 2589 – ships October 30, 2020.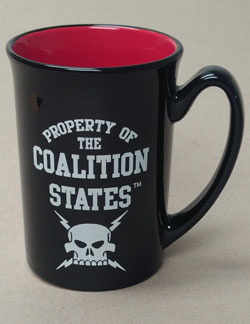 ALMOST Sold Out! Rifts® Property of the Coalition States Coffee Mug – available now
Only TWO mugs remaining! A nice, large, 16 ounce coffee mug with large artwork that appears on both sides of the mug, and the mug has a color interior, adding a nice splash of color to your morning or game time beverage. Fans have been loving these mugs.
The "Property of the Coalition States" logo with CS Skull and Lightning Bolt in white on a black mug. Very dynamic.
Art is located on the front and back of the mug.
Glossy black exterior with a bright red interior.
16 ounce ceramic mug.
Dishwasher and microwave safe.
$10.99 retail – Cat. No. 2588 – available now while supplies last.
This mug will be out of stock for a while. We had a small batch of them in stock when we placed the order of the other four mugs, but then there was a flurry of orders that suddenly snapped all but two of them up over the last two weeks.
COMING! Playmats featuring Palladium fan favorite artwork – as well as other playmats with dynamic art by other Red Duke Games artists in their November 16 Kickstarter
For the first time ever, 24x14 inch playmats featuring full color art from select Rifts®, Nightbane®, Dead Reign®, Fantasy, and other Palladium game settings will be offered by Red Duke Games – on Kickstarter. This limited offer goes live starting November 16, 2020, and also offers an array of other fantasy and horror playmats. Red Duke Games is the company that brought you the ever popular Necronomnomnom Cookbook (with more products in the works). See the link below.
This is a fun, unique offer that is probably only going to be available via RDG's holiday Playmats Kickstarter. They enjoy our games, love our artwork, and are good guys, so when they asked about licensing some Palladium artwork for playmats, I said yes. Get 'em while you can, because I do not know if they will be offered again. I'm told the Kickstarter is scheduled to start November 16, so watch for it.
We will be sure to remind you when the Kickstarter launches. Meanwhile, spread the word and click on the link below to see the preview pages of their Kickstarter (subject to changes and additions):
Red Duke Games Playmats Kickstarter Preview
COMING (tentative): Re-releases of fan favorite sold out Rifts® miniatures
As I believe I mentioned in a previous Weekly Update, I am looking into re-releasing some old favorite Rifts® miniature sets. I'm waiting on quotes right now. That would include the Coalition soldiers and the original Glitter Boy. The G.B. is not quite as large and dynamic as the new Glitter Boy miniature, but we know collectors still want it, so we are considering offering it again. More details when I know more.
And we may be releasing other new miniatures created by Carmen Bellaire. Keep your eyes peeled.
Knights of the Dinner Table #276 – Rifts® Homage Cover
Rifts® collectors will enjoy the cover to Knights of the Dinner Table® #276. It features a truly awesome homage cover to the original Rifts® RPG. The rocking artwork is by comic book artist Steven Cummings (Wayfarers and various Marvel Comics titles). I know I need to get a couple copies for my collection. Just a little something to make you smile. We all need as many opportunities to smile as we can get.
Rifts® for Savage Worlds debuts on Fantasy Grounds
We know a lot of you have been waiting to see Rifts® for Savage Worlds on Fantasy Grounds. Well, that time is here. Pinnacle made the announcement in their newsletter last week. Below is a link to it along with links to their new Fantasy Grounds Rifts® features. Enjoy. I am looking into getting Palladium's own Rifts® and other game settings supported on Fantasy Grounds and expect that to happen soon.
https://www.peginc.com/rifts-the-tomorrow-legion-players-guide-now-on-fantasy-grounds-steam/
Rifts®: The Tomorrow Legion Players Guide
Rifts®: The Tomorrow Legion Players Guide on Steam
Retailers can order direct from Palladium Books at discount terms
Retailers, are you having trouble getting Palladium products from your distributors? Join the growing number of stores to whom Palladium sells direct. 95-99% of all our game lines are ALWAYS IN STOCK and ready to ship. Palladium has your back!
Until we put into place something more formal, retailers can call the office at 734-721-2903 and leave a message and phone number on the answering machine, or send an inquiry via the Help Desk, and Palladium will respond pronto. Glad to help. As long as you are a brick and mortar store, we are happy to do business with you.
We added another store to our direct sales roster just yesterday, and others have inquired. Retailers and gamers alike, please spread the word to let game stores and comic book shops know if they are having difficulty getting Palladium Books products from distributors, they should contact Palladium Books to buy from us direct! Spread the fun and game on!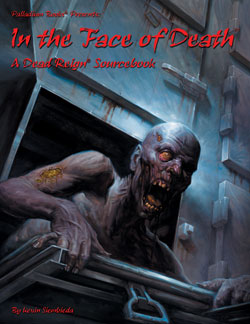 In the Face of Death™ – Available now
A Dead Reign® Sourcebook that reimagines the Zombie Apocalypse while remaining true to the genre
In the Face of Death™ is part survival guide, part cityscape, and part heroic adventure the likes of which you have never quite seen before in a zombie RPG. Adventure is built upon human ingenuity, courage, hope, and insanity. Characters include children and teenagers, and heroes driven by madness. Human predators and other villains stalk the ruins of human civilization. Ruins inhabited by the omnipresent hungry dead.
This is a book that pushes the genre and challenges the imagination. It brings to focus a setting of heroic adventure that combines elements of horror, zombies, survival, and madness in a post-apocalyptic world with classic dungeon exploring and epic adventure. In the Face of Death™ helps make Dead Reign® into A Quiet Place meets Mad Max in the world of Dawn of the Dead.
"Pure fun, action, and excitement. A sourcebook packed with new ideas unlike any I have ever seen. This is what role-playing games and imagination are all about." – Alex Marciniszyn, Editor
Rethinking the Zombie Apocalypse.
It is time to fight back and do more than survive.
Life on the rooftops and in the heart of the city.
Resources, defenses, traps, urban homesteads, and more.
City survival tactics, traps, resources, and Rat Runs.
Parkour, Zombie Survival Training, and other skills.
New O.C.C.s like the Rat Runner and Urban Explorer.
Kids and teenagers as player characters and kid O.C.C.s.
Heroic Masked Lunatics – a new type of hero as player characters.
Predators and villains like Gutter Rats, Flesh Peddlers, Skinners, and more.
Dungeon crawl-style exploration through the ruins of human civilization.
100+ adventure hooks and dozens of additional ideas.
Death Cults, their orientation and practices.
Adaptable to other settings like Rifts®, Chaos Earth®, Heroes Unlimited™, Nightbane®, and more.
Cover by E.M. Gist. Interior art by Bradshaw, Cummings, Mumah, and Ashbaugh.
Written by Kevin Siembieda and Mark Oberle.
160 pages – $22.99 retail – Cat. No. 237 – Available now.
Rifts® Ultimate Edition – Cat. No. 800HC – Available now
This big, 376 page role-playing game is everything you need to start playing Rifts®. Just add some dice, some players, and a heaping helping of imagination and you are ready to go.
If you have never played the rich, unpredictable, genre-melding Rifts® setting, you are missing epic adventure that never grows old, because anything is possible. No other RPG blends science fiction, fantasy, horror, and post-apocalyptic adventure with demons and aliens, robots and cyborgs, magic and the supernatural in such a plausible and dynamic way. A setting that lets you play any type and style of game you can imagine. With characters like Dragon Hatchlings, Cyber-Knights, Glitter Boys, Ley Line Walkers, Techno-Wizards, and Juicers that challenge the imagination. And those are just a tiny handful of the O.C.C.s you can play in Rifts®. Not to mention hundreds of different alien, supernatural, magical, and other beings available as player characters. All of it set on an Earth that is both familiar and as alien as a thousand different planets. So check it out, build your character, start a campaign, and watch your characters become legends.
30+ player characters to choose from; tech, magic, or psychic.
Cyborgs, robot and power armor pilots, Scout, Assassin, and more.
140+ magic spells, plus Techno-Wizards, Shifters, and more.
90 psionic powers and psychic characters.
Sourcebooks offer hundreds of different alien, supernatural beings, creatures of magic, and other beings, many available as player characters.
There has never been another RPG quite like Rifts®.
376 page hardcover, some color – $41.99 retail – Cat. No. 800HC – available now.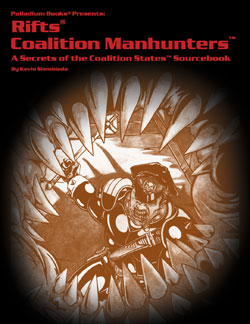 COMING SOON! Rifts® CS Manhunters™ – A Secrets of the Coalition States™ Sourcebook
Hey, I'm as frustrated as you are that this awesome book (BTS Creature Feature, too) is not done yet, but it will be soon. It has been rough being short-handed and juggling so much, but it will be worth the wait. Rifts® CS Manhunters™ is packed with good stuff. I will try to offer a few snippets in my Murmurs from the Megaverse® and social media.
Coalition Manhunters™ reveals more Coalition States secrets about the super-secret CS Manhunters. So secret that most people have never heard of them, and those who have do not believe they really exist. But that's not all – there are new psionic abilities, new CS characters available as player characters and NPC villains, more insight about the CS and Psi-Battalion, and more. All of it building toward something epic.
Who watches the watchmen? CS Manhunters. A secret division within the Coalition's Psi-Battalion who hunt not only the most dangerous spies and fugitives, but also traitors within the Coalition States. This elite force of psychics, Kill Hounds, Dog Boys, and CS soldiers are trained hunters of men and cold-blooded killing machines. They follow orders without question and kill without hesitation.
New Coalition Psychic O.C.C.s.
New psionic abilities and revisits of some favorites.
CS Manhunter Divner and Precog.
CS Manhunter Psi-Interrogator and Psi-Enforcer.
CS Manhunter Bursters and Zappers.
CS Manhunter Psi-Healers and CS Slayers.
CS Manhunter Killhound and Dog Boy O.C.C.s.
CS Manhunter Mind Melters, the deadliest of them all.
CS Manhunter squads and special operations.
Insight on the Coalition's infamous Psi-Battalion.
The impact of the demon plagues from the Minion War.
Non-Player Characters, background info, adventure ideas, and more.
96-128 pages – $17.99 retail – Cat. No. 894 – In production and nearing completion.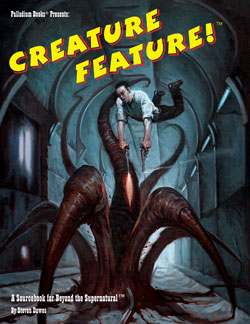 COMING! Creature Feature™, a Beyond the Supernatural™ sourcebook
The manuscript is in. Artwork is being created. And the world of Beyond the Supernatural™ is about to be expanded. This sourcebook builds on material that has appeared in various issues of The Rifter® but there is a ton of new material and information useful to both Game Masters and players.
A gallery of supernatural creatures. Some new. Some familiar, updated and expanded. All terrifying.
Rules clarifications and errata.
Game Master source material and advice on rules, psychic abilities, proximity and threat levels, I.S.P. multipliers, and more.
Advice about running modern horror RPGs and using supernatural creatures in your games.
Lots of adventure ideas, including an updated and expanded full adventure, "The Squatter."
New background and setting information for the BTS setting and a few surprises.
Written by Steven Dawes, Kevin Siembieda, and others.
Art by Steven Cummings, Nick Bradshaw and others.
160-192 pages – $22.99 or $26.99 depending on final size – Cat. No. 704.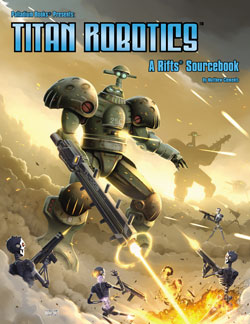 COMING! Rifts® Titan Robotics™
Rifts® Titan Robotics™ is a high-tech toy box presenting new types of armor, sleek power armor, giant robots, vehicles, and weapons sold by Titan Robotics that will make gamers salivate. Ah, but Titan Robotics is much more than just another weapons manufacturer, it is the secret operation of ARCHIE-3 and all part of his plan to monitor and manipulate the outside world. Learn about Archie's androids that run Titan Robotics, his current schemes and plans for the future. Probably a 160 page World Book around $22.99 retail, but may expand into 192 pages.
New Giant Robots.
New Power Armor, equipment and accessories.
30+ power armors and robots, plus other equipment.
New weapons, gear and vehicles.
Titan Robotics Corporation and structure.
Archie's secret kingdom and plans for the future.
New O.C.C.s and key Non-Player Characters (NPCs).
Android executives, security and much more.
Wellington Industries, Campaign prompts and more.
Art by Zeleznik, Walton, Cummings, Atkins, and others.
Written by Matthew Clements and Kevin Siembieda. Cover by Zeleznik.
160-192 pages (tentative) – $22.99 retail (or $26.99) – Cat. No. 899.

COMING: Rifts® Bestiary™ Volume Two
The second big, "monster book" reference for Rifts® of what we anticipate to be three volumes in the series, more if we decide to make ghosts, spirits and Entities and/or Creatures of Magic part of the Bestiary series. Much like Volume One, Rifts® Bestiary™ Volume Two collects 70-100 monsters and animals plus 12-24 new beasts found across Rifts North America. The anticipated page count is 224-256 pages.
All volumes of the Rifts® Bestiary™ series are a great resource for players and Game Masters alike. Each description is updated, expanded, and highly detailed to present players with exotic and alien creatures as pets, guardians and riding animals, as well as slobbering monsters to battle and fierce beasts for Game Masters to throw at their players. Designed to offer adventure ideas, offers notes on young, adult, male and female creatures, and all provide plenty of ways to enhance your characters and spice up adventures. Each is accompanied by a map that shows at a glance where the beast can be encountered. Ah, but in the presence of Rifts and magic means any of the creatures may appear anywhere in the world, so be on your toes.
Monsters and animals of Rifts North America organized into big, easy to use sourcebooks.
Updated and expanded descriptions and information for each existing monster.
Updated and uniform stat blocks.
New exotic creatures – predators, exotic riding animals, beasts of burden, alien horrors, giant insects, and more.
A map for every creature showing where it is found.
Easily adapted to any Palladium setting – Palladium Fantasy®, Chaos Earth®, Splicers®, Phase World®, the Three Galaxies™, The Mechanoids®, Heroes Unlimited™/Aliens Unlimited™, and others.
Basic S.D.C. stats included with each creature description.
Fully illustrated, with art by Charles Walton II, Ramon Perez, Robert Atkins, and many others. Written by Kevin Siembieda.
256 pages each volume – $26.99 – Cat. No. 897 (Volume Two) – shooting for a fall or winter release.

UPDATE: Rifts® Chaos Earth® Psychic Scream™
This is another book that is going to surprise and wow. New and insane psionics, some taken to the level of super abilities due to the massive amount of P.P.E. energy surging across the planet and boosting survivors with ambient and alien energy. Some become heroes and defenders of fellow survivors. Some become power-mongers and killers. And still others become just one more monster or madman threatening to destroy humanity. I'm assigning some additional artwork for it this week.

UPDATE: Forgotten People – A Fantasy RPG Sourcebook
I spoke with one of the contributing writers last week and his ideas for Bug Bears sounded fabulous. Because some of this material has appeared in past issues of The Rifter® you may think you know what to expect. You don't. There is a lot of new and exciting material in this bad boy. Things you never knew and may have been afraid to ask.
MORE Material for Fantasy
Several different freelance writers have submitted additional and unexpected Fantasy material for sourcebooks. Though I have not had a chance to review any of them – too much on my plate at the moment as I stay focused on finishing books already in the pipeline – I am very excited by this turn of events. Palladium Fantasy is on the move! Heck, several game lines are.
UPDATE: Other titles – like CS Arsenal™ and Beyond the Supernatural™ sourcebooks
Please remember, just because I do not mention or list a specific title in an Update, does not mean it has been removed from the production schedule. All it means is that we are focused and talking about more immediate, upcoming releases, or projects we are excited about that week, or there's no substantive news to report. We are anxious to put as many books you've been waiting for into your hands as possible over the next 18 months, as well as new projects being worked on by freelance writers. That includes Rifts® Antarctica, The Disavowed™, Rifts® CS Arsenal™, Chaos Earth® First Responders™, Land of the Damned™ 3, Rifts® Living Nowhere™, Beyond the Supernatural™ sourcebooks, more Fantasy sourcebooks and other titles. So if a book you are waiting for is not mentioned in an Update, it means there is nothing new to report, but it should still be in the pipeline and news for it will be coming in the weeks or months ahead. Right now, we are focused on releases for the next six months, which by our count is 6-7 titles. And many of them are in various stages of final production or development. We are shooting for one or two new physical book releases every month as well as a couple new PDF products on DriveThruRPG.

COMING to DriveThruRPG.com – Hammer of the Forge™ Novel – In the Face of Death™ Dead Reign® sourcebook
We hope to offer these items and a few others over the next few weeks, so keep an eye open for them.
We are looking to provide a few more novels and a sneak preview of upcoming books in the weeks ahead and maybe some adventure stuff. I have been speaking with people about the possibility of doing PDF adventures, maps, and other player and Game Master support items. Keep your eyes open. In the meanwhile, take advantage of sales to try new settings and new avenues for adventure.
Reminder: Rifts® Index One and Two, as well as Rifts® Novel 3: Treacherous Awakenings are available as PDF titles along with the first two novels and 300+ other Palladium Books RPG Titles. Gen Con Online talked about Rifts®, Rifts® Bestiary, Rifts® Dimension Books, Palladium Fantasy RPG®, Beyond the Supernatural™, Nightbane®, Dead Reign®, Heroes Unlimited™, and other Palladium game lines, ALL of which are available as PDFs from DriveThru and most of which are available as physical books from Palladium directly.
Recent Release – Rifts® Novel 3: Treacherous Awakenings™, the pulse-pounding and satisfying conclusion to the Rifts® trilogy by Adam Chilson. It is available as a PDF on DriveThruRPG.com right now! $9.99 – Cat. No. 303. The other two novels, Rifts® Sonic Boom and Rifts® Deception's Web, are also available as PDFs from DriveThru for your reading pleasure along with more than 300 RPG titles with more stuff coming your way. Note: We also plan to make it available as our first Print On Demand title from DriveThruRPG in the near future. Watch for it.
Also recent on DriveThru: FREE After the Bomb® Map Pack. Our thanks to the customer who recently reminded me the Map of Mutant Animal Kingdoms and the Empire of Humanity (North American East Coast) was accidentally omitted from the After the Bomb® RPG. We will make sure it is included in the next printing. Moreover, a FREE After the Bomb® Map Pack (5 maps around the world from the various AtB sourcebooks) is now available on DriveThruRPG.
Also on DriveThru: The FREE Sneak Previews for In the Face of Death, Garden of the Gods™ (Fantasy), Rifts® Bestiary™ Volume One and many other FREE Previews of Palladium's sourcebooks. And remember, the PDF of Rifts® Bestiary Vol. One was made available a month or so ago.
In the works for DriveThru in the weeks ahead: In no particular order, Duty's Edge™, a new Rifts® novel in the pipeline from Will Erwin, the collected The Hammer of the Forge™ (cosmic adventure across Phase World® and the Three Galaxies), and more.
Recent on DriveThruRPG – Rifts® Sonic Boom™. Follow the exploits of a CS platoon sworn to protect humankind from all threats, be they aliens, dragons, masters of magic or fellow humans out for themselves; the second novel in this trilogy, Deception's Web™, reveals a conspiracy within the Coalition military that could spell disaster for our protagonists. All of it building up to the pulse-pounding events of the 3rd novel: Rifts® Treacherous Awakenings™. The Rifter® #84 offers adventure source material for Rifts® (Golems in the Myst), Heroes Unlimited™ (the City of Cascade by Wujcik and Reed), Palladium Fantasy RPG® (an Elven Kingdom), Beyond the Supernatural™ (an epic adventure, a short story, and a monster), Nightbane® (Spellbound O.C.C.), why The Rifter® is on hiatus, and more.
Also available: Free Garden of the Gods™ (Fantasy) and Rifts® Bestiary™ Volume One Sneak Previews, and the Palladium Fantasy RPG® Interactive Character Sheet: A Microsoft Excel-based character management system. Packed with features and data collected from every official Palladium Fantasy sourcebook to enable you to create Fantasy characters quickly (25 minutes!) and help you to update and manage them for years to come.
Dead Reign® Paper Miniatures Volume Three: Zombies, Dead Reign® Paper Miniatures Volume Two: Civilians and Dead Reign® Paper Miniatures Volume One: Survivors. There are also paper miniatures for Heroes Unlimited™, Palladium Fantasy® and Rifts®. A new, up-to-date, PDF Palladium Books Catalog. Nightbane® Dark Designs™ sourcebook with 60 new Common Talents, 38 new Elite Talents, 18 new Morphus Tables, all other Morphus Tables collected and more. Systems Failure™ RPG, a 160 page RPG that deals with alien invasion and a post-apocalypse setting that is fun and dynamic. Civilization is on the verge of collapse when the so-called "bugs" invade and turn humans into zombie-like slaves. Monsters, heroes and fun. A complete RPG and setting. Rifts® World Book 34: Northern Gun™ Two: 256 pages of technology and fun. 30+ power armors, 30+ body armors, 15 combat vehicles, 45 vehicles (hovercycles, etc.), 10 robot haulers, the Robodome and more. Bizantium and the Northern Islands™: the northernmost part of the Known World, the Cold Born, Necromancy ships made from dead sea serpents, 15 creatures, Random Sea Monster Generator, and more. Rifts® Northern Gun™ One. This fan favorite might be thought of as the big book of giant robots – an in-depth look at Northern Gun, 70+ weapons, 27 robots, NG O.C.C.s, key people and places, and much more. Mysteries of Magic™ Book One: The Heart of Magic™ with Wizards, their Apprentices, nearly 60 new magic spells and remember, magic and monsters in the Fantasy RPG are easily adapted to Rifts®, Chaos Earth®, HU2 and other settings. Wolfen Empire™ Fantasy sourcebook, the Great Northern Wilderness and Killer Winters, 12 Wolfen Tribes, Wolfen military and society, 15+ creatures, 5 full adventures, 101 adventure ideas, random encounter tables, notable people, places, plus FREE Sneak Previews of The Rifter® #80, The Rifter® #81, The Rifter® #82, and more on DriveThruRPG.com.
Rifts® is a genre-bending setting that combines science fiction, fantasy, horror, post-apocalypse survival, magic, and endless possibilities for adventure. Imagine a near perfect world of advanced technology 100 years in the future. Then imagine that world crashing down overnight in an apocalyptic upheaval not seen since the formation of the planet. A Great Cataclysm caused by the explosive return of magic. Now fast forward 300 years into the future where magic, dragons, and mythic gods coexist with cyborgs, giant robots and super-science rediscovered from humanity's Golden Age as humans rise from a lengthy Dark Age. But they must contend with countless alien life forms, monsters, and supernatural horrors from beyond the Rifts.
Rifts® core titles we would suggest: Rifts® Ultimate Edition, Rifts® Game Master Guide, Rifts® Book of Magic, Rifts® Adventure Guide, D-Bees of North America™, Rifts® World Book 11: Coalition War Campaign and Rifts® Sourcebook One. Note: The Rifts® RPG, 1st Edition and Rifts® Ultimate, 2nd Edition are both available.
80+ Rifts® supplements, most of them available as PDFs with more coming. Where to start? Wherever sounds fun.
Rifts® Dimension Books™: Travel to alien worlds and dimensions via the Rifts for off-world adventure and intrigue.
Rifts® Chaos Earth® RPG and sourcebook series (all). Live through the Great Cataclysm and the Coming of the Rifts. Rifts® Chaos Earth® RPG, Creatures of Chaos™, Rise of Magic™, and Chaos Earth® Resurrection™ are all available.
FREE Sneak Previews for Nightbane® Dark Designs™, Rifts® Secrets of the Atlanteans™, Rifts® CS Heroes of Humanity, and many other previews as well as free and low cost items that we make available. All of it adds to the growing list of Rifts and other Palladium RPG game titles available as PDF books, cards and support. A new title should be added every week or two, so keep watching for them.
The Rifter® #1-84, ALL issues of The Rifter®. Each issue is a wealth of source material and ideas for 3-6 different Palladium game lines. Most are easily adapted to ANY Palladium game setting. Each issue a gem. 8,500 pages of source material and ideas for heroes, villains, monsters, magic, gear, and adventure.
Splicers® RPG is like Iron Man meets Game of Thrones with elements of Terminator – except this army of Iron Men are clad in living body armor and wield living, organic weapons and devices. Created in 2004 by writer and game designer Carmen Bellaire, Splicers® was nominated for an Inquest Gamer Magazine Fan Awards Game of the Year, and has since developed a rabid fan base. Science fiction and horror where humans are forced to use genetically engineered, living weapons and organic war machines to battle an insane Artificial Intelligence and her robot legions. Unlike anything you have ever played before!
Splicers®: I Am Legion™ Adventure Sourcebook: 6 new Great Houses, 4 new Host Armors, 6 new War Mounts, 19 new Bio-Weapons, 15 new killer machines, new Bio-Enhancements, Amalgam creation tables, Legion and a series of adventures that build into a small campaign, and more.
Palladium Fantasy RPG®, 1st Edition Rules and sourcebooks. A unique world of magic, monsters and heroes. Dozens of nonhuman player characters including Wolfen, Bearmen, Ogres, Orcs and more. 100,000 years of history.
Palladium Fantasy RPG®, 2nd Edition Rules and many sourcebooks. The expanded world of high fantasy, magic, mystery and heroes of every variety. Includes the Mind Mage and psychic abilities, mages and spells, magic circles and symbols, men-at-arms, scoundrels and a wide range of inhuman player characters including Wolfen, Bearmen, Ogres, Orcs and many more. 100,000 years of history.
Heroes Unlimited™ RPG first edition rule book and sourcebooks.
Heroes Unlimited™ RPG Second Edition rule book and sourcebooks. Create any type of superhuman you can desire and bring comic book adventures to life.
Dead Reign® RPG (Zombie Apocalypse). The dead have risen. It is the battle for survival in the zombie apocalypse, but this setting is much more than your typical zombie game. Play ordinary people or special characters better equipped to survive and hunt zombies. Many unusual types of zombies.
Dead Reign® Sourcebooks: 6 sourcebooks from Civilization Gone™ to Hell Followed™ (the latter features stats for 23 disasters, masked lunatics, 11 new zombies, 7 apocalyptic character classes, and more) are available.
Beyond the Supernatural™ RPG, 1st Edition Rules. Supernatural horror in the modern world. Play ordinary people, psychics, paranormal investigators or for something different: Victim Characters!
Beyond the Supernatural™ RPG, 2nd Edition: The complete, revised core game, 14 character classes and 42 occupations for "ordinary people," 100+ psychic abilities, 16 monsters, the Lazlo Agency, world setting and rules.
Nightbane® RPG and sourcebooks. An RPG setting we call superhero horror. Dark conspiracy, a secret, demon invasion starting with world leaders and law enforcement, and it is spreading. The player characters are the Nightbane®, reluctant superhumans who must turn into monsters themselves to unleash their powers and battle the evil that is clear only to them. A dark, sinister and challenging world of horror.
After the Bomb® RPG and sourcebooks. Planet of the Apes meets the X-Men! Animal creations, powers and more. Create any type of intelligent mutant animal you can imagine as friend or foe.
Ninjas & Superspies™ RPG and the Mystic China™ sourcebook. James Bond meets Enter the Dragon. 41 types of martial arts, ninjas, and super-spies with gadgets, gizmos and advanced weapons.
The Mechanoid Invasion® Trilogy RPG is a long time, cult favorite with a fatalistic world-view of humans vs aliens with superior technology.
The Palladium Weapon Series of real world weapons, armor and castles throughout history. Designed for use with ANY game system.
200+ Palladium titles in all, plus G.M. kits, paper miniatures and more.
Heroes Unlimited™ Paper Miniatures – Two sets are now available!
Palladium Fantasy RPG® Paper Miniatures – Volumes #1-6 are available now. More are coming in the weeks ahead.
Rifts® Paper Miniatures: Practitioners of Magic (new) – $2.99
Rifts® Paper Miniatures: Extras (new) – $2.99
And more to come in the weeks ahead.
Palladium Collectibles, Negatives, Artwork, other Collectibles and Toys are always available in Kevin's Online Toy & Collectibles eBay Store along with other good things
My eBay store is one of the few places where you can find original artwork by Charles "Chuck" Walton, Kevin Long, and others, as well as one-of-a-kind negatives from classic Rifts® and other Palladium RPG books (they look awesome framed!), rare Palladium collector hardcovers, signed books, other Palladium memorabilia, toys from my personal collection and other collectibles. Check every couple of weeks because we often post new stuff or offer a new sale. There is a sale on negatives starting today, in fact.
Other one-of-a-kind original artwork available by me (Kevin Siembieda), Kevin Long, Charles Walton II (money goes to the artist), other artists, as well as collectible negatives, prints, limited edition hardcovers, proofreader copies, out of print items, Star Wars toys, Marvel toys and many other toys and collectibles from my personal collection. Alex and I will keep adding items as our busy schedules allow, but we have a lot of fun collectibles available now and coming soon. Hundreds of items. Take a look every weekend for new additions.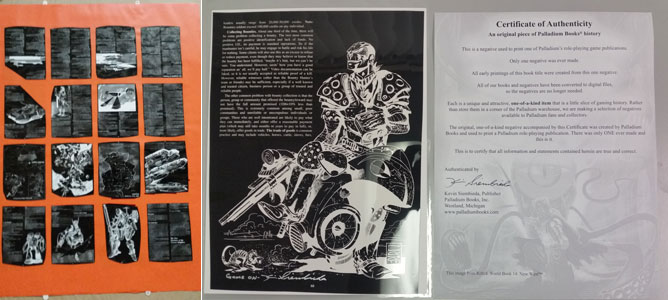 Available now: One-of-a-kind book negatives. Negatives were very popular items at the Palladium Open House and people went crazy over them at Gen Con – including actor Joe Manganiello who scooped up a pile of TMNT negatives, while Palladium's own Mark Oberle, Carmen Bellaire, Brandon Aten and a whole lot of Palladium gamers went for negatives from Rifts® New West, Lone Star and Free Quebec. Fun.
Negatives are unique and attractive, one-of-a-kind (on rare occasions two-of-a-kind if a page was replaced or a second edition was made) works of art that resemble woodcut art and are very dynamic conversation pieces. Before digital printing, pages of a book were laid out by hand on a board, and each page was photographed. The plastic film negatives were then "ganged" on a massive sheet of Mylar 16 pages per big sheet, and the printing plates were made from the negatives – everything white, printing black.
When our printer, McNaughton and Gunn, went completely digital, they asked if Palladium Books wanted the negs, otherwise they would be destroyed. Regrettably, I let a few dozen be destroyed, but the negatives of many books were sent to Palladium. They have sat in our warehouse for years until I started to offer them for sale. I have also started signing the negatives in silver and each comes with a Certificate of Authenticity. Each negative comes on a white board inside a plastic magazine bag and looks fabulous framed! Fits in an 8x10 inch matt opening in a frame (each neg is roughly 8½ x 11 inches).
http://stores.ebay.com/kevinstoys-artandcollectibles
Closing Thoughts
The last few weeks have been crazy. I'm trying to stay on target with writing and releasing new books as well as a number of other products and things I hope you will find fun.
I always try to be productive and positive, but sometimes, life gets in the way, making it difficult to stay positive and as focused on work as much as I need to be. Rising fears about a Covid-19 second wave, politics, and other concerns keep bubbling up, but closer to home, a number of friends have been struggling, and there seems to be frequent challenges and loss.
I received word a few days ago that Palladium has lost another gamer friend, Chris Meadows, age 47, struck by a hit and run driver while on his electric bike. Another sad and unexpected loss. Our deepest sympathies to Chris' family and friends.
Many of you knew Chris Meadows. He was another Palladium super-fan who had a presence online and at gaming events. Chris was a creative force and all-around nice guy. He wrote, blogged, podcasted, and loved all kinds of games, with RPGs holding a special place in his heart. Chris had many accomplishments despite the obstacle of Asperger's. Chris cared about Palladium, and always tried to be there whenever we needed him. He was one of those sweet guys who always bought a Christmas Surprise Package and came to most, if not every, Palladium Open House and was a smiling face that visited our booth at every Gen Con.
Chris' untimely death is another reminder of how precious and fragile our lives really are. It makes me wish we can all find commonality and push aside our fears, frustrations, and anger to be more understanding, patient, and compassionate toward one another. All things I know I need to work on myself.
It is a reminder that people are our most precious gifts in life and that our time on Earth is fleeting. This is a huge reason why I have kept the Christmas Surprise Packages going for more than two decades now. They are so much work that many business friends think I am crazy for doing them. But you know what? Each holiday season we ship out a couple thousand of them, with hundreds of people, every single year, telling us how much joy they bring. They tell us they love not knowing what the box contains and getting books with our signatures, or a sketch, or note, or something fun or silly in the package to make them smile and feel appreciated. It is funny, but the money saved on a Christmas Surprise Package is usually the last thing people mention, if they mention it at all. Instead they talk about the years of fond gaming memories and the friends it has brought to them like Chris Meadows and Dave Watkins. It is the personal connections and joy of gaming that matters. And RPGs are the super-spreaders of such connections and joy. I love it, and cannot believe I have been part of such good cheer all year long for going on 40 years of making games.
Please, don't let life's challenges, painful losses, and Covid-19 isolation bring you down as we begin to head into the holiday season. There is still plenty of love and joy, fun to be had, and good people around. Great people. We all face our share of obstacles and scary challenges in our lives. What is important is that we find a way to keep our heads held high and survive with hope and compassion in our hearts. Maybe even come out of it a little smarter and wiser. We are clever and resourceful gamers, and Covid-19 is just one more hurdle for us to triumph over. I for one, will be working to make your holidays joyful with the Surprise Package, new product releases, and words of encouragement. I don't know about you, but I have survived some pretty rough times. And I know we will survive our current state of the world.
Here are some things you might not know about me. I grew up poor and have faced many obstacles and challenges. I had plenty of people tell me I would never succeed with Palladium Books and being a professional artist or a writer was a pipedream. That I needed to give up on my dreams. I didn't. I clung to them, worked 10 times harder than the next guy, and I never gave up. Storytelling, art, writing, and gaming is who I am, and I was not going to stop doing what I love to do. My sacrifices and hard work paid off as Palladium quickly rose to the top of our industry and, over the years, has brought millions of gamers decades of joy. Talk about living the dream.
But life is hard. There are always new obstacles and challenges. One of those is dealing with the loss of the people you love, and I have lost many astonishing people that I have loved deeply. I press on, because life goes on. Yet they are still with me. They continue to be a living and wonderful part of me. Of who I am and the person I hope to become.
Not to worry you, but I myself have slipped the clutches of Death at least three times in recent years, four if you include my being diagnosed with Type 2 Diabetes (which is well under control, btw). All of which I see as personal triumphs. Each of them teaching me about myself and reaffirming my appreciation of life and the people I love (even if that is at long distance these days).
My most recent death defying feat was my unexpected kidney stone issues this June. One kidney was blocked and the other had a stone that was trying to pass and likely to get stuck, causing a complete blockage. If that happened, it would be a trip to the emergency room and permanent kidney damage or death. I was stunned by the news when my doctor called, but I did what needed to be done. Three days later, I was in the hospital getting a bilateral procedure. Crazy, right? Total success. I'm fine and back to work creating gaming worlds for you.
Mother's Day 2016. I am out for my morning walk. Two blocks from home – walking on the flippin' sidewalk – I get hit by an SUV peeling out of its driveway! I could have been killed or crippled. Thank God the driver realized he hit me and stopped. I was lucky, walking away with only a broken arm, a metal plate and six screws, leaving me as good as new.
Something I have never made public till today, is that in April, 2013, I was diagnosed with cancer. It was a shock. I felt fine, but tests and a biopsy confirmed cancer. The medical insurance I had at the time did not cover catastrophic medical treatment, and I didn't have the estimated $70,000 for the surgery, not counting any possible follow-up treatment like chemotherapy and radiation, if I should need it. All of which could be tens of thousands more. Thankfully, I had a slow growing cancer that appeared to be entirely contained in my prostate. With the Affordable Care Act, negating exemptions for pre-existing conditions, only 8 months away, my doctor believed I could wait until I could get the superior coverage. So I waited. The original Affordable Healthcare program at the onset was awesome. It absolutely sucks now and is anything but affordable, but back in 2014, Obamacare saved my life and my financial wellness.
My surgery and recovery would be textbook perfect. Complete recovery. No chemo. No radiation. I have been cancer free ever since. Six years now, going on seven. However, my ordeal was not that clean and simple. For a while it crushed my spirit. I had lost a lot of people dear to me to cancer: Mom, Grandma, Dad, Erick Wujcik, Kay Kozora, Keith Parkinson, to name just a few. (I hate cancer. It is a scourge.) So I knew the drill. I was there for all those people. I took Mom and Dad and Grandma to their doctor visits, and chemo and radiation treatments, and I was at their sides in the hospital. I spoke with Erick, Kay, and Keith regularly, so I understood all too well what might be coming for me. I thought that knowledge and experience meant I could handle it without missing a beat. I was wrong. It was hard on me and took a tremendous personal and emotional toll.
Over the many months while I waited for my surgery, it felt like I had an Alien embryo (as in the Alien movies) growing inside of me. Waiting to kill me unless we found a way to get it out in time. That messed me up pretty good. Dropped me into a dark, bleak place, and left me in a funk I could not shake for a long time. That struggle continued even after my successful surgery in March, 2014. Though it had spread much more than my doctor had expected, it was all contained and completely removed. Still, it would be a long while before I was my old self. Work was difficult. I trusted the wrong people with carrying on business matters. It was in 2013 or 2014 that I started to always write the year after my signature in books, because I wasn't sure if I would survive. It was hard, scary, and emotionally trying.
I did not tell you about it then, because I didn't want you all to worry. Only the Palladium crew and a small handful of others knew. They were there for me every step of the way. I never felt alone. I have wonderful loved ones. For example, even as my beautiful friend, Kay Kozora, was battling her own, deadly lung cancer, she would call and be there for me, rooting me on and telling me how I will beat this monster. I did, but it was a battle Kay lost. At least it put her with her beloved Erick, if you believe that sort of thing. She did. So did Erick, and so do I, though I miss them both terribly.
I learned a long time ago that people are what matter most in the world. My dear, sweet Mom was diagnosed with breast cancer when she was in her early thirties. It was bad. Double radical mastectomy bad, followed by a lot chemotherapy and radiation. I was 12 or 13 years old. We were too poor for Dad to afford to miss work, so after he left her at the hospital for the biopsy and surgery if needed (it was), he would call me at home to get the results. We all hoped for the best. I was the one who had to tell him. Mom and Dad had a storybook marriage filled with love. It was the most terrible news I had ever gotten or had to deliver. But we survived and pushed through. 15 years later, Mom faced a new battle, bone cancer. A battle she fought with grace and courage, just as Dad, Erick and Kay later did, but it was a battle she would lose.
Why am I sharing this with you now? Because we are ALL living through angst with the Covid-19 pandemic compounded with economic uncertainty and social discord. I want you to know that sometimes life is difficult and painful, but we human beings are survivors. I made it through my personal obstacles with flying colors, and came out of each a little wiser and a bit more understanding and compassionate about other people. Not just those with cancer, but with depression and other life challenges. That's how I know we will get through this holiday season, the pandemic and other changes and obstacles we may face on a personal level and as a nation. These are difficult times, but if we keep our heads, do what is smart to take care of ourselves and those around us, we will get through this. I know we will.
I cannot help but notice there is a lot of anger out there in the world. That doesn't scare me so much as make me sad. I wonder if we could keep in mind how precious and short life is, in the context of our own lives and loved ones, if the world might become a kinder, gentler place?
What my own experiences have taught me is that our time is limited and flies by all too quickly. None of us know when our time is up or how we are going to die. So I try to live every day like it may be my last. I try, and often fail, to be understanding, compassionate, and the best I can be, but I keep on trying. I try to do what's right and to be there for other people when they need me most.
I have said it many times before, but it can't be said often enough. Be kind to yourself and to others. Please tell those you love how much they matter to you. Try not to let the little things (and even big things) make you so angry or sad or scared that you act out on those emotions and take things out on the people around you, or cause you to choose not to take care of yourself. Foolish, because there are a whole lot of people who love you like crazy, even if you may not think so.
I feel anger and frustration all the time in these dark days of isolation and worry. Thankfully, I have found thinking about how lucky I am to be alive and how rich I am with people I am proud to call my friends and loved ones (and great fans and customers, like you) helps to diffuse the hot and ugly emotions on the bad days. Such thoughts help to ground me and remind me life is a beautiful, fragile gift. So I try to be a positive force and focus on the goodness and beauty that still abounds all around us. Please don't lose sight of that.
Of course Black Lives matter as do the lives of all people regardless of race, creed, net worth, or political beliefs. When I'm pulling your orders and signing books, I don't know, and I don't care, if you are a Democrat or Republican, rich or poor, the color of your skin, your religious practice, or any of your beliefs. All I know is you are a fellow gamer, a friend, and valued customer that I respect and care about. It's why I have gone the extra mile signing your books these past many months since the pandemic struck, and why we continue to offer the Christmas Surprise Package every year. I do it because I care, and I want you to know you are important and special to us at Palladium Books. I hope my extra bit of time and effort makes you smile and feel special, even if it is just for a moment. You are special. Please never forget that.
I apologize for having blithered on for so long. I hope my experiences and words bring you some peace of mind and hope during these challenging and difficult times.
I believe we will survive all of what is happening in the world one way or the other. But we will survive it with grace and courage and pride only as long as we can hold on to our empathy and compassion for others. Show others a little patience and courtesy. Let's try to temper our anger and rage, our frustration and fears, and see ourselves in all of this together, because we are.
Covid-19 and all the rest are just a few new challenges we must overcome. I'm right there with you doing what I can to help. Thinking of you and rooting you on, and wishing you all my best. Obstacles are a part of life, as is learning from them as we find ways to triumph over them. That's what we are all doing right now, and we will win. I, for one, have never felt more vibrant and strong. I am inspired and have more ideas than ever. We are working on things that can only strengthen Palladium and bring you a lot more fun.
Please remember to be the best you can be, believe in yourselves, be proud of who you are, and dare to follow your dreams. Enjoy the 2020 Christmas Surprise Package Offer and upcoming new product releases, and Red Duke Games' upcoming Kickstarter, and tell the people in your lives how much they mean to you. With love and respect,
– Kevin Siembieda, Publisher, Writer, Game Designer, Friend
Copyright 2020 Palladium Books Inc. All rights reserved.
Rifts®, The Rifter®, RECON®, Splicers®, Powers Unlimited®, Palladium Books®, The Palladium Fantasy Role-Playing Game®, Phase World®, Nightbane®, Megaverse®, The Mechanoids®, The Mechanoid Invasion®, Coalition Wars®, Chaos Earth®, Dead Reign®, and After the Bomb® are Registered Trademarks of Palladium Books Inc.; Beyond the Supernatural, Coalition States, Garden of the Gods, Heroes Unlimited, Ninjas & Superspies, Minion War, Mysteries of Magic, Psychic Scream, SAMAS, Thundercloud Galaxy, Three Galaxies, Vampire Kingdoms, and other published book titles, names, slogans and likenesses are trademarks of Palladium Books Inc., and Kevin Siembieda.
This press release may be reprinted, reposted, linked and shared for the sole purpose of advertising, promotion and sales solicitation.