Palladium Books® – A Quick Mini-Update – May 19, 2020
Palladium Books® – A Quick Mini-Update – May 19, 2020
One game system – every genre – countless worlds – endless adventure
By Kevin Siembieda
Mainly I wanted to let you know that In the Face of Death™ is done. It is marvelous, and it is at the printer! I have not gotten a delivery date yet, but I'm guessing around June 10th.
Someone recently asked me if there was another zombie RPG on the market, and I could not say. I know that there had been a few one-shot zombie role-playing games over the years, and a number of zombie miniature games and video games, but a fully fleshed out Zombie Apocalypse RPG that pushes the envelope and challenges players like Dead Reign® and its sourcebooks, especially ones like Hell Followed™ and In the Face of Death™, I don't think so.
I hope gamers enjoy In the Face of Death™ as much as I did writing it. Someone who recently saw the book loved it, but was especially impressed by the section about Resources. Saying that it felt real and was a viable survival guide for the real world. I'm not sure if I agree with that, and I do not pretend this is a "survival guide" for anyone but your fictional RPG characters, but it is a fun read and a very rich game resource.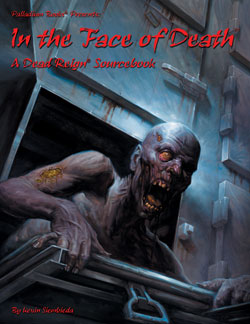 In the Face of Death™ – at the printer – A Dead Reign® Sourcebook that re-imagines the Zombie Apocalypse
It is time to fight back and do more than survive. In the Face of Death™ takes an approach to the Zombie Apocalypse unlike any other. This sourcebook is all about unique characters, adventures and heroism that goes beyond just surviving against impossible odds.
In the Face of Death is part survival guide, part cityscape-setting the likes of which you have never before considered or explored, and part adventure book built upon human ingenuity, courage, hope, and madness. Bold new adventures and heroes for the Zombie Apocalypse that will blow your mind.
"Pure fun, action, and excitement. A sourcebook packed with new ideas unlike any I have ever seen. This is what role-playing games and imagination are all about." – Alex Marciniszyn, Editor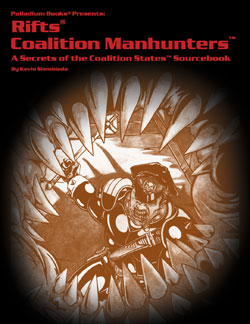 COMING! Rifts® CS Manhunters™
A Secrets of the Coalition States™ Sourcebook
I'm dabbling with a number of new book projects, but my main focus of writing is Coalition Manhunters™. More Coalition States secrets are revealed along with new CS characters, more CS insight, new psionics, Psi-Battalion, and dangerous villains. And all of it is building toward something epic. Who watches the watchmen? CS Manhunters. I think that Coalition Manhunters™ is going to be a fun surprise for people and is the next book to be completed.
CS Manhunters are a secret division within the Coalition's Psi-Battalion. The CS Manhunters hunt not only the most dangerous spies and fugitives, but also their own. This elite force of psychics, Kill Hounds, and soldiers are trained killing machines who follow orders without question and kill without hesitation.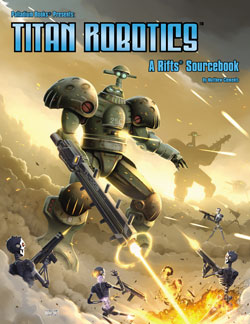 COMING! Rifts® Titan Robotics™
Rifts® Titan Robotics™ is a high-tech toy box presenting new types of armor, sleek power armor, giant robots, vehicles, and weapons sold by Titan Robotics that will make gamers salivate. Ah, but Titan Robotics is much more than just another weapons manufacturer, it is the secret operation of ARCHIE-3 and all part of his plan to monitor and manipulate the outside world. Learn about Archie's androids that run Titan Robotics, his current schemes and plans for the future. Probably a 160 page World Book around $22.99 retail, but may expand into 192 pages.
COMING: Rifts® Bestiary™ Volume Two – Summer 2020
The second big, "monster book" reference for Rifts® of what we anticipate to be three volumes in the series, more if we decide to make ghosts, spirits and Entities and/or Creatures of Magic part of the Bestiary series. Much like Volume One, Rifts® Bestiary™ Volume Two collects 70-100 monsters and animals plus 12-24 new beasts found across Rifts North America. The anticipated page count is 224-256 pages.
All volumes of the Rifts® Bestiary™ series are a great resource for players and Game Masters alike. Each description is updated, expanded, and highly detailed to present players with exotic and alien creatures as pets, guardians and riding animals, as well as slobbering monsters to battle and fierce beasts for Game Masters to throw at their players. Designed to offer adventure ideas, offers notes on young, adult, male and female creatures, and all provide plenty of ways to enhance your characters and spice up adventures. Each is accompanied by a map that shows at a glance where the beast can be encountered. Ah, but in the presence of Rifts and magic means any of the creatures may appear anywhere in the world, so be on your toes.
That's all for now. Stay safe and game on!
Copyright 2020 Palladium Books Inc. All rights reserved.
Rifts®, The Rifter®, RECON®, Splicers®, Powers Unlimited®, Palladium Books®, The Palladium Fantasy Role-Playing Game®, Phase World®, Nightbane®, Megaverse®, The Mechanoids®, The Mechanoid Invasion®, Coalition Wars®, Chaos Earth®, Dead Reign®, and After the Bomb® are Registered Trademarks of Palladium Books Inc.; Beyond the Supernatural, Coalition States, Garden of the Gods, Heroes Unlimited, Ninjas & Superspies, Minion War, Mysteries of Magic, Psychic Scream, SAMAS, Thundercloud Galaxy, Three Galaxies, Vampire Kingdoms, and other published book titles, names, slogans and likenesses are trademarks of Palladium Books Inc., and Kevin Siembieda.
This press release may be reprinted, reposted, linked and shared for the sole purpose of advertising, promotion and sales solicitation.