Palladium Books – Cyber-Tuesday Sale – 2017
Just wanted to remind you that Palladium's Cyber-Monday sales continue TODAY, Tuesday, November 28, 2017 at the Palladium online store as well as our Robotech® and Rifts® PDF sale on DriveThruRPG.com – and the Surprise Package offer continues through December 23, 2017.
We offered our Cyber-Monday sale for two days last year, and people loved it, so we are doing so again. Folks are snapping up Rifts® miniatures, World Books, Nightbane®, RRT core game, and ... well ... everything! Enjoy and happy holidays.
– Kevin Siembieda, Publisher
Last day to get Palladium's Cyber-Monday AND Tuesday PDF Sale – November 28, 2017
There is one day left on Palladium's Robotech® and Rifts® PDF sale – a 40% discount – on DriveThruRPG.com – Tuesday, November 28.
Recent additions to DriveThruRPG:
Last Chance – Palladium Books' Cyber-Tuesday Sale, November 28, 2017
This is your last day to get these great deals on books and games at the Palladium Books website. And make sure to nab a Christmas Surprise Package while you are at it.
Tell you what, since this reminder is going up so late in the day, we'll extend these sale prices until noon Eastern Time on Wednesday, November 29. But make sure you take advantage of this sale by then, because after that, it's over.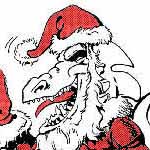 Christmas Surprise Package – $90-$100 worth of product for $45 plus shipping – super savings and fun
4-6 role-playing game books for less than the cost of one rule book! You would pay $50 or more for most core rule books. A Surprise Package will get you 4-6 books (varies depending on the book's size and cost). Order yours today! And tell every gamer you know about this super offer.
Christmas is a little less than FOUR weeks away! Get yourself and your friends a Christmas Surprise Package that will keep you smiling and playing games for weeks after the holidays is over. And don't forget you need to add a week for processing and delivery during peak holiday season, so do yourself a favor and order one (or more) today.
What is a Palladium Christmas Surprise Package? It's a fun bargain for you, and it's our way of saying thank you to Palladium fans around the world. Fill holes in your collection, try new games and world settings, get gifts for your gaming pals, and if you want, we'll sign every book. And you don't have to wait till Black Friday. Order now.
$90-$100+ worth of Palladium Books products for only $45 plus shipping and handling. You are guaranteed to get an absolute minimum of ninety dollars ($90) retail value in your Surprise Package. Most get $95 and many get $100 worth of goodies or more, because our Publisher, Kevin, is crazy during the Christmas Season. And the holiday season is on!
It's a surprise package and a Grab Bag because you never know exactly what you're going to get or who will sign your books. We try to include many of the items on your "wish list," but we will surprise you with stuff you are not expecting. Things like a special print(s), maps, or a negative from an actual book, or issues of The Rifter®, or a Palladium RPG or sourcebook(s), special edition comic book, or other items that we think you might enjoy. Plus you can ask for unusual items. All items are "hand-picked" by Kevin Siembieda from your "wish lists." ALL with autographs if you request them. For many of you, this is the only way to get autographs from Kevin and available Palladium staff members, artists and writers! Please spread the word and tell everybody about this offer! Ends December 23, 2017, but order today, because after you get your first Surprise Package, you'll want another.
To those of you outside the USA, the X-Mas Surprise Package is a way to get books and circumvent the extremely high cost of shipping from the US. Since you are getting $90-$100 worth of product and only paying $45 plus a small handling charge, shipping via Priority Mail International (required for packages weighing more than four pounds) to most locations in Europe, Canada and many other countries should be around $50-$60 US dollars. HOWEVER, because the cost of the product is so low, that's the equivalent of paying retail for the products and $0-$30 for shipping. A very good deal. Plus you get autographs if you want them! Please take advantage of it to get all those products you've wished you could get except the shipping was too prohibitive. We feel your pain. Game on!
Click here to get all the details or to place a Surprise Package order.
One more way to save and get unique gifts
Palladium artwork, collectibles, books, and Star Wars, Superhero and other toys in Kevin Siembieda's Online Toy & Collectibles eBay Store
Alex and I continue to add a lot of vintage Star Wars toys and superhero toys from my personal collection, and all kinds of collectibles to my ebay store – and we'll be adding more Palladium Books original art and items to the store, so keep an eye out for them.
This includes one-of-a-kind original artwork, prints, Rifts® and Robotech® artwork by Kevin Long, me and others. There is also a range of limited editions, rare book titles and limited edition hardcovers, toys and more that are all being added to my online store over the next several weeks, so keep an eye out. Alex and I will keep adding items as our busy schedules allow, but we have a lot of fun collectibles available now and coming soon. Items include original art, out of print titles, redlined proofreader photocopies signed by me and the staff, signed manuscripts with editors' corrections, some original art, hardcover books (including Rifts® Lemuria, Northern Gun™ One, Northern Gun™ Two, Megaverse® in Flames™, Beyond the Supernatural™ Gold, Rifts® Machinations of Doom™ Gold and Rifts® Ultimate Gold) and other items available. There are also hundreds of toys and action figures, all from my personal archives and collection. Take a look every weekend for new items added.
http://stores.ebay.com/kevinstoys-artandcollectibles
© Copyright 2017 Palladium Books Inc. All rights reserved.
Rifts®, The Rifter®, Palladium Books®, Palladium Fantasy Role-Playing Game®, Nightbane®, Megaverse®, Dead Reign®, and others are Registered Trademarks of Palladium Books Inc. RPG Tactics™ and other published book titles, names, slogans and likenesses are trademarks of Palladium Books Inc., and Kevin Siembieda.
Robotech® and Robotech® The Shadow Chronicles® are Registered Trademarks of Harmony Gold USA, Inc.
This press release may be reprinted, reposted, linked and shared for the sole purpose of advertising, promotion and sales solicitation.