By Kevin Siembieda
One game system – every genre – countless worlds – endless adventure
Hi Everyone. This is gonna be a quick, early Update, as we have just finished loading up the truck and will be heading off to Gen Con first thing Wednesday morning. We hope to see some of you there.
I mainly wanted to touch upon a couple of quick things and remind you that this is the last six days to get the Palladium Fantasy RPG® Bundle of Holding – the offer ends August 21, 2017. It's pretty sweet and 10% of the proceeds goes to a worthy charity. Read on to learn more.
UPDATE: Nightbane® Dark Designs™ sourcebook – Ships August 31
Nightbane® Dark Designs™ is done and at the printer! It looks fantastic and should ship around August 31st. We were not able to get it done in time for Gen Con, but we will bring a half-dozen photocopies to sell for those of you who can't wait and want it NOW. We will try to post a preview for Dark Designs™ on DriveThruRPG when we get back from Gen Con. So many fun, new Morphuses and new Talents (nearly 100 of them). And everyone loves seeing the Ancient Nightbane for the first time ever. Author Mark Oberle did an outstanding job. Can hardly wait to see his next one. See the full description elsewhere in this Update.
UPDATE: Rifts® Secrets of the Atlanteans™ – Available now
Rifts® Secrets of the Atlanteans™ soft cover edition has been selling and shipping out as fast as we get your orders. All of a sudden the Rifts® Poker Decks – one color, one black and white, both gorgeous – have been selling at an increased level. Don't know if it's because of Rifts® Secrets of the Atlanteans™ or what, but keep those orders comin'. We will have copies of Rifts® Secrets of the Atlanteans™ and the Rifts® Poker Decks, and a whole lot more at Gen Con, and we are happy to sign your book(s), so bring 'em on over to the booth.
Rifts® Secrets of the Atlanteans™ is one of those epic sourcebooks with ideas on every page and packed with all kinds of useful and fun information about True Atlanteans, Tattoo Magic, Stone Pyramids, Crystal Magic, Shadow Magic, Atlantean clans, the Sunaj, new Atlantean O.C.C.s, old O.C.C.s revisited, the Shadow Dimension and its monstrous inhabitants, and more. And there are many secrets revealed. Please take a look at the free preview on DriveThruRPG.com for more details and a few choice glimpses of what you can expect. 224 pages, $24.95 retail.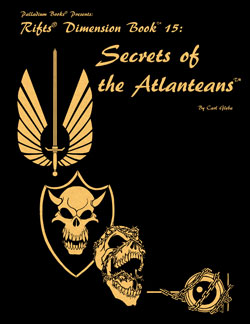 UPDATE: Rifts® Secrets of the Atlanteans™ "Gold Edition" Limited Hardcover – Ships August 31
Remember, the limited, signed and numbered Atlanteans™ Gold Edition hardcover does not ship until the end of August or the beginning of September, we are still waiting to get a confirmed ship date for it. It takes longer to have a hardcover made. We anticipate end of August. Limited to 300 signed and numbered editions, and Palladium's Gold Editions have a history of increasing in value.