By Kevin Siembieda
The Rifter® #75 is at the printer. I'm working away at finishing Hell Followed™, the largest and perhaps the most diverse Dead Reign® sourcebook yet. It is zombie season, so I am motivated and writing like a man possessed. Meanwhile Wayne Smith and company are busy at work on The Rifter® #76 and other books and projects.
People are happy that a couple dozen copies of the Rifts® Secrets of the Atlanteans Raw Preview Edition have become available and they are scooping them and the Rifts® Sovietski Raw Preview Edition up for their collections. We know it is fun to get an advance look at what's coming and to be able to incorporate some of that material into your game before anyone else, so enjoy.
When I'm not writing or editing Hell Followed™, I have been approving artwork for the Rifts® Board Game coming next year from Carmen Bellaire's Rogue Heroes LLC, and concept sketches for Rifts® CS Arsenal™, Rifts® Secrets of the Atlanteans™ and Rifts® Sovietski™. All looking pretty snazzy.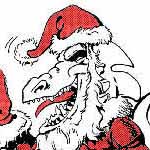 2016 Palladium Christmas Surprise Package – available now
I know many of you are champing at the bit to place your 2016 Palladium Christmas Surprise Package orders. Well, what are you waiting for, you can start placing them right now!
These unique Grab Bags started out as what was supposed to be a one year special, but people loved them so much that we did it the next year and again, and again, and again. Now, 18 or 19 years later, it is a grand holiday tradition that many of you look forward to. We are proud to say that no other company comes close to offering anything like this. Sure there are some grab bag deals, but Palladium's Christmas Surprise Packages are tailor-made for you. And if you request autographs we will sign every single one of your books. For many gamers this is the only way to get autographs. And for our fans overseas, this is a way to mitigate the shipping costs plus get autographed books. Sweet. It is our way of saying thank you and showing our appreciation to the greatest fans in the world.
Savage Worlds players: This is your chance to learn much more about the Rifts® setting by purchasing one or more Christmas Surprise Packages to get any number of core titles at discount prices (with autographs if you want them). Titles like the Rifts® Ultimate Edition (core rules), Coalition War Campaign, Coalition Navy, D-Bees of North America, Rifts® Adventure Guide, Rifts® Chi-Town Anthology Book (short stories), and dozens and dozens of other fun titles like Rifts® Psyscape, New West, Spirit West, Australia and many more. Those of you who know how good this offer really is, please pass the word on to the Savage Worlds gamers.
Click here for more details and to place your order.