By Kevin Siembieda
Last week was kinda crazy and different. A lot of meetings and discussions, some unexpected. Even the event at Flat Land Games last Saturday involved meeting and chatting with people as well as doing demos. This week has been almost nothing but work. Our noses have been on the grindstone, writing and editing Chaos Earth® Resurrection and the Double Issue of The Rifter® and working and planning for more support of Robotech® RPG Tactics. And I mean long hours of work. That's a good thing and we feel good about making progress on these books and some other fronts.
With the holidays quickly approaching, it is time for Palladium's annual tradition of offering our Christmas Surprise Package. A Grab Bag of fun and gaming in which you never know exactly what you are getting, but most of it comes from the Wish List you send us and is always worth the price. This year is no exception.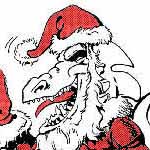 Available now – 2015 Palladium Christmas Surprise Packages
Christmas Surprise Packages, or "Grab Bags," are a long-running holiday tradition in which you can get several Palladium RPG titles worth $86-$95 (oftentimes more!) for ONLY $42 plus shipping and handling! It is our way to say thank you to our many fans for being so kind and patient, and for your years of support. You are appreciated more than you may realize. That's why Santa Kevin personally handpicks each and every item for every Grab Bag, and reads every comment (returning a short comment whenever he can).